Raiders senior shoulders responsibility for keeping team running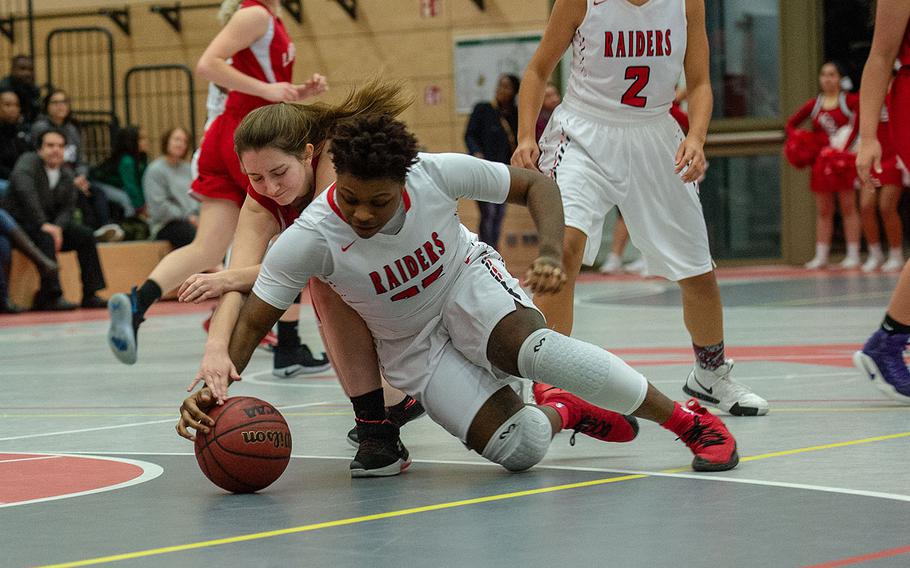 KAISERSLAUTERN, Germany -- Le'Jhanique Brown is often the best player on a DODEA-Europe girls basketball court. But her presence for the Kaiserslautern Raiders is even more impactful than that.
When Brown is on the court, the players around her get better too.
The profound effect the senior star can have on her team was evident in the team's Jan. 18 victory over Lakenheath. The favored Raiders fell behind early and trailed by a point at the end of the first quarter. When Brown returned from a stint on the bench in the second quarter, that trend immediately reversed.
The Kaiserslautern defense boosted its activity level. The team's offense started whipping the ball around, producing easy shots. The Raiders increasingly won battles on the boards and scrums for loose balls.
"As a role model, as a leader on the court, everybody feeds off your energy. If you're going hard, everybody else around you is going to go hard," Brown said. "Let's pick it up, let's get some points, let's push the ball up the court, run the lanes, get some easy layups."
And that's exactly the plan Brown's team executed. The Raiders built a lead of nine points by halftime and cruised to the victory, maintaining their undefeated start to the Division I season. An overwhelmed Lakenheath squad managed just seven points over the game's final three quarters.
An All-Europe selection as a sophomore and a junior, Brown has long been established among the DODEA-Europe girls basketball elite. With that kind of experience and achievement coupled with her tireless effort and leadership, Coach Aaron Scalise feels comfortable giving her a considerable level of freedom.
"She has kind of carte blanche in my eyes in order to do certain things on the court," Scalise said. "The kids respond really well to her."
Brown is thrilled to accept that responsibility, and the pressures that come with it.
"I like it," Brown said. "It's not so much pressure."
In terms of individual ability, Brown is an all-around difference-maker to the point that she defies easy positional categories. She's equally comfortable driving the lane and finding an open teammate, knocking down a mid-range jumper or snaring an offensive rebound and depositing a putback layup. On defense, she can push around forwards in the paint and harass quick guards into turnovers.
But the true genius of Brown's game is that all of those skills are deployed in the interest of one goal: making her team better.
"We've handled all the adversity that's come our way," Brown said. "Growing and growing, getting better each game, learning each other and letting it come through on the court."
Twitter: @broomestripes