Raiders break through for first victory on final attempt
---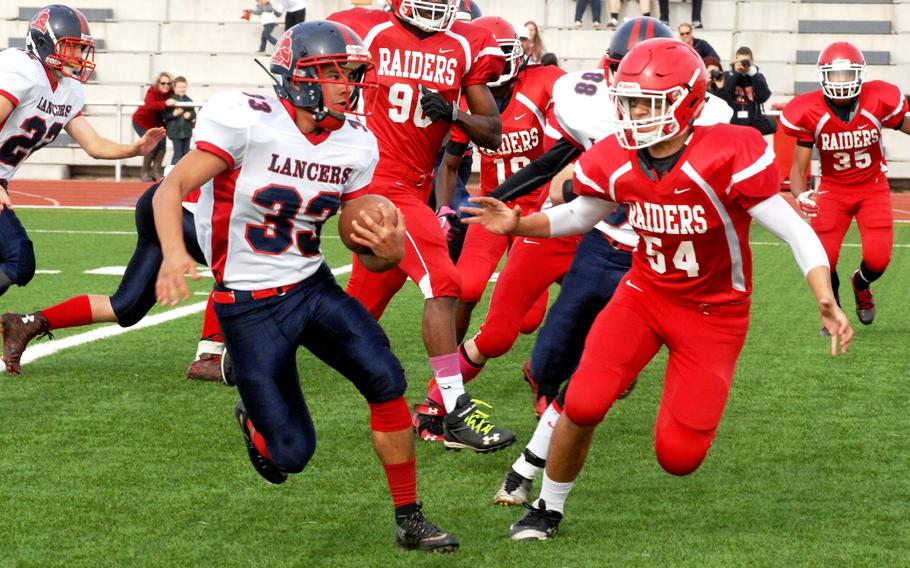 KAISERSLAUTERN, Germany -- The moment finally arrived, albeit a bit too late.
The Kaiserslautern Raiders earned their first and only win of a trying 2015 regular season on Saturday with a 27-14 defeat of the visiting Lakenheath Lancers.
The outcome wasn't enough to extend Kaiserslautern's season, as the Raiders were eliminated from playoff contention after an 0-4 start.
It also wasn't enough to knock Lakenheath out of the postseason. The Lancers finish the regular season in a three-way tie with Stuttgart and Vilseck at 2-3. Vilseck lost to both Lakenheath and Stuttgart, so it's the odd team out of the playoffs; Lakenheath takes the third seed ahead of Stuttgart thanks to the Lancers' 12-0 defeat of the Panthers on Oct. 17.
No. 3 Lakenheath will travel to No. 2 Wiesbaden and No. 4 Stuttgart will visit No. 1 Ramstein in next weekend's semifinals.
The winners of those games will play Nov. 7 at Kaiserslautern for the Division I championship.
Kaiserslautern pulled ahead in the second quarter Saturday and pulled away after halftime. JaMarkus Myles ran for 168 yards and two touchdowns; David Zaryczny added 124 rushing yards, a touchdown and a two-point conversion. Kicker Ryan Rimmler nailed field goals from 40 and 47 yards out.
---
---
---
---