Race is on in Italy to meet qualifying standards
by
Scott Wyland
April 29, 2017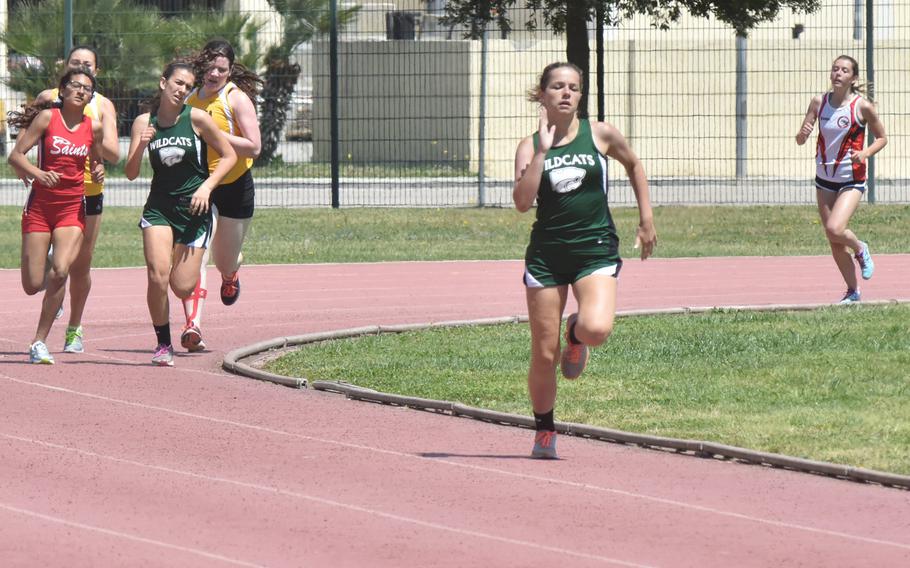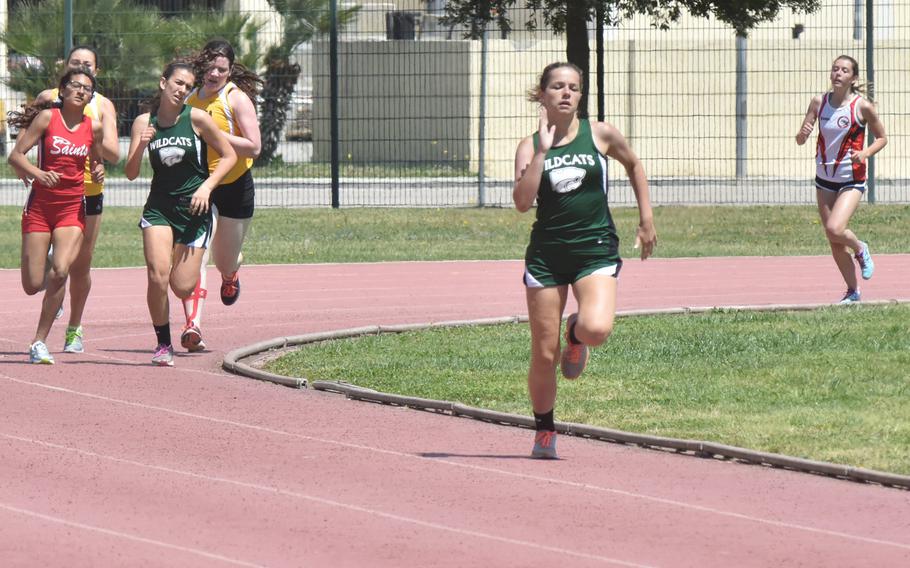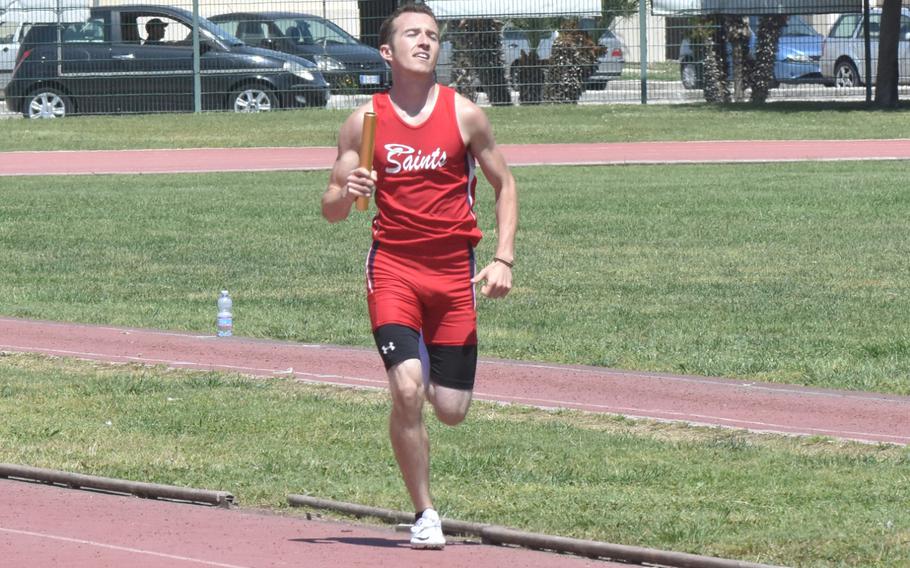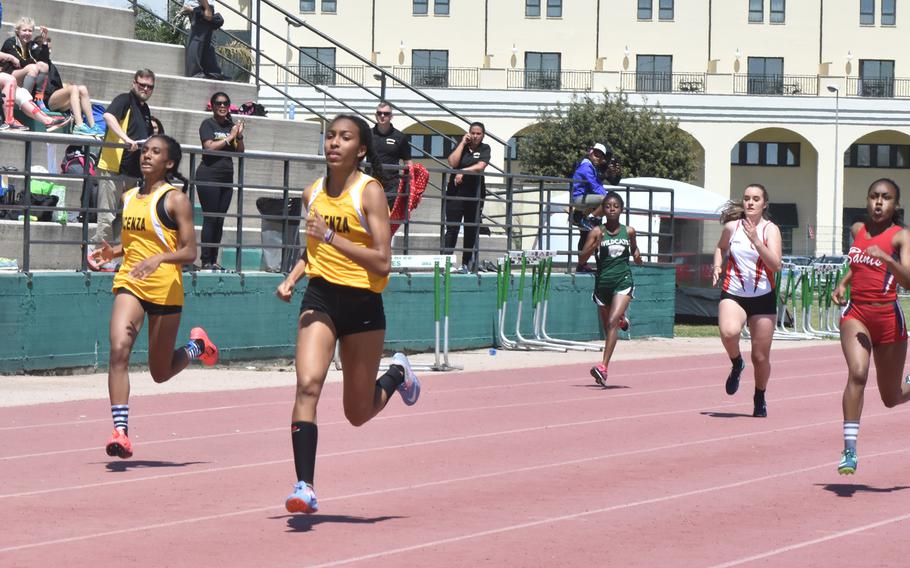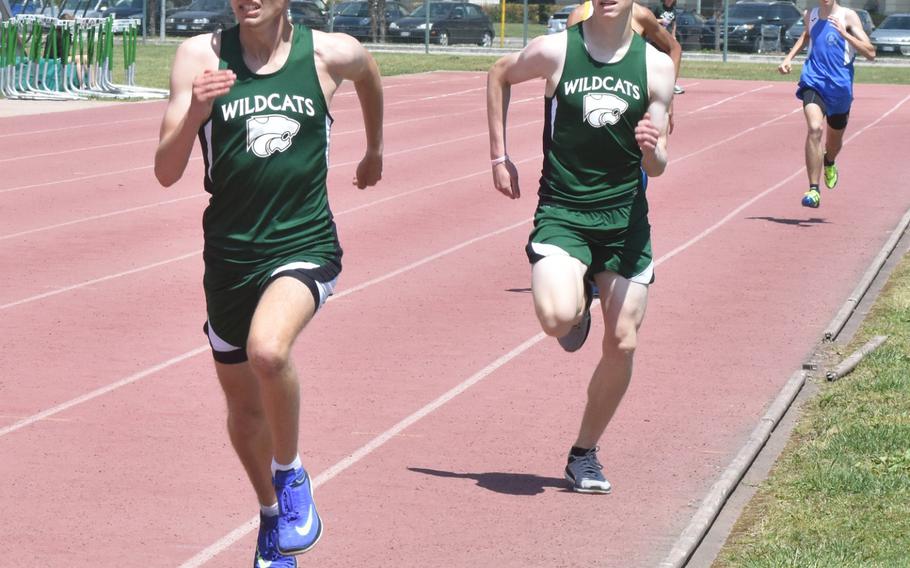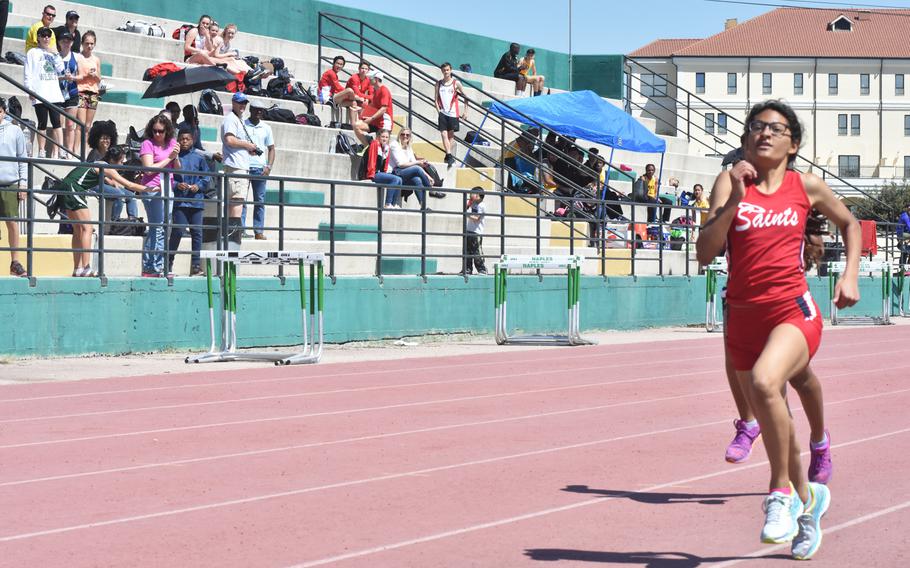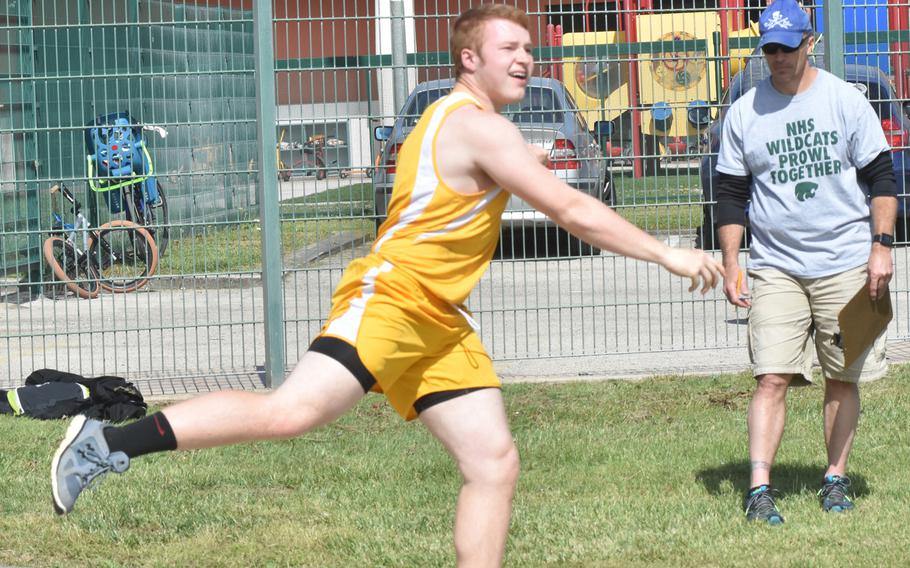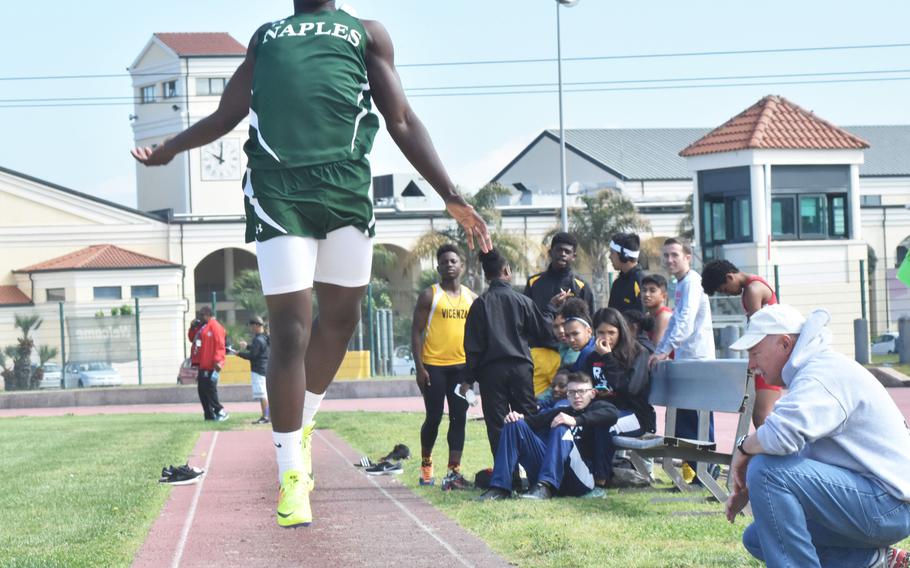 GRICIGNANO DI AVERSA – Saturday's track meet south of the Alps was a duel mostly between the Naples Wildcats and Vicenza Cougars, though the Aviano Saints pulled out some strong wins.
Both Vicenza's and Naples' coaches say the contest is more with the clock and measuring tape than with other teams right now. Athletes must meet certain thresholds to qualify for the DODEA European Track and Field Championship in Kaiserslautern, Germany, in late May.
"We're midseason, we have a young team with a lot of people who haven't run before," Naples coach Isaac Harjo said.
His runners are constantly improving and many set new personal records every week, but most still fall short of the European qualifying times, Harjo said, adding that making the cut is the real goal of these track meets.
Vicenza coach Charlton Bruton pointed to two of his runners whom he felt would be tough to beat in any contest: Brandy James, 16, and John Silbaugh, 18. Indeed, both won multiple events Saturday.
James crossed the finish line first in every race she entered – the 100- and 200-meter dashes, the 100 hurdles and the 400 relay. She ran anchor in the relay and bolted from behind to overtake an Aviano rival at the finish line in one of the day's most dramatic moments.
"I just ran it, and in the last 20 (meters) gave it my all," James said.
The most formidable distance runner was Naples' Daniel Aleksandersen, 16, who blew away the field in the mile with a time of 4 minutes, 41 seconds. He later won the 800, his fatigue from the mile visible as he jockeyed with teammate Tim Smith for much of the race before pulling out a narrow one-second victory and 2:09 finish.
"It was really hard," Aleksandersen said.
His strength is longer distances, particularly the 2-mile, he added.
Naples' Claire Elliott, 15, took a commanding lead in the 800 and never relinquished it for a 2:41 time.
"I feel good about it," she said. "The conditions were ideal. It's not too windy, just windy enough."
A number of middle-schoolers participated. Their results don't count, making it an exhibition for them and good practice, track officials said. A few held their own against older teens.
Wildcats' ElaMaree Cooley, an eighth grader, led the pack for most of the mile race before Aviano's Natalia Rodriguez passed her in the final 50 meters.
Ashton Jeanty, 13, posted the second best long jump with a leap of 19 feet, 2 inches. He lost by only 2 inches. He also came in fourth in the 200.
Jeanty won't be eligible to participate in high school events for two more years. By then, his family might transfer to a different country, Harjo said, noting that retention is a challenge for DOD sports programs.
"We've only brought five girls back from last year and eight guys, so it's a whole new team," he said.
---
---
---