Preparation meets opportunity for Ramstein QB Steinbeck
---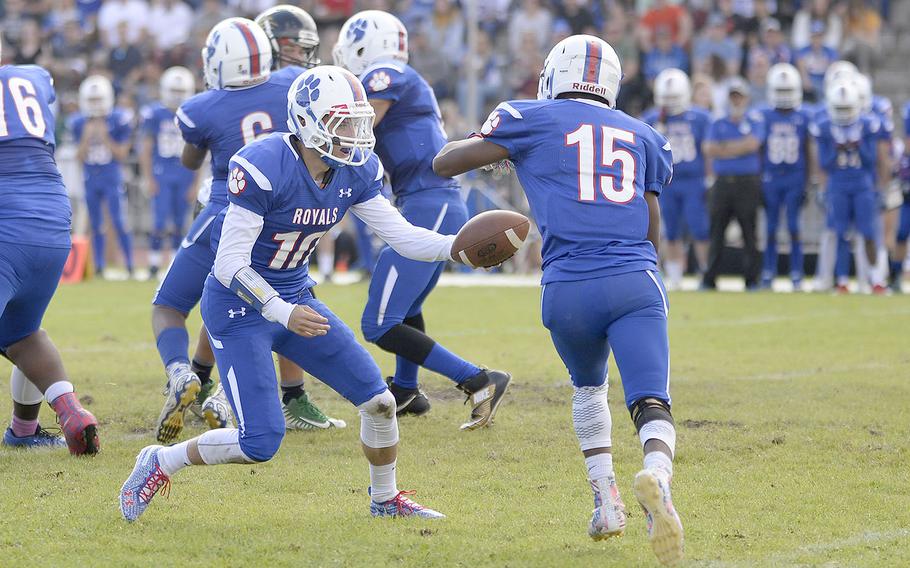 New Ramstein Royals quarterback Jakob Steinbeck was put in a position to succeed this fall. And that's exactly what he's doing.
The senior has stepped in seamlessly under center for the Ramstein varsity after an extended apprenticeship on the school's JV team. Steinbeck completed 12 of 18 passes for 158 yards and three touchdowns in Ramstein's 41-19 defeat of defending champion Stuttgart on Saturday; a week prior, he threw for 183 yards and three touchdowns and added a rushing touchdown in a 39-8 rout of Kaiserslautern.
While varsity competition obviously presents a more challenging level of play than JV, Steinbeck's immediate success can be tracked to his time on the secondary squad.
"I was a little nervous, but we ran the same concepts and the same schemes on JV," Steinbeck said after the Royals' defeat of Stuttgart. "JV really helped prepare me for what I was going to face on varsity.
"I feel very confident in my abilities."
Steinbeck's adjustment has been further aided by the wealth of skilled players surrounding him. Among his primary targets are long, athletic wideouts Naser Eaves and Jason Jones Jr., while running backs Dom Arizpe and JJ Little operate an efficient chain-moving operation on the ground. Furthermore, Steinbeck settles in for each snap behind one of DODEA-Europe's bulkiest and most effective offensive lines.
That's a level of offensive infrastructure any quarterback would be thrilled to have, and Steinbeck is deeply appreciative of it.
"It's like my safety bubble," Steinbeck said. "It's a gift."
As comfortable as he's been in the Ramstein pocket, Steinbeck is far from complacent. Even after the Royals dispatched the reigning Panthers with relative ease, the quarterback is focused on ways to improve.
"Being able to drive down that field, control the offense, see what the defense is giving me," Steinbeck said.
If this season's early games are any indication, opposing defenses will be giving up a lot to the Royals and their new quarterback.
broome.gregory@stripes.com Twitter: @broomestripes
---
---
---
---