Home Team
Play ball! Or at least give it a try for a few months
by
Gregory Broome
April 22, 2015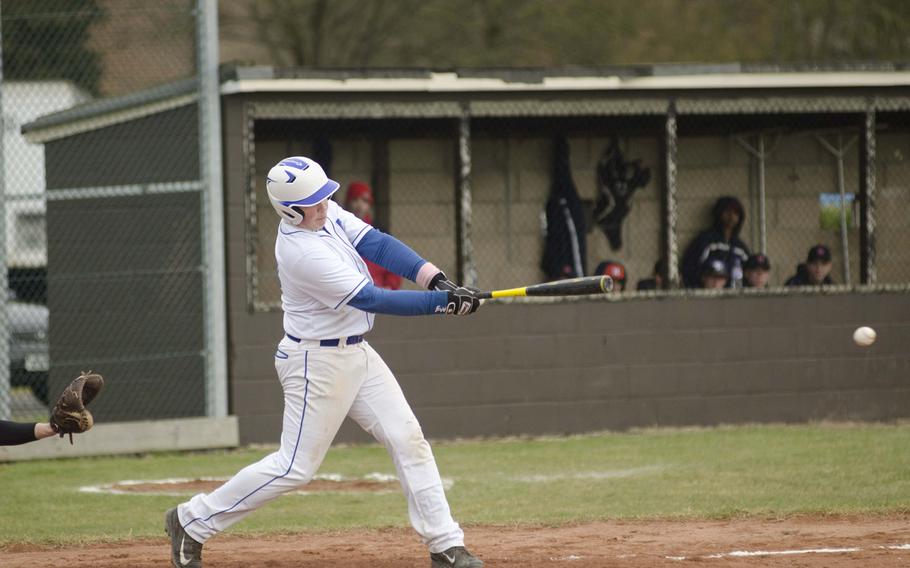 In DODDS-Europe, the diamonds can be rough.
For a variety of reasons, coaching baseball and softball to DODDS-Europe student-athletes appears to be a more perilous undertaking than coaching the organization's other sports.
More than any other factor, coaches say, the most overwhelming challenge to fielding a competent softball or baseball team is practice time, or the lack thereof.
"In the States, they have year-round access to softball and baseball camps," Sigonella softball coach Steven Larson. "We only have 12 weeks to get them into shape."
That's a function of DODDS-Europe's unusual schedule. The winter season of basketball and wrestling ends in mid to late February. Teams aren't permitted to begin spring practice until a couple of weeks later; this year that start date was March 2. The majority of teams played their first games by the end of that month; some opened their schedules as early as March 21. Once it's under way, that regular-season schedule loses two weekends to spring break. The postseason arrives soon thereafter, this year running May 21-23.
That's a small window to prepare inexperienced players.
"For the first three weeks of practice we work on the basics: fielding, hitting and throwing accurately," Vilseck baseball coach David Nelson said. "We try to get as many repetitions as possible."
Such remedial work is necessary because baseball and softball, perhaps more than other sports, presents a forbiddingly high bar to entry for the uninitiated. The games' basic skills – timing and swinging at a thrown pitch, fielding a grounder or stepping under a fly ball – are more esoteric than the straightforward football actions of running and tackling that are the foundation of that sport. And where many kids find their way into a pickup basketball game, or at least might toss up a few shots, such informal experience on the diamond is less common.
That can make for some early spring adventures on the practice field.
"Many of the younger players do not have glove skills," Larson said, citing a tendency to "stab" at ground balls rather than smoothly guide them into one's glove.
"Hitting is a skill that is definitely a challenge to pick up," Nelson said. "You can be a great athlete, but if you have little or no experience hitting against live pitching it is a really difficult task to master."
To Nelson's point, most DODDS-Europe baseball and softball rosters feature athletes who play other sports in the fall and winter and might not practice baseball and softball until after the winter European tournaments have ended.
Coaches have developed different approaches to that fact of overseas life.
"I am looking for baseball players, not necessarily good athletes to turn into baseball players," Wiesbaden baseball coach Steve Jewell said. "Baseball is such a complex game."
Jewell, who is also the Warriors' football coach, acknowledged the different learning curve between the two sports.
"A kid can become a decent football player in two seasons," Jewell said. "I would say for an athlete to become a true baseball player it takes a minimum of four seasons."
Tom Yost, the head coach of defending Division I champion Ramstein, has a different outlook.
"Having multi-sport athletes is a bonus in my mind," Yost said. "They come with a set of athletic skills that can be molded and adapted. They seem easier to teach than single-sport guys."
Even as they work on these physical skills, DODDS-Europe baseball and softball coaches attempt to pass on the arcane strategies and procedures that govern their sport.
Once players learn to catch a fly ball, they need to know where they should throw it: to first to catch a runner caught too far off the bag, to third to catch a player tagging up from second, or to a cutoff man for a relay to the plate. Once they can make contact with a pitched ball, they'll soon need to learn how and when to direct it to the opposite field to advance a runner from first to third base, or to loft a sacrifice fly into the outfield to drive in a teammate from third. Even base running, the simplest athletic task performed on a diamond, is laced with countless possible ways to stumble into an embarrassing out.
Kaiserslautern baseball coach Chris Grogan said it's this "intrinsic knowledge" that is the "hardest for us to teach" under the limitations of DODDS-Europe's brief season.
Many coaches try to make this learning process as engaging as possible for their players.
Vilseck softball coach Jim Hall advises his players to watch game footage on YouTube to get more familiar with the game's intricacies, and he devotes a portion of valuable practice time to competitive-style games and drills.
"You have to make it somewhat fun for the players to want to practice and get better," Hall said.
Nelson, meanwhile, encourages his players to play Major League Baseball simulation games on PlayStation and Xbox.
"They can actually learn a little from that about defensive situations," Nelson said.
For all its challenges and frustrations, the best DODDS-Europe coaches maintain their perspective: that they are simply the adults charged with providing guidance while children play games.
"If sports are not fun," Jewell said, "why play them?"
Twitter: @broomestripes
---
---
---