DI girls soccer
Patch holds off Ramstein to repeat as champ
by
Dan Blottenberger
May 21, 2011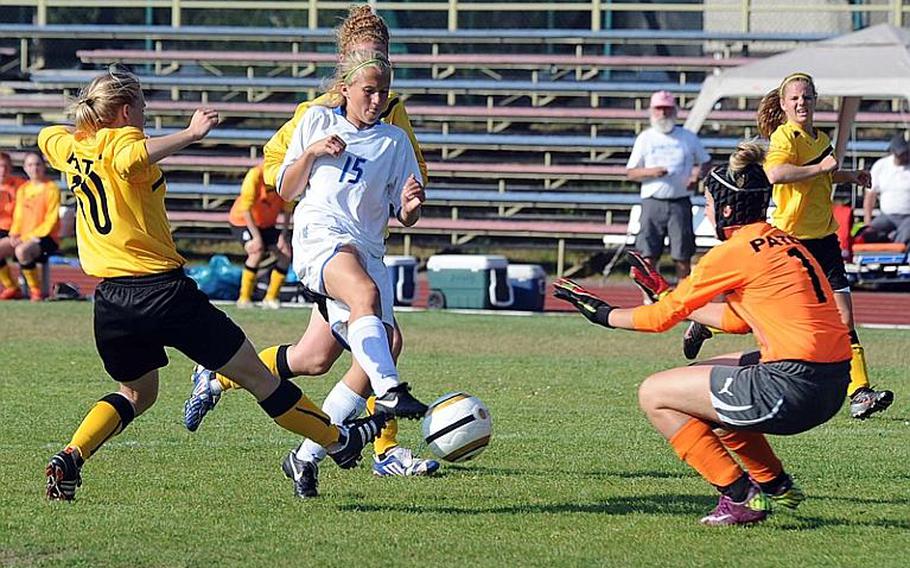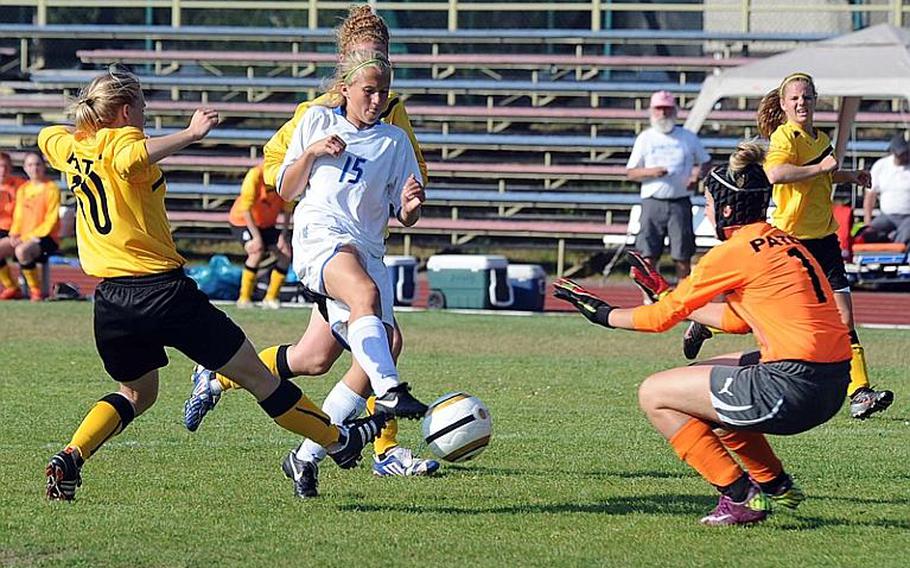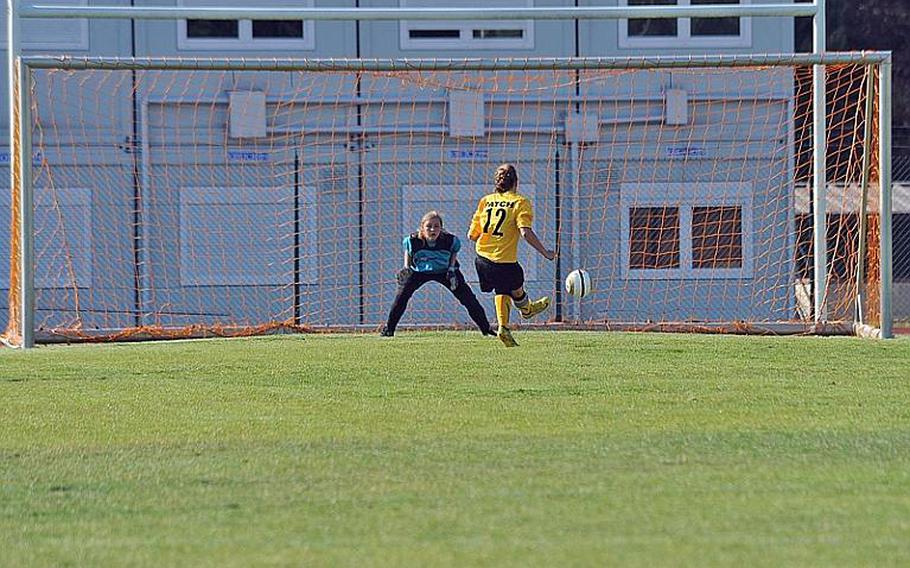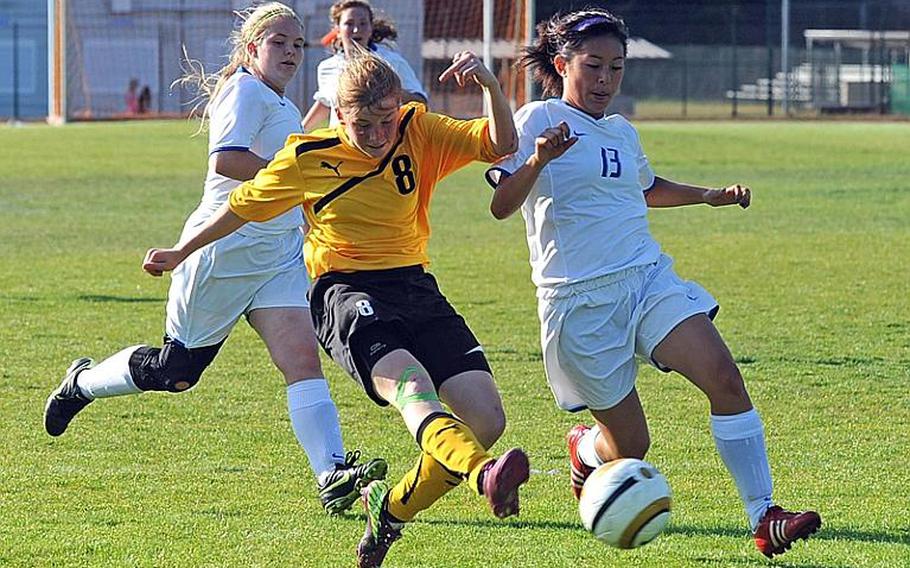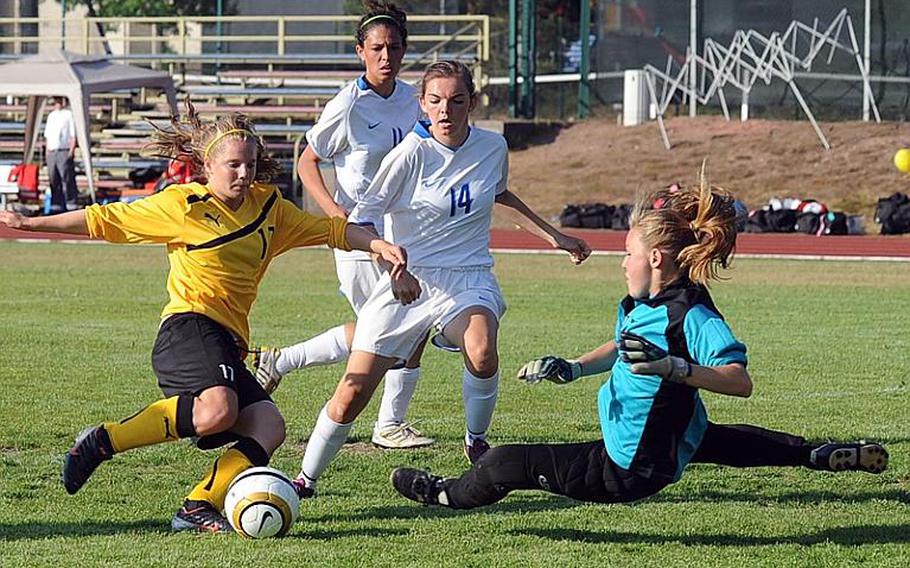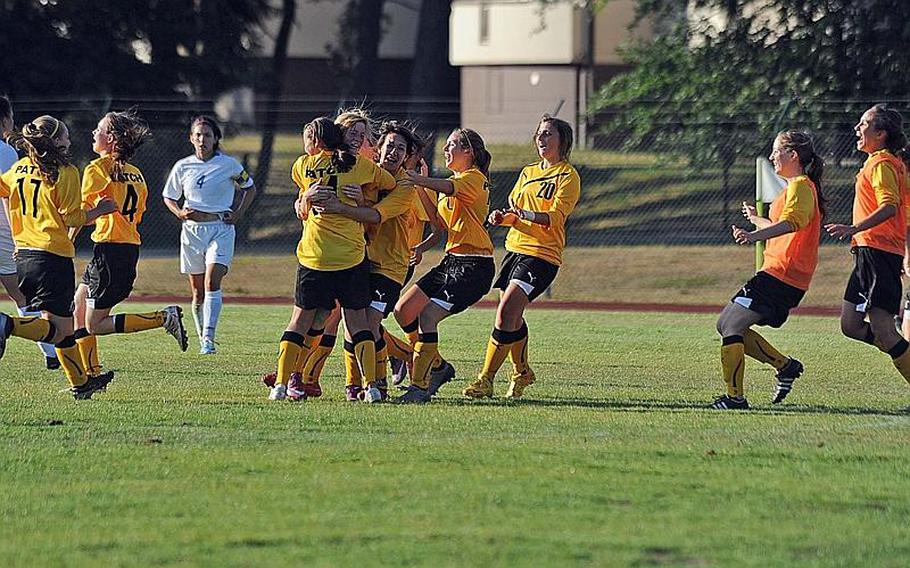 Correction: In an earlier version of this story, the tournament MVP and the Patch goalkeeper were misidentified. Patch freshman Tori Gilster was the MVP and freshman Johanna Quinn was the Patch goalkeeper.
RAMSTEIN, Germany – Patch coach Tom Manuel knew he had talent again this year in his Division I girls soccer team. He just wasn't sure if he'd be taking a cold shower at the stadium.
After 80 minutes of play, though, it was his team that was dumping cold water over his head to celebrate a second straight Division I championship following a 2-1 win over Ramstein.
The win did not come easy as Ramstein fought to get back in the game after falling down two goals to the Panthers in the first 20-minutes.
The game started with Panther freshman Lauren Rittenhouse sending a hard kick off the top cross bar, sending the packed crowd into a roar of both disbelief and relief.
Then in the 12th minute, Rittenhouse came back with a long run up the wing and broke free past the defense to slam a goal past Royals' keeper Terri Leigh Obermiller.
"The goal I can't explain it – it just happened," said a chocked up Rittenhouse following the big win.
Less than 10 minutes later, Rittenhouse made a similar run into the 18-yard box - where she was tripped up by Ramstein defender Danielle Alvey setting up a penalty kick for Patch captain Emma Murray. Murray converted into the right corner and Patch was up 2-0.
Going from not being sure if she would make the skilled Panther team to providing two huge plays for her squad in the biggest game of the year, Rittenhouse said she was just happy to be playing.
"Whatever is best for the team," she said.
Seven minutes after the Panthers' second goal, Ramstein junior Josie Seebeck crafted a perfectly placed pass through the Patch defense to an eager Tori Coleman, who tapped in the goal just before Patch's goalie, Johanna Quinn, could pounce on it.
The halftime score was 2-1 and that is how the game would end as the Panthers held on with a strong defense and possession game.
"The only reason we are here is because we are so close as a team – we work well as a team," said defender and team captain Sara Reynolds. "I trust these girls with my life and that is why we won."
The second half wasn't without suspense, as there were about a half-dozen shots rattling off the posts for both teams.
Ramstein coach Ricardo Buitrago complimented Patch after his team's only loss of the year.
"It was a tough game – I think that both teams got to the championship for a reason," he said.
"Both teams were hungry and some things didn't go our way. Sometimes in soccer that is what happens. I am very proud of my girls. They played their hearts out, they came out with their heads held high and that is the most important thing."
blottenbergerd@estripes.osd.mil