Patch edges Lakenheath to claim playoff spot
by
Adam L. Mathis
October 19, 2013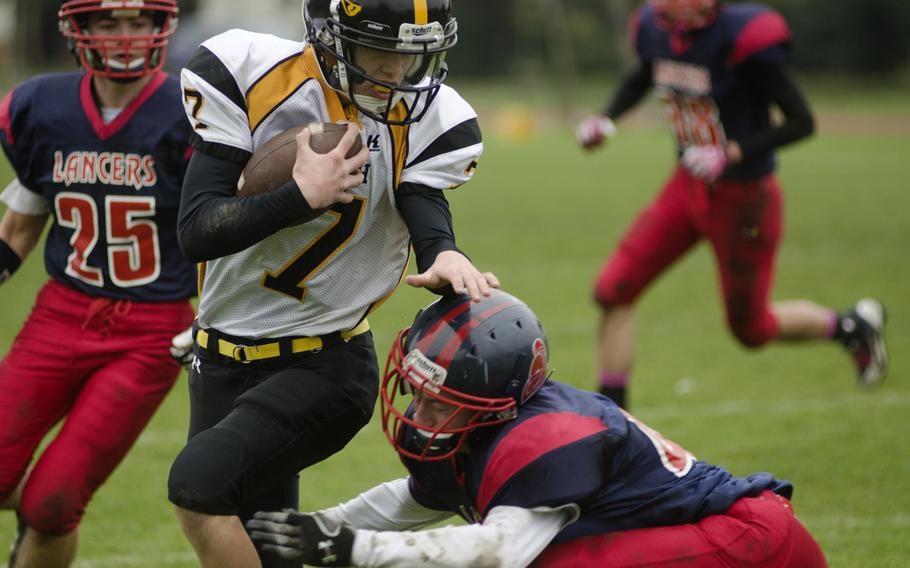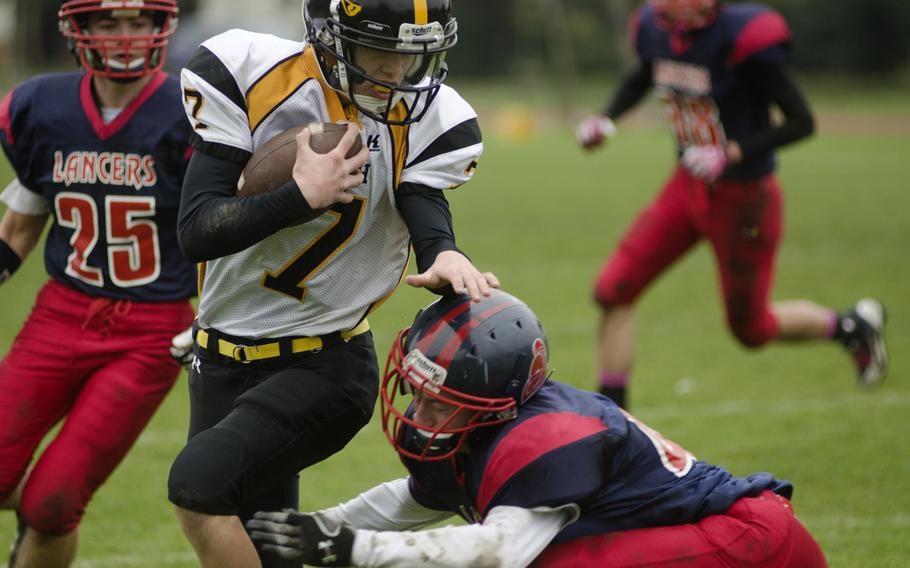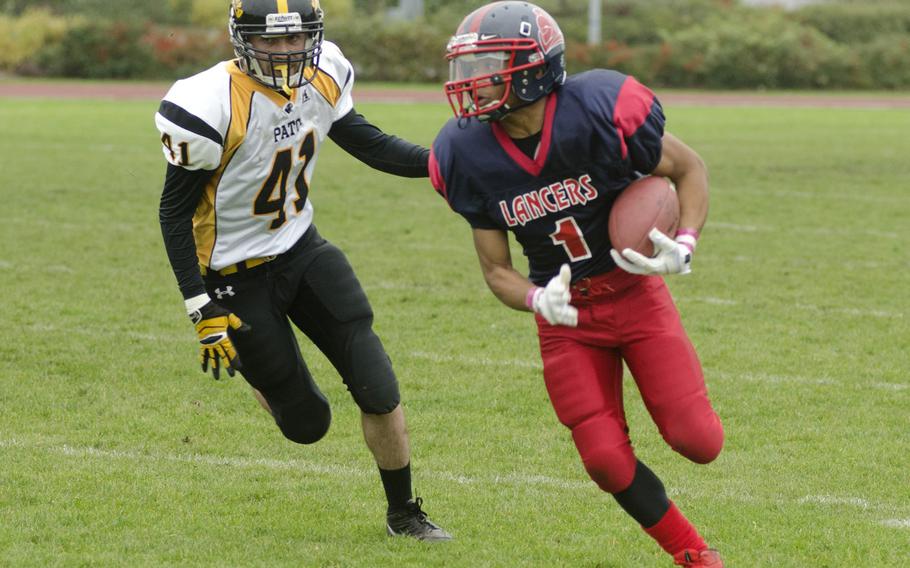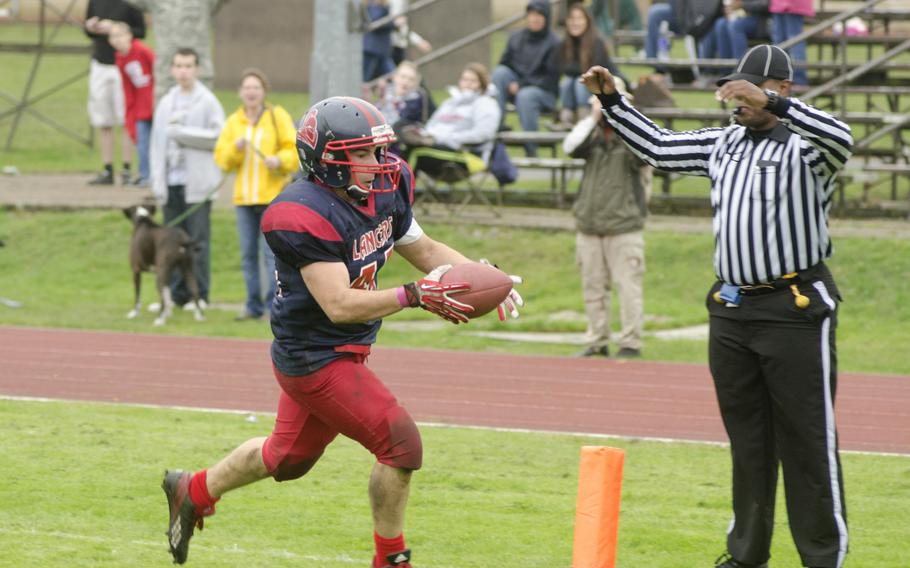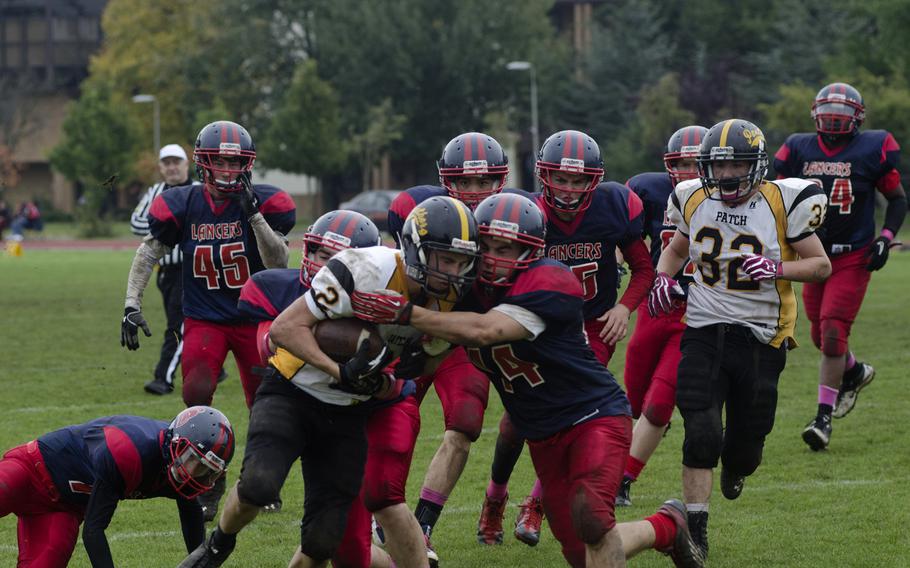 RAF LAKENHEATH, England – Extra points and two-point conversions determined the make-or-break football game for Patch on Saturday.
The Panthers' opponent, Lakenheath, hoped to salvage one win from the season. With no hope of making the European Division I playoffs, Lakenheath played a tight game against Patch, scoring a touchdown late in the fourth quarter to come within one point of the German-based team.
But the Lancers failed to make the kick for the extra point. Patch won 28-27, and qualified for the playoffs as a result. The Panthers tied with Vilseck at 2-3, but won the tiebreaker thanks to a 6-0 victory over the Falcons.
Patch's victory would not have been so tenuous if not for its own failed two-point conversions. "Our offense is one that you should be able to punch in the ball from three yards away," said Bill Ratcliff, assistant coach for Patch. "We just felt that we could get up a couple of extra points on that, and it didn't … pan out."
Patch scored four touchdowns and converted one extra-point kick, but failed three times on other conversions. Holen Sparling kicked that PAT and added a 16-yard field goal.
Ethan Logan scored twice and rushed for 121 yards for Patch and Dalton Stack scored two times as part of his 42 yards on the night.
Though Lakenheath's performance before this game had ruled them out of the championships, they were determined to make a good showing on homecoming. Matt Martinez, Lakenheath's head coach, said it's all about competing.
"We treat every game like it's our last one," Martinez said. "And (the players) go out and compete and that's all I ask them to do, and that's all I can ask them to do."
Ben Ciero had a breakout game for the Lancers, carrying the ball 16 times for 191 yards and three touchdowns. Justin Minges ran four times for 45 yards and A.J. Ransom completed nine of 16 passes for 67 yards. Nick Winkle caught four balls, including one for a TD.
Menges and Ciero each had 16 tackles on defense and James Griffin added nine more. Collen Higgins had seven tackles and disrupted two passes for Patch and Steven Ashbaugh was credited with six tackles and four sacks.
Patch won its second straight game after three losses to open the season.
Ratcliff attributed the Panthers' early struggles in part to a lack of returning players from last year.
"Some of these are brand new to football … and when you have that, it just takes time for those guys to understand how football's played," he said.
Looking ahead to the playoffs, Ratcliff called Ramstein the "big monster in front of us," but said last year, his team had a one-point game against Ramstein with seven minutes left despite the fact that Ramstein was much better on paper.
"I don't think if I went into a game thinking that I might lose, I would be doing my kids a service, so I go in totally convinced that I have the game plan, I'm not going to be outcoached and we're not going to be outplayed … we know it's not going to be easy, but we can win, if we play smart," Ratcliff said.