Patch coach gets suspension after pulling team
---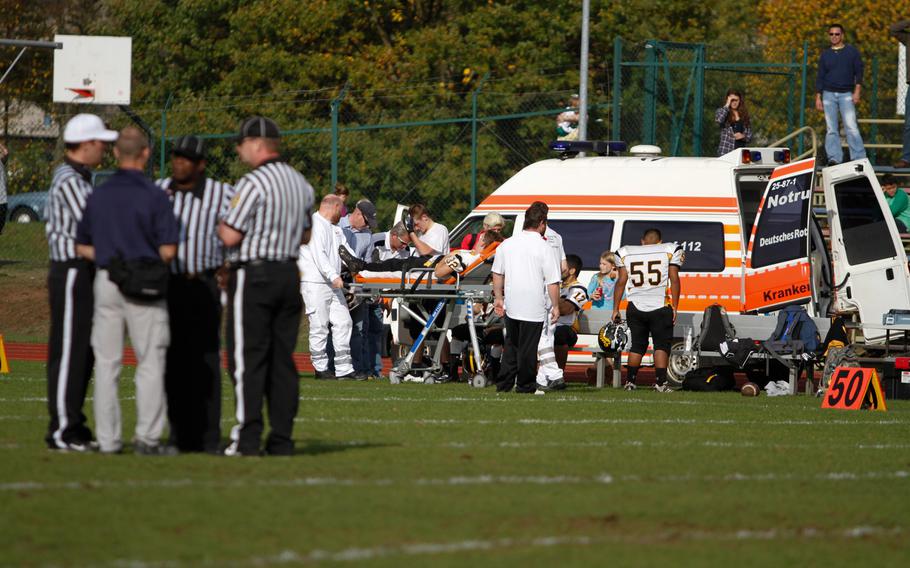 DODDS-Europe has issued Patch High School football coach Brian Hill a one-game suspension after the Panthers coach pulled his team out of a lopsided Oct. 26 loss at Ramstein.
In a statement, DODDS-Europe spokesman Bob Purtiman said that coaches are issued a newsletter by DODDS-Europe Athletic Director Karen Seadore stating that "coaches will be sanctioned (suspended) a minimum of one game for leaving the field prior to the end of regulation time specified by the referee."
Hill removed his Panthers from the field with eight minutes and 56 seconds to play in the fourth quarter of the Division I semifinal game after several of his players were sidelined with injuries. Three Patch players were taken to the hospital during the game. Ramstein won 34-0 to end Patch's season and advance to Saturday's European championship game.
Hill sent a message to Seadore explaining his decision to end the game early, writing that it was "in the best interest of my players and their parents." In the same message, the Patch coach detailed examples of what he considered illegal "headshots" and included links to YouTube videos featuring slowed-down footage of the plays in question. The videos were uploaded by Todd Mulvay, the father of freshman Nate Mulvay, one of the Patch players to be taken to the hospital on Saturday.
"I apologize for ending the game, but somebody had to put a stop to what was happening and I could not and would not risk another kid getting seriously injured or even killed," Hill wrote. In the email, Hill went on to accuse Ramstein coach Carlos Amponin of allowing his players to deliberately hurt their opponents.
"It is apparent to me and my staff that Ramstein's intentions were not only to beat us on the scoreboard but also to injure physically," Hill wrote. "I come to the conclusion that this dirty play is condoned at Ramstein as it was not a single player but several that intentionally led with their heads to hit defenseless players."
Amponin, who is also Ramstein's athletic director, denied those charges in a postgame interview with Stars and Stripes on Saturday.
"Our boys play hard, we hit hard," Amponin said Saturday. "We teach them to hit hard, and we teach them to hit clean."
Amponin declined further comment when reached this week.
In his email, Hill also found fault with the game officials, lamenting the fact that "such an important game was placed in the hands of a German crew." Hill wrote that "leading with the head" is "common in German leagues," so German officials "saw nothing wrong" with what he considered the illegal hits administered by Ramstein.
Reached Friday, Hill said he'd "been advised not to comment" on the situation. But he said that five of his players were diagnosed with concussions, including one at the field Saturday and four others at area medical facilities, and at least three others demonstrated concussion-like symptoms. He said that amount of injuries is "not typical for a football game" and reiterated his hope that officials will place a greater emphasis on watching for and penalizing helmet-to-helmet hits.
Hill also said that he plans to appeal his one-game suspension, which would be served in the first game of the 2014 football season.
Seadore has reviewed Hill's email and the linked videos and "determined that there was no malicious intent" on the part of the Royals, the DODDS-Europe statement said.
"The safety of our student-athletes is our primary concern in any competition and it's very unfortunate when even one student is injured," the statement said.
After the season, DODDS-Europe will conduct a review of accident and injury reports "to look for trends in the nature and type of injuries reported."
"Looking at the data, we will be able to determine how we can further enhance the policies and procedures we have in place," the statement said.
No extra precautions are planned for Saturday's pair of DODDS-Europe championship games at Kaiserslautern High School. Hohenfels and SHAPE will play for the Division II title, then Ramstein and Wiesbaden will compete for the Division I championship.
"We are not looking at doing anything differently for the championships this weekend except to emphasize continued enforcement of our current safety policies and procedures with our coaches and officiating crews," the statement said. "We look forward to a great matchup this weekend between Ramstein and Wiesbaden."
broome.gregory@stripes.com Twitter: @broomestripes
---
---
---
---