Panthers turn rematch with Royals into rout
by
Gregory Broome
September 28, 2019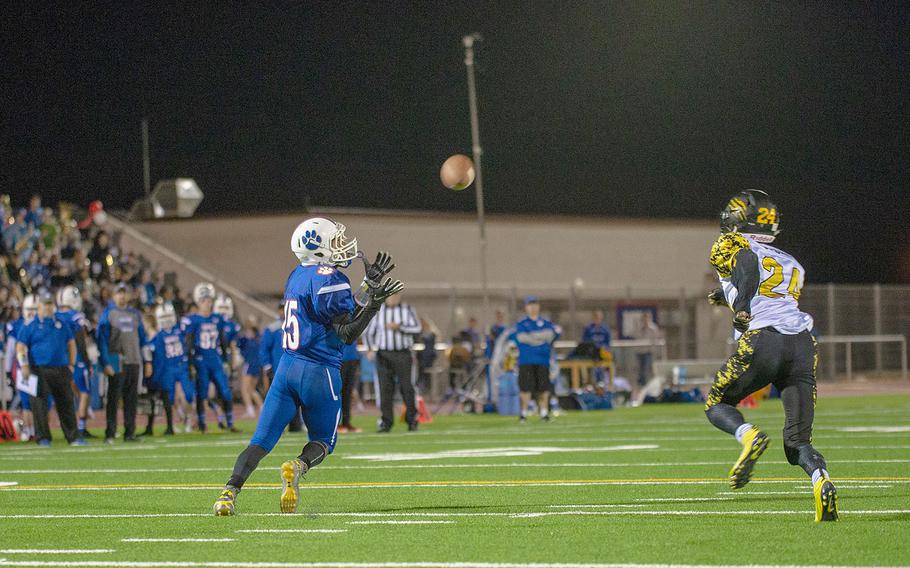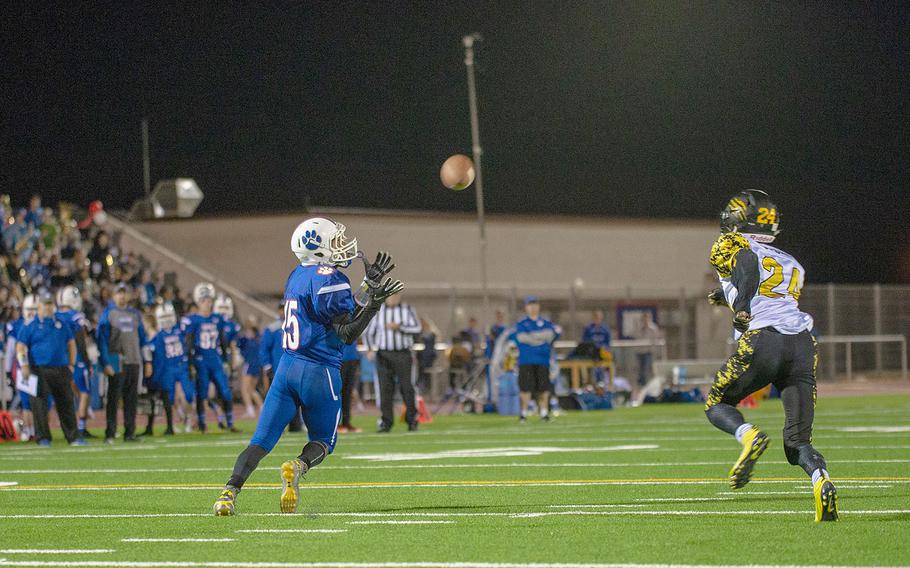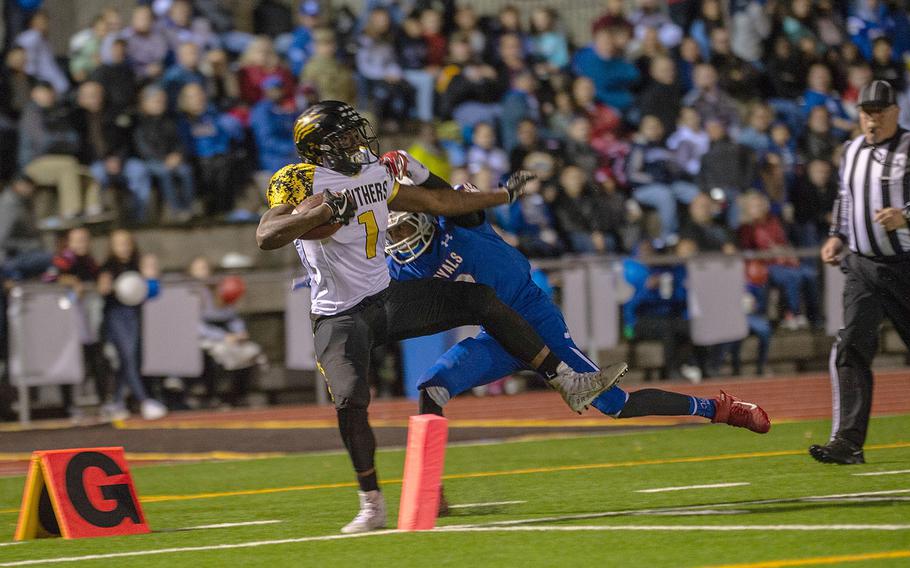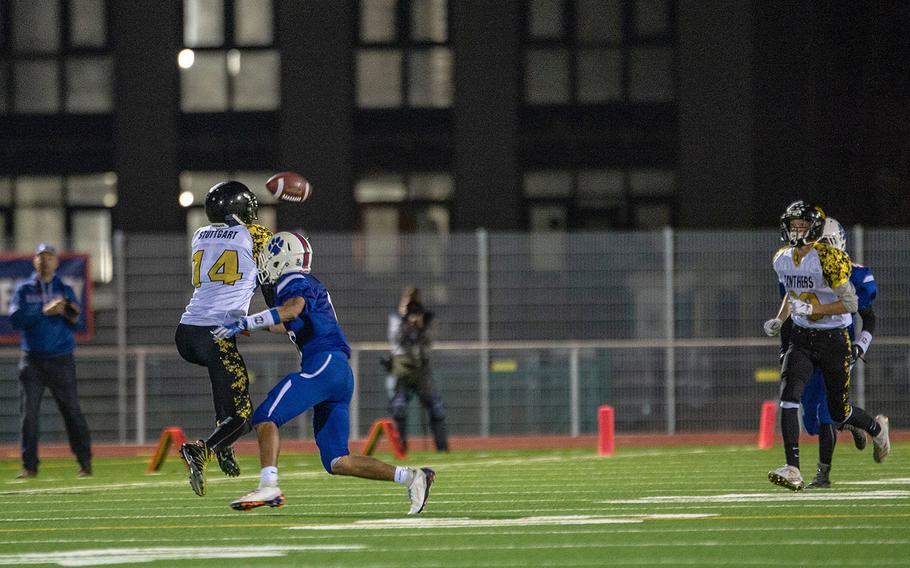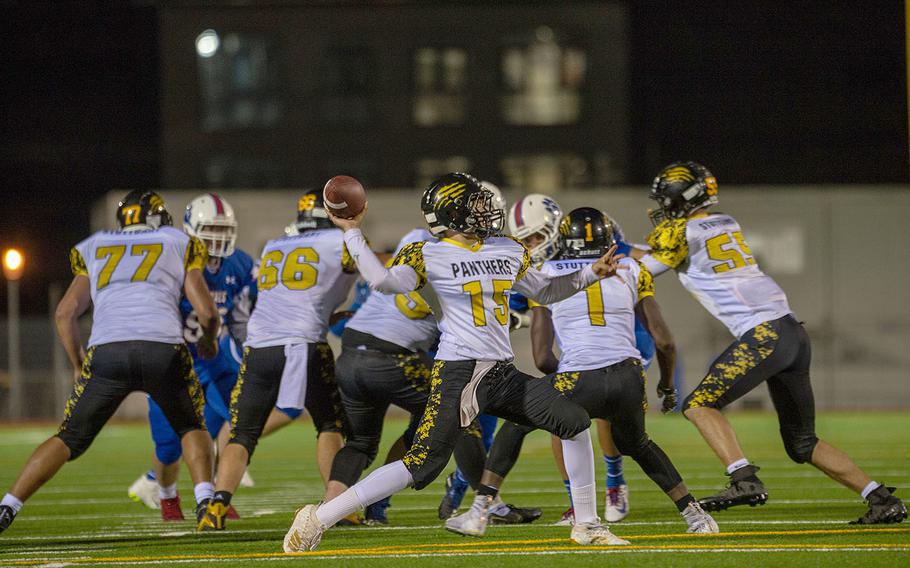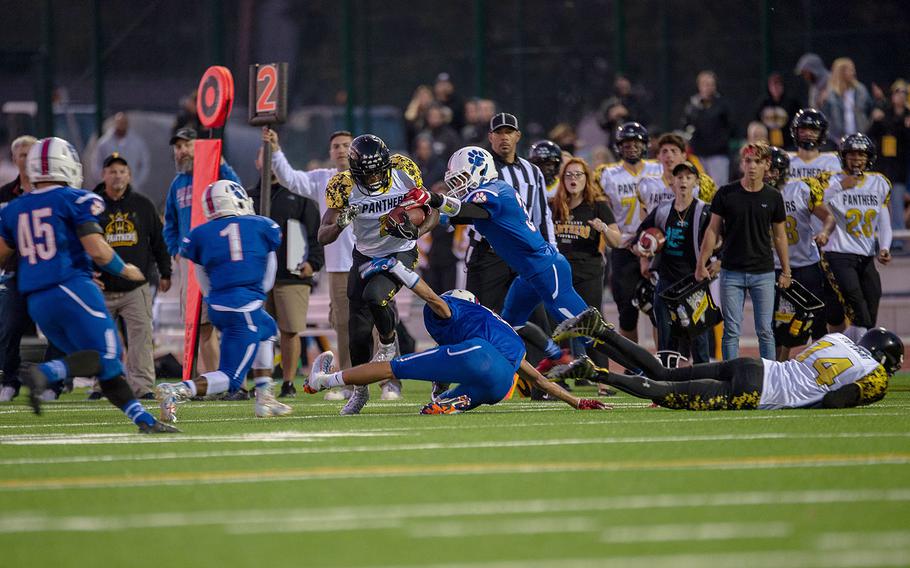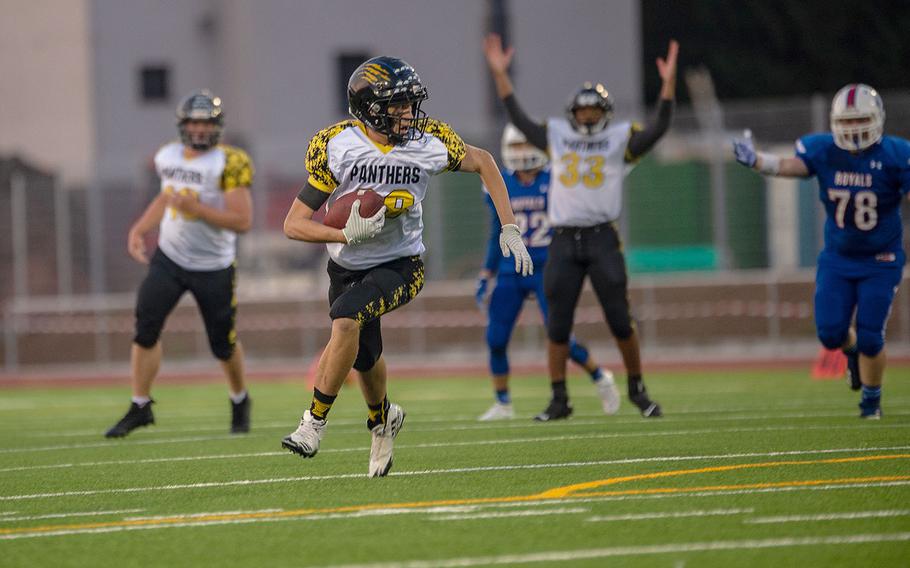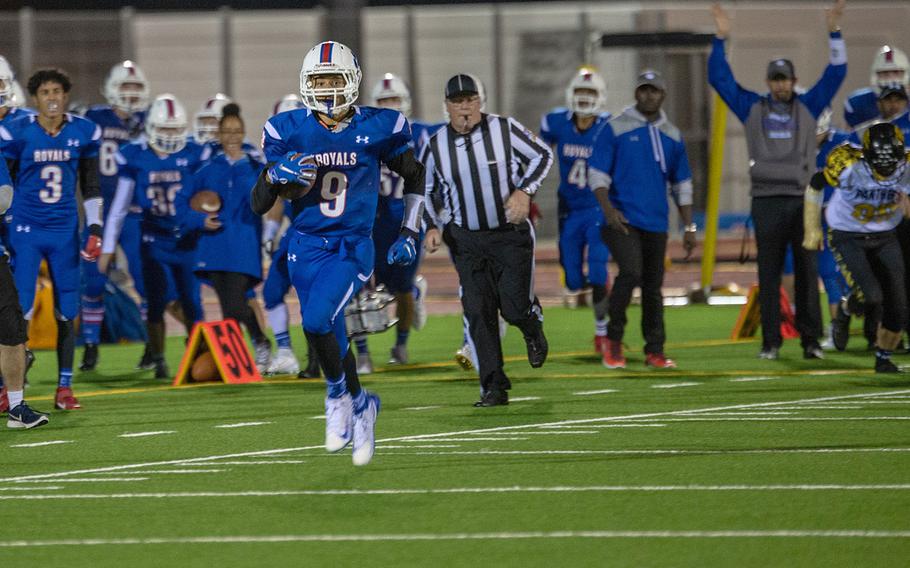 RAMSTEIN AIR BASE, Germany -- This might be another of Stuttgart's years.
The Stuttgart Panthers, DODEA-Europe Division I football champions in 2015 and 2017, took the inside track in the race for the 2019 title Friday night with a convincing 37-17 defeat of the defending champion Ramstein Royals.
"Morale-wise, it's huge, because we're undefeated, and we know that this is kind of pole position for the playoffs," Stuttgart coach Billy Ratcliff said.
As Ratcliff referenced, the win leaves the Panthers as the only unbeaten team in Division I entering the league-wide bye next weekend and the two remaining regular-season games to follow. As well as things are playing out, however, Stuttgart knows Friday's win is just an intermediate step to its ultimate goal.
"They're still the defending champs until Nov. 2," Ratcliff said of the Royals. "That's the way we treated it, we didn't take anything for granted."
Stuttgart started the game with just that sense of urgency, staking a double-digit lead through one quarter on a touchdown reception by Jacob Ratcliff and a short-yardage touchdown run by Josh Olive. Defensively, the physical Panthers denied all Royal attempts to sustain offense and held the Royals without a touchdown through halftime.
Despite their rather comfortable 16-3 lead at intermission, it was the Panthers that came into the third quarter with the fervor of a trailing team. A pair of quick touchdowns, including a 78-yard scoring sprint by Jordan McCullough, expanded Stuttgart's lead to 31-3 just two minutes into the second half.
Those two early-half surges offered irrefutable evidence of a potent Panther offense operating at an increasingly high level.
"We didn't fumble the ball, our line blocked like it was supposed to, and we ran the ball hard and fast," McCullough said.
Ramstein offered some resistance against the onslaught moments after its deficit maxed out at 28 points early in the third quarter. Jason Jones Jr. broke free for a 98-yard kickoff return for a touchdown that thrilled a Ramstein crowd enjoying the program's second-ever game under its newly installed Friday-night lights. But the Royals could gain no further ground.
McCullough led the Panther offense with 21 carries for 197 yards.
Quarterback Alec Kenfield completed five passes for 70 yards, along with a pair of two-point conversion tosses to Ahmir Johnson. Sabriel Ashley made four receptions for 48 yards for the Panthers. Trent Jackson rushed for 56 yards and a touchdown and found Ashley for a two-point conversion.
Garrett Sheffield led the Panther defense with eight tackles, while Johnson forced a fumble and recovered three, returning one for a 40-yard touchdown.
Dom Arizpe paced the Royals with 148 rushing yards on 20 carries, while Gabe Davis rushed five times for 44 yards and a touchdown. Logan Ridenbaugh and Davis each made eight tackles to headline the Ramstein defense.
Royals coach Carter Hollenbeck complimented Stuttgart's strategy and execution, adding that he was proud of the way his team continued to fight in the glow of an unforgiving scoreboard.
"They came ready to play. They did a fantastic job of game-planning," Hollenbeck said. "We'll continue to grow and make adjustments."
Should this season's trends hold, Ramstein may yet get another shot at Stuttgart, which also beat the Royals 31-28 in a Sept. 6 non-conference game. Friday's game offered a preview of what that hypothetical playoff encounter might look like.
"It was a hard-hitting game by both teams," Ratcliff said. "It was everything we expected this game to be. Truly a game between two top-tier teams."
broome.gregory@stripes.com Twitter: @broomestripes