Europe track
One record falls, but others survive - barely
---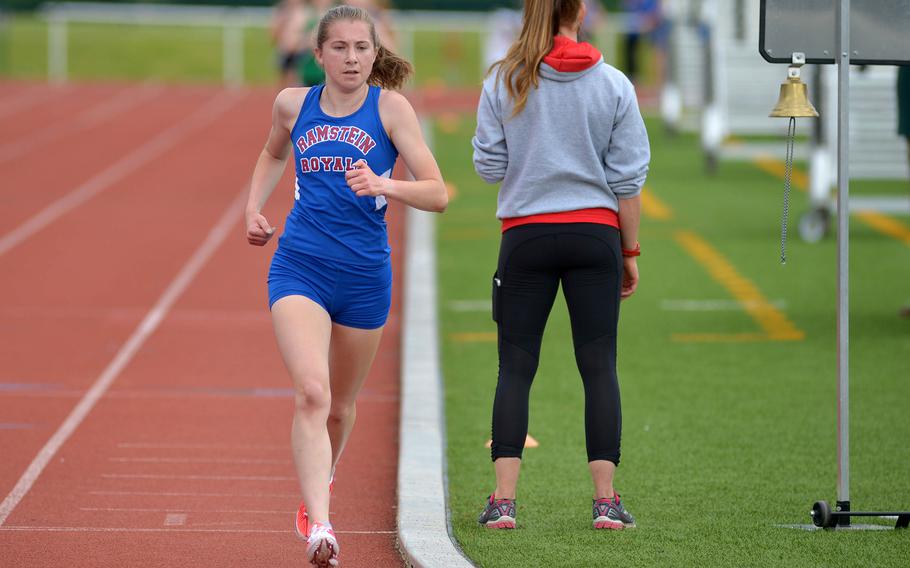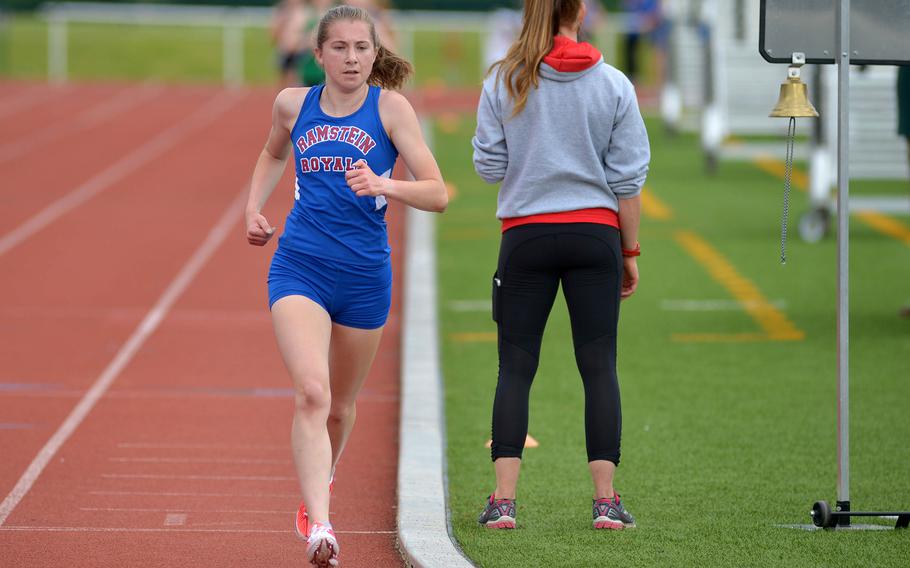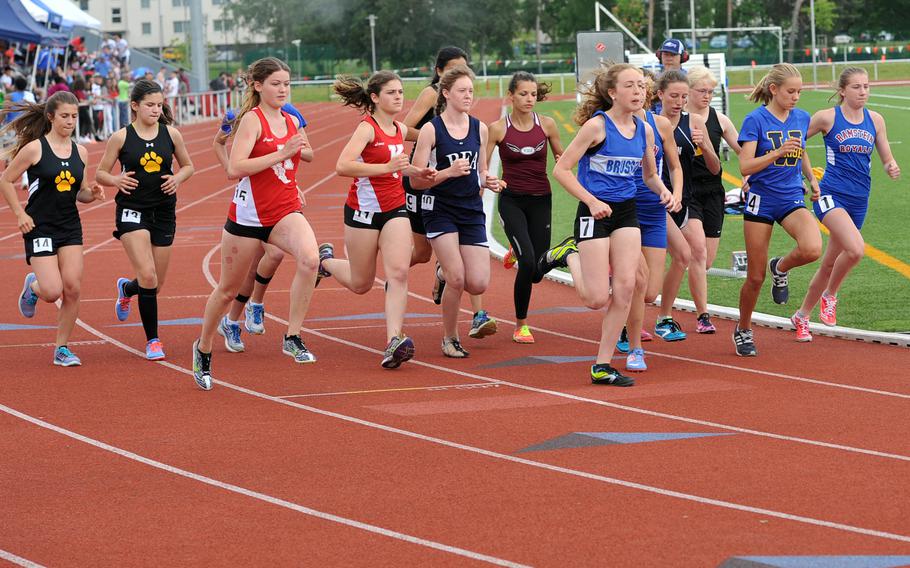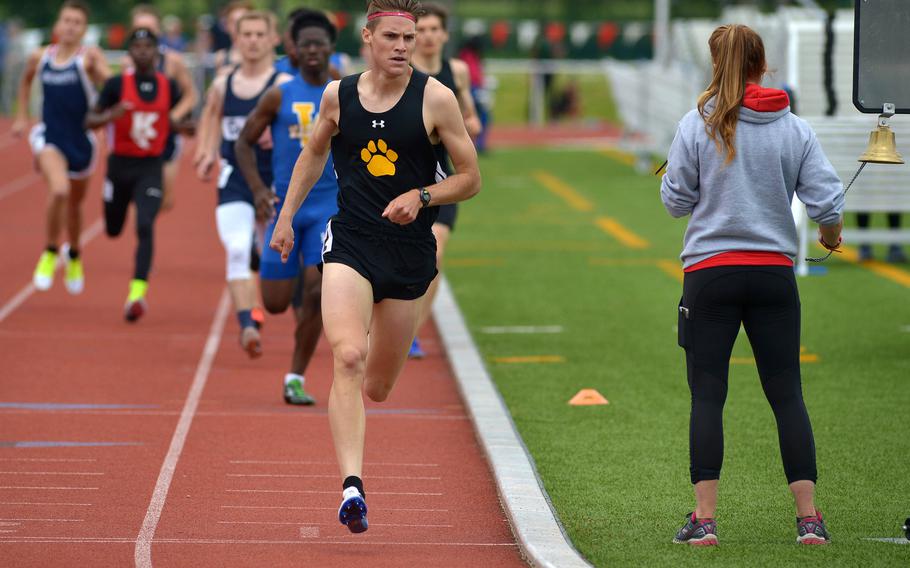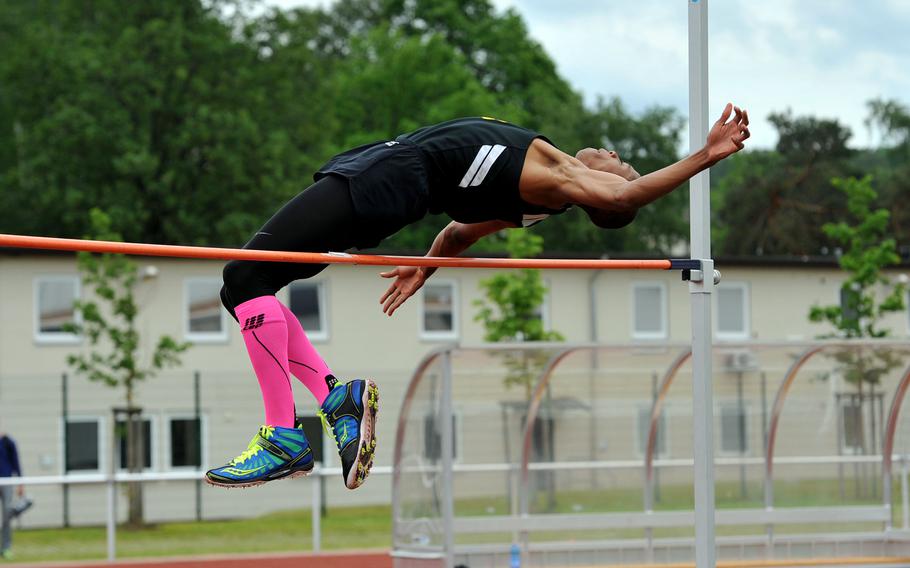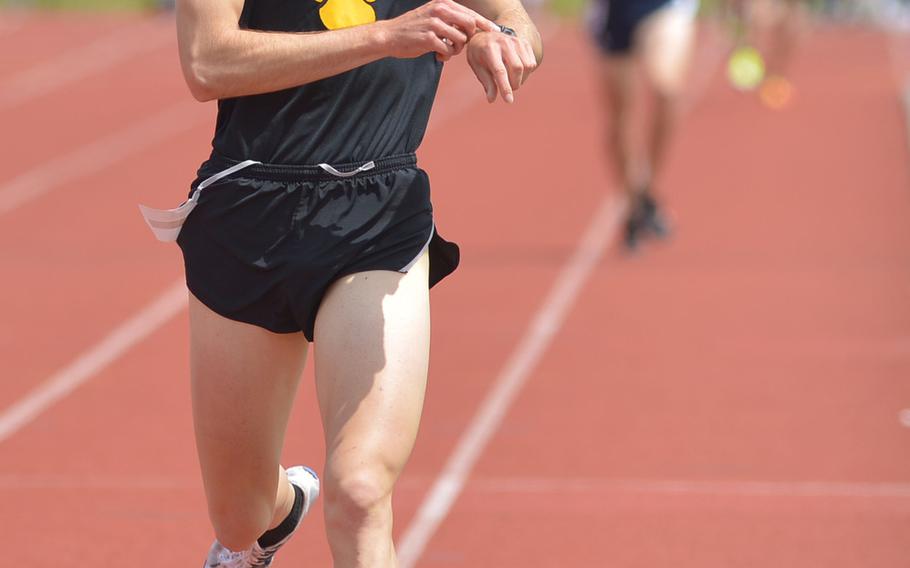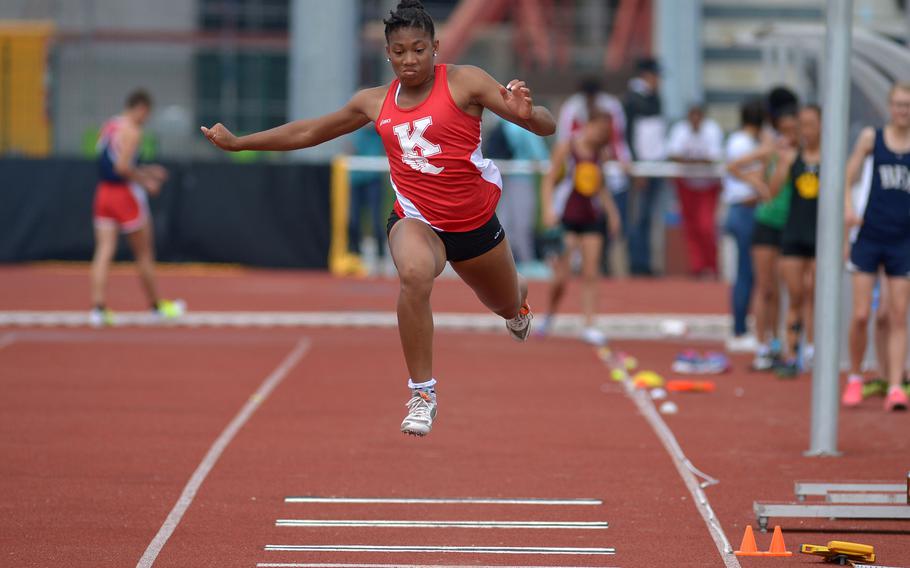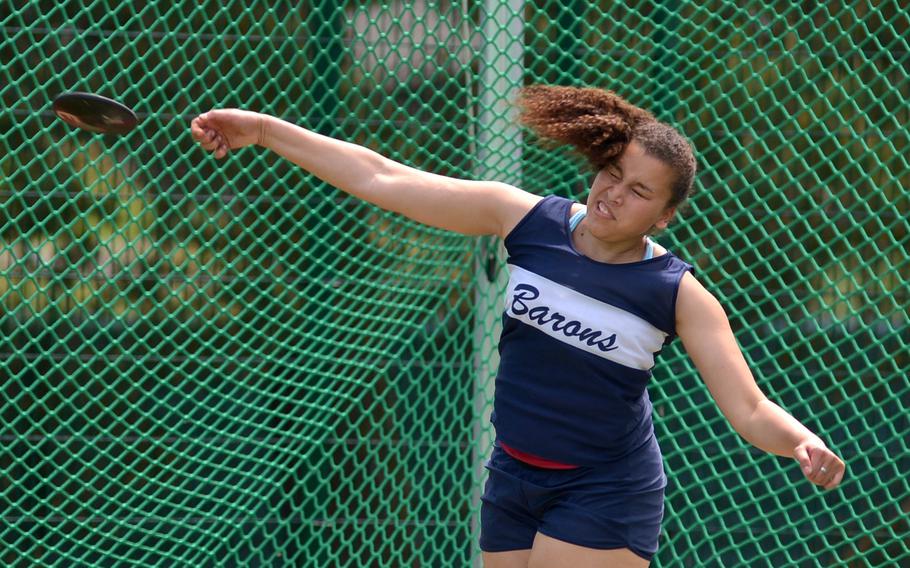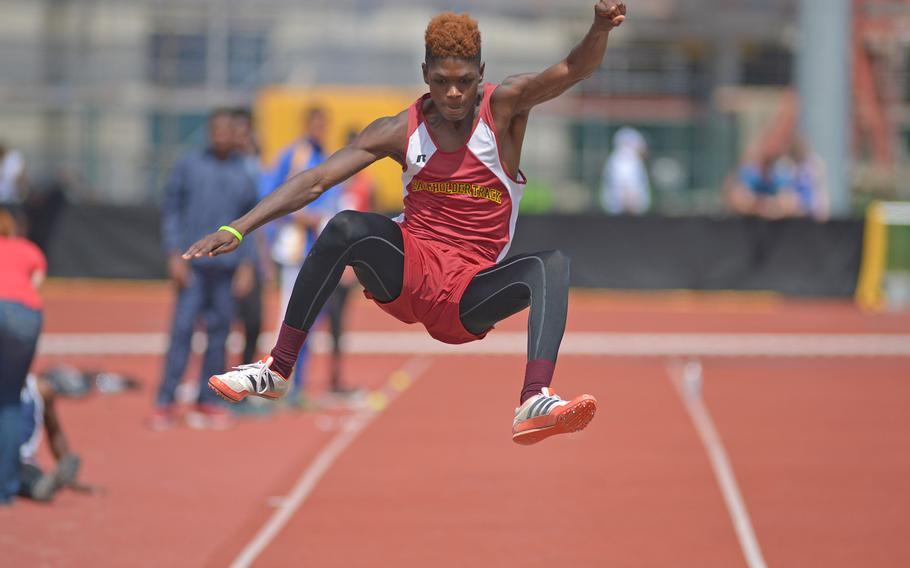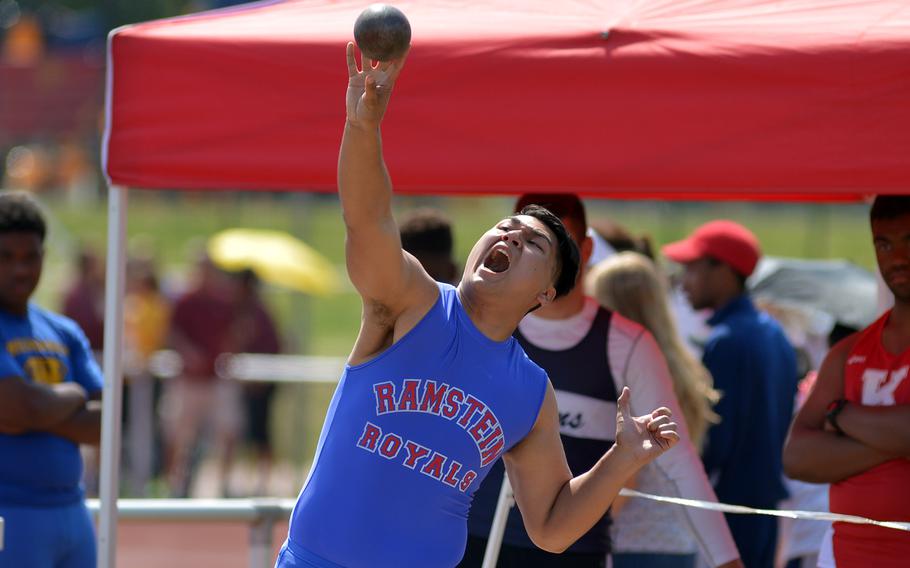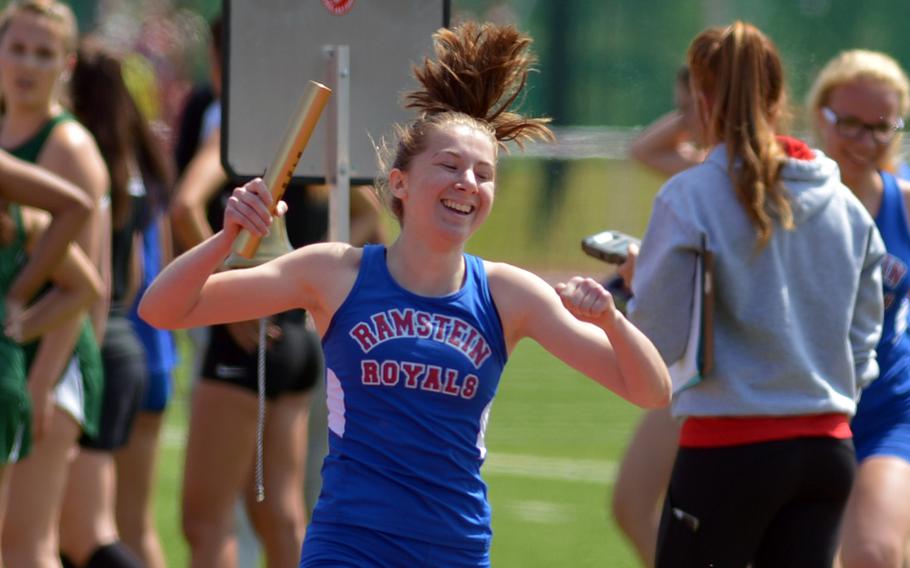 KAISERSLAUTERN, Germany – A record was set on the oval while two more held on by mere inches in the pits on the first day of competition Friday at the DODEA-Europe 2016 track and field championships.
Under a blistering mid-day sun on the Kaiserslautern High School track, Stuttgart senior Hunter Ficenec gutted out a new Europe best of 4 minutes, 23.30 seconds in the 1,600-meter run. His time smashed the old record of 4:27.28, set in 2012 by former Kaiserslautern running phenom Michael Lawson.
In the girls' triple jump, Kaiserslautern sophomore Jada Branch saved her best for last, nailing 38 feet, 1 inch on her final attempt to defend the title she won as a freshman. The mark topped the field but was inches short of the Europe record of 38-6, held by former Raider Lindsey Hyter and Pat Boston of Mannheim.
Branch said she was thrilled to eclipse the elusive 38-foot mark and set a personal best, especially since she was having trouble in her preliminary jumps and fouled on her first attempt in the finals.
"I was glad I was able to refocus, just knock it out and do what I came here to do," she said.
For Ficenec, the 1,600 was his first of two titles earned on the day.
In the 1,600, he beat a talented group that included Ramstein junior Colin McLaren, Lakenheath sophomore Austin Burt and Stuttgart senior James Fullwood.
McLaren took the race out fast but couldn't fend off Ficenec's surge at about the 700-meter mark. He settled for second place with a time of 4:31.28.
Several hours after winning the 1,600, Ficenec clocked 1:57.82 in the 800 meters to win the grueling two-lap sprint by a gap of about 4 seconds. Ficenec ran to the front about 100 meters into the race and quickly built a huge lead.
With Ficenec running by himself, the trailing pack made it a race for second. Three runners crossed the line in less than one second: Stuttgart senior John Bowman in 2:01.43, for second place, followed by Wiesbaden sophomore Caleb Brown in 2:01.61 and Bitburg junior Matt Holmes, 2:01.98.
On the girls' side, the Ramstein Royals dominated the two finals held on the track.
In the 3,200-meter relay, Ramstein defended its title with a time of 10:12.80. The team of Katie Rose Gunia, Solenne Kriner, Dascha Pontiff, and Katelyn Schultz held off Stuttgart by six seconds.
Running anchor leg, Schultz erased a huge Stuttgart lead to ensure the Royals' victory in the first running event of the day.
"She's our secret weapon," joked Kriner about Schultz. Five hours later, Schultz was back, this time to defend her title in the 3,200-meter run. The junior took the lead from the gun and knocked out eight laps in a personal best of 11:40.80 for the win.
Though Schultz made the longest event on the track look easy, she said it didn't feel that way.
As the laps wore on, thoughts running through her head included: "'I feel like I'm going to throw up.' 'I can't feel my legs,'" she said.
But Schultz said she's worked this year on becoming stronger mentally and was able to hang tough.
"I just had that mentality today that I was going to kill it," she said.
Earning his first championship in the boys' high jump was Stuttgart senior Jacob Milton. When Milton secured the title with a jump of 6-8, the bar was raised to 6-10. The stakes were even higher: A new European record was on the line. But on three attempts, he couldn't top the record of 6-9.5 inches, one that's been on the books since 1992.
But he's come a long way in just a year. He finished seventh last year at Europeans, where his best jump was 5-6.
"I feel great," he said of his efforts.
Baumholder sophomore Nathaniel Horton had done the long jump before this season but "was more of a participant than a competitor," his coach, Todd Coyour, said.
Horton made his first long jump appearance in the championship meet memorable.
Kaiserslautern senior Omar Plaisime took the lead in the event on his last jump, hitting 20-11.
With one last attempt, Horton dug deep and landed a winning jump of 21-8.
"Oh, man," was all he could say when he heard his mark.
Bitburg junior Elise Rasmussen is a familiar, if formidable, face in the throwing ring. But up until this year, the 2015 European champion in the shot put couldn't match that success in the discus. She was third in the event as a freshman and fourth last year.
On Friday, her discus gleamed gold when she landed a throw of 108-9, nearly 20 feet farther than runner-up Armani Goodwin of Kaiserslautern.
Ramstein senior Clesson Allman continued his success in the throws. Allman defended his 2015 title in the shot put, clinching it with a toss of 46-3 on his second to last throw.
"I'm overjoyed," he said. "Returning to defend my crown is definitely how I wanted to end my senior year."
Though he had the best mark coming into the championships, he took nothing for granted in a stacked field. "Usually there are just one or two alpha dogs and most fall in line behind them," he said. "This year, there were four or five guys that could have taken first."
Naples senior Adriane Hines was a close second, with a toss of 43-7.25.
The meet continues on Saturday, starting at 11 a.m.
---
---
---
---