D-II girls semifinals
Old rivalry renewed as BFA will take on Spangdahlem
---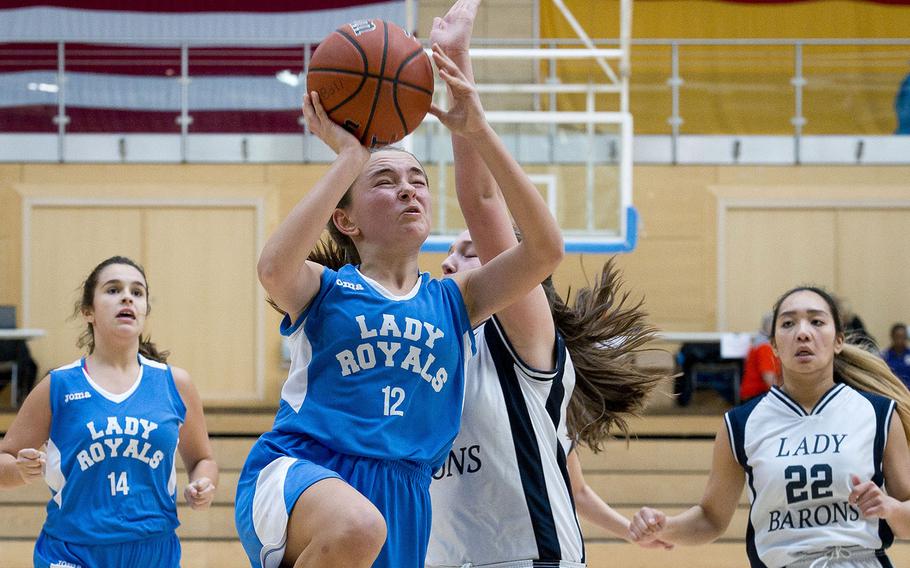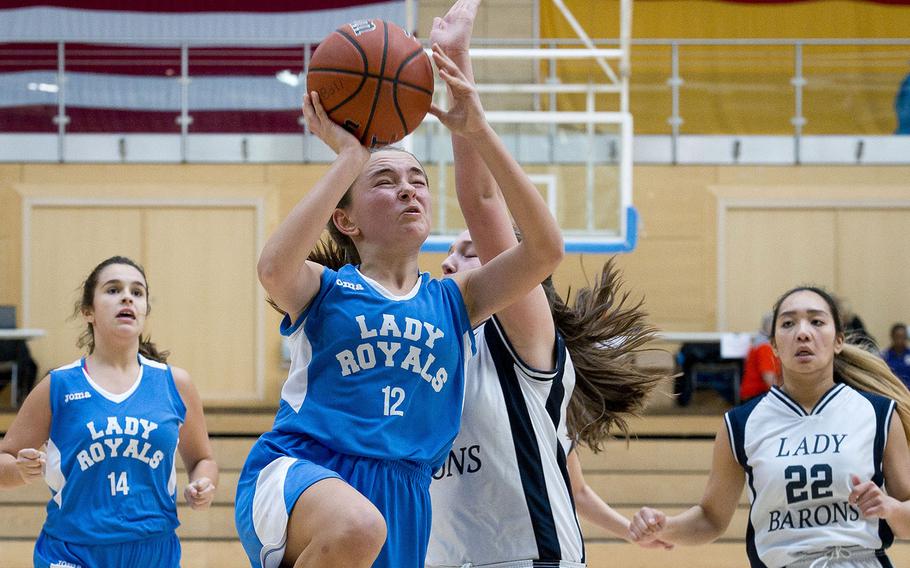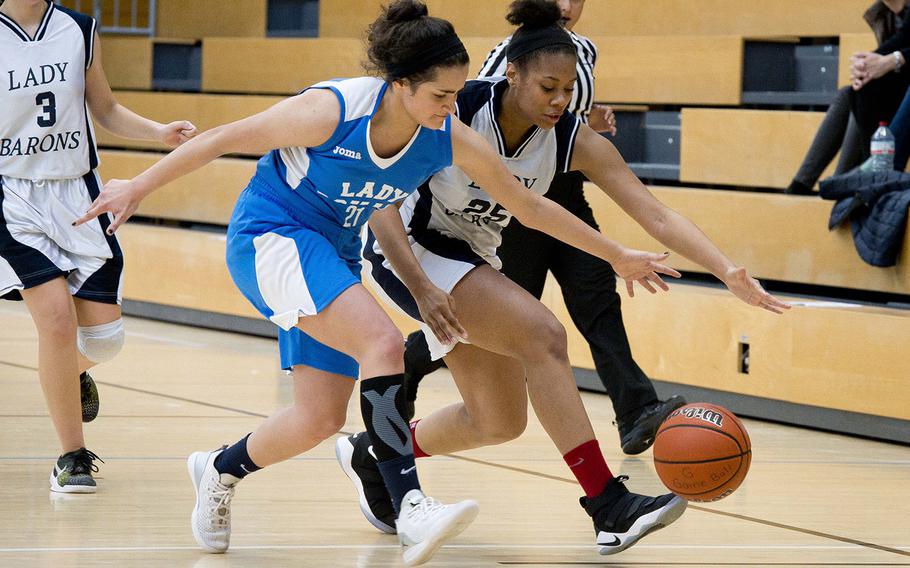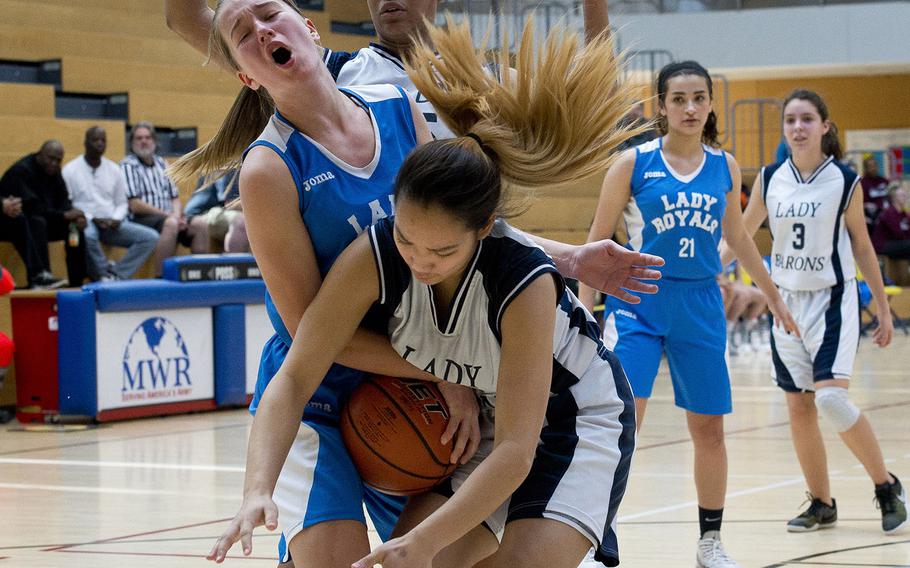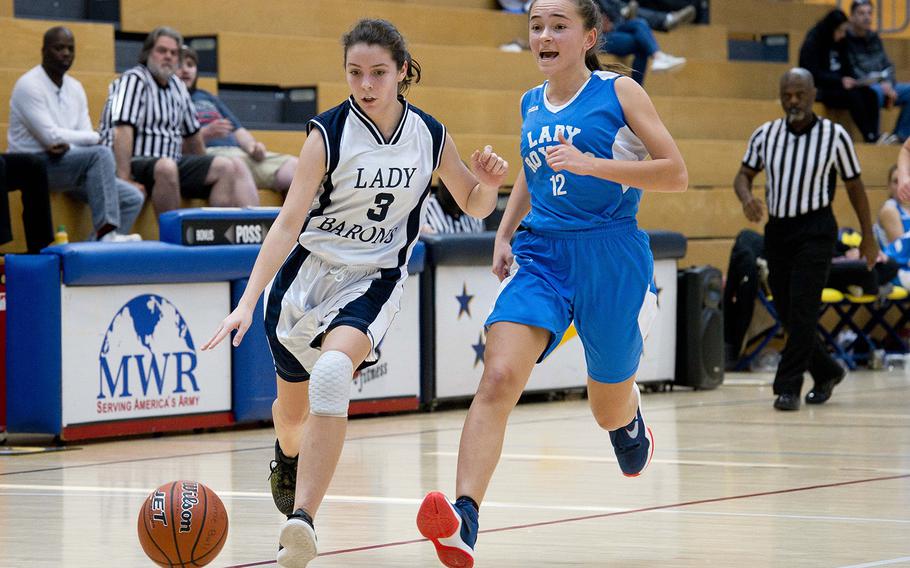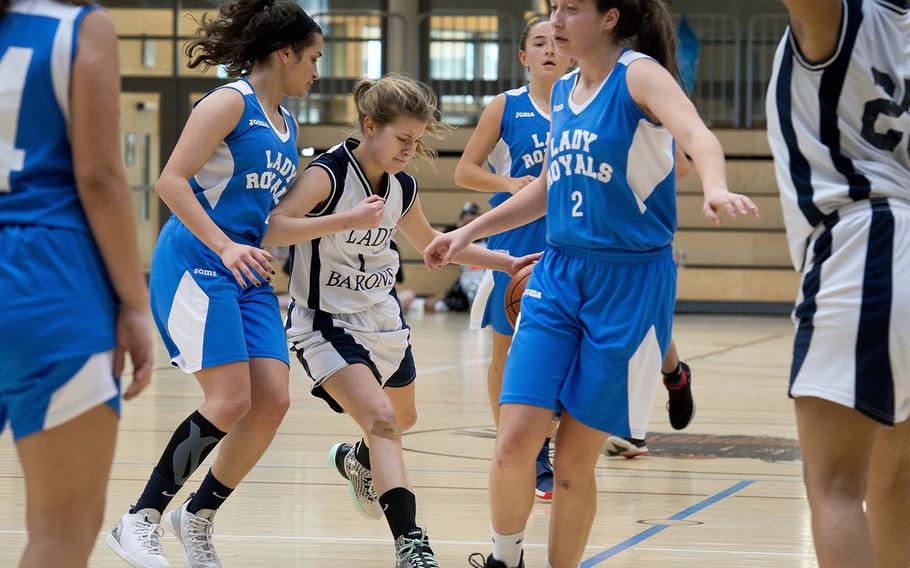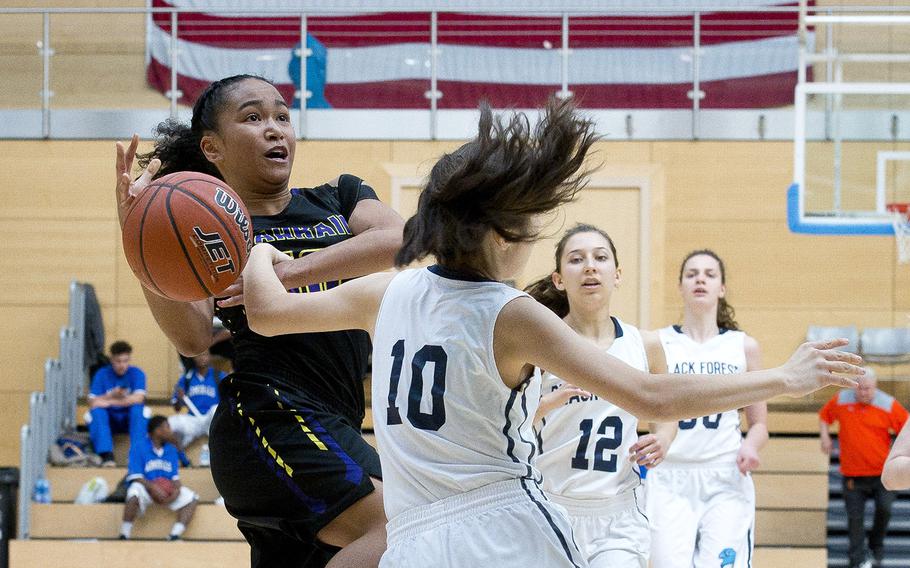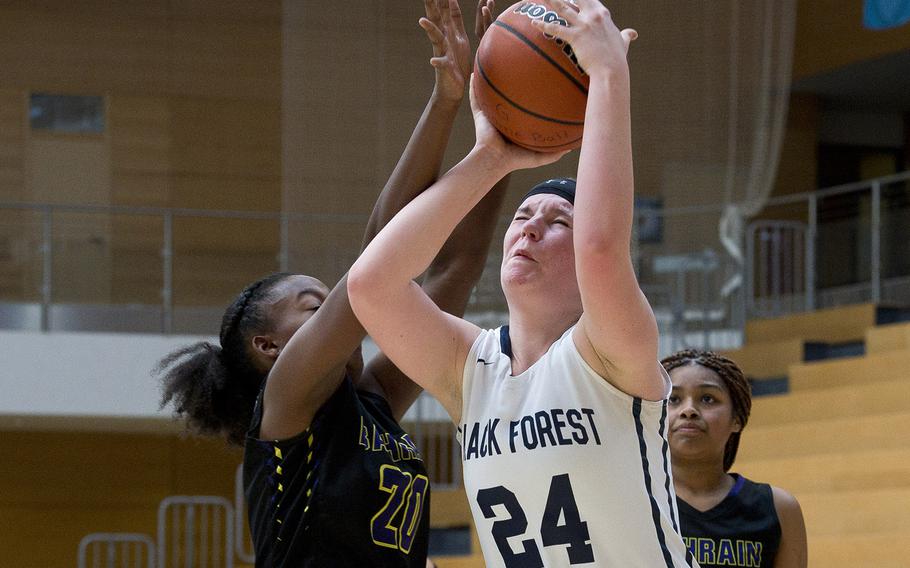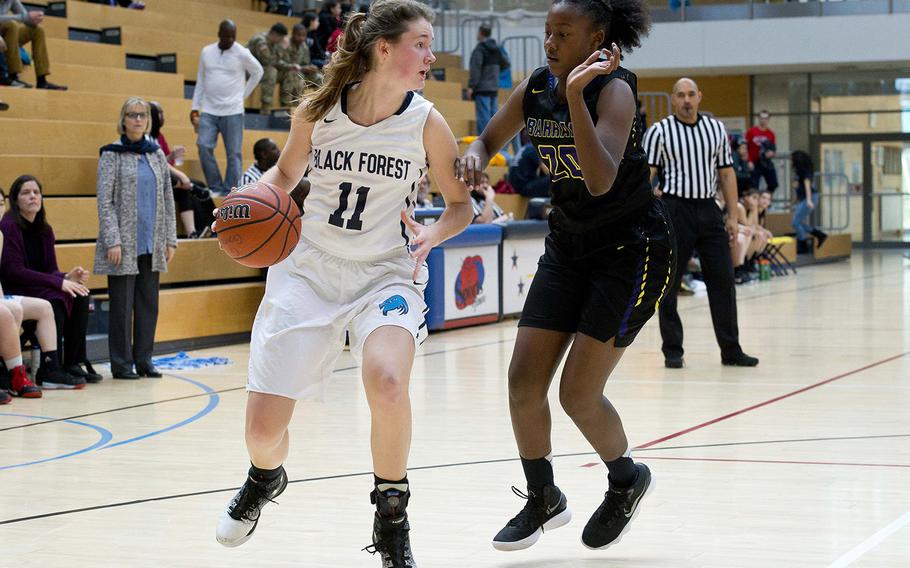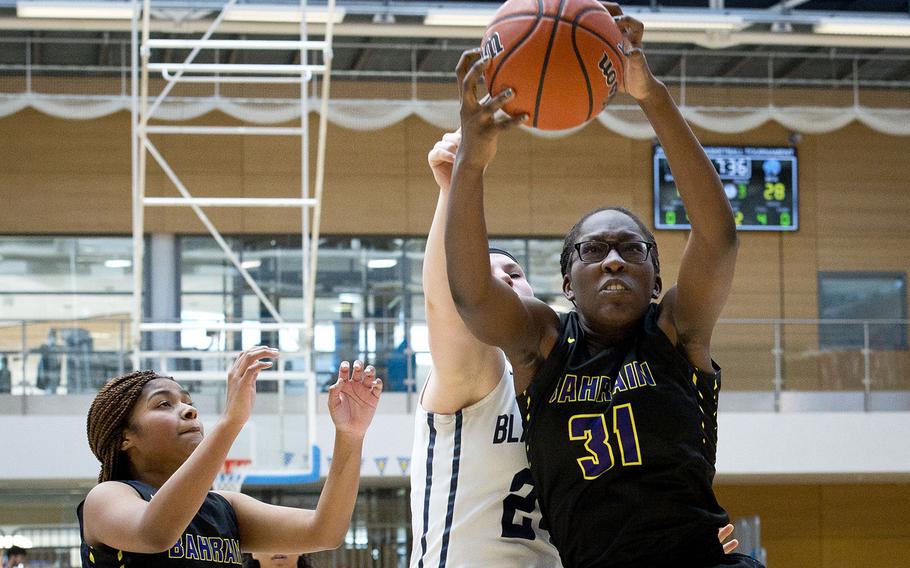 WIESBADEN, Germany – So they meet again.
The Black Forest Academy Falcons and the Spangdahlem Sentinels will face off Saturday in the 2017-18 DODEA-Europe Division II girls basketball championship game, extending an ongoing rivalry between BFA and the program known through last year as the Bitburg Barons. The two have played in the last three European title games, with Bitburg winning in 2015 and BFA claiming the most recent two.
The teams booked their rematch with wins in Friday morning semifinals at Clay Kaserne Fitness Center. Spangdahlem ousted Marymount by a 23-18 score, while BFA routed Bahrain 45-22.
Black Forest Academy 45, Bahrain 22: The defending champions continued their merciless march through the division, moving one win away from a third straight European championship.
Bahrain delayed the inevitable for as long as possible, even landing a couple counterpunches to BFA's opening 6-0 run. But BFA's overwhelming size, skill and shooting methodically built an 18-point halftime lead and reduced the semifinal to another runaway for the defending champs, albeit by its smallest margin of victory of the tournament.
Even as it works its way through a string of badly overmatched opponents, BFA has maintained its steady, self-assured approach, avoiding the dangerous extremes of arrogance and complacency.
"Anyone can be beaten on any given day," BFA coach Cindy Kennedy said. "We respect every team that we face."
BFA's unrivalled roster of accomplished players cushions the team from the kind of aberrations that can lead to upsets. Those layers of redundancy ensure the scoreboard keeps moving even if a key player or two struggles.
"This year we're a very solid team," BFA point guard Kennedy Wilbanks said. "It's so great because whenever one of us is off, the others just bring the other person up and we're able to work together. One of us is always going to be on."
Several BFA contributors were on Friday. Wilbanks led all scorers with 14, including four of BFA's made three-pointers. Katie Greathouse scored 10 points and Jessica Campbell added nine.
Spangdahlem 23, Marymount 18: The Sentinels outlasted the Royals to return to the European championship game, advancing to the finals despite a 3-8 divisional record in the regular season and a No. 7 seed in the bracket.
Spangdahlem ran into some fourth-quarter turbulence after cruising through much of the game with a relatively comfortable lead.
Marymount's Ana Mathiesen converted a putback layup to reduce her team's deficit to two points with five and a half minutes to play in the final quarter. Sentinel senior Amadi Bradshaw averted the potential crisis with two baskets and a free throw that restored a safe advantage.
Bradshaw recalled largely "chilling in the back" in previous seasons while since-graduated Bitburg star Elise Rasmussen handled the bulk of front-line rebounding and scoring duties. As the team's new senior centerpiece, Bradshaw recognized that this year was her "time to shine," and she delivered on Friday.
"That was most definitely my responsibility," Bradshaw said. "Put those points back up like I'm supposed to."
Bradshaw scored a game-high nine points, including seven of the Sentinels' 11 second-half scoring total and all of their fourth-quarter points. Mathiesen led Marymount with seven points.
The Royals were among the three unfortunate pool-play denizens steamrolled by BFA in preliminary play. But they clawed into the elimination round ahead of Aviano and American Overseas School of Rome, BFA's other two victims, via a three-way tiebreaker process.
The Sentinels, meanwhile, recorded two preliminary wins in three games, including an opening 28-25 defeat of Bahrain that eventually functioned as a head-to-head tiebreaker, gave the Sentinels the favorable semifinal draw and delivered Bahrain into BFA's waiting talons.
Now Spangdahlem takes its shot at an overwhelmingly dominant defending champion that has yet to find reasonable competition in this tournament. The Sentinels hope to provide that to their old rival Saturday.
Spangdahlem coach Chris Howard said he "never expected" to be back in the title game with this year's largely young, inexperienced group, and allowed that BFA enters the final a clear favorite.
"They've earned it," Howard said.
Twitter: @broomestripes
---
---
---
---