Novices, veterans take to the mats in Hohenfels
by
Michael S. Darnell
December 7, 2013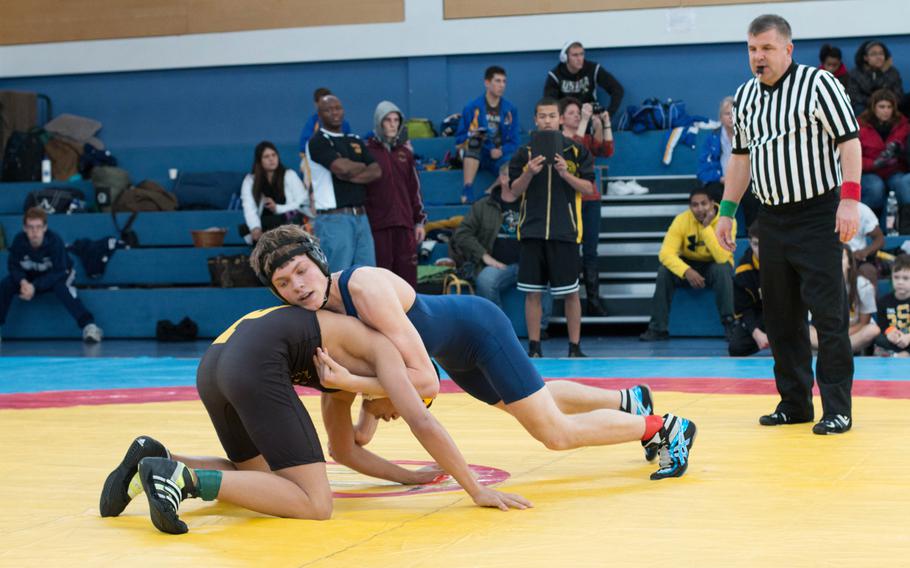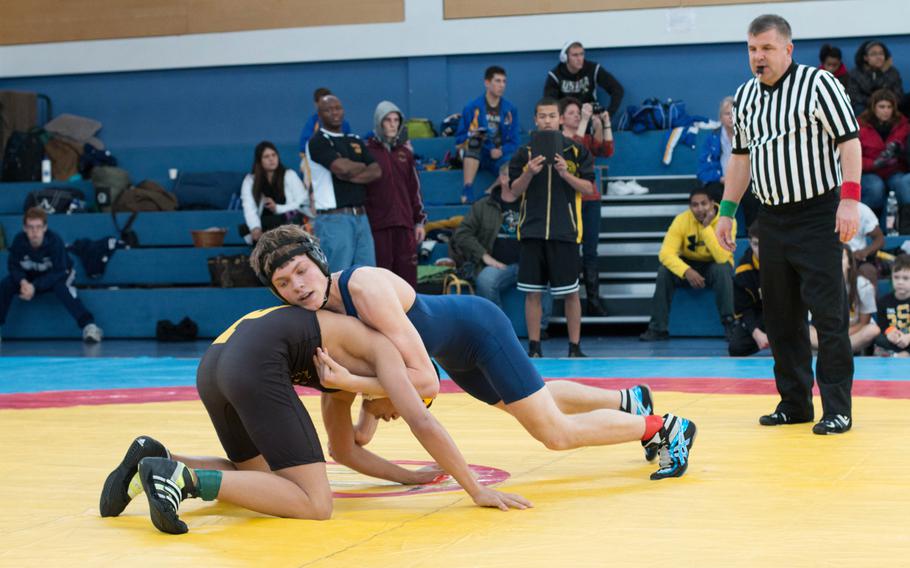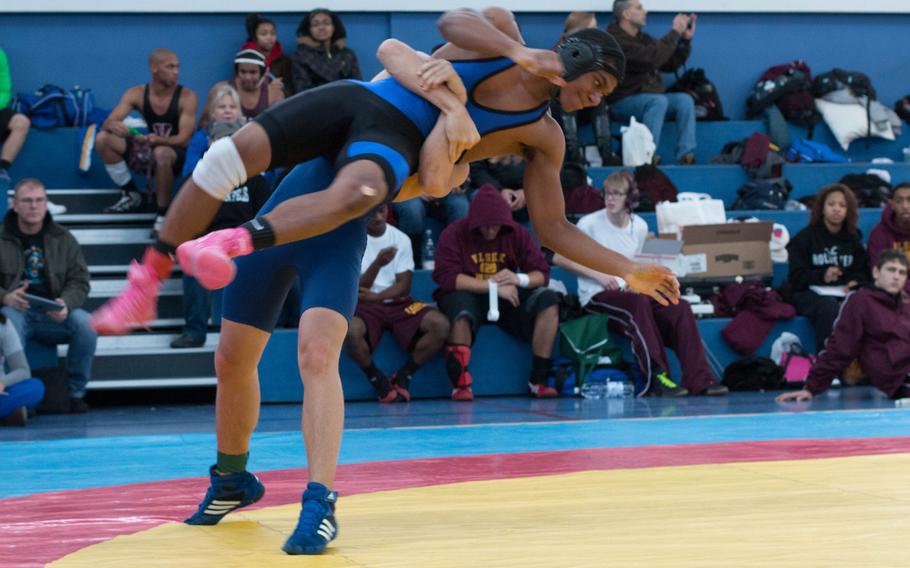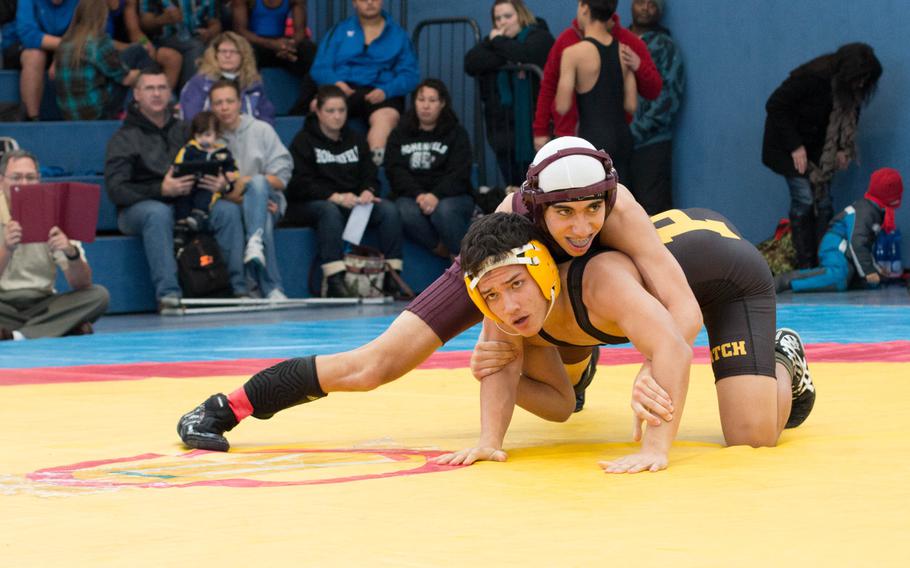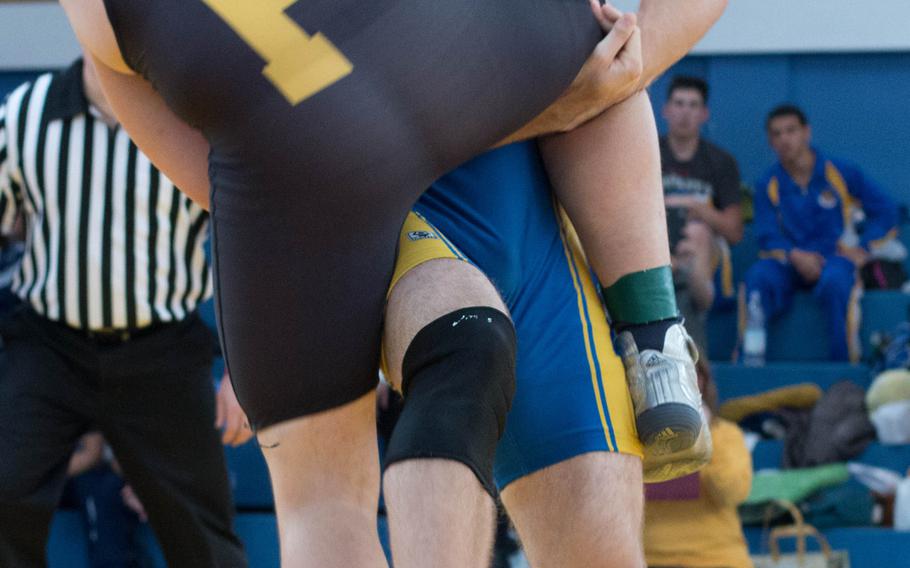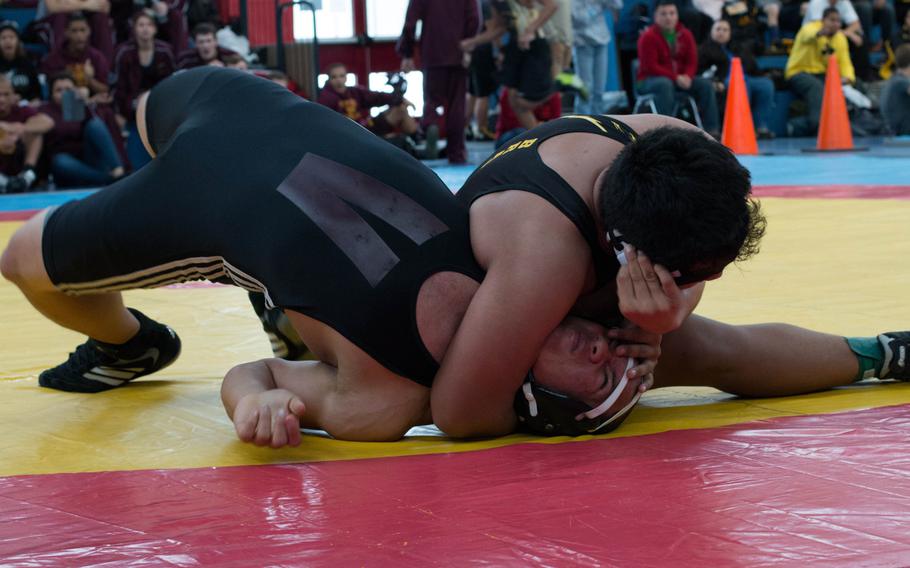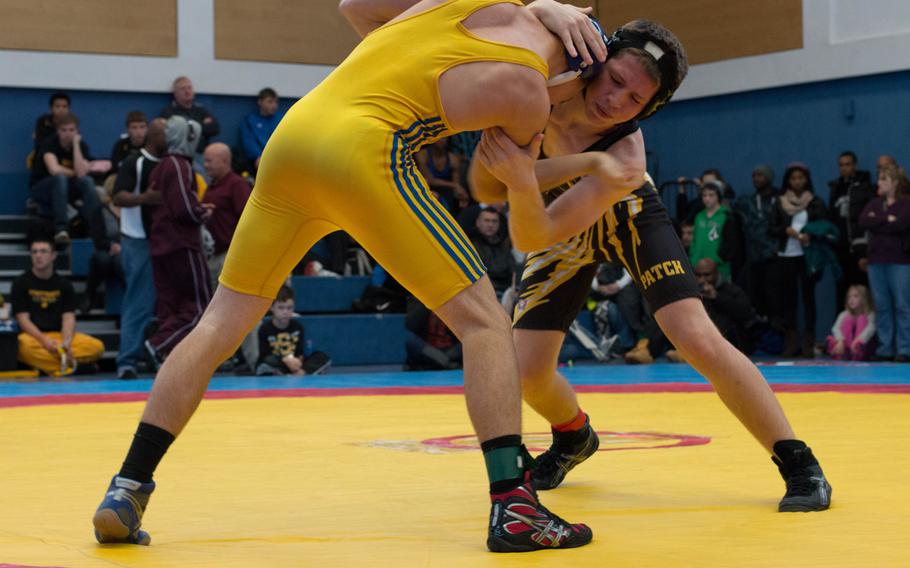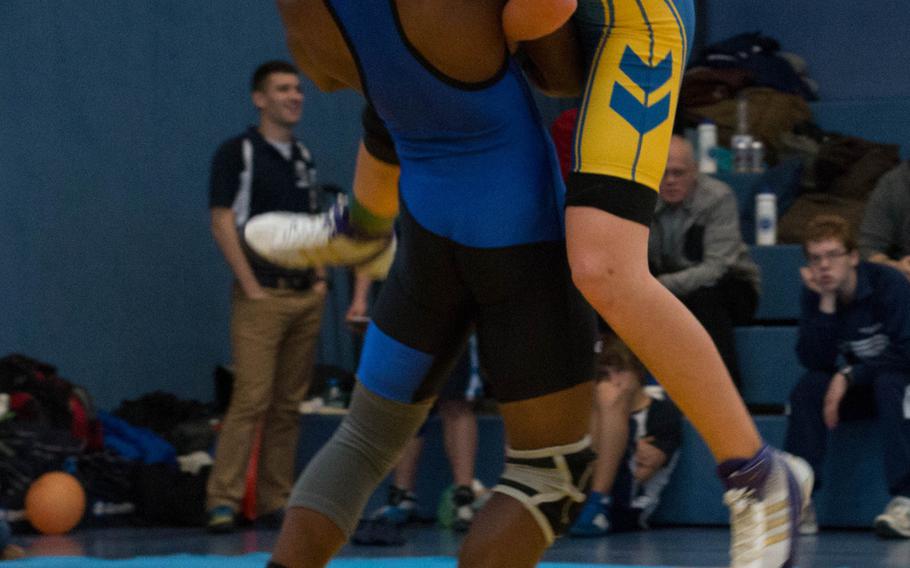 HOHENFELS, Germany – The 2013-2014 DODDS high school wrestling season began Saturday in southeastern Germany as Patch, Ansbach,Vilseck and Black Forest Academy joined the host school in action.
The early matches were a proving ground of sorts – many of the day's competitors were stepping onto the mat for the first time – and were highlighted by a pair of electrifying matches that showcased the heart and determination of the fledgling grapplers.
Vasyl Vdovenko of the Black Forest outlasted a tenacious opponent in Hohenfels' own Perry McCune, winning with a decisive fall 3 minutes, 33 seconds into the match. Vdovenko had never competed at this level before this year, but proved to be a wrestler to watch, going 2-2 and finishing fourth in the 160-pound weight class. Not bad for a first time wrestler, but the Ukranian wrestler says he still has a few kinks to work out.
"I was very nervous before we started," Vdovenko said. "But when I stepped into the circle those nerves were gone. I was ready."
Also ready were fellow Black Forest wrestlers, David Crouch (3-1), Ben Bowers (2-2), and Josh Wenger (2-2), who produced strong numbers for the Falcons. But none dominated quite like Dylan Childers, who went undefeated and placed first in the 170-pound weight class.
In the other early match to watch, Vilseck wrestler Kraig Sumpter – half of a brother wrestling team anchored by fellow Falcon Trevor Sumpter, took top honors at 195, winning in a close decision over Patch's Andrew Brabazon. Sumpter and Brabazon continued competing in the 220 weight class and had it not been for the rules stating each wrestler must pick a single weight class, both would have placed in the top three in that category, as well.
But for Sumpter, the thing that mattered most wasn't the weight he was throwing around, it was the way he approached each match.
"You have to think about each move you make," he explained. "It's a battle of strength, for sure, but this is a tactical sport. If you don't think ahead, you're not going to win."
For some, winning seems to run in the family. Take for instance, returning European champion and Patch Panther Jaden Fields, who swept the 145-pound weight class, scoring 14 points on the day. His sister, Mckenna, finished second at 113. The Fields family has left its mark on Europe wrestling, as now-graduated Calen Fields won back-to-back championships with the Panthers. Now it seems as if the younger siblings are well on their way to adding to the family trophy case.
Overall, it was Patch that came out on top, thanks in part to the Fields' contributions. The Panthers left with 218.5 points and eight first-place finishers. Vilseck followed with 133 and four firsts. Black Forest's Childers was the lone champion for the school, as was undefeated Hohenfels Tiger Marcus Dudley (4-0). The Ansbach Cougars had a trio of second-place finishers in Tristian Llinan (2-1), Shawn Mcdonald (1-1) and Joshua Pleake (2-1).
The first meet was deemed a success by host coach Todd Laverents, whose Tigers saw a fair amount of success. But like many coaches, the winning is secondary to what he considers his true goal as a coach.
"I want them to have fun and I want them to be proud of what they're doing," he said. "Wrestling isn't like any other sport and I tell them that all the time. Nobody in any other sport could come out here and do what they're doing. That breeds a belief in yourself that's very important and I want to support that."