New turf, new players, new attitude - new Naples?
by
Scott Wyland
August 31, 2018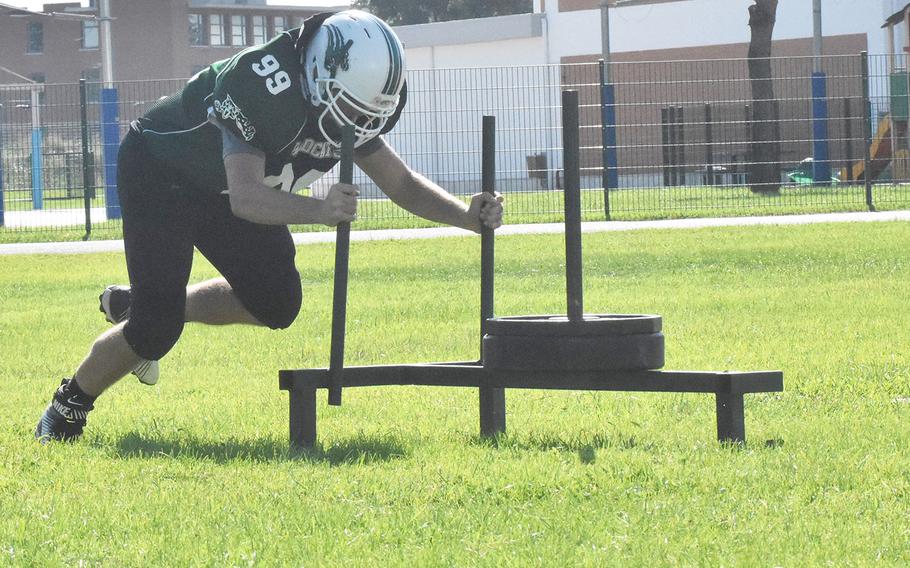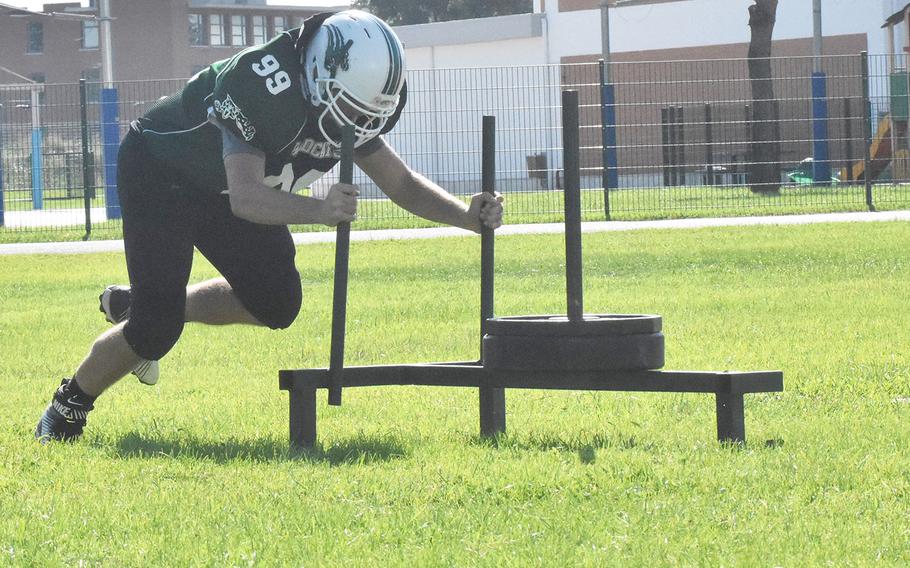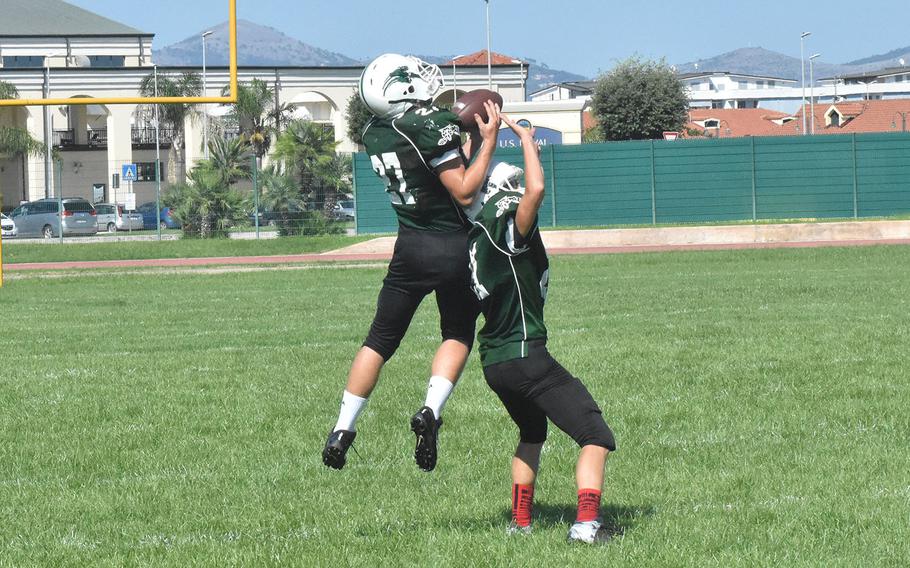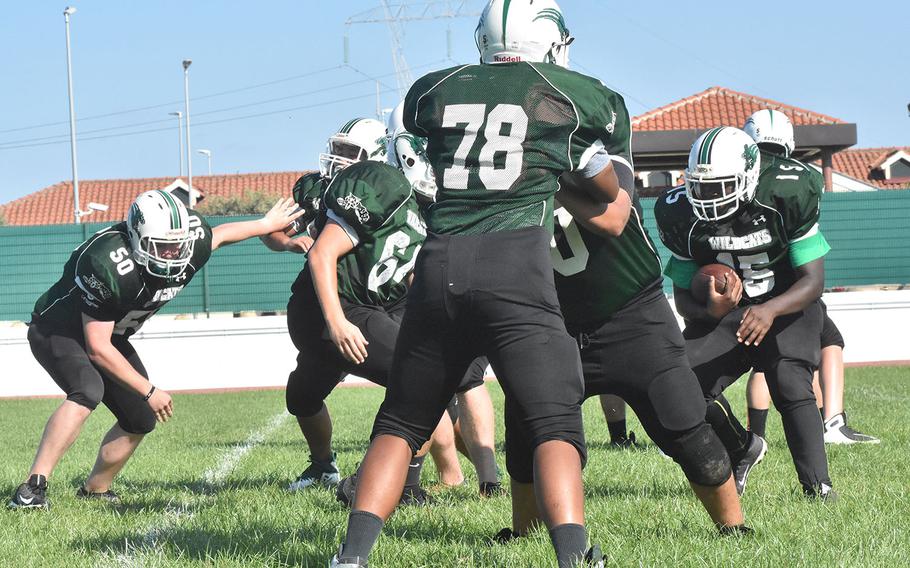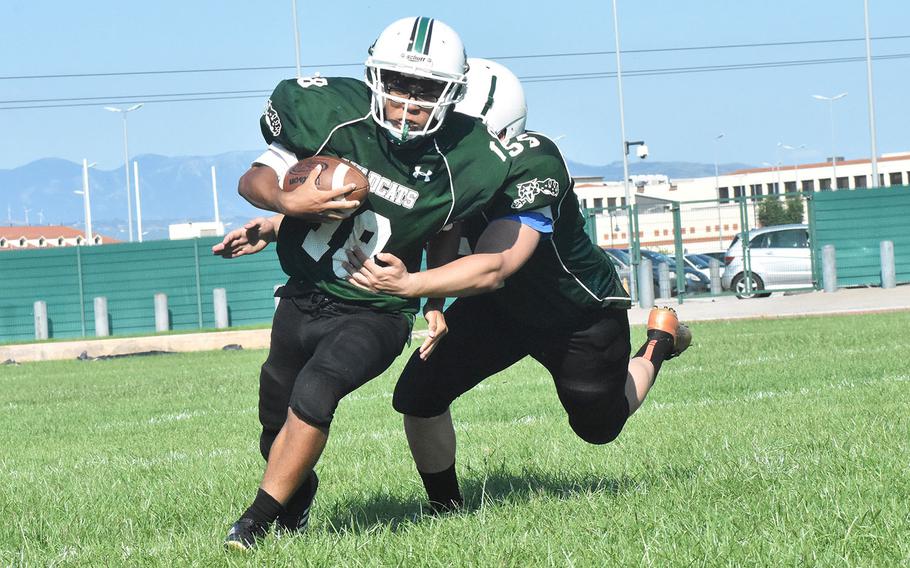 Tenth in a series of looks at high school football camps around Europe.
NAPLES, Italy – New and improved.
That's how Naples Wildcats' coaches describe the high school stadium's long-awaited turf replacement. And this year's roster.
Players have been practicing in the hot afternoon sun with lush, felt-green grass beneath their cleats, a stark contrast to last year's worn, patchy turf.
Games were held at Carney Park while the stadium's turf was replaced – a project that dragged on for two seasons after hazardous debris were found in the first turf installed, requiring it to be redone.
Coach Jim Davis said playing at the school will be a new experience for him and the players and will be a welcome change from competing at a venue a half-hour away.
"We don't have to pack up and go somewhere," Davis said.
The team will need every boost it can get if it wants to go deeper into the playoffs. The Spangdahlem Sentinels crushed the Wildcats 42-0 in last year's semifinals.
The Wildcats have added players that could help accomplish that, Davis said.
He is eyeing freshman Ashton Jeanty for either quarterback or running back, describing Jeanty as an exceptional talent.
Marcus Arriola, a junior who is swift and agile, will make a strong running back, Davis said.
J.J. Krieger, a junior, is another prospective quarterback, Davis said.
Having to decide with some difficulty on where to place talented players is "a problem I like to have," Davis said. "It's a work in progress to find the right balance."
Meanwhile, the defensive side already looks more cohesive than last year's version, which never jelled as a unit, according to Travis Reynolds, the defensive coordinator.
The team has more speed but lacks depth, so if players get tired or hurt, that could be a problem, Reynolds said.
A couple of leaders have emerged on defense, something that never happened last season, he said.
Lance Smith, a senior, and Kyle Burleson, a junior, both push their teammates to improve, sometimes gruffly.
"If they step up and be the bad guys, that's a lot better than me playing the bad guy," Reynolds said.
Twitter: @wylandstripes