New contenders emerge at short-handed meet
by
Norman Llamas
January 12, 2019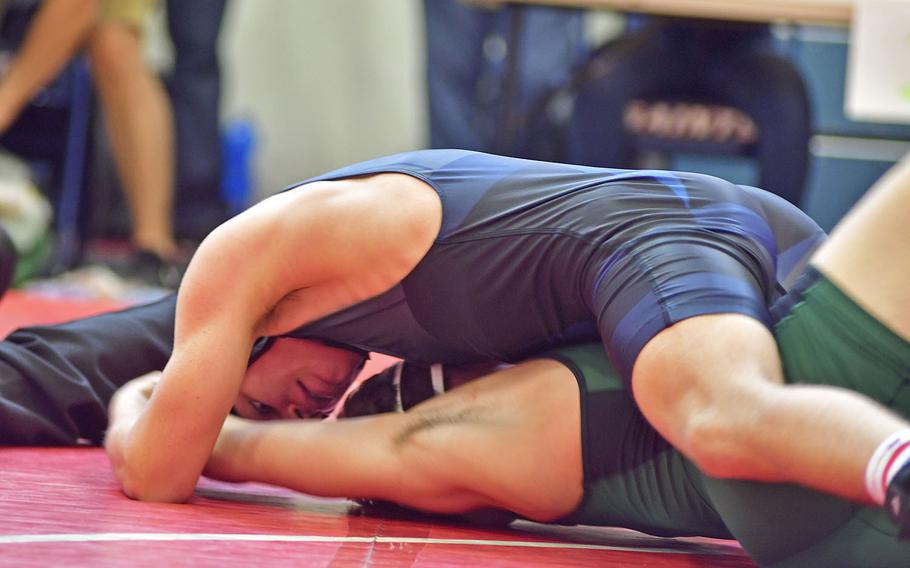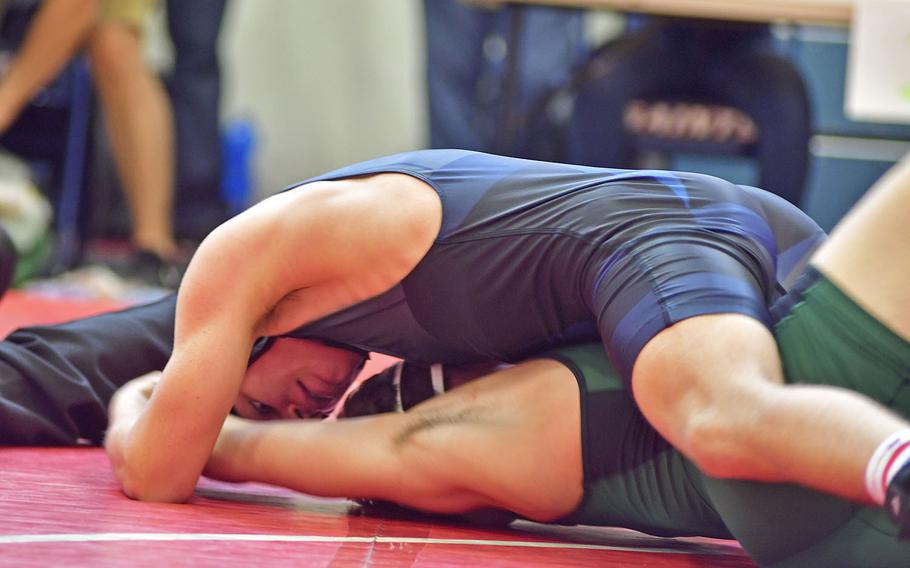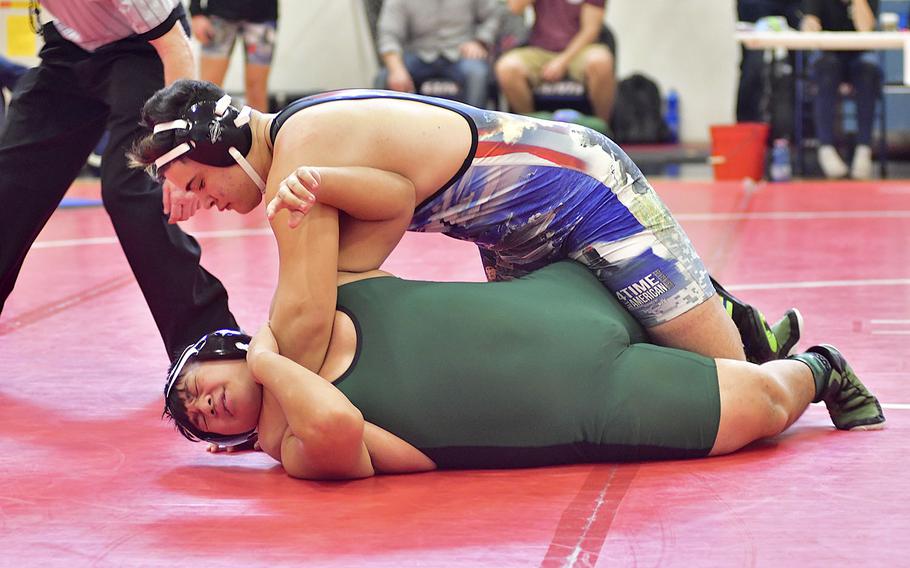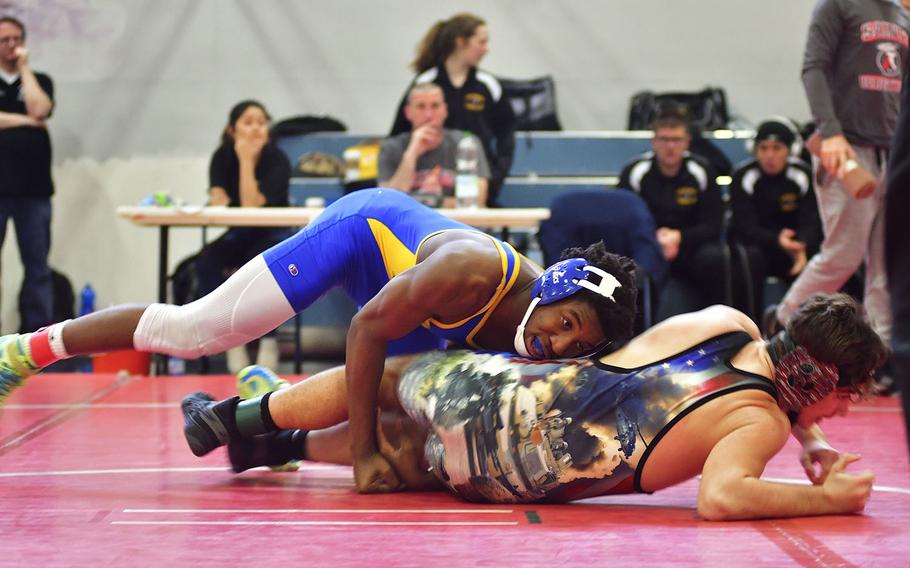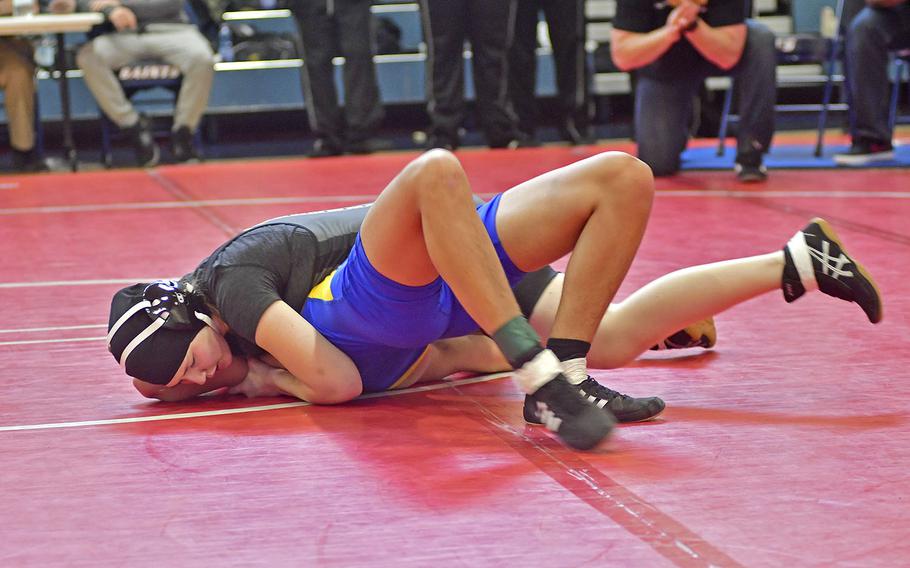 AVIANO AIR BASE, Italy – The news early on in Saturday's five-team wrestling meet was who didn't show up.
Vilseck, Hohenfels and Rota couldn't make the meet due to transportation issues and thus cut the field of wrestlers roughly in half.
But the focus shifted quickly to those who were there. The 57 wrestlers included a few new ones poised to make an impact on the DODEA wrestling scene.
"Without a doubt, this was the smoothest tournament I have been part of," said Justen Estes, Sigonella's head coach. "I think that everything was well planned and organized."
Of course, he was in good spirits after watching one of his wrestlers breeze through the competition.
Amari Pyatt, a junior originally from Belleview, Neb., was the wrestler everyone was talking about.
"I am enjoying Italy so far," Pyatt said. "It is very different than where I come from."
"I really like wrestling," said Pyatt, who dominated the competition at 170 pounds. "I started wrestling when I was in the eighth grade. My favorite move or position is leg riding; you can do a lot of other moves from there."
Since arriving at Sigonella, Pyatt learned that the school has never had a wrestler win a title at the European tournament. He is hopeful to be the one who brings the school such an honor. The finals are set for Feb. 15-16 in Wiesbaden, Germany.
Another big story was the rare attendance of athlete from one of DODEA's smallest schools: Ankara.
Roberts Swart, a junior who arrived at the school when he was a freshman, hails from South Africa.
"Our school is very small, under 200 students in total," said Walt Dodds, the athletic director and wrestling coach. "The only reason that we are here is because we have a very good wrestler and we want him to have all the opportunities possible for him to practice the sport and succeed."
"When I arrived at Ankara two years ago, we didn't have a wrestling program," Dodds said. "Soon after my arrival, I learned that we had a student wrestler who was wrestling in the local Turkish wrestling club. Since I'd previously been a wrestling coach, I asked if it was possible to have a wrestling program at Ankara, to help this student, and it was approved."
"The Turkish competition was good, and it helped me keep ready while there was no wrestling program at Ankara," Swart said. "In my opinion, the Department of Defense Education Activity's wrestling style, called folk style, is much faster than the Turkish freestyle."
Swart, a 145-pounder, plans on pursuing a military career after he leaves Turkey.
"After I graduate high school, I'm moving back to South Africa and I'm planning to join the British Army," Swart said. "Once I get done with the Army, I would like to be a mechanic or an electrician."
Aviano coach Robin Clement's future soon might not involve wrestling for the first time in decades.
"This is my last home meet," Clement said. "Between coaching and the classroom, I have spent over 50 years teaching," he said. "I will be retiring at the end of this school year."
The Saints' hope to go out on top and hang onto their Division II team title took a big hit last month when Jacob Gamboa, who finished second in Europe the last two years, transferred to Texas.
But Clement, his Saints and the rest of those wrestling Saturday still have a month left to round into shape before the season-ending tournament.