DODDS-Europe baseball
Multiple contenders to play for three titles
by
Rusty Bryan
May 25, 2011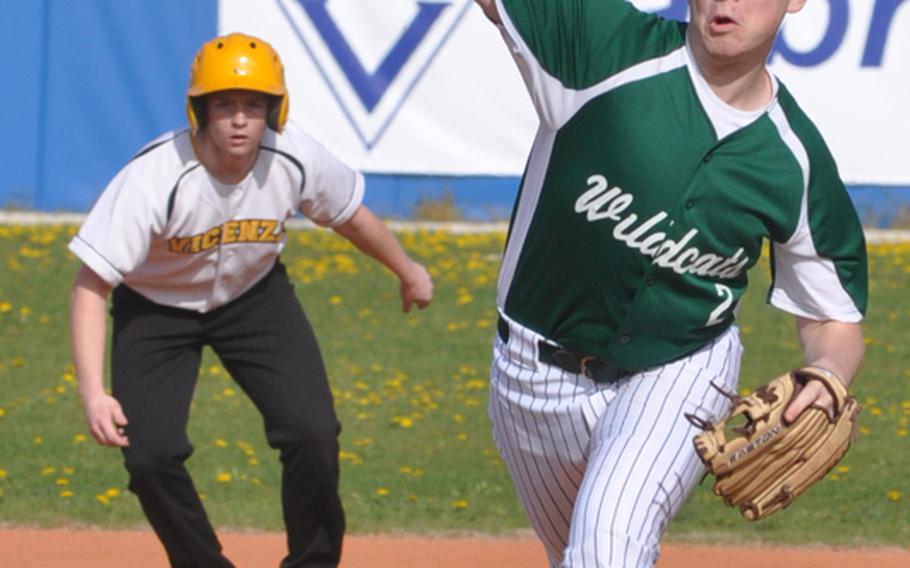 KAISERSLAUTERN, Germany — This year, a third tournament returns to the European baseball championships, which begin Thursday morning at Ramstein Southside and Pulaski Barracks in the Kaiserslautern military community.
For the first time, Alconbury joined Rota and Sigonella in fielding a baseball team, prompting DODDS to revive the Division III tourney — called the Small Schools tournament in 2009 — that was rolled into last year's D-II event when just two D-III schools offered the sport.
Not that having just two tourneys, one for the larger schools and another for the Division II-III teams, didn't stop D-III Rota from besting Naples for the 2010 II-III crown. For its part, Sigonella, seeded No. 2 behind Rota this season in D-II, went 5-2 against D-II opposition in finishing the regular season as the South Region runner-up to Naples.
This year, however, the two D-III top seeds are scheduled to play each other twice in pool play, the first time they've clashed this year. Rota swept Alconbury 15-6, 10-6 April 30 in England.
Unfamiliarity also will play a part in the pool-play portions of the Division I and II tournaments.
In D-I, top-seeded defending champion Patch (11-1) will take on No. 4 Kaiserslautern for the first time. No. 2 Ramstein (13-1), the 2009 champion, and East Region co-champion Heidelberg (11-1), the No. 3 seed, will also meet for the first time.
In D-II, it's an all-new season for top-seeded Naples (7-1) and second-seeded Bitburg (8-4). In the pool with Naples are No. 4 AFNORTH and No. 5 Ansbach; Bitburg, toughened by playing four D-I teams in the regular season, is to face No. 3 Bamberg, No. 6 Vicenza and No. 7 Hohenfels.
Here's a division-by-division look at each tournament:
Division ITitle contenders — Patch, Ramstein, Kaisersalutern, Heidelberg
Key pool-play games — Ramstein-Heidelberg (Thursday, 4:45 p.m. at Pulaski Barracks) Kaiserslautern-Patch (Thursday, 4:45 p.m. at Ramstein Southside).
Players to watch — Start with Patch shortstop Cavan Cohoes, committed to Ohio State and expected to be selected in June's pro draft, and his teammates Dylan Measells (6-0, sub-1.00 ERA, .720 BA), Justin Quimby (.600 BA), Ryan Tannenbaum (.702 BA, 7 HRs, 12 doubles) and C.J. Kellogg and Jack Smith, both .600-hitters. Ramstein's Jon Grotelueschen and Rylee Moore anchor a deep pitching staff, and Justin Pendergrass, Caleb Guerrido, Dustin Labit and Jon Groteleuschen and his brother Drew are major sticks for the Royals. K-town returns All-Europeans Ian Acosta, a power pitcher, and pitcher-shortstop Aaren Blossom.
Heidelberg will be counting on a deep pitching staff, and SHAPE, with just 200 American students enrolled, has quality pitching in Joe Broughton and Nick Westrick, while Vilseck has a .578 batter in Chris Nelson.
Division IITitle contenders — Naples, Bitburg, Bamberg
Key pool-play games — Naples-AFNORTH (3 p.m. Thursday at Ramstein); Bitburg-Bamberg (3 p.m. Thursday at Pulaski)
Players to watch — Offensive machine Zach Zimmerman and sophomore Matt Gardner are the mound mainstays for Naples, which also gets offense from the "1-9 holes," according to Naples coach Duke Marlow. AFNORTH mound aces Jake Reynolds and Westin McKinney are batting .468 and .524, respectively, while Bitburg will call on pitchers Bobby Reavis and Austin Schmidt, each of whom has more strikeouts than innings pitched. They can hit, too: Schmidt brings a .500 BA into the tourney; Reavis' average is .413 with 15 RBI.
Division IIITitle contenders — Sigonella, Rota
Key pool-play games — Rota vs. Sigonella (9:45 a.m. Thursday at Ramstein); Rota vs. Sigonella (3:30 p.m. Friday at Ramstein)
Players to watch — Luke Ostergaard, Sigonella freshman, has fanned 38 in 24 innings pitched; power-hitters Ostergaard, Clay Coon, Chris McKissick and Marco Summerfield, and batting average leader Chase Berryhill, .565, fuel the Sig attack. For Rota, Kevin Banks, Tim Morgan and Gannon Soares anchor the mound staff for what coach Charles Banks characterized as a younger team than the 2010 champs. Kevin Banks, Morgan and Soares are the heart of the attack.
---
---
---