Moya leads Ansbach past Vicenza, 36-6
by
Rusty Bryan
September 17, 2010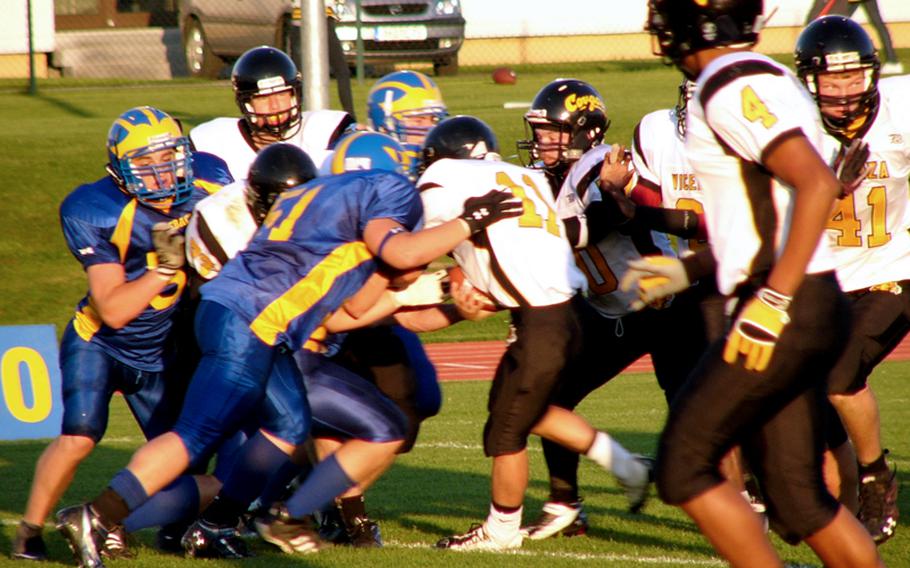 KATTERBACH, Germany –Alex Moya rushed 14 times for 165 yards and three touchdowns Friday night as the Ansbach Cougars roughed up the Vicenza Cougars 36-6 in a flag-draped season opener for both teams.
"It was all from the blockers," Moya said of his outburst which included TD runs of 65, 4 and 25 yards. "I try to tell them, to thank my linemen every time, but they still don't know how much they mean to me."
Quarterback Mikael Vicente, a junior starting his first regular-season game, gave the Germany-based Cougars a 6-0 lead with a 1-yard plunge in the first quarter, but Vicenza tied the score before the period expired on a 4-yard pass from backup quarterback Joe Boswell to Aaron Hogg.
After that, the Ansbach defense took over, suffocating Vicenza with five sacks and yielding ground mainly to the officials' flags.
"I saw yellow all night," said Moya, a safety when Vicenza had the ball and who was credited with one-and-a-half sacks. He refused, however, to blame the infractions on opening-night jitters.
"It shouldn't be," he responded when asked whether drawing so many flags was inevitable in openers. "We go to practice every day. We know what to do and what the coaches expect. There should be no tolerance for mistakes."
The exact number of penalties was unavailable Friday night, but rarely was a down played without one, or even two, flags thrown – although each side seemed to be penalized equally in this Division II-South game.
"Penalties, penalties, penalties, they killed us," said Vicenza coach Adam Ridgley, who also implicated Moya in his team's defeat.
"The thing Ansbach does is break one, then stick it to you," Ridgley said. "When Moya broke that one (a 65-yard TD run caped by Vicente's conversion run that put Ansbach up 14-6 6:35 before halftime), we lost our composure for a little bit."
Ansbach broke Moya for a 4-yard TD 1:45 before intermission, and DeMar Flake crashed through on the conversion run to make it 22-6.
Ansbach then turned the game over to its defense, which spent most of the third quarter on the field without yielding points.
"We didn't expect to do this well," said returning All-Europe linebacker Matt Jones, who tied Daniel Mariscal with a team-high nine tackles. "We've got a lot of young guys on our defense, but they really stepped up."
Ansbach closed the scoring in the fourth quarter with Moya's 25-yard highlight-film special during which he spun away from heavy initial penetration, then set up his downfield blockers brilliantly as he exploded down the right sideline.
Ansbach added its final eight points when Johnny Bunch intercepted a Boswell pass in the left flat and took it 65 yards to the end zone. Flake again added the two-point run.
Ansbach, which gained 263 yards on the ground, didn't complete a pass, but Vicente didn't see that as the end of the world.
"We did a lot better in our practice games (vs. Patch and the German-league Bamberg Bears)," Vicente said, "but we have a lot of injuries. We came out with a good score, and I'm happy about that."
Vicenza, too, saw room for improvement.
"Our starting center has never played before," Ridgley said, "and our right tackle was a JV player last year. We're not where we need to be."
Ansbach, playing for keeps for the first time since Bitburg stopped its DODDS-record 31-game winning streak 19-6 last November, began a new season with a new streak.
"It feels good," Vicente said.
---
---
---
---