Europe volleyball - Day 1
Most favorites endure hard-fought matches to stay alive
by
Gregory Broome
November 1, 2018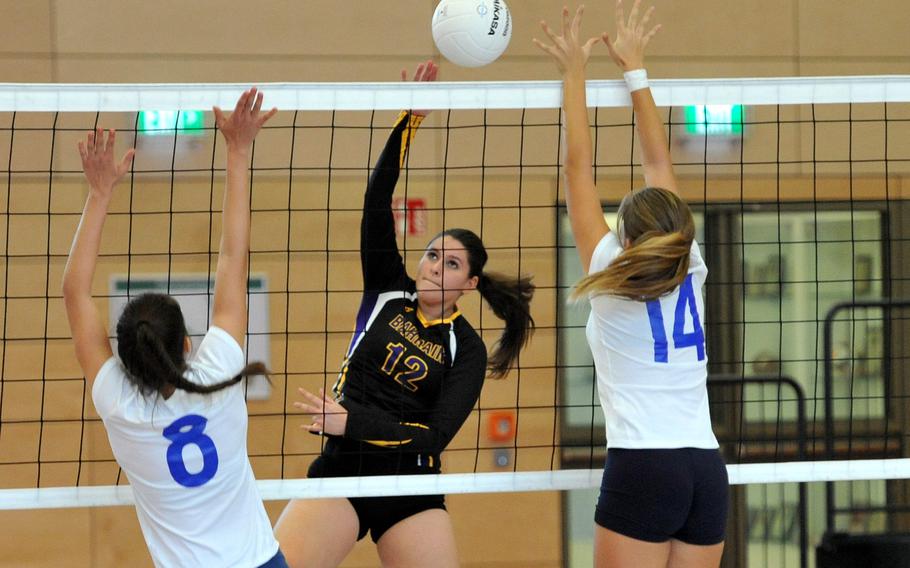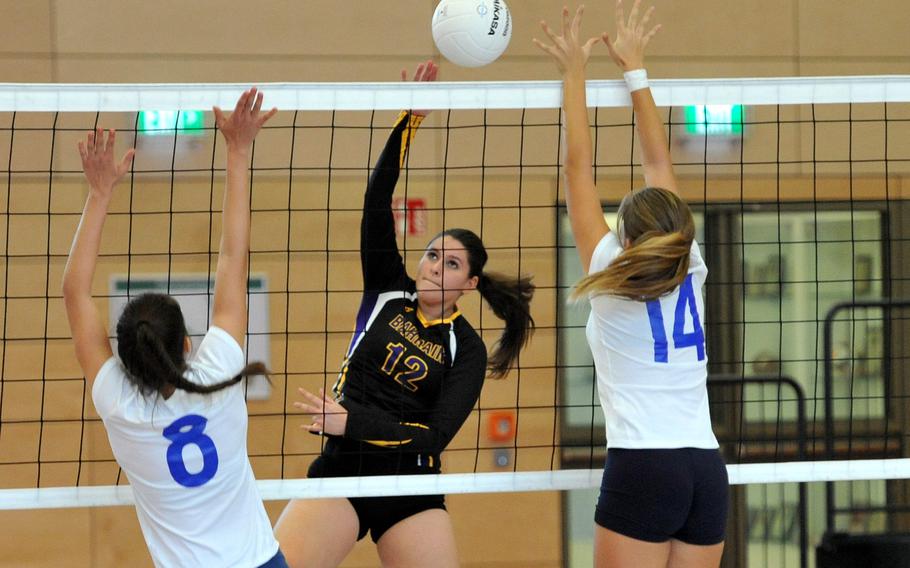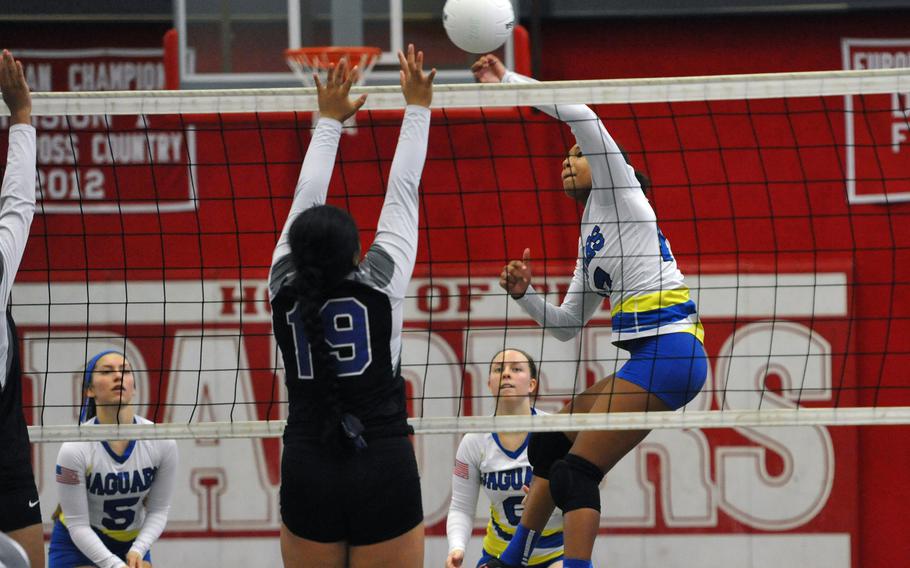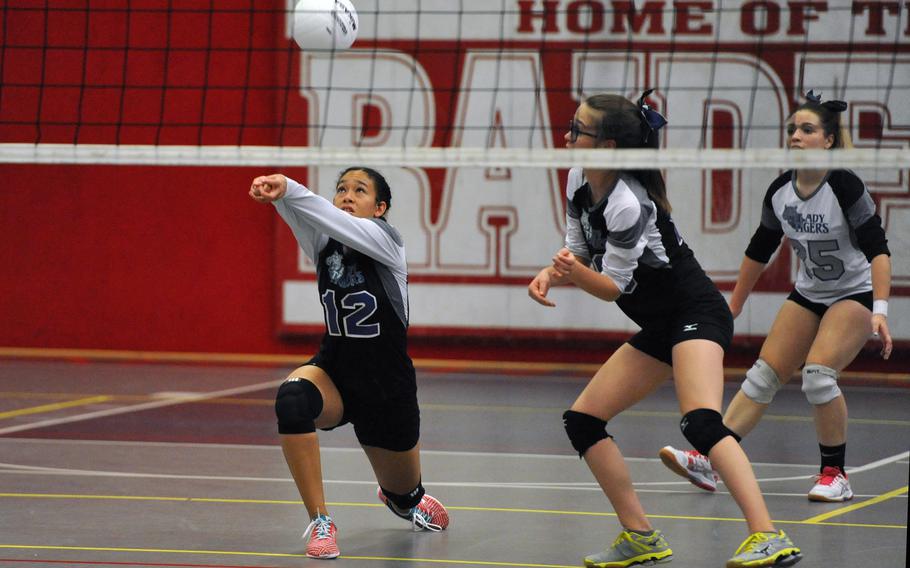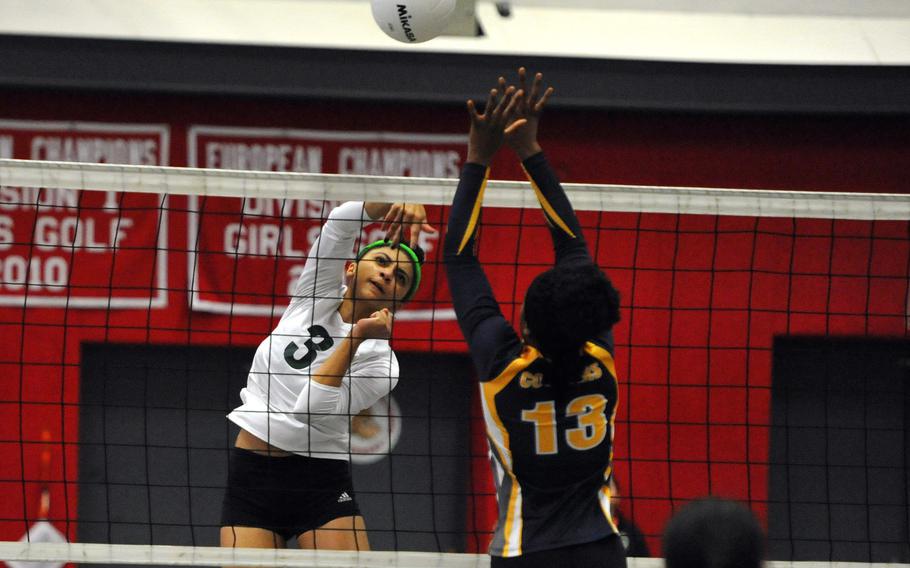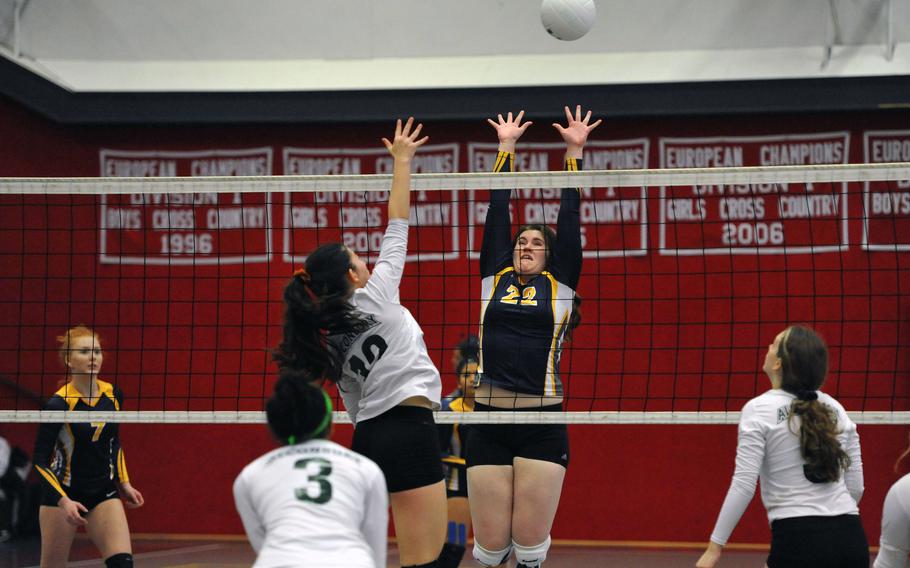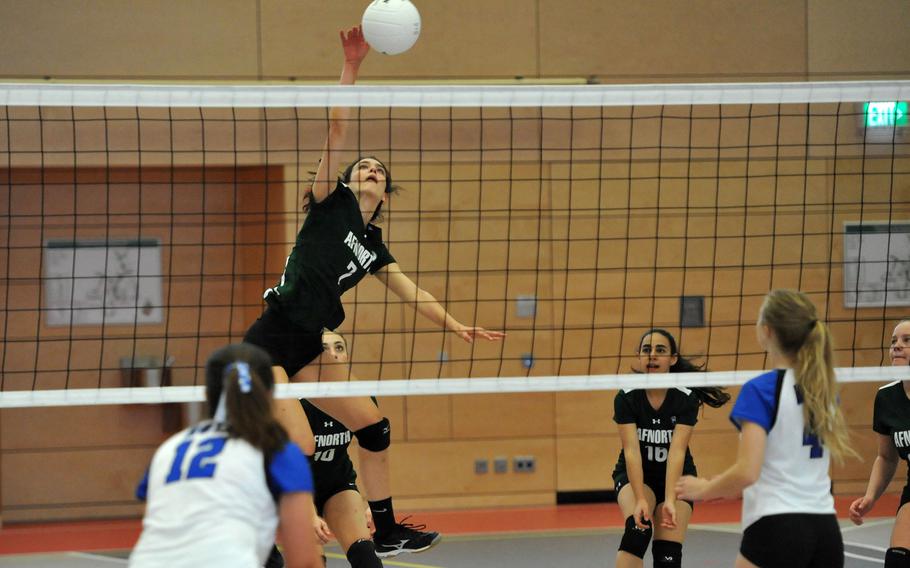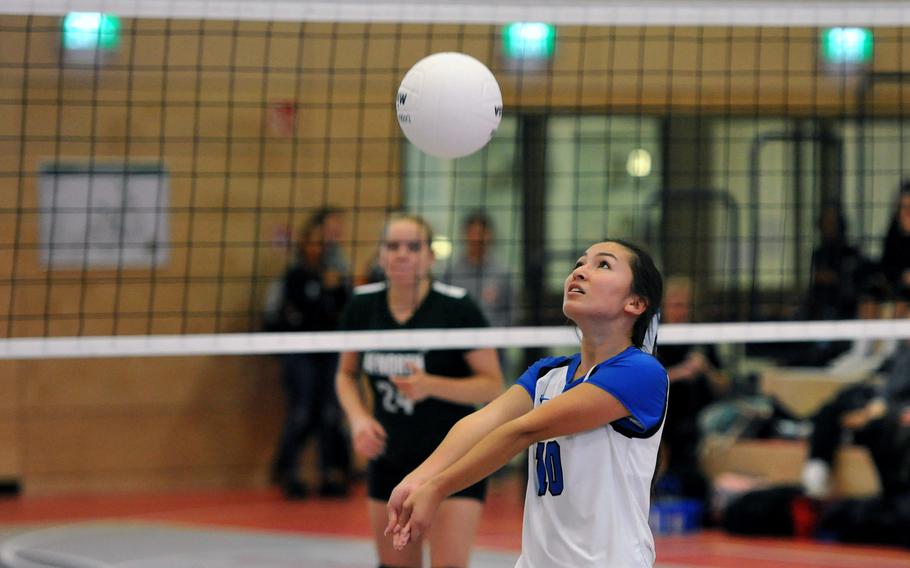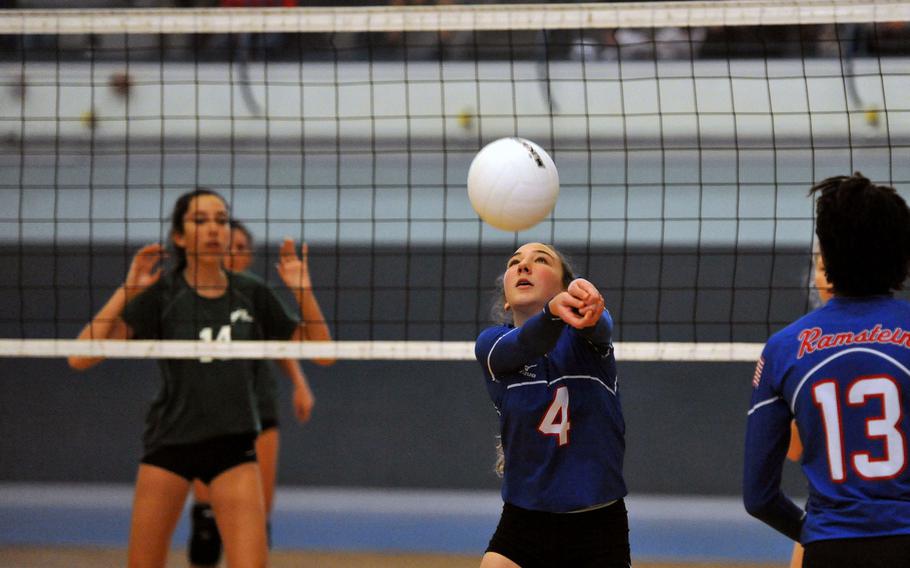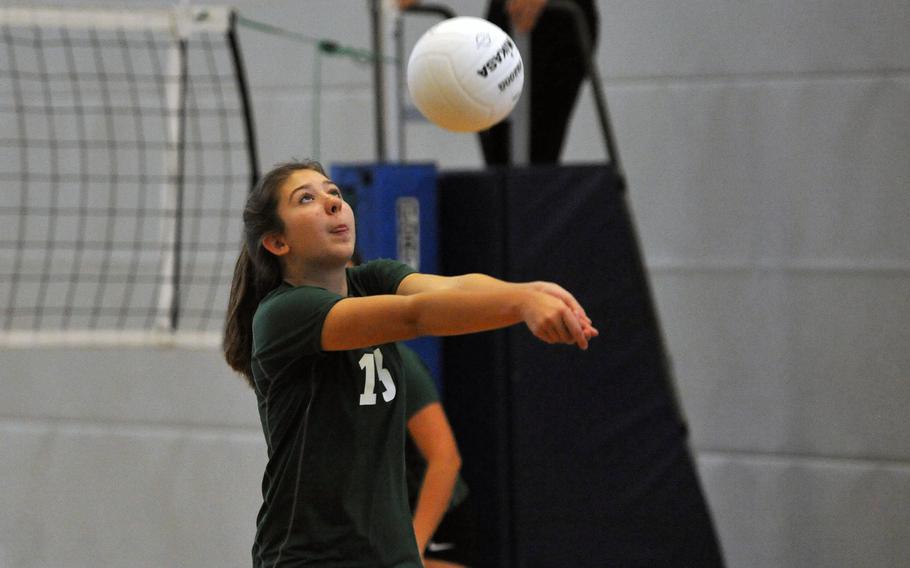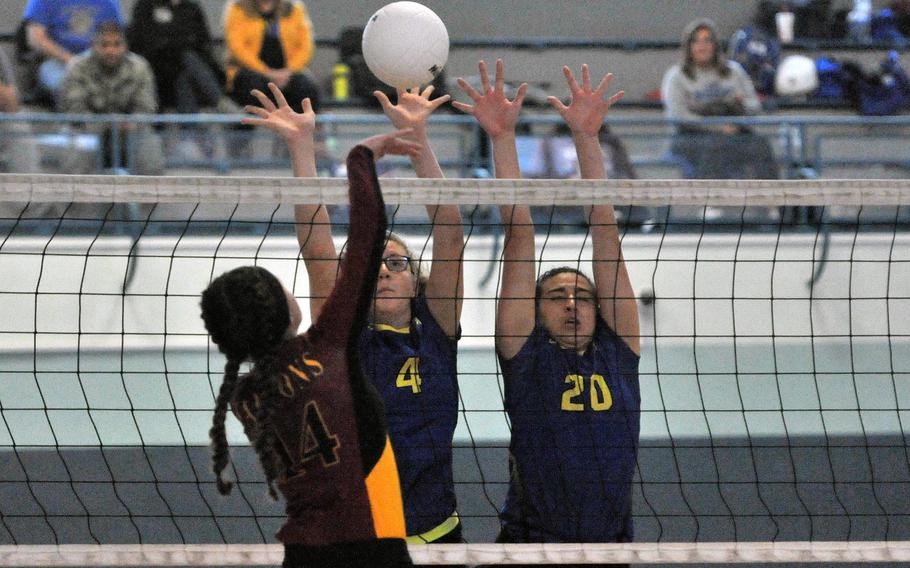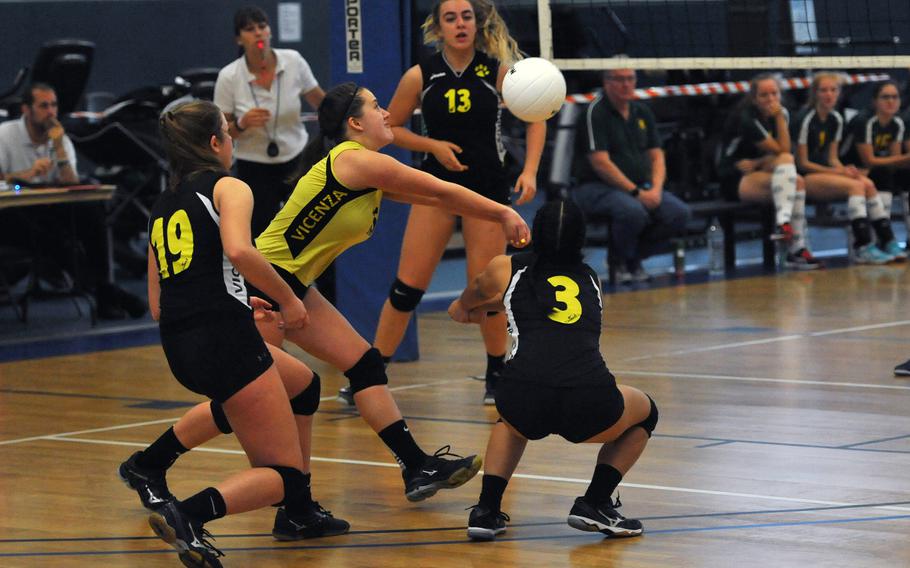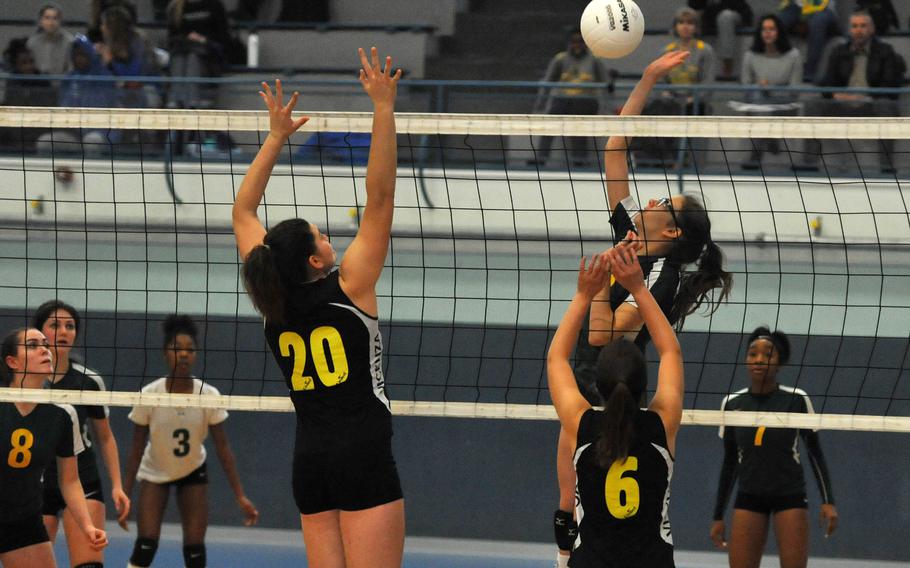 KAISERSLAUTERN, Germany -- The opening day of the DODEA-Europe volleyball championships was consolidated to one base this year thanks to the opening of the new Kaiserslautern High School and its gym.
Now the process of consolidating the teams has begun.
Twenty-three teams opened preliminary play Thursday across three divisional brackets. Each match featured three sets, even if the same team won the first two, to give each team an equal sample size and help determine seedings for Friday's elimination round.
Worthy challengers landed blows against undefeated Division I favorites Ramstein and Stuttgart, the unpredictable Division II bracket produced some on-brand upsets, and new Division III arrival Spangdahlem met some resistance in its first small-school foray.
Division IThe top-seeded Stuttgart Panthers and second-seeded Ramstein Royals, both unbeaten in the regular season, encountered some serious competition in their respective brackets while still remaining on track for a potential championship showdown.
The fifth-seeded Wiesbaden Warriors swept three sets apiece from Vilseck and defending champion Lakenheath, and in between took a set off of Stuttgart in the Panthers' 25-13, 25-14, 22-25 victory. Fourth-seeded Vilseck also won a set against the Panthers in a late 23-25, 25-19, 25-16 loss.
The Vicenza Cougars enjoyed similar success in the opposite bracket, claiming the middle set from Ramstein in a 25-14, 19-25, 25-15 loss. The third-seeded squad then quickly moved into another afternoon match with Italian rival Naples, taking decisive wins in the first two sets before wearing down at the end of a 25-13, 25-19, 23-25 win.
After falling to both Stuttgart and Ramstein early in the regular season, Vicenza steadily emerged over the balance of the fall as a legitimate obstacle to an eventual meeting between the Panthers and Royals. The Cougars raised their ceiling even higher Thursday.
"We had so many strong points, kills that we've never done during the season," junior outside hitter Julia Lombardi said. "So many things have come out that we didn't do during the season today."
Vicenza, Vilseck and Wiesbaden all clinched spots in the quarterfinals thanks to their first-day efforts.
Division IIPreliminary play wrapped up in a single day in this seven-team bracket, setting the stage for four elimination matches Friday.
Fourth-seeded Aviano earned a late 25-16, 15-25, 25-10 upset of No. 1 seed Marymount to earn a bye to the semifinals alongside second seed Black Forest Academy. That capped a rough day for the beleaguered top seed, which also took an 18-25, 27-25, 25-21 loss to fifth-seeded Bahrain.
The opposite bracket produced some equally interesting storylines.
The AFNORTH Lions have just eight players on their roster, an unenviable situation in the context of this tournament's rigorous schedule. But freshman Victoria Morris said that's not a big preoccupation for the Lions, explaining that they've learned to "control how fast the game goes" and maintain a steady comfort level.
Morris exhibited that trait in the Lions' opener against Rota, capably guiding the Lions through a decisive second-set rally with a string of spot-on serves. AFNORTH rattled off 11 unanswered points to break open a close second set and cruise to a 25-11, 25-13, 25-12 sweep of the Admirals.
"Serves, I don't really think about," Morris said. "You've just got to do them and get them over with."
The Lions swept bottom seed American Overseas School of Rome late in the day to book a trip to the elimination round. They'll take on Marymount, while Bahrain will face Rota in the opposite quarterfinal.
Division IIIThe Alconbury Dragons refused to lose Thursday, even when they had, by one measure, already won.
Third-seeded Alconbury gritted out the first two sets from second seed Spangdahlem, enough to earn bragging rights in that matchup regardless of the final set's outcome.
But the Dragons weren't satisfied, fighting back from deficits of 10-4 and 19-14 to take a third straight overtime set in a stirring 27-25, 26-24, 26-24 match.
Senior outside hitter Vera Debbins said the Dragons always want to "get the next point" regardless of extenuating circumstances.
"One thing about our team is that we just keep trying to fight," Debbins said. "That's why I'm really happy with my team."
Alconbury and No. 1 seed Sigonella each won all six sets Thursday. The Jaguars, in a three-team pool, earned a bye into Friday's semifinal round. The Dragons need to win at least one set from Baumholder Friday morning to clinch a semifinal spot. Alconbury, Brussels, Hohenfels, Spangdahlem and Baumholder have clinched at least quarterfinal berths.
Twitter: @broomestripes