Division II basketball
Most favored teams holding to form
by
Gregory Broome
February 24, 2016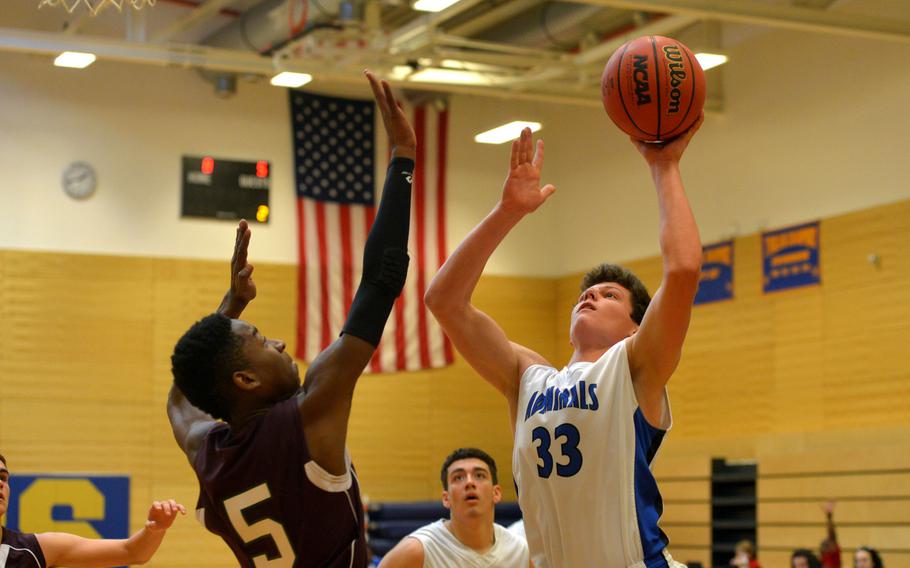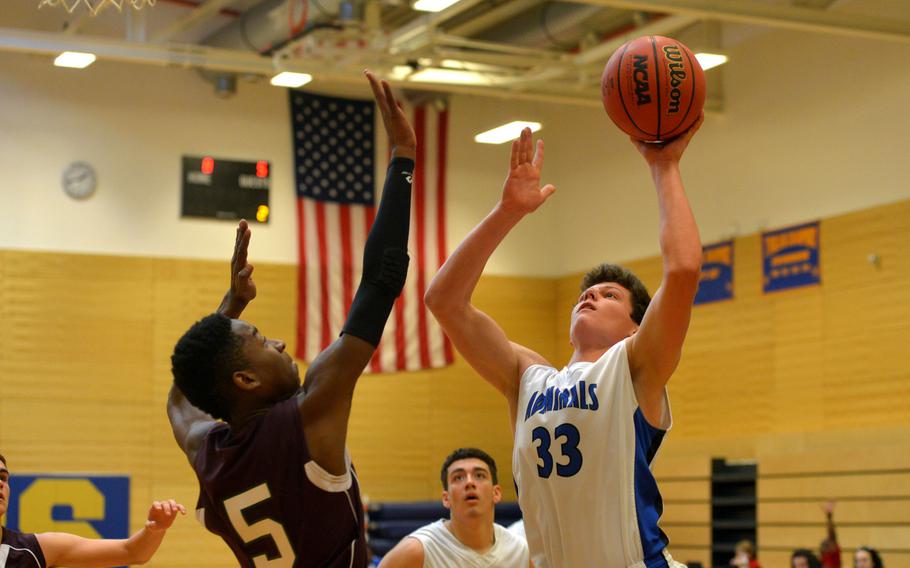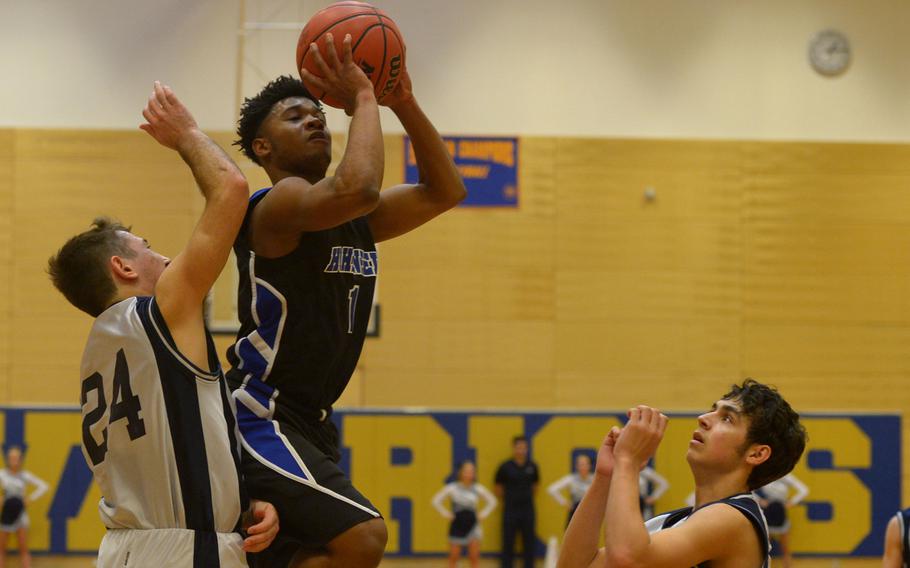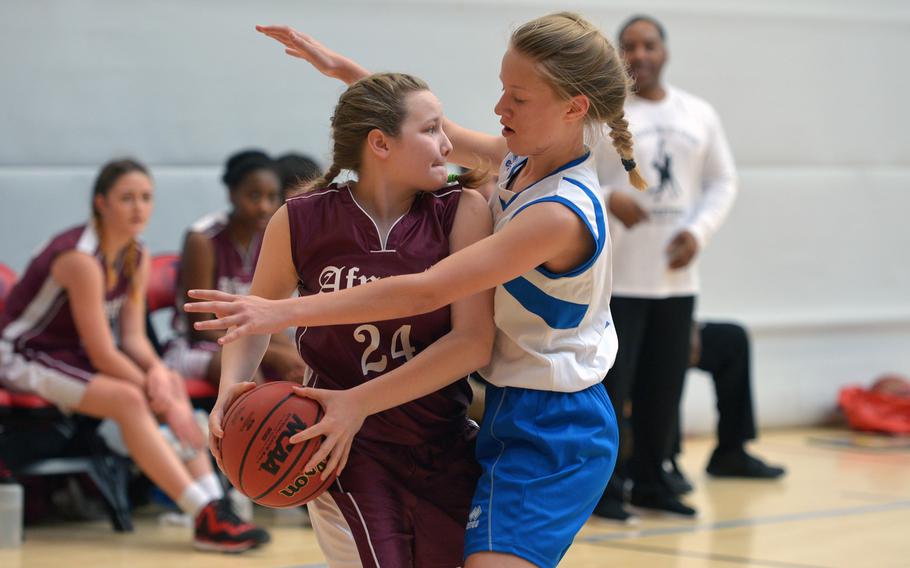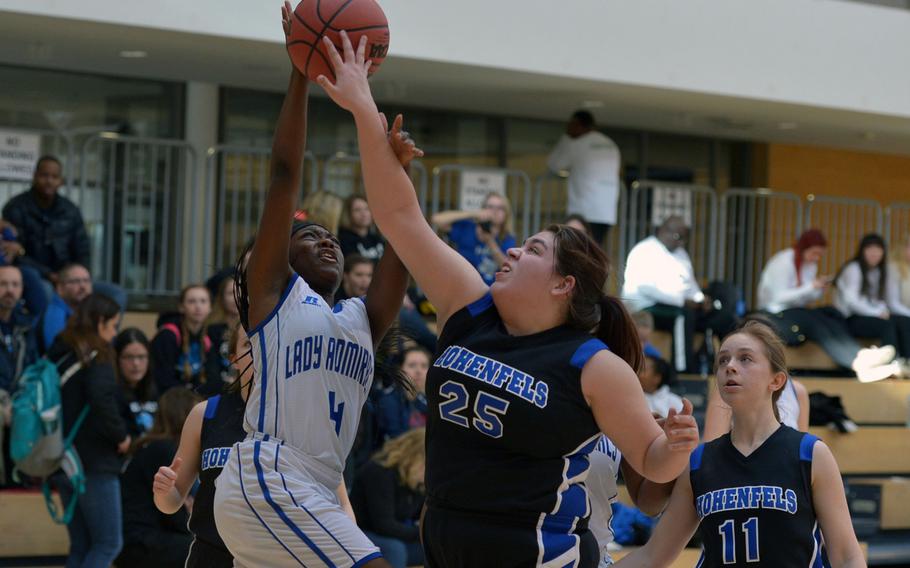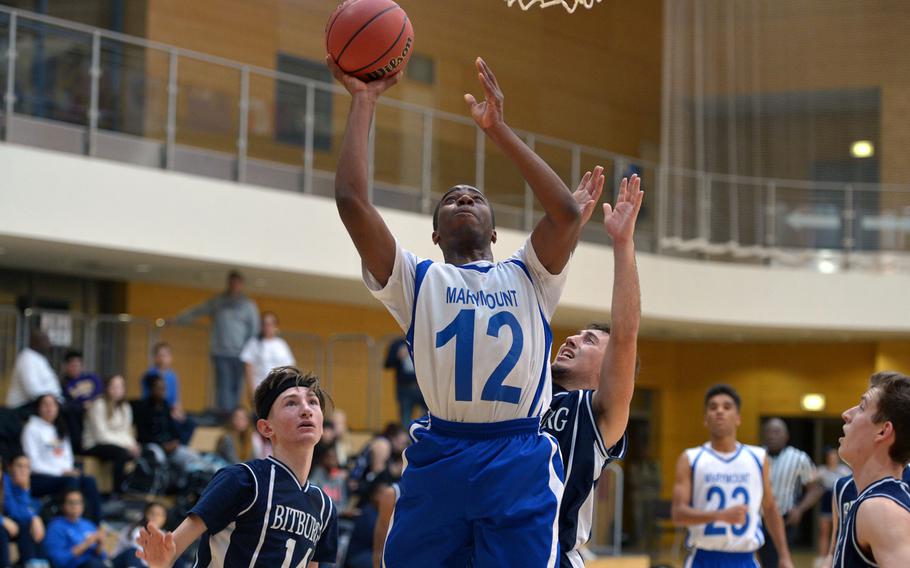 WIESBADEN, Germany -- A handful of low-seeded underdogs broke through an otherwise formidable wall of favored contenders Wednesday as the DODDS-Europe Division II basketball tournament got under way.
The unheralded Bahrain girls and Hohenfels boys pulled off respective upsets of No. 2 seeds Aviano and Black Forest Academy, lending some intrigue to a pair of brackets that otherwise held largely to projected form as returning girls finalists Bitburg and BFA and favored boys squads Rota and Marymount played up to their high rankings.
Pool play continues and concludes on Thursday, arranging a set of Friday semifinals and leading the way to Saturday's championship games.
BoysAviano 50, American Overseas School of Rome 33: The Aviano Saints made the marathon trip to Germany just to find a well-known rival from back home awaiting them. But they didn't mind the reunion.
AOSR split a doubleheader with the Saints back in December, saddling Aviano with an early 1-3 record. The Saints have improved since then, winning all five of their divisional games over the balance of the season. And on Wednesday, they exacted revenge on the Falcons.
As they have all season, the senior trio of Aaron Island, Jailen Tindal and Brandon Vigil sparked the Saints. Island distributed six assists, Tindal scored 16 points and Vigil posted 22 points, including five three-pointers, and eight rebounds.
The three guards are all under 6 feet tall, as are most of their teammates. But Aviano has found ways to compensate, including boxing out on the boards, forcing teams into turnovers and pushing the tempo on offense.
"We know what we have to do to win games," Tindal said. "We're smaller than everybody so we've got to be tough."
The Saints dropped to .500 later in the day with a 67-41 loss to fourth-seeded Bahrain, which also routed AFNORTH 54-28 in a strong first-day showing. Bahrain will take on AOSR and top seed Rota on Thursday.
Rota 50, AOSR 17: Last year, Rota and AOSR delivered one of the more memorable pool-play games in recent tournament history, then went on to meet again in an evenly-matched title game.
This year, not so much.
The rebuilding reigning champs of AOSR couldn't put up a fight against top-seeded Rota, falling out of title contention with their second loss of the day. The Admirals, meanwhile, head into Thursday games against Aviano and Bahrain with two blowout wins to their name, including a 61-26 defeat of AFNORTH.
Hohenfels 48, Bitburg 32: The Tigers roared back from a halftime deficit to win their tournament opener and kick off a successful first day.
Bitburg inched ahead by five at halftime before a resurgent Hohenfels defense showed its teeth. The Tigers outscored the Barons 12-2 to start the second half and went up by double digits midway through the fourth on a breakaway layup by Marshall Eddie.
The senior guard said his team wasn't flustered by the halftime deficit, even with the concise pool-play format providing just a 14-minute second half in which to make up the difference.
"We've been down a lot more than that," Eddie said.
The Tigers' comeback was fueled by a switch to a zone defense and an offensive emphasis, as Eddie explained, on "getting to the rack" for short-range attempts. But there were also intangible reasons for the recovery.
"Every game we play as a family we win," said Eddie, who scored half of his 18 points in the fourth quarter. "When we get a little cocky, get a little too confident, then we lose."
Hohenfels stayed in that psychological sweet spot as the day progressed. The Tigers improved to 2-0 and moved into prime position for a semifinal berth later Wednesday as they pulled off a 43-39 upset of second-seeded Black Forest Academy. Hohenfels faces Marymount, which beat Bitburg and Florence on Wednesday, in what should be a very competitive pool-play showdown Thursday, then wraps up its preliminary schedule Thursday night against winless ninth seed Florence.
GirlsRota 26, Hohenfels 23: The sixth-seeded Admirals gathered some early momentum with a hard-fought win over the seventh-seeded Tigers.
After playing a very limited DODDS-Europe regular-season schedule, Rota was anxious to put some points on the board in the bracket's early-morning opener. And the Admirals did exactly that, building a 10-0 lead through one quarter and cruising into the win column.
"Our goal is to try to be ahead by a few points," Rota point guard Shardasia Wilson said. "It just kind of worked out well."
Rota is quickly getting up to speed on a Division II field they saw little of throughout the winter. On the docket for the day's first and last scheduled games, the Admirals had a lot of down time to check out what they're up against in the bracket.
"Watch other teams, and focus on our team," Wilson said. "That's how we strategize."
Wilson finished with 14 points and eight rebounds against the Tigers, including all six of her team's points in the fourth quarter. Tayah Curry scored eight to pace the Tigers.
Second-seeded Aviano falters: Ninth-seeded Bahrain pulled off the day's only major upset with a 27-22 defeat of No. 2 Aviano. The outcome sent both teams into a pool-play tie with Rota. All three teams notched a win and a loss on Wednesday.
Other top seeds cruise: Black Forest Academy, the No. 3 seed angling for a title-game rematch with Bitburg, eagerly played the villain to its pool's aspiring Cinderellas. The Falcons crushed Bahrain 37-12 and routed Rota 44-12; they'll face Aviano and winless Hohenfels on Thursday before an all-but-inevitable semifinal berth Friday.
On the opposite side of the bracket, the top-seeded defending champion Bitburg Barons cruised through their only game of the day, blasting eighth-seeded AFNORTH 43-6 in an afternoon romp.
The fourth-seeded AOSR Falcons similarly dispatched their only opponent of the tournament's first day, routing Roman rival Marymount 36-14.
Bitburg and AOSR are set to meet late Thursday, though both might have already punched their ticket to the semifinals by then.
Twitter: @broomestripes