Europe DII soccer
Mid-sized schools will welcome new royalty
---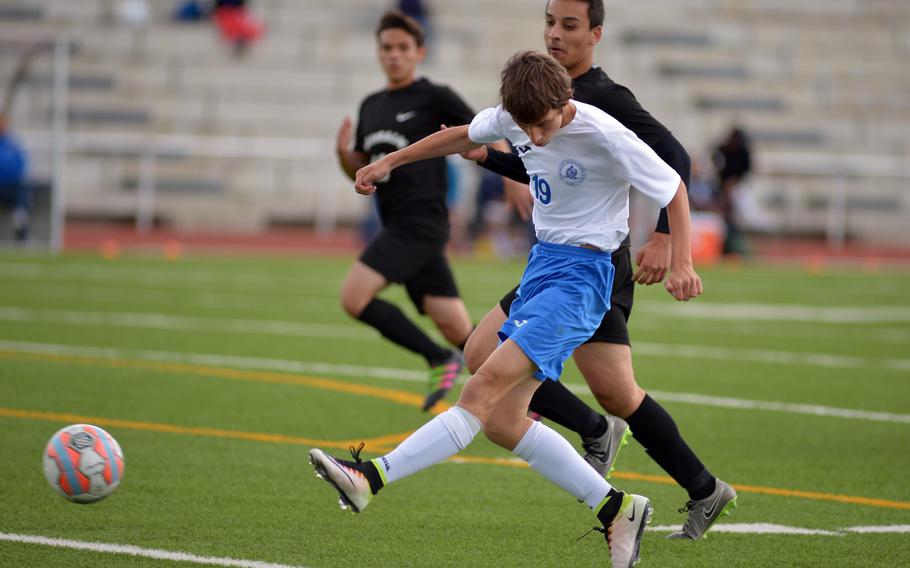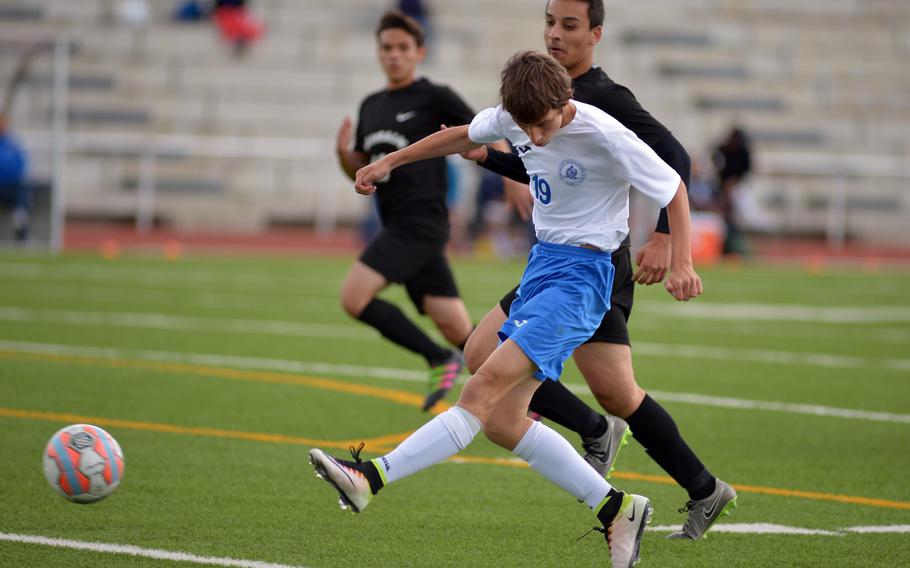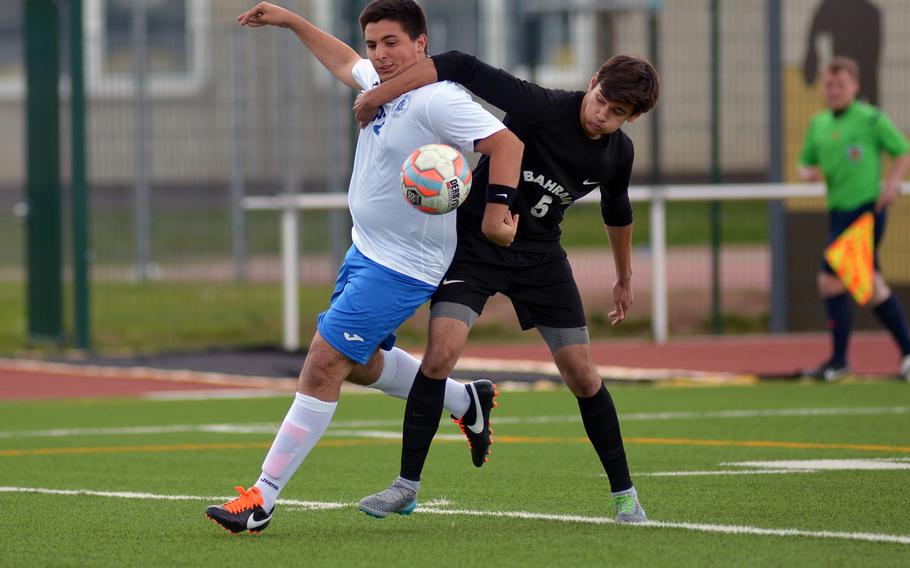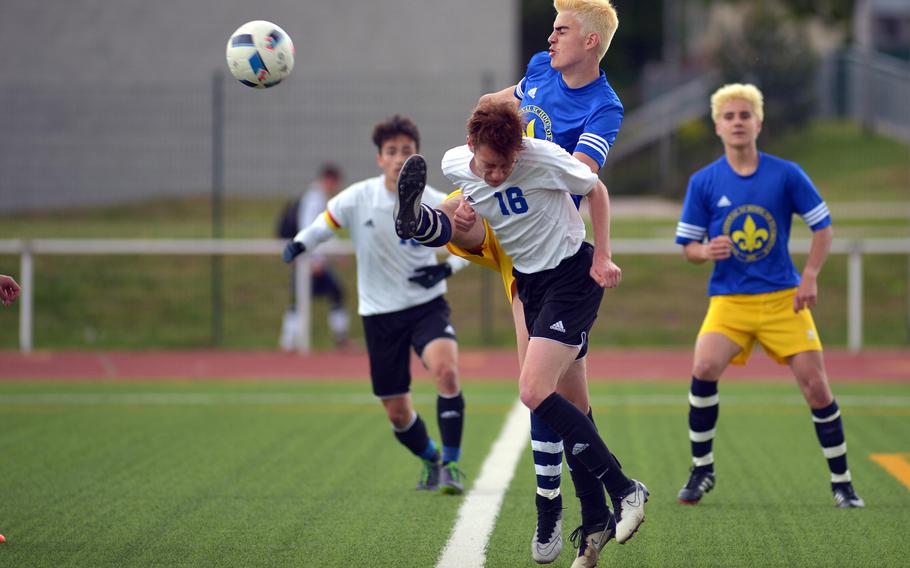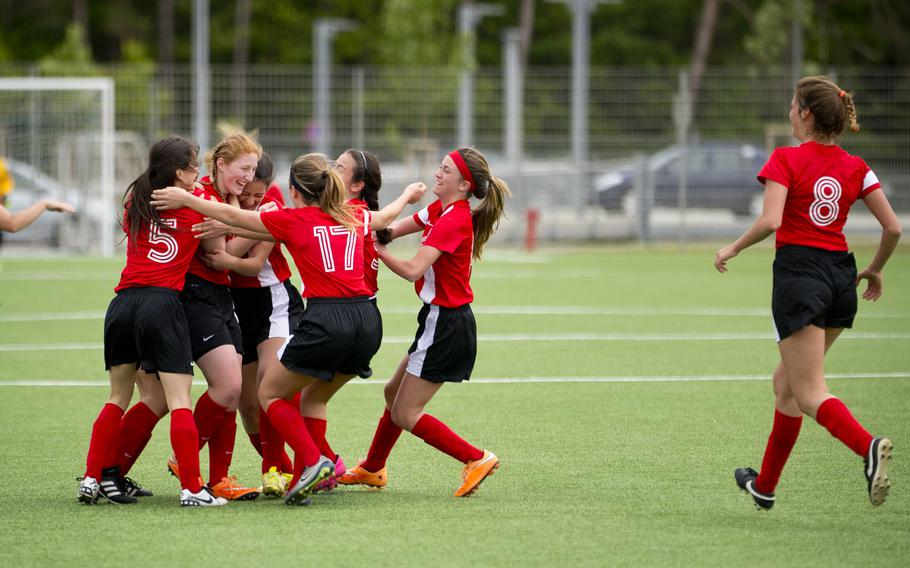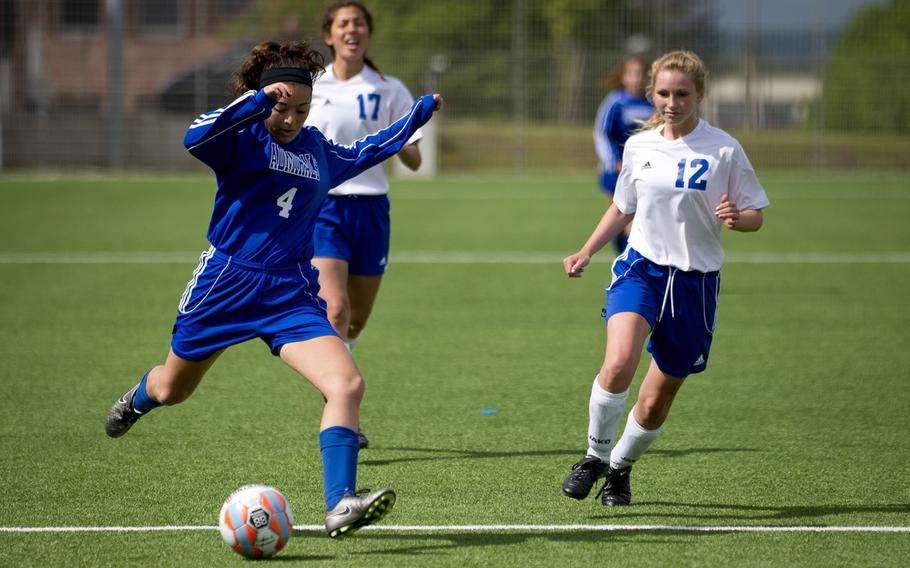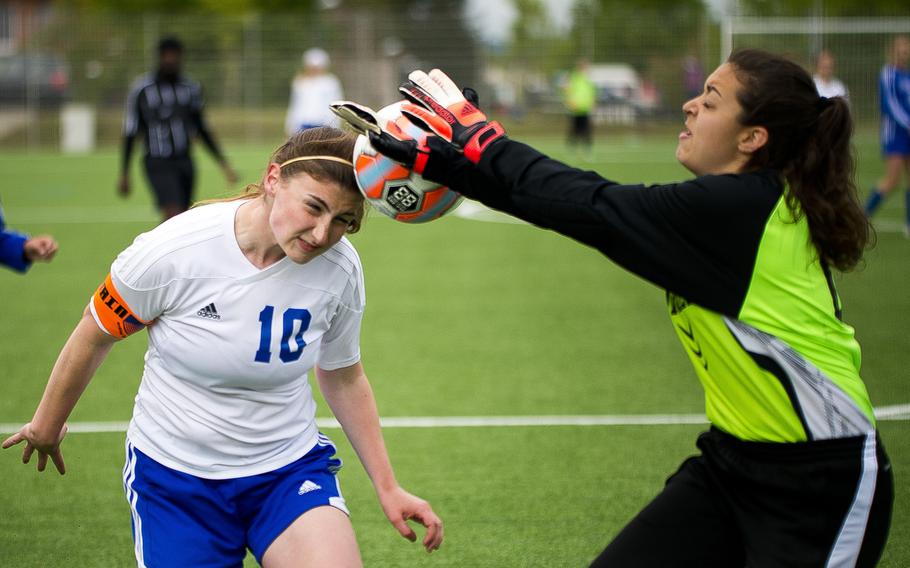 Division II will crown two new champions.
The 2016 DODEA-Europe Division II boys and girls soccer tournament wrapped up its two-day run of pool play on Thursday, arranging a set of Friday semifinals that features eight strong contenders but doesn't include either defending champion.
No. 1 seed Black Forest Academy will take on No. 3 AFNORTH, while seventh-seeded Aviano will take on No. 4 Bitburg to determine the girls finalists.
On the boys side, top seed Marymount will take on third-seeded Florence, while second seed BFA will play fifth-seeded AFNORTH to complete the semifinal doubleheader between the two schools.
The semifinal games are set to begin at 10 a.m. Friday at Reichenbach-Steegen, with the winners advancing to Saturday's championship matches at Kaiserslautern High School.
GirlsBFA sails into semis: It's always a good sign when guarding against overconfidence is among a team's primary concerns. That's the situation the top-seeded Falcons have made for themselves at the midway point of the four-day tournament. While the rest of the field was busy scrapping for the chance to advance, BFA stayed above the fray.
Two runaway shutout wins Wednesday and a 5-2 afternoon win over Bahrain on Thursday clinched the semifinal berth for the Falcons well before their late scoreless tie with Bitburg.
Even the players themselves are pleasantly surprised with their leisurely swim through pool play. Though confident after a very strong regular season, the Falcons had a healthy respect for the tournament field that awaited them.
"We tried not to have any expectations and just play our best," BFA forward Anna Kragt said. "You really never know until you get there."
The Falcons know the two wins they need to win a title won't come as easily.
"They just keep getting harder," Kragt said. "We've got to keep it up."
Kragt scored twice in the win against Bahrain, while Kaitlyn Richter, Kerstin Widmer and Chloe Moorlag had a goal apiece.
The 0-0 effort against BFA was good enough to give Bitburg the pool's second semifinal berth despite its 2-0 upset loss to American Overseas School of Rome earlier Thursday.
Aviano 2, AFNORTH 2: Hours before officially securing their spots in the semifinals, the Saints and Lions played to a hard-fought draw that kept both squads in contention.
Elyse Slabaugh scored a goal for Aviano, bringing her tournament total to four through three games. Slabaugh said she has transitioned from a pure scoring forward to more of a midfield playmaker without sacrificing her stated objective of "getting a few goals."
As a result, Slabaugh and the seventh-seeded Saints have made good on another mission: proving that they belong among the Division II elite.
"We have more of the desire, the movitation," Slabaugh said. "We wanted to make a statement.
"This year we have a really good team. We have the potential to go far."
The Saints realized some of that potential later Thursday with a 2-1 win over Rota that eliminated the tough ninth-seeded Admirals and secured their own semifinal berth. Immediately after, third-seeded AFNORTH joined the Saints in the elimination round with a late 4-0 defeat of winless Florence.
Those outcomes sent DODEA-Europe officials down a rabbit hole of tiebreakers - the Lions and Saints tied in their head-to-head game and even came up deadlocked on goal differential, with each team outscoring its opponents by a total of eight goals. Ultimately, goals allowed was the decisive factor - Aviano yielded four goals over its four games, while AFNORTH allowed six.
Defending champion Hohenfels lost its grip on the title with Wednesday losses to both Aviano and AFNORTH and a Thursday morning defeat against Rota. But the sixth-seeded Tigers bowed out on a winning note with a 5-3 win over Florence in their season finale.
BoysMarymount 2, Bahrain 1: The Royals completed the ouster of the reigning champs while moving a step closer to launching a fresh title reign of their own.
A goal by Michele Musilli coupled with a fortunate deflection into the net did the job against Bahrain, the upstart program that shockingly ended Marymount's half-decade Division II title rule this time last spring. But the Royals didn't gloat after beating the team that interrupted their dynasty.
"They deserve all the respect," Marymount senior Lotanna Mba said of a Bahrain side that lost numerous players from last year's championship-winning roster. "They played with their heart."
The same can be said of the Royals, who blanked fifth-seeded AFNORTH 3-0 earlier Thursday to secure their spot in the semifinals. But rather than look forward to a new coronation, Mba chose to point out the challenges posed by the other semifinalists and state simply that the Royals were ready for the opportunity.
"We'll see how it goes," Mba said.
AFNORTH took the pool's other spot in the semifinals despite the loss to the Royals. The Lions blanked Bahrain and American Overseas School of Rome on Wednesday to earn their position.
Florence, BFA clinch spots early: The anticipated matchup between the No. 2 Falcons and No. 3 Boars was robbed of much of its import by both teams' earlier dominance.
Florence, the 2015 Division III champion who is faring just fine at the higher level of competition, routed Hohenfels 5-1 to clinch its semifinal berth. A game later, BFA blanked Bitburg 6-0 to join them in the elimination round.
Regardless of the lowered stakes, the Falcons and Boars still delivered a competitive match, won 2-1 by BFA to keep the Falcons undefeated in the tournament.
That result also earned Florence a rematch with Italian rival Marymount; the two teams played to a 2-2 draw on April 9.
Twitter: @broomestripes
---
---
---
---