D-II boys semifinals
Meeting No. 3 will be charm for Vicenza or Naples
By
Matt Millham Gregory Broome
February 21, 2014
---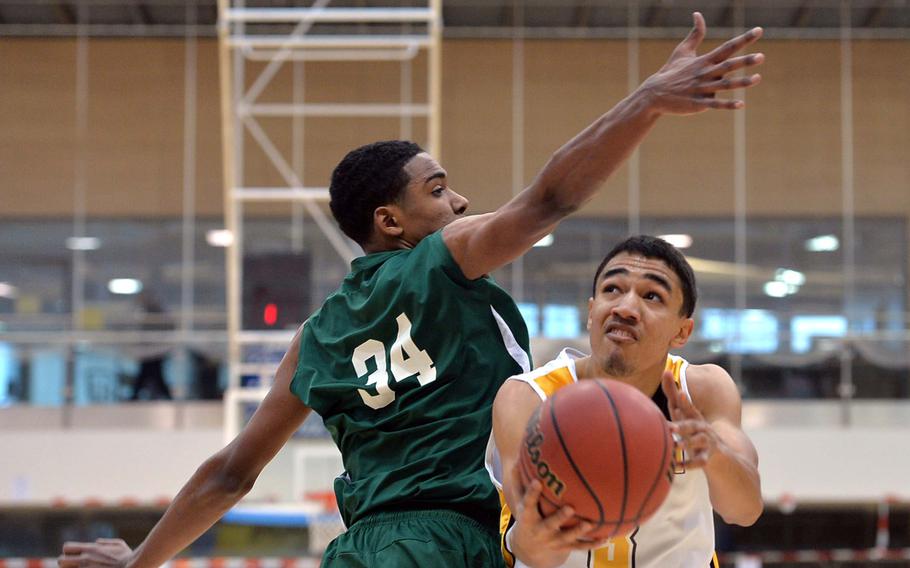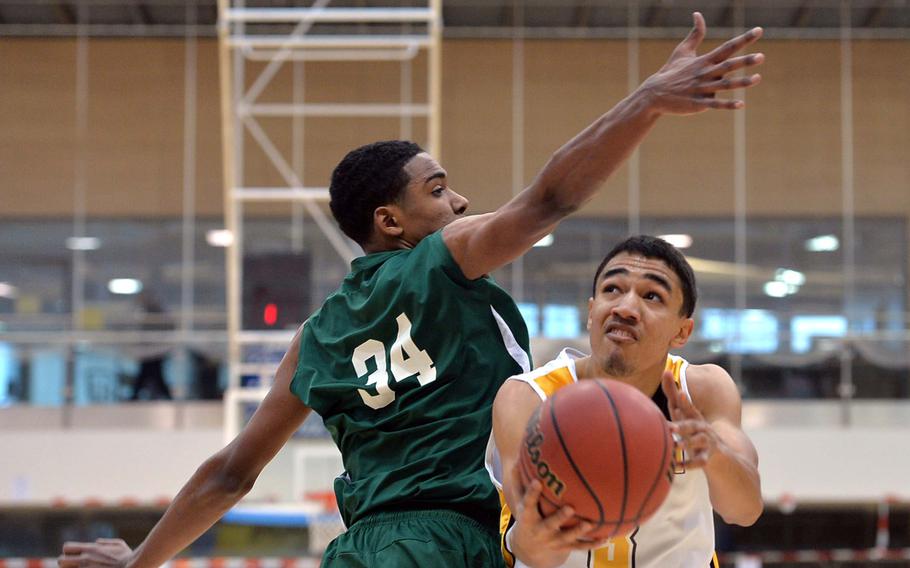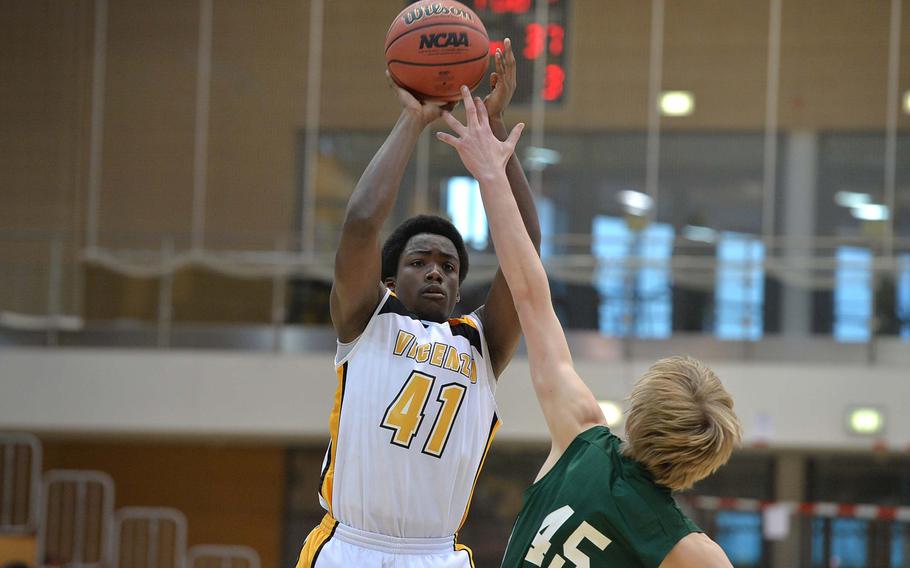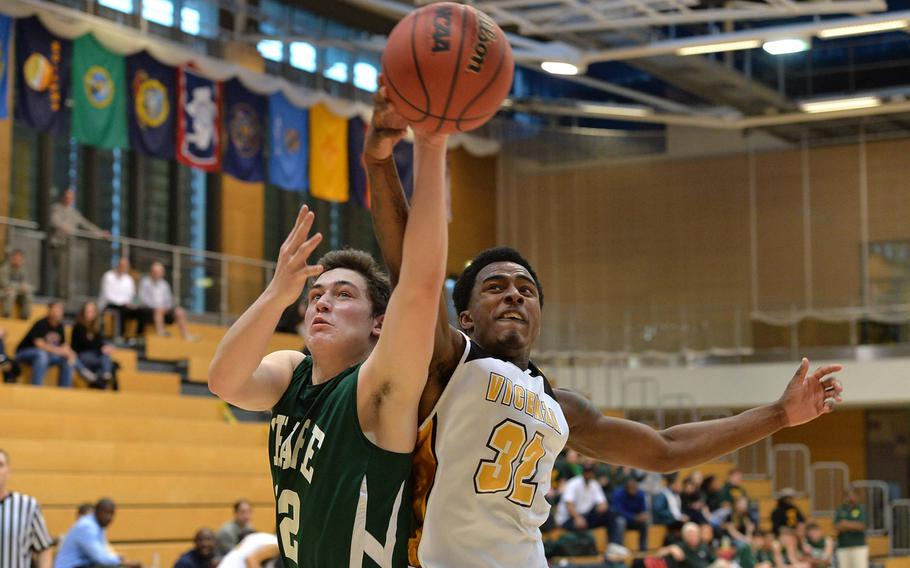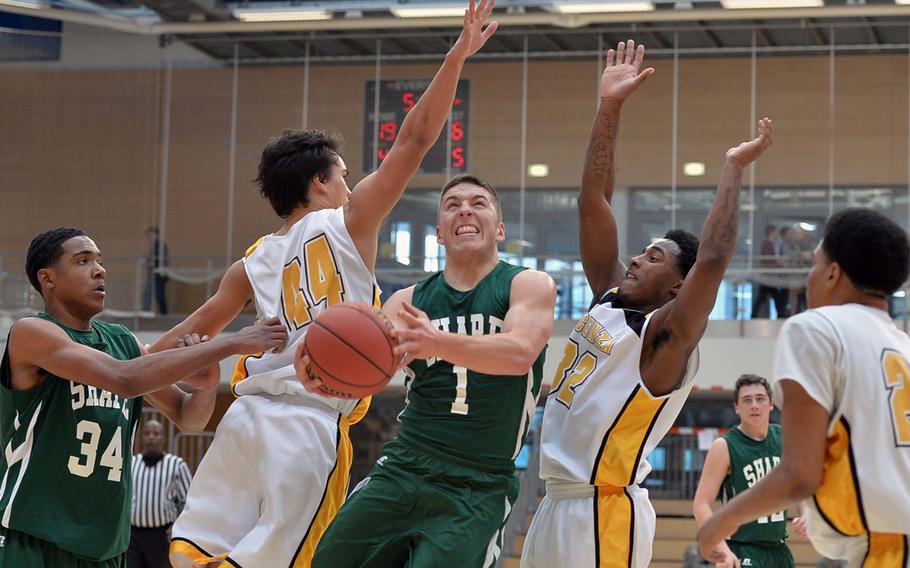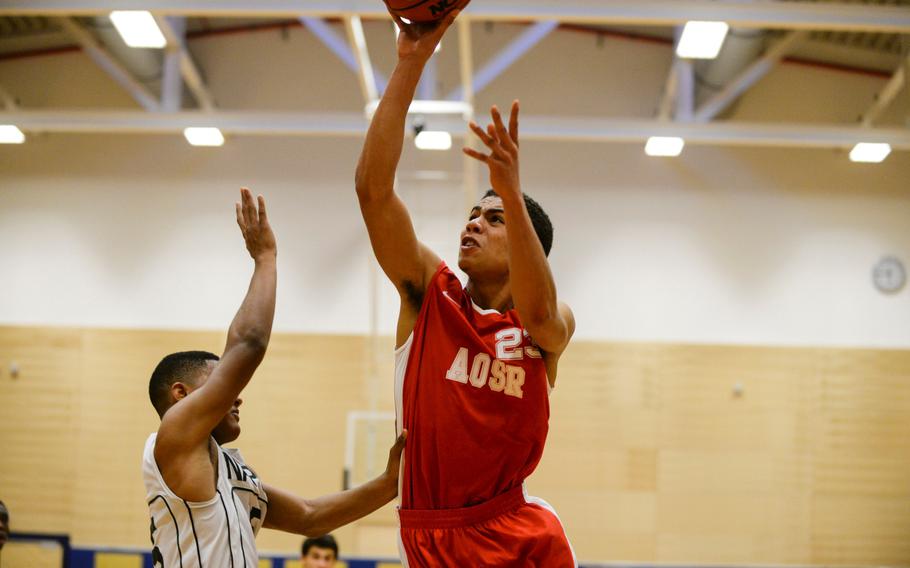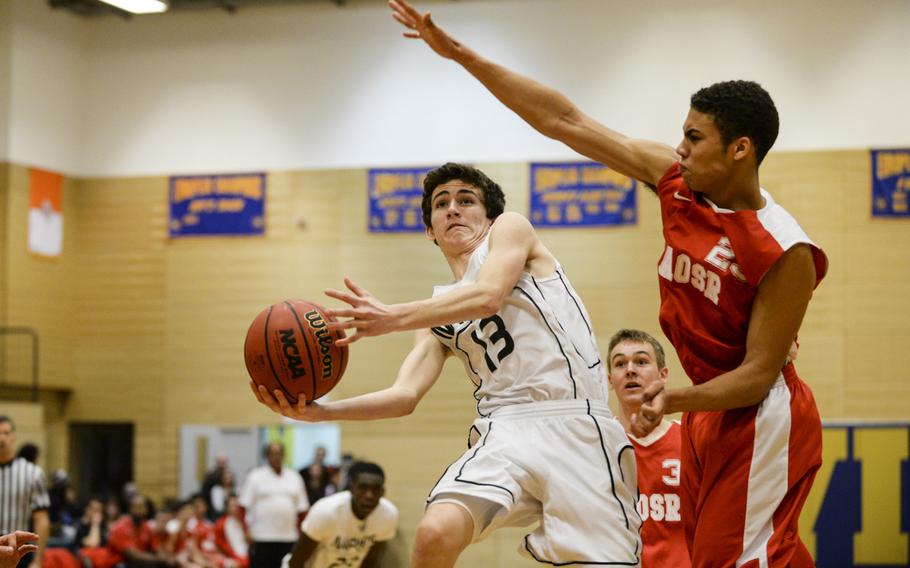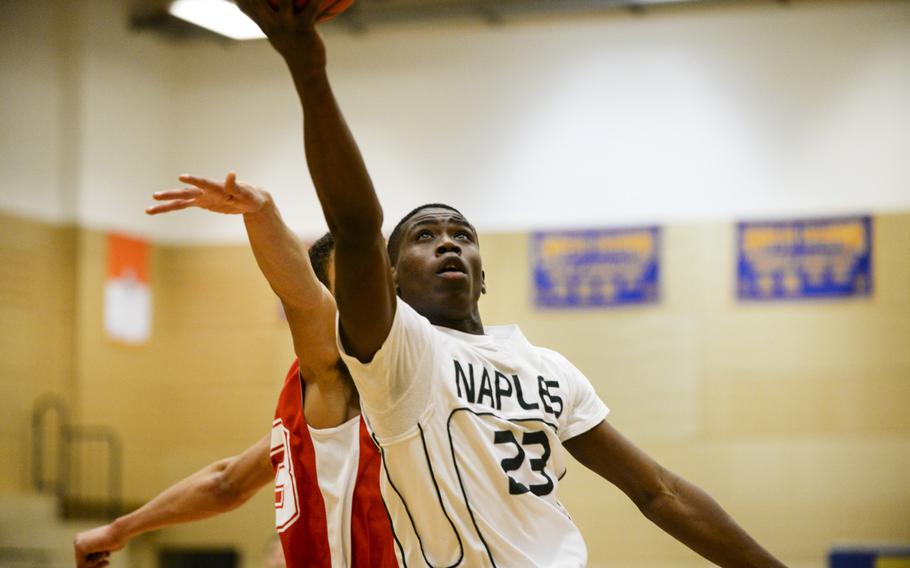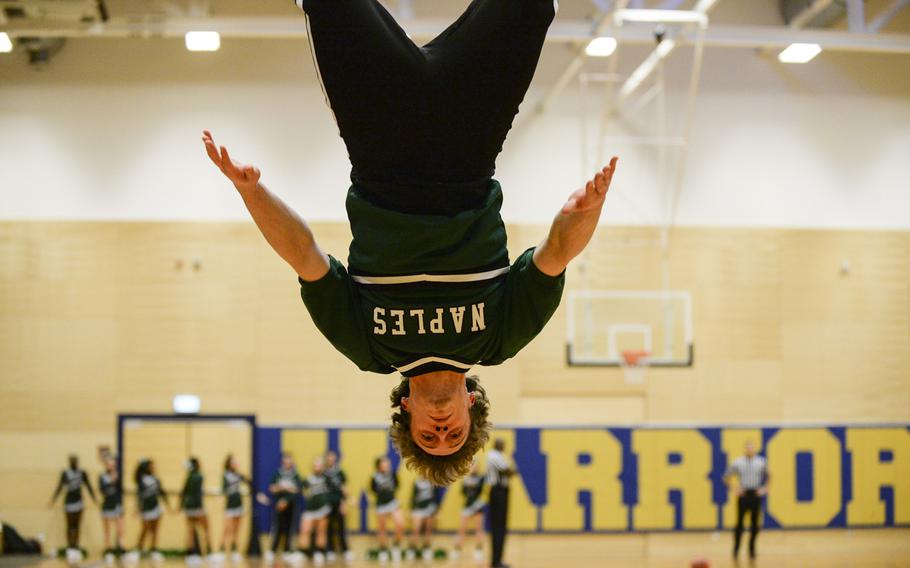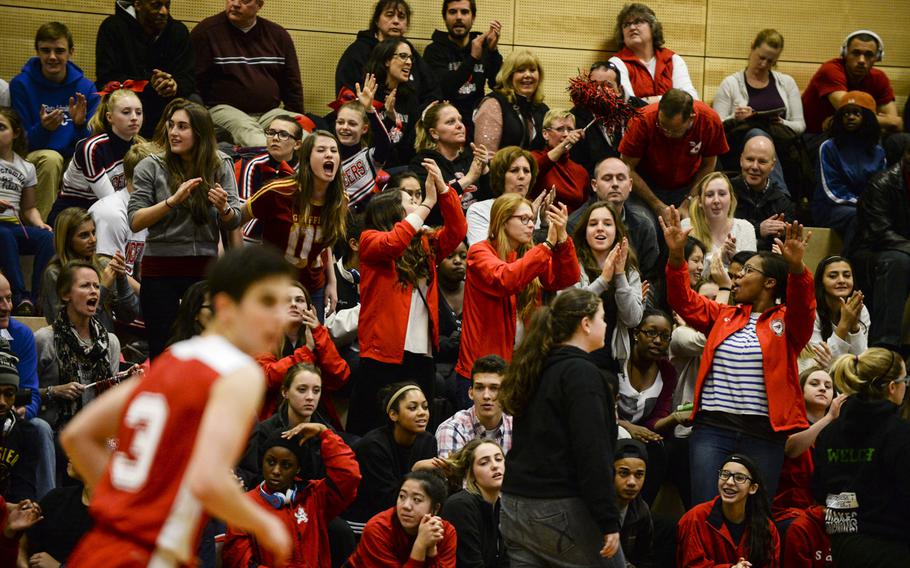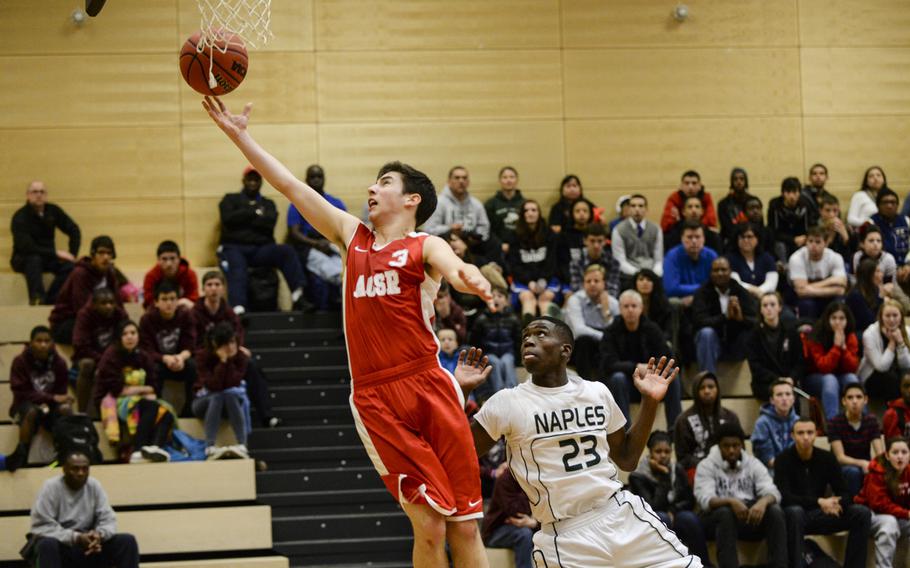 WIESBADEN, Germany – The Vicenza Cougars and Naples Wildcats will play for the DODDS-Europe Division II boys basketball championship Saturday. But Italian basketball has already won.
Region IV rivals Vicenza and Naples won their semifinal games Friday to set up an all-Italy title game Saturday, delivering a powerful message from a branch of DODDS-Europe that at times feels overshadowed by its northern neighbors.
"I think we're up and coming. If not we're already here," Vicenza coach Eric Wakefield said. "We're definitely a force to be reckoned with."
Vicenza 57, SHAPE 49: The top-seeded Cougars dominated the Spartans and swatted away a late comeback attempt to earn their title shot.
The Cougars sprinted out to a 17-4 lead after eight minutes and took a 35-21 advantage into halftime. That lead was safe until the game's final few minutes, when SHAPE launched a desperate comeback effort. Austen Eperjesi hit a driving layup with two minutes to play to cut the lead to six.
As it turned out, however, the lead was still safe. The SHAPE rally fizzled as a poised Vicenza team earned stops on defense and burned valuable seconds on offense, keeping SHAPE at a two-possession distance.
"I wasn't at all concerned," Vicenza senior Derrick Schaefer said. "I knew our coach would pull through and our players would pull through."
That kind of confidence comes from Vicenza's self-imposed adversity. The team hasn't lost to a DODDS-Europe team all season, but the Cougars had mixed results in the larger schedule they play, one that includes local Italian semi-pro teams.
"For me, and for these guys, 12 DODDS games is just not enough," Wakefield said.
Those games, both wins and losses, have turned the Cougars into the hyper-efficient team that is on the verge of a DODDS-Europe championship.
"It helped us learn how to take a loss or get a hard-fought win," Schaefer said.
One more of the latter will turn the Cougars into champions, and history says that final win is likely to happen Saturday. The Cougars routed Naples in both of their regular-season meetings in December, winning by scores of 64-23 and 64-50.
Schaefer scored eight of his game-high 16 points in the first quarter. Armond Griebe led SHAPE with 12. Naples 64, AOSR 57: After a rough start, Naples came back to win its Division II boys' semifinal.
AOSR dominated at the start, sinking four threes on the way to building a 10-point lead that it took into the second half.
But Naples' game plan was still unfolding, as it forced AOSR's star freshman Otis Reale into foul trouble. With 19 points, Reale paced AOSR, but spent the game's final minutes on the bench steaming. By then, the momentum had already shifted firmly toward Naples.
After shaking off a shaky first half, Naples freshman Terrell Staten and senior Jayontray Grogan blasted into the final 16 minutes as if fighting for their lives.
Staten, who'd been held to a single three-pointer the first half, put up another 17 points in the second half. Grogan, who led his team with 12 points in the first half, bested himself in the second with 13 more.
After starting the half down by 10, the Wildcats ended the third quarter up by one. Near the end of the fourth, they'd completely turned the tables on AOSR, opening their own 10-point lead.
"We have that mentality to never give up – never give up on a play," Grogan said after the game. "We knew we had it in us this whole tournament."
---
---
---
---