Manning leads SHAPE past Ansbach into title game
by
John Vandiver
October 26, 2013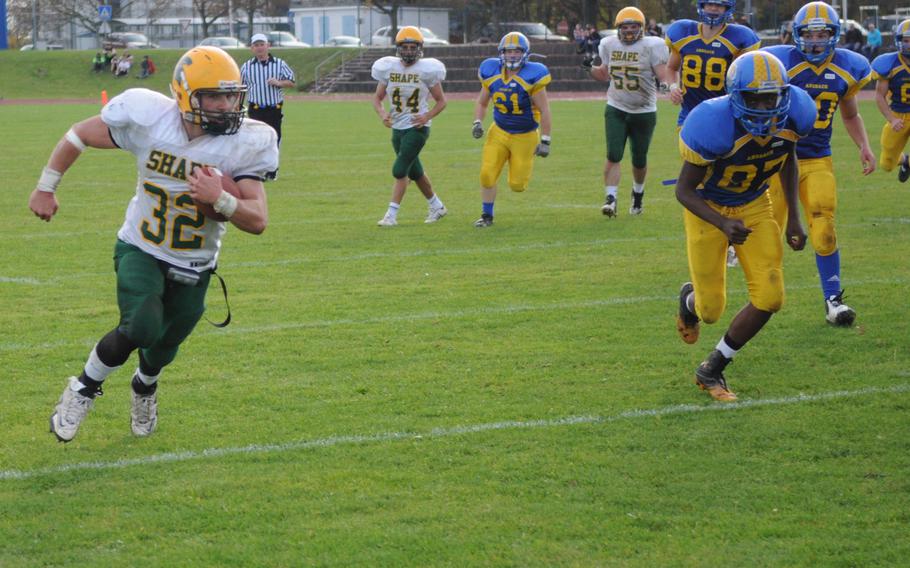 ANSBACH, Germany — The game looked like it was slipping away, but SHAPE's grinding ground game - led by running back Conner Manning - powered the Spartans to victory Saturday in the final minutes of a DODDS-Europe Division II semifinal game.
"All season, we've never quit and we didn't today either," Manning said after his team's 23-22 win over the host Cougars. The victory sends the Spartans into next weekend's Division II title game against the Hohenfels Tigers, which upset four-time defending champion Bitburg 38-29 in the other semifinal Saturday.
Ansbach scored 22 straight points to take a nine-point lead into the fourth quarter, but SHAPE scored the last 11, including a 12-yard field goal by Adrian Domian with a little more than two minutes to play.
Manning put SHAPE on his shoulders in the final quarter, setting up the final two scores. Run after run he chewed up yards and time off the clock. After getting his team near the goal line, running back Eimad Ismail scored on a 5- yard run, running over two Ansbach defenders in the process.
With the score now 22-20, SHAPE caught a break when Ansbach's Dorian Jones fumbled the ball near mid-field. Manning once again led his team down the field on a series of bruising runs, setting up Domijan's kick.
With 2:30 minutes left, SHAPE defensive back Austen Eperjesi then picked off an errant Ansbach pass to close out the 23-22 victory.
"When we were behind after the third quarter, we didn't get down and didn't panic. We just kept at it, like we have all season," Manning said.
Up 13-0 at halftime, it looked like it was going to be an easy victory for SHAPE. After a defensive battle in the first quarter, SHAPE finally got on the scoreboard in the second on a 14-yard touchdown run by Manning, who rushed for 138 yards on 30 carries for the day.
After an Ansbach fumble, SHAPE again marched down the field for a 10-yard run by wide receiver Eperjesi, who scored on a reverse in the closing minute off the half.
"Usually, we're a second half team, but we got off to a great start today," Manning said.
The lead didn't last. Ansbach, which struggled to get going offensively, started the second half with a bang.
On the opening kickoff, returner Roger Brownell sprinted 90 yards for a touchdown, signaling a change in momentum. After that, Ansbach took advantage of good field position to get into scoring position again, scoring on a 5-yard run by running back Jones.
Moments later, Ansbach's Brownell made a spectacular interception, snatching a ball that bobbled out of a SHAPE receiver's hands. Brownell then scampered some 30 yards on the return. From there, Ansbach went back to Jones, who grinded his way to the goal line after a series of runs, scoring on a final 1-yard push. That third-quarter scoring burst put Ansbach up 22-13.
With the momentum on its side, the Cougars seemed in control. However, turnovers, which plagued Ansbach all day, gave the Spartans new life.
"We just left the ball on the field to many times today," said Ansbach coach Marcus George, whose team lost for the first time all season. "You just can't do that against a good team and expect to win."
Ansbach's coach said his squad's turnovers were uncharacteristic. For most of the season, the team had been strong on fundamentals, he said.
"In the end, I guess it just wasn't meant to be," George said.