Europe DI boys soccer
Lancers hoping three times is charm against ISB
---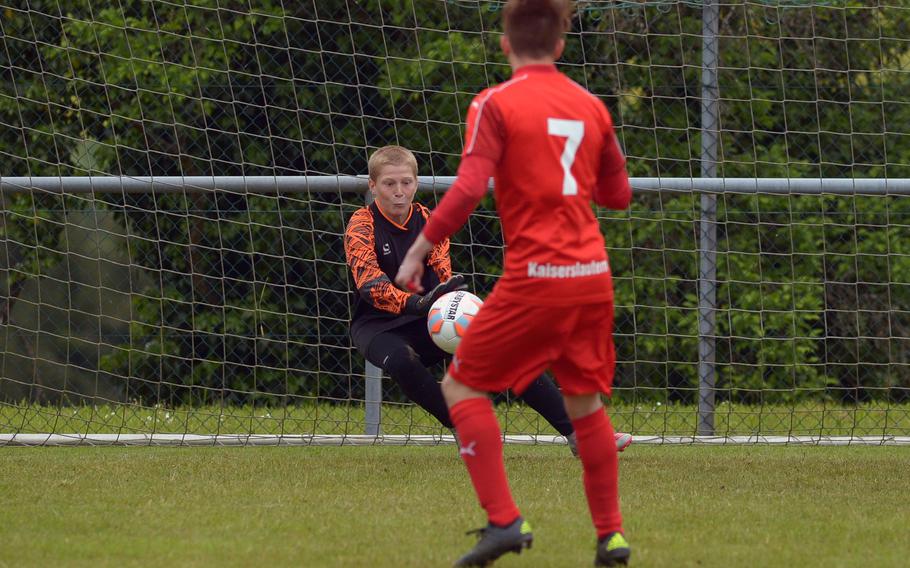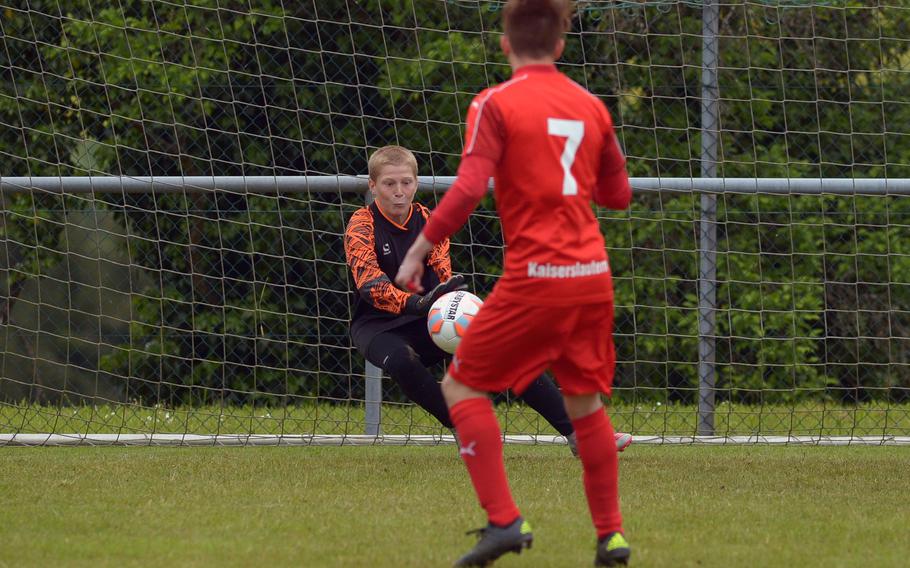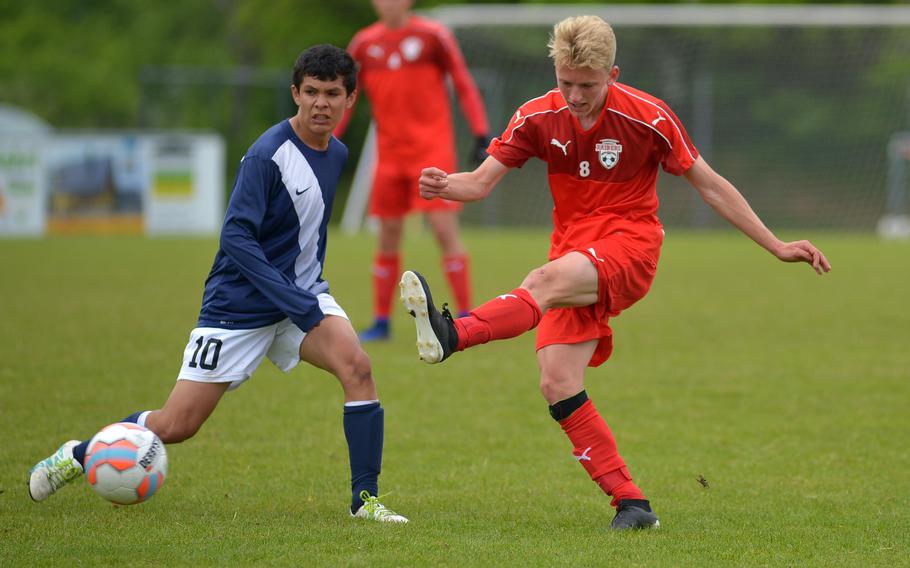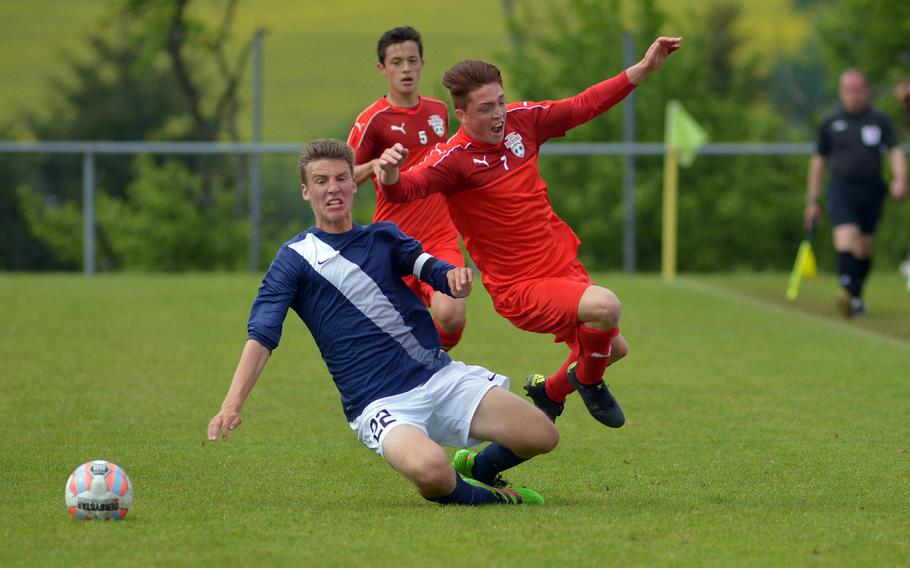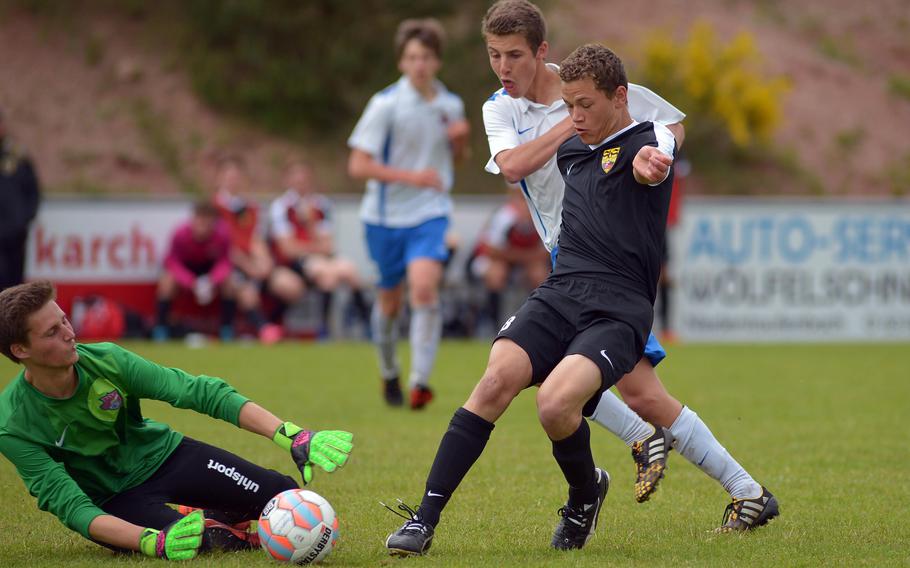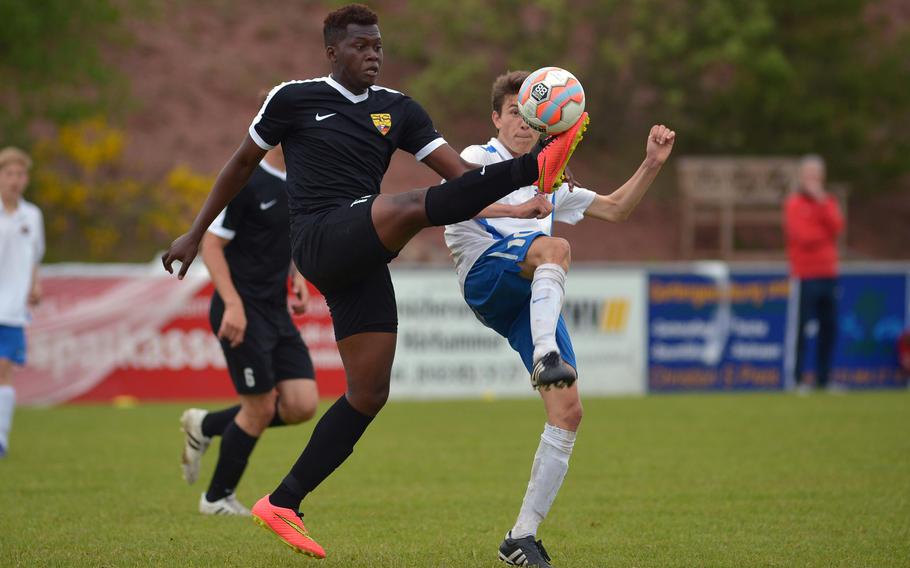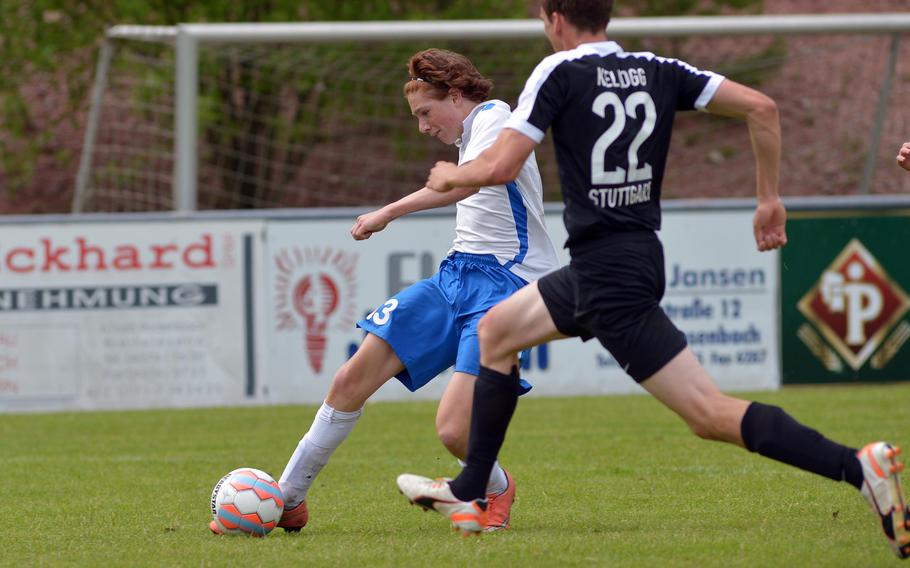 REICHENBACH-STEEGEN, Germany – An unpredictable 2016 DODEA-Europe boys soccer season had a lot more drama to offer on Friday.
The Lakenheath Lancers and Kaiserslautern Raiders, both low-seeded squads in the midst of surprise postseason runs, went to penalty kicks before the Lancers emerged victorious.
They earned the right to face returning runner-up International School of Brussels, which dispatched Stuttgart in the other semifinal, in Saturday's European championship match at Kaiserslautern High School.
Lakenheath wins on penalty kicks: A heroic effort in goal by Lancers freshman Zachary Moenter put upstart Lakenheath in the season's final game.
Moenter didn't play in goal for the Lancers in regulation or either overtime session, but he stepped in to the closer's role for starting keeper Rudy Zapata and made a pair of diving saves on Kaiserslautern penalty kicks. Meanwhile, four of five Lancer teammates put the ball in the net to deliver a 4-3 shootout victory and swing the 2-2 tie to Lakenheath.
The Lancers appeared to have the victory in hand in regulation.
They smothered Kaiserslautern's offensive stars with focused coverage as goals by Joshua Lopez and Ethan Fitzgerald put Lakenheath up 2-1 in the second half. But a late equalizer by Kaiserslautern's Pablo Zorrilla extended the game, and two scoreless 10-minute overtime periods gave way to the session of penalty kicks.
At that point, Kaiserslautern coach Enrique John knew the fate of his team's season had been left largely to chance.
"It's like rolling dice," John said. "You never know what comes up."
The win is particularly disappointing for a Kaiserslautern team that had just exorcised its most persistent demon in the form of archrival Ramstein. The Raiders bested the defending champion Royals 3-1 in pool play on Wednesday, seemingly clearing a path for a title-game appearance on their own home turf.
Instead, they were derailed by a Lancers team that they beat 4-0 back in the first weekend of their regular season.
"Tournaments have their own rules," John said. "Anyone can beat anyone."
The Lancers are back in the title mix for the first time in years, and they don't plan on going anywhere. Greg Mako, the coach during Lakenheath's previous run of contention, took over the program again last year and plans to make it a regular on the Division I championship scene.
"Lakenheath is for real. We're coming back," Mako said. "We've got our program figured out now. There's no more losing."
International School of Brussels 3, Stuttgart 2: The Raiders earned their second straight trip to the European title game with a thorough defeat of the Panthers.
ISB, which lost to Ramstein 1-0 in last year's title game, built a 3-0 lead that held up through Stuttgart's steady comeback efforts.
The win accumulates even more momentum for a Raider squad that started the spring slowly with ties against SHAPE and Alconbury and ended it unceremoniously with a 3-1 loss to Ramstein. But the tournament has been a different story, defined by stretches of brilliance that coach Philippe Kaisin reverently referred to as "11 people clicking all together." The Raiders began to harness their power in earnest Thursday, blanking Lakenheath 4-0 and Naples 3-0.
"We are peaking at the right time," Kaisin said. "What we have shown so far...as far as quality football, it's amazing."
Stuttgart too has seen moments of excellence this spring, starting its season with wins over Ramstein and Kaiserslautern and blanking the defending champion Royals 2-0 on Thursday to reach the elimination round. But the Panthers took too long to recapture that level of play on Friday.
"The players were a little tight. They weren't loose, they weren't relaxed at the beginning," Stuttgart coach Eugene Macadagum said. "When they started to play more like a team, with a little more energy, a little more assertiveness, you could tell they were starting to realize that the clock was ticking."
Sebastian Ringlstetter, Arthur Everard and Ryota Nakamura scored for the Raiders, while Tyler Kearny and Faouzi Diarrassouba countered for the Panthers.
ISB beat Lakenheath 3-2 in the teams' regular-season meeting on April 30 in addition to their pool-play tournament win over the Lancers.
Twitter: @broomestripes
---
---
---
---