Lancers get on base early and often in rout of SHAPE
by
William Howard
April 22, 2017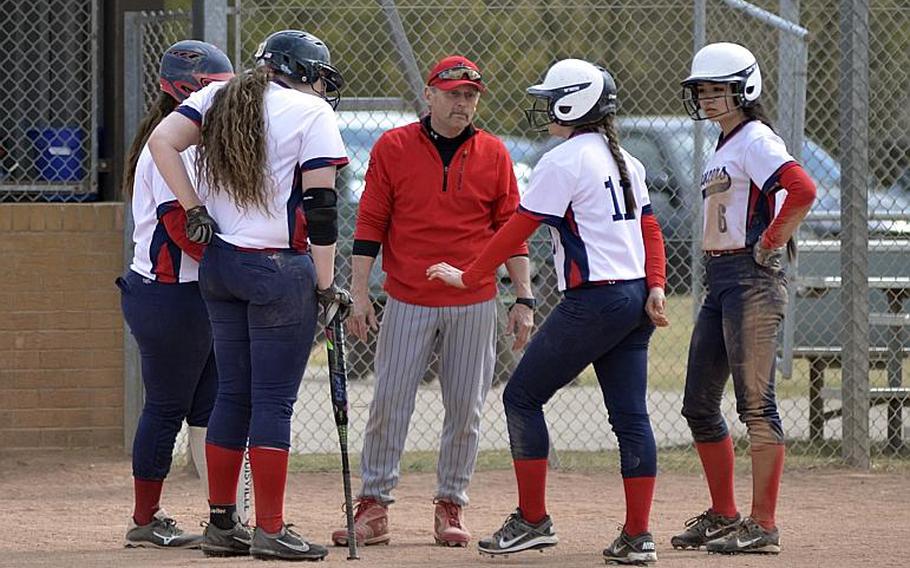 RAF LAKENHEATH, England ― Lakenheath remains undefeated this season after 18-3 and 24-3 victories Saturday over SHAPE in a pair of games called after the third inning due to the mercy rule.
Due to an early injury, SHAPE was forced to put inexperienced players on the mound. They walked Lancer after Lancer. And Lakenheath got plenty of practice stealing bases as well.
"We stole a lot of bases because they were hurting in a couple positions, but what we really want to do is learn how to run the bases," Lakenheath coach John Gilmore said. "We have a very young team and we haven't played enough games to really understand where we're supposed to be at on every pitch."
Despite only getting four hits in the first game, three players from SHAPE did put up some highlights. Leilynn Arrington led her team with an inside-the-park home run, Lauren Robertson stole three bases and Kerrie Hernandez had a hit and a walk.
Elated with their wins, Lancers shook hands with frustrated Spartans at the culmination of the second game.
Lakenheath seniors left to enjoy their victory and prepare for prom later Saturday night, but Gilmore was already thinking about upcoming games against Kaiserslautern and Ramstein next week.
"What we need to work on a lot more is our batting," Gilmore said. "We haven't seen the top pitching yet and when we do I know it's going to be a whole different story."
Twitter: @William16058388