Kaiserslautern looks strong halfway through track season
by
Michael S. Darnell
April 25, 2015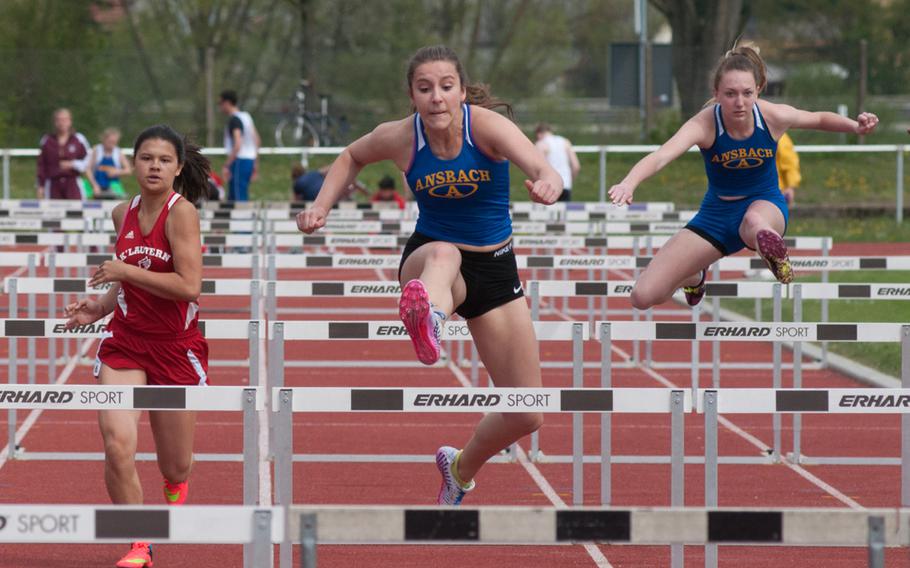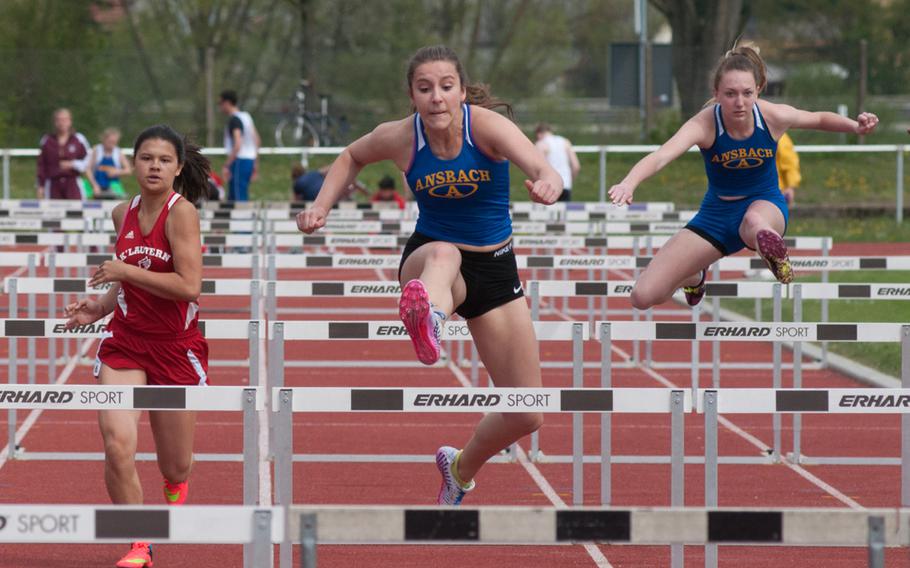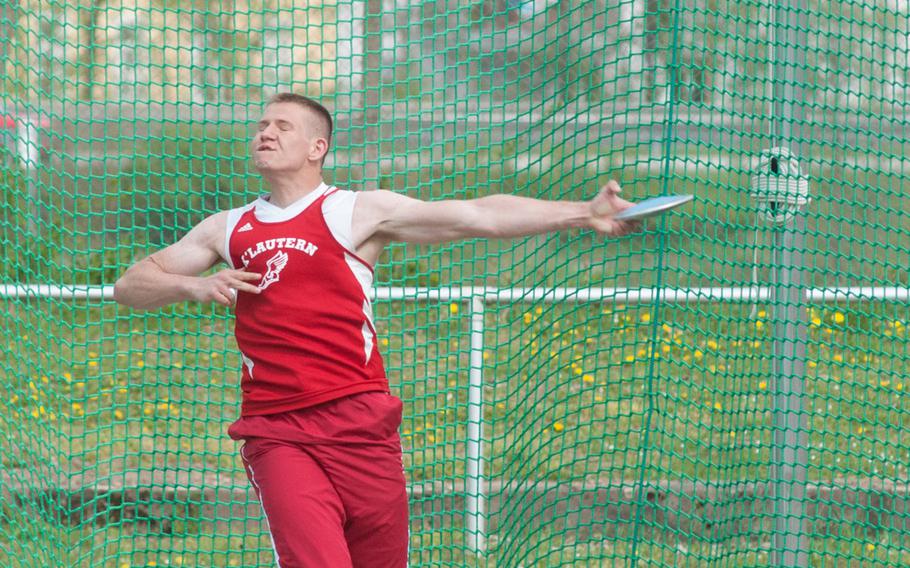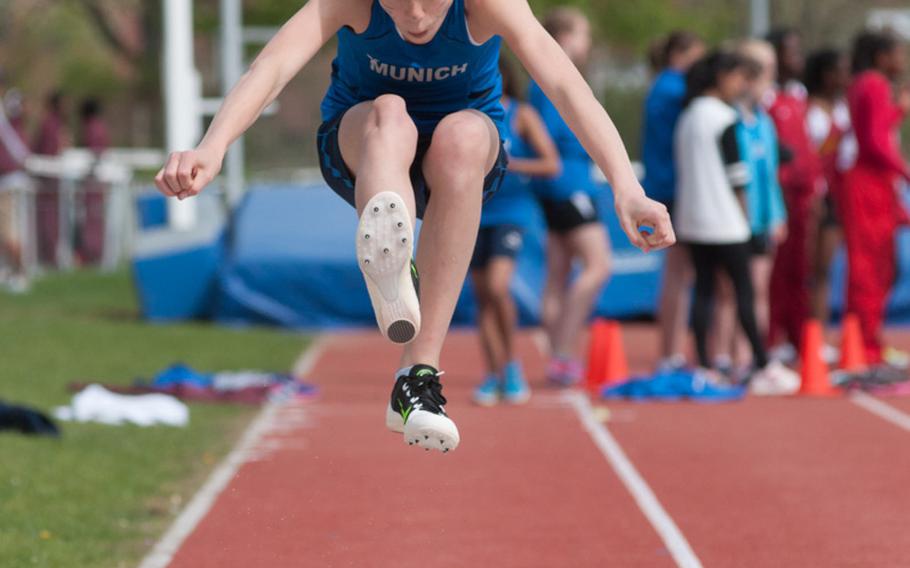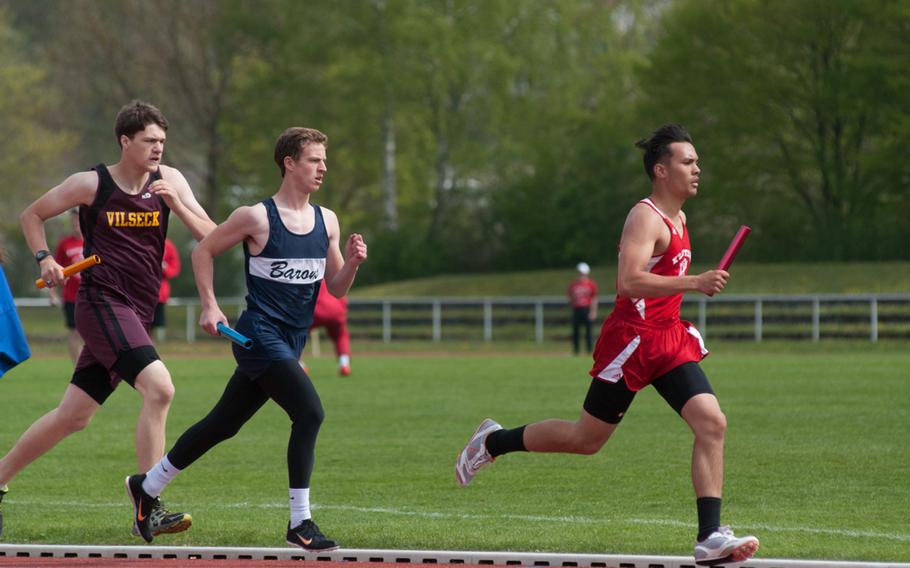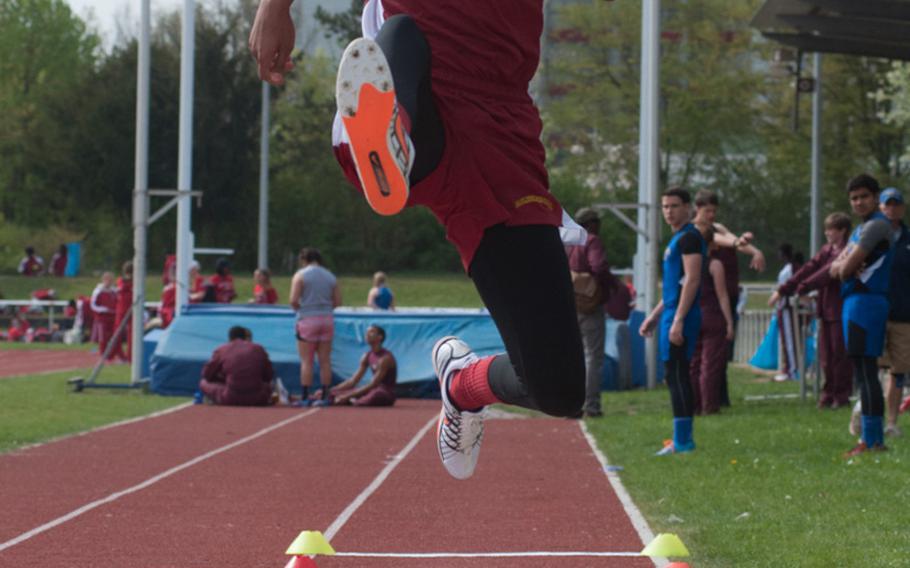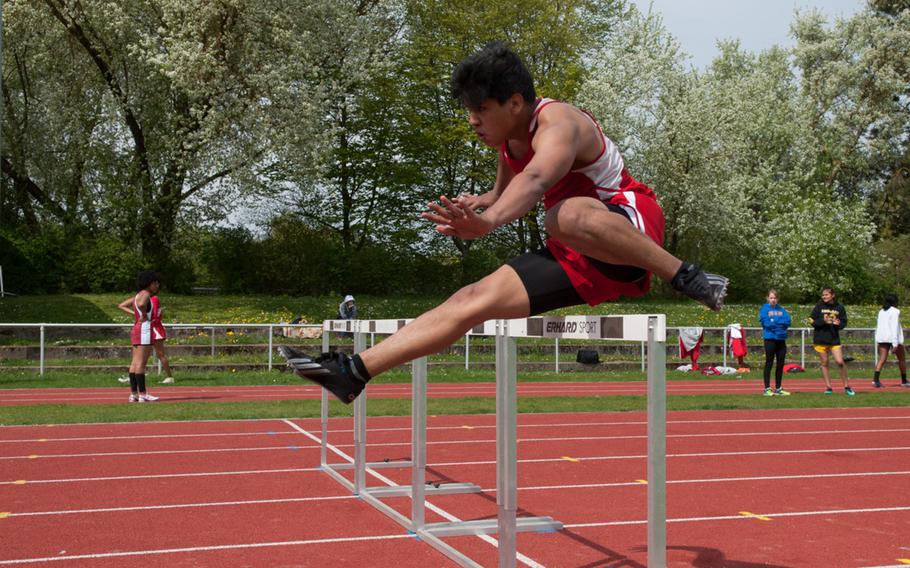 REGENSBURG, Germany – It's not really fair to compare Kaiserslautern's track and field team to the other six schools that converged for a track meet here on Saturday.
After all, the Raiders are able to field twice as many competitors as most of the other squads: Vilseck, Baumholder, Ansbach, Bitburg, Hohenfels and Munich. With such a large team, they're bound to have some names in the winner's circle.
But credit should be given where credit is due, and the Raiders definitely deserve some recognition for their combined performance.
Kaiserslautern went home with an astounding 20 first-place finishers and numerous broken personal bests. David Zaryczny was perhaps the most versatile among K-Town's winners, placing first in the 100- and 200-meter runs, as well as the long jump.
Wesley Donhauser, who, according to coach Stan Kyle is currently the best discus and second-best shot putter in DODDS-Europe, ranked first in both of those events.
Donhauser's best shot put of the day was a full 1.47 meters beyond his nearest competitor. Not bad for an event in which first and second place is often decided by millimeters.
"I'm happy, but as always I feel the need to improve … so my mind is on the next week and the new tweaks," he said. "For me, a lot of it is mental preparation, especially for discus. If you overthink it, it does not release right. You have to calm down, internalize and go by muscle memory."
Donhauser said he's focusing heavily on improving in order to leave no doubt that he's the best thrower in Europe, come the finals.
Though the events obviously differ from competitor to competitor, that was a common sentiment at this mid-season meet. While the Raiders were clearly dominant this week, every team had successes sprinkled throughout and each squad had European championship hopefuls.
For instance, Ansbach's Hannah Shedden torched the competition in the 100 hurdles, coming in at 17.01 seconds. She also placed second in the 300 hurdles, behind teammate Clarissa Paniagua, who finished that event in 53.03. The Cougars took top honors in both the boys and girls triple jump. Natalia Livingston edged out K-Town's Morgan Dozier by .03 meters and Tyler Benton triumphed over Colton Thomas of Bitburg in the boys event.
Bitburg also had a productive day. Matt Holmes won the 300 hurdles in convincing fashion, and John Blake leapt over the competition in the high jump. Later they teamed up in the 4x400 meter relay to put the Barons ahead in that event by 25 seconds. Elise Rasmussen represented the Barons well on the field side of things, with a 9.77-meter throw in the shot put, well ahead of Isabelle Savage from Munich International.
"That was my first qualifying throw on the year," Rasmussen said. "I'm really excited to see how it goes from here. It's been really challenging, but it's really fun."
Bitburg is a smallish school, but even the Barons seemed to dwarf Baumholder's. The Bucs held their own against superior numbers, thanks to strong efforts from Lexi Graves, who placed first in the long jump, Nathaniel Horton, who topped the 400 meter dash and Treyvante Kendrick, who won the 800. For the Bucs, it was all about getting better. According to Horton, they did exactly that and at least this time his victory came without a price.
"This time I didn't throw up," he quipped.
Vilseck and Munich each had a couple of major successes on the day. The Falcons carved out a niche in the long-distance events, with Kaili Markey in first for the 1,600 and Diego Martinez placing first in the 3,200. Munich's Marleen Kasebier took home the girls high jump, but it was Munich's first through fifth place finishes in the 800 that was most impressive.
Though Kaiserslautern chalked up the most points, the Raiders did give the other schools something to shoot for.
"It's always about improving," Bitburg's Lamar Cheney said. "I was doing good, but I had a K-Town guy right behind me the whole way. It showed me that I wasn't as fast as I thought. But it made it more fun because I had a challenge. We're here because we love to be challenged."