European D-II/III softball
Jaguars finally get challenge, but emerge triumphant
by
Gregory Broome
May 26, 2018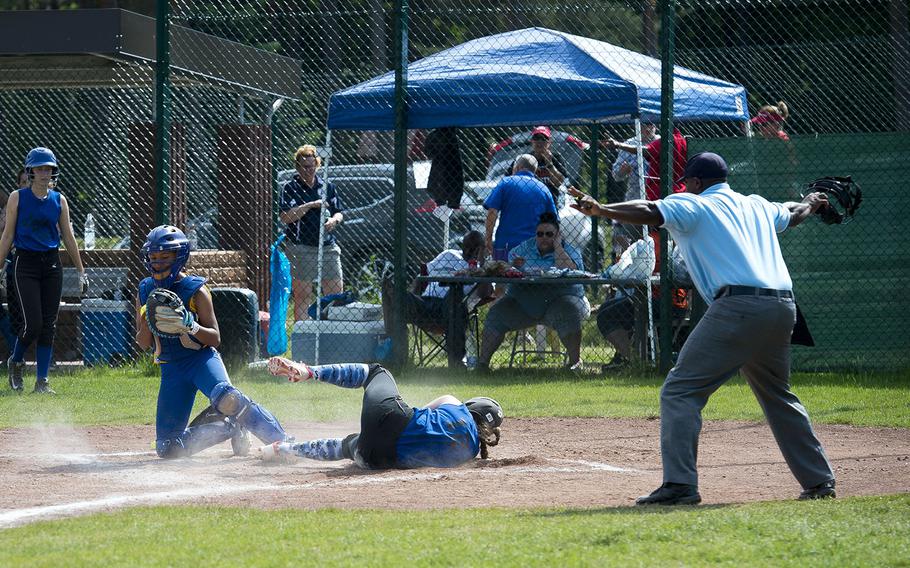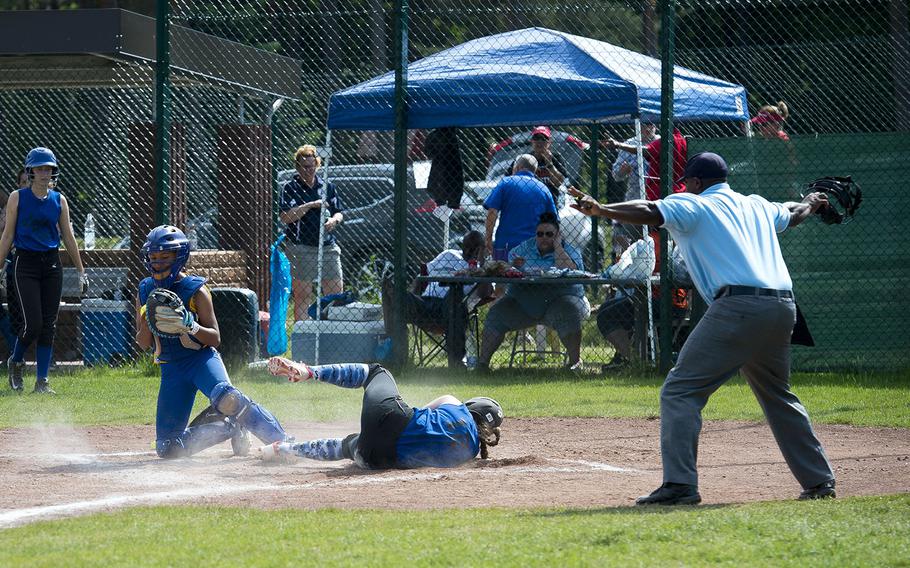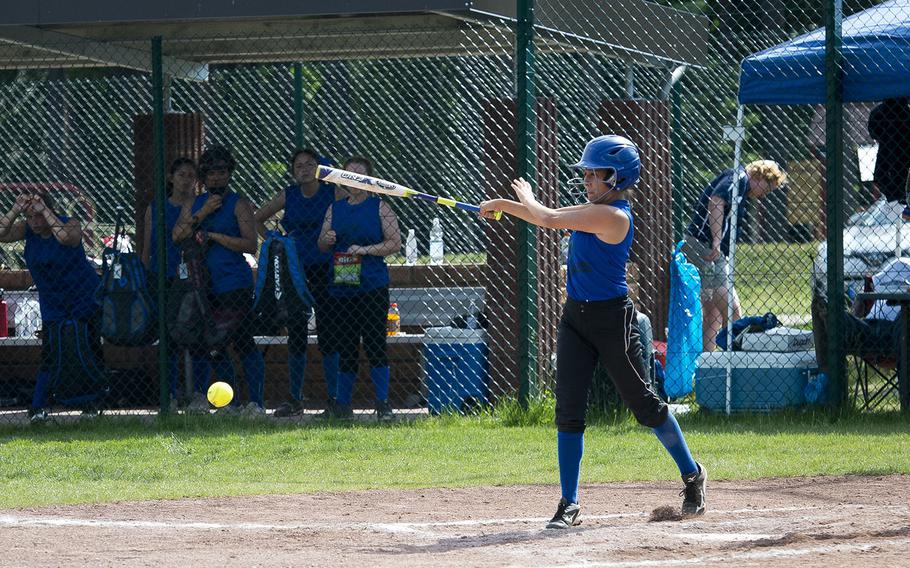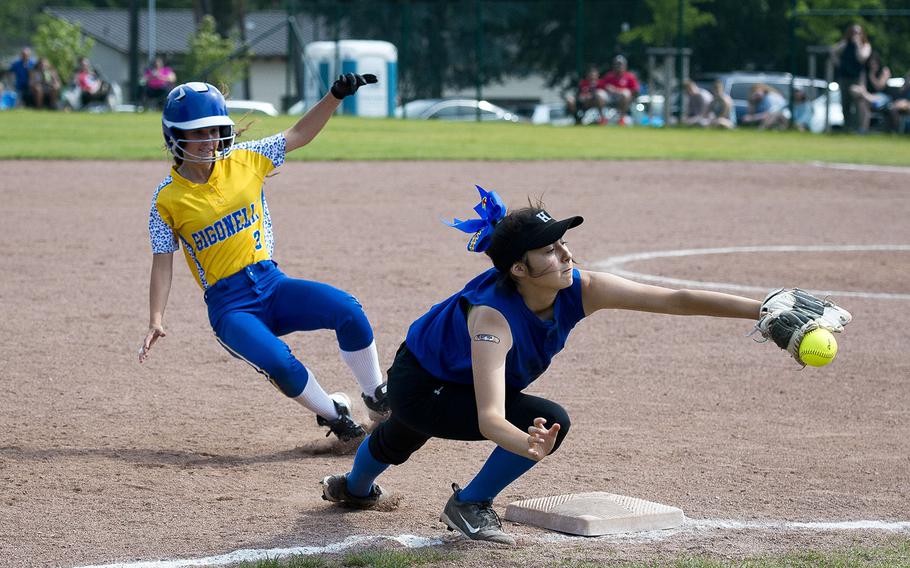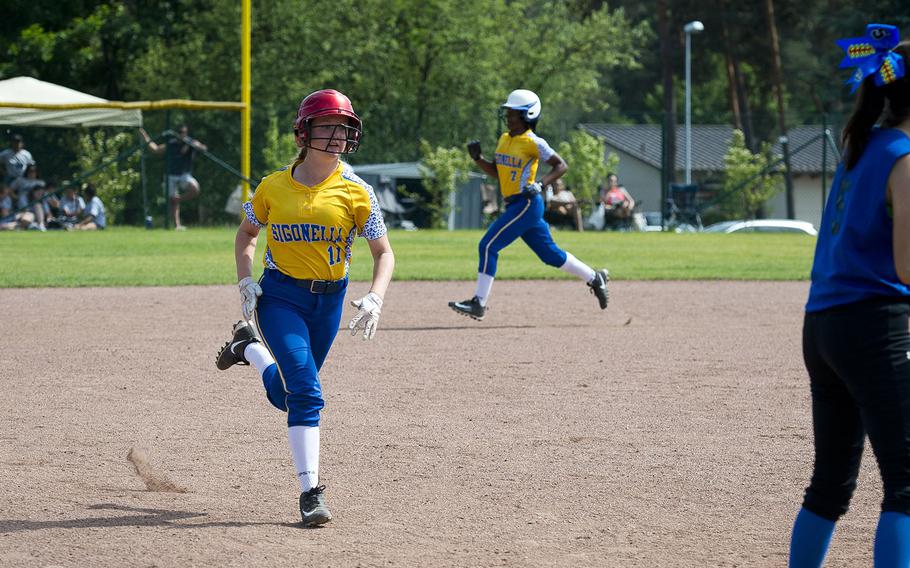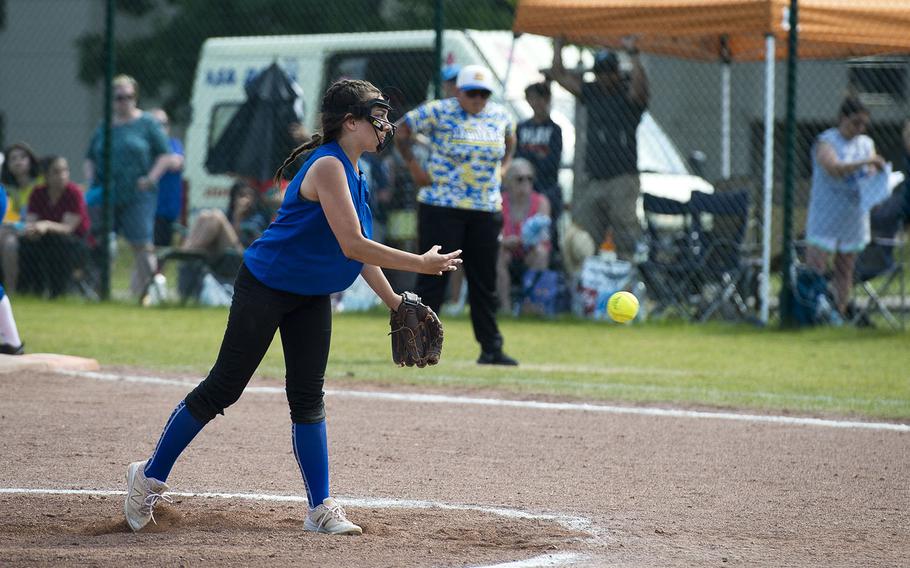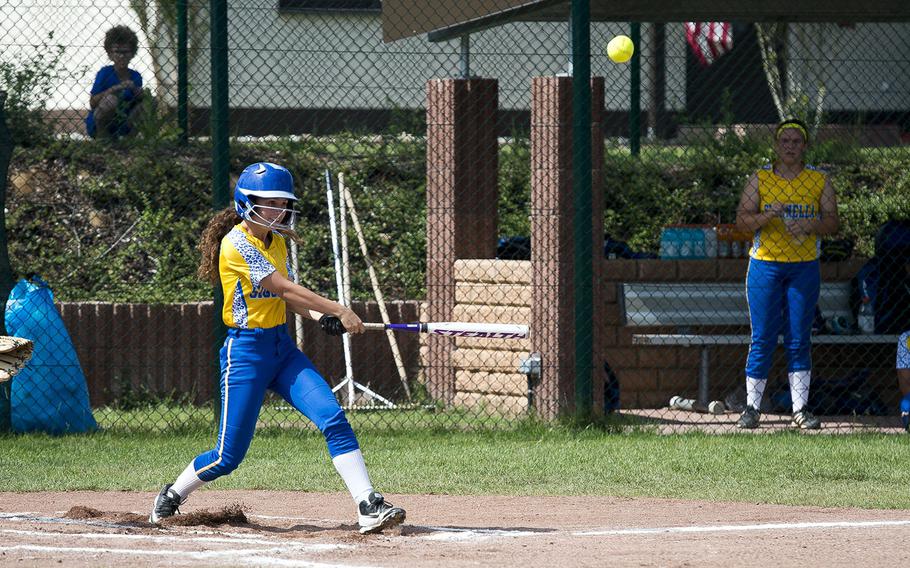 RAMSTEIN AIR BASE, Germany -- It's rare for a championship-game outcome to leave both sides in celebratory moods. But that's exactly what happened in the 2018 DODEA-Europe Division II/III softball final Saturday.
The Sigonella Jaguars were obviously thrilled with their 4-2 victory over the Hohenfels Tigers and second straight small-school title.
But the Tigers, too, had reason to smile. After an embarrassing 20-1 loss to the Jaguars in a Friday preliminary game, Hohenfels coach Janan Welch said her team was "blissfully happy" that it got a second chance to show what it's capable of on DODEA-Europe's biggest stage.
"Honestly, there were just a lot of errors (Friday) because the girls were in their heads.
They were just making mistakes that they usually would never make," Welch said. "We just played a much cleaner game. They were doing what they usually do."
Sigonella appreciated the fact that it was made to work for its trophy. The championship game was the only time the reigning champs were even remotely challenged in the three-day tournament.
The Jaguars beat the field's five other entries in round-robin play by a combined score of 106-11. Sigonella head coach Steve Larson cautioned his players not to take Saturday's final for granted despite the previous day's walkover, warning that "anything can happen" in a championship game.
It wasn't hard to get the message across, he said.
"We really don't have that problem," Larson said. "Our girls are really level-headed."
That approach was evident as the Jaguars were unable to get the kind of scoreboard separation that they'd achieved in every other game.
"We weren't concerned," Sigonella standout Jessica Jacobs said. "We just knew that we had to keep trying our hardest."
The multiple-sport Sigonella veteran thoroughly enjoyed the intensity of a hard-fought final.
"I've experienced other championship games where it was an easy game, no competition," Jacobs said. "It's definitely not as fun."
Aaliyah Rawlings and Jacobs each had two hits to pace the Jaguars. Aliyah Jordan and Isabella Williams scored a run apiece for the Tigers.
Sigonella beat Bitburg, now known as Spangdahlem, 9-5 for the 2017 championship. Saturday's win represented a bit of redemption for the Jaguars against Hohenfels, which bested Sigonella 15-14 in a 2016 semifinal game.
The Jaguars may also be destined for more success, as the team they fielded Saturday featured just one senior.
The Tigers, as they demonstrated Saturday, were the clear standout of the field beyond Sigonella.
Hohenfels won both of its first-day games, including a 6-5 defeat of Rota that proved decisive in surviving the preliminary round, and bounced back from its blowout loss to Sigonella with its own runaway win, a 16-3 defeat of Alconbury.
Twitter: @broomestripes