It's win now or miss playoffs for some teams
by
Gregory Broome
October 11, 2018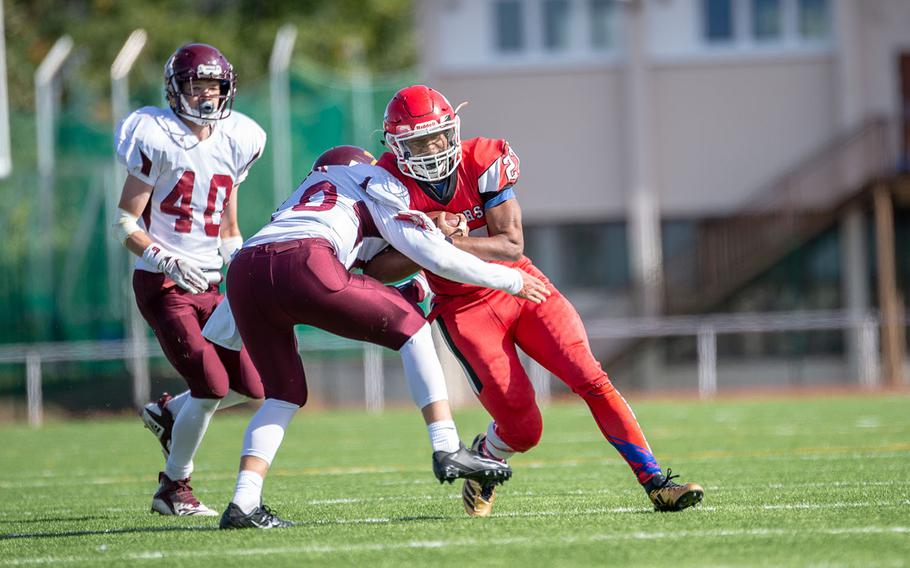 Football is the only team sport in DODEA-Europe that does not invite all of its teams to the postseason. The next two weeks, then, represent the only organization's only playoff race of the school year.
Fortunately, it's shaping up to be a good one.
Only three weeks remain until the Super Six slate of divisional championship games scheduled for Nov. 3 at Kaiserslautern High School, and the majority of teams across the three divisions harbor playoff aspirations of varying feasibility.
Division IThe undefeated Ramstein Royals and winless Vilseck Falcons have drifted to opposite extremes of the six-team large-school division, leaving four schools in the middle fighting for three available semifinal spots.
The Kaiserslautern Raiders and Lakenheath Lancers enter the weekend at 2-1 in conference play and with the opportunity to clinch a winning divisional record this weekend.
The resurgent Raiders put their two-game win streak on the line against the reigning champion Stuttgart Panthers, a 1-2 squad scrapping for the chance to defend its title, while the Lancers face a last-place Falcon team that is tougher than its record indicates.
The Wiesbaden Warriors, a perennial playoff participant with a 1-2 divisional mark and a narrowing path back to the postseason, will need to spring an upset on the frontrunning Royals to avoid a losing record.
Division IIThe Aviano Saints' 3-0 start to the season should be an unqualified success. Instead, it's a little complicated.
International School of Brussels didn't make the long trip to Italy for its scheduled Sept. 8 season-opener at Aviano, and DODEA-Europe decided against awarding the Saints a forfeit victory. That no-decision will leave the Saints with a different number of games played than their divisional rivals and could potentially factor into tiebreaker math when determining the two teams that will advance to the championship game.
Aviano can control its own destiny by winning its remaining games, but that's far from certain. Three teams enter the weekend tied for second place at 2-1; the Saints edged one of them, the Rota Admirals, 22-14 on Sept. 29; the other two, the Vicenza Cougars and Naples Wildcats, comprise Aviano's remaining schedule.
Division IIIThe Ansbach Cougars have torn through the fledgling six-man league, restoring their former DODEA-Europe dominance after a dormant 2017 season. They're a near-lock to play for the small-school crown at Kaiserslautern, and an increasingly strong bet to win it.
The question of Ansbach's eventual opponent is more difficult. The issue may be decided on the final weekend of the regular season via a meeting between AFNORTH and Brussels, programs that were once merged into a Division II outfit before this year's debut of Division III rendered them separate entities again.
Twitter: @broomestripes