Europe tennis finals
It's time for new blood in Europe's tennis royalty
---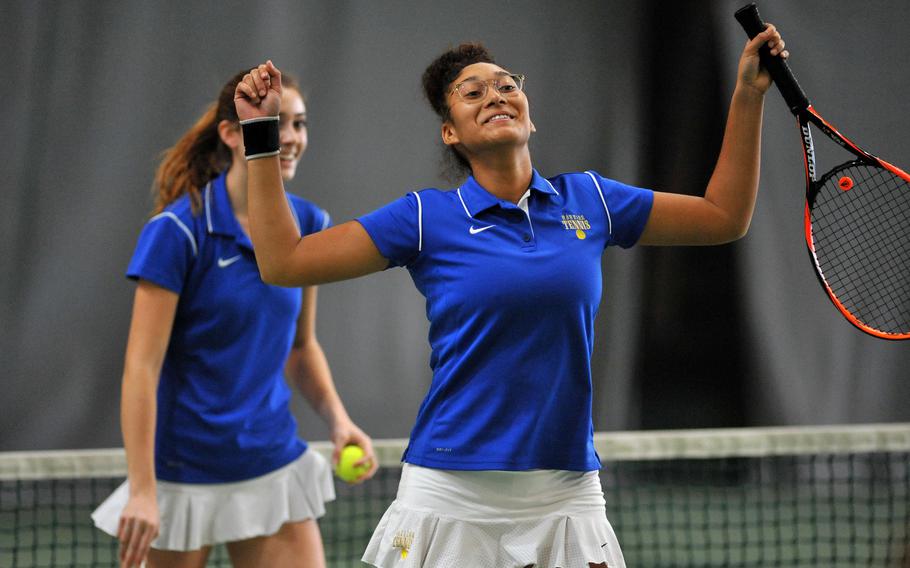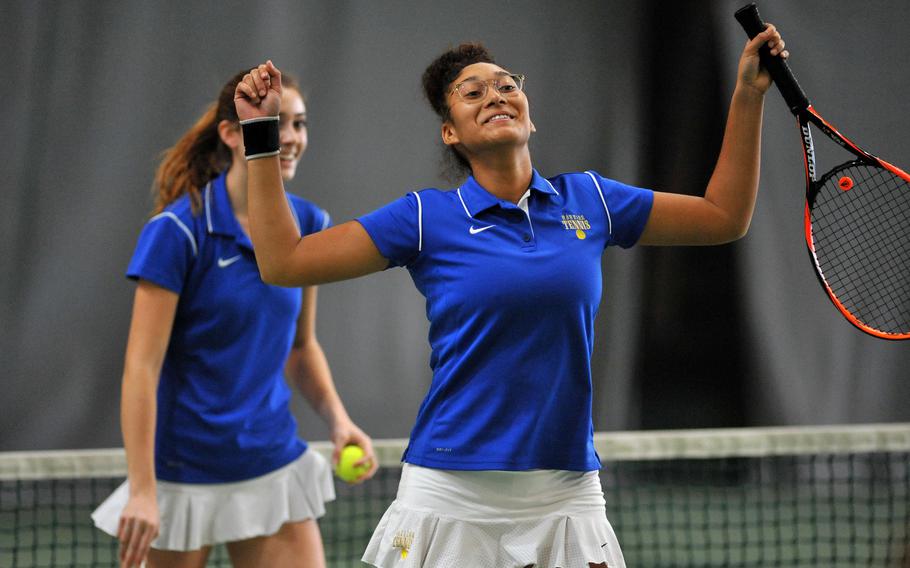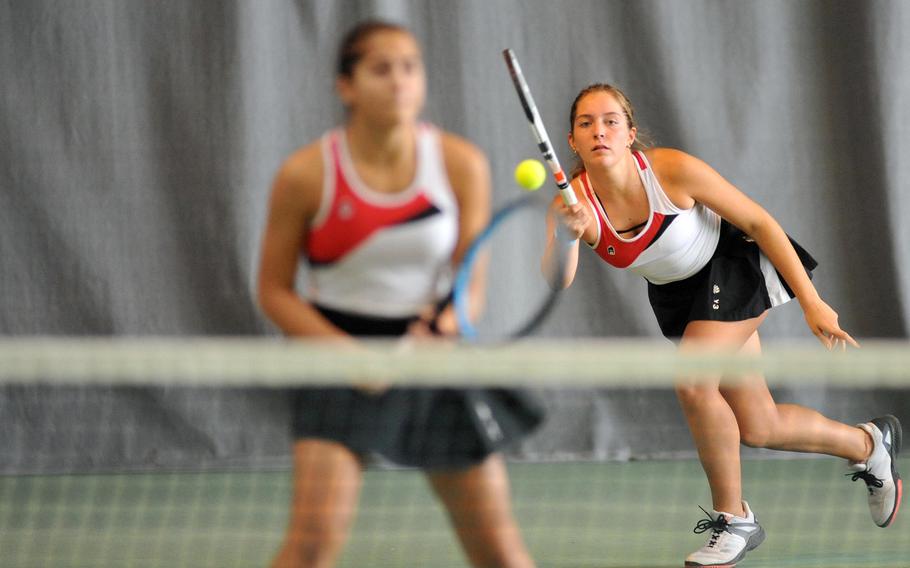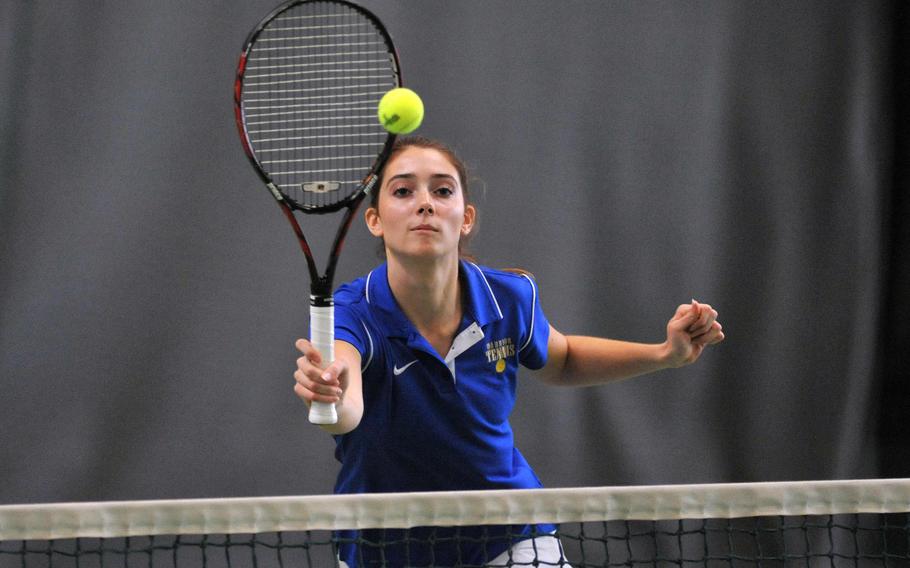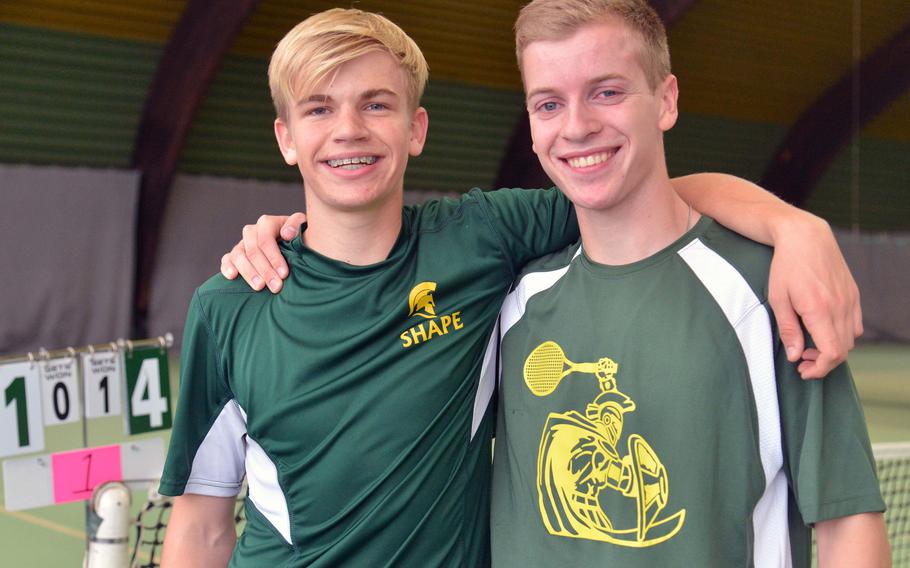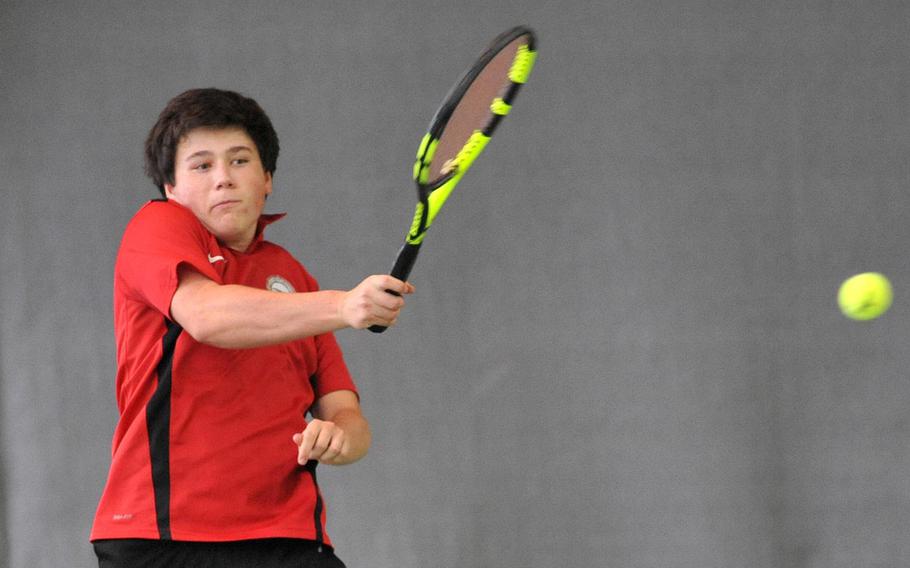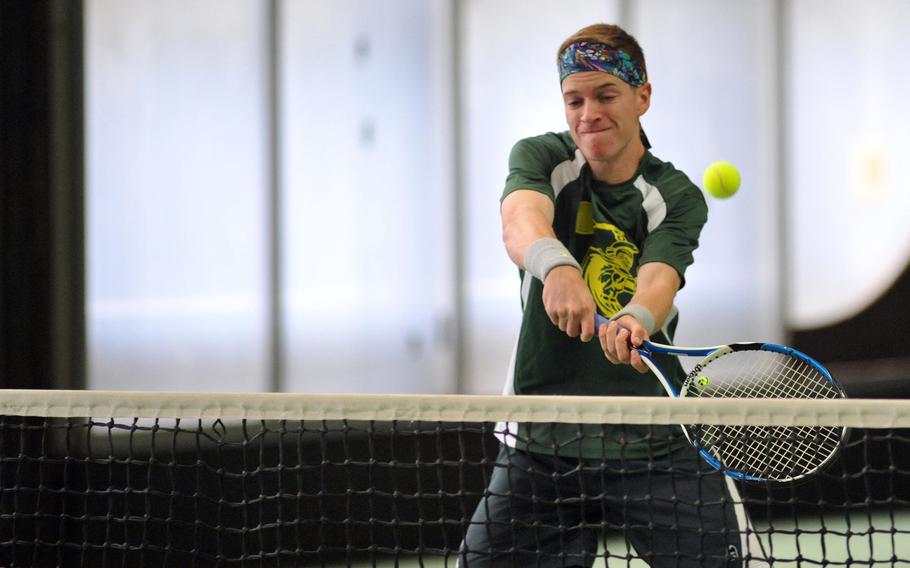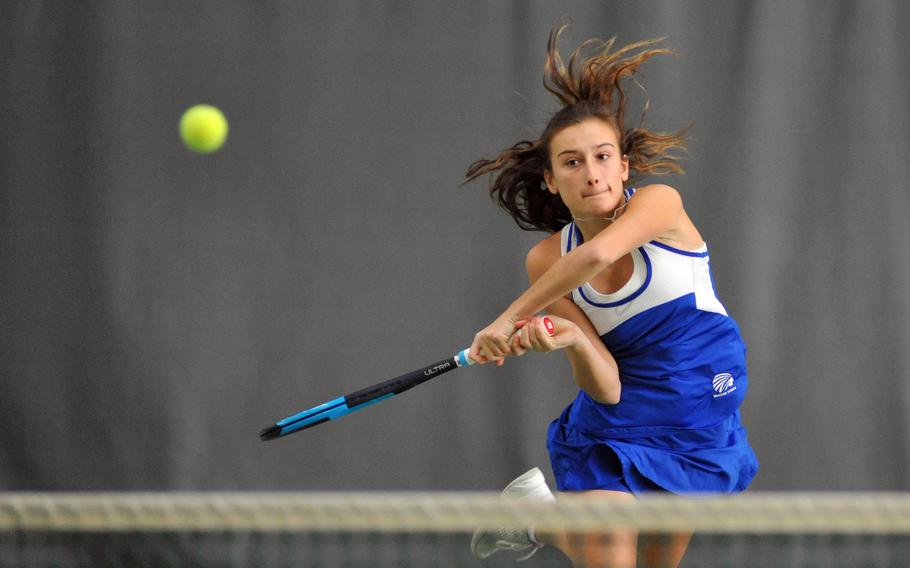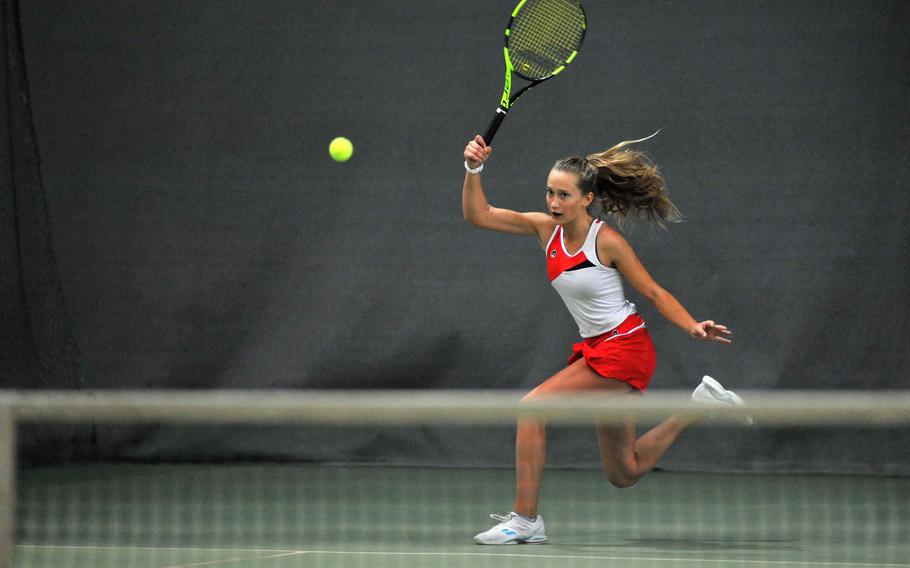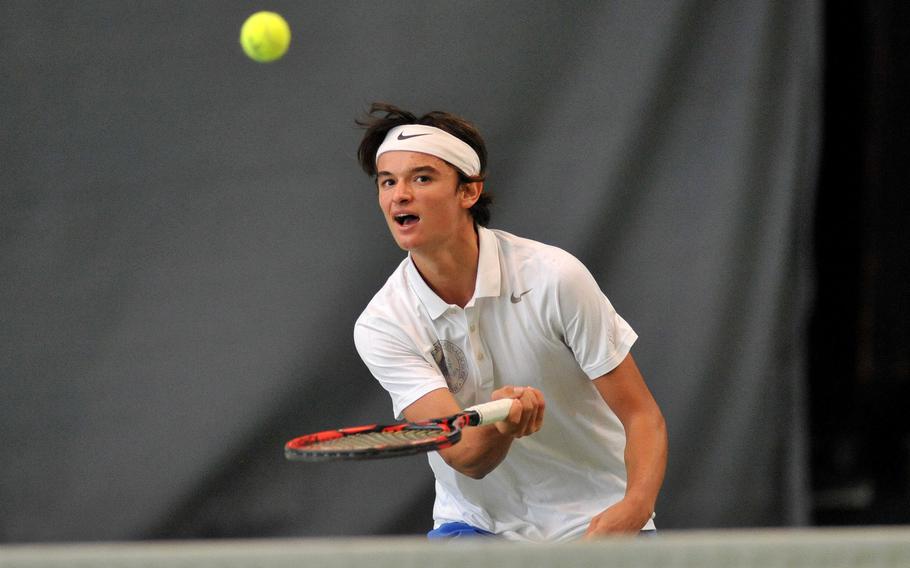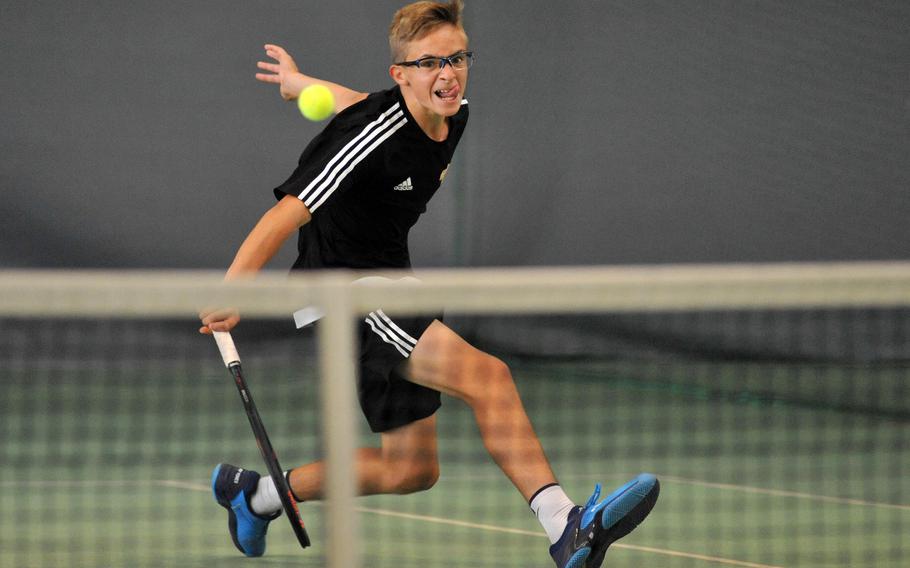 WIESBADEN, Germany -- The 2018 DODEA-Europe tennis championships concluded Saturday with several exciting matches and a series of new champions.
Boys singlesTwo-time champion and Marymount senior Matthias Mingazzini attempted to defend against newcomer Amar Tahirovic of Stuttgart. But Tahirovic followed in the footsteps of older brother Adjin to claim his first title as a freshman in a 6-4, 6-2 victory.
Throughout the match, Mingazzini displayed strong serves, made use of good angles and used those angles to keep Tahirovic moving around in an attempt to tire him out. It didn't seem to work. At least not well enough.
Prior to the match, Tahirovic had decided to use a similar strategy against him. He was laser focused on the court and maintained control throughout.
"The match was really tough, but my forehand and my serves definitely helped me today," Tahirovic said. "I did the same thing as my brother, we both achieved this [championship title] as freshmen."
Girls singlesThe final was an intense battle between Charlotte Kordonowy, a sophomore from Wiesbaden, and Aiva Schmitz, a Kaiserslautern freshman. In the end, Schmitz emerged victorious by a score of 7-5, 6-1.
Kordonowy was intent on improving her service game, due to a few mistakes during Friday's matches and generally proved successful in that in Saturday's match against Schmitz.
Kordonowy and Schmitz were consistently laying on pressure on each other. It seemed that each girl's strength and speed was matched by her opponent. Kordonowy was very agile and seemed to hit the ball with a sledgehammer.
Unfortunately for her, Schmitz's long reach and quick reaction time allowed her to send back the ball with as much speed and force.
"She can definitely hit hard, and she can place it in the corners, but I tried to stay aggressive," Schmitz said. "She did the same thing, so we got into a lot of long points. I just had to stay on point and wait for her to make a mistake."
Boys doublesThe final match between SHAPE's Seth Banken and Wesley Phelan and AOSR's Paul Ranieri and Emanuele Di Paola began with intensity from both teams.
Ranieri and Paola started strongly with tough serves to put Banken and Phelan on the defensive. But as the match continued, Banken and Phelan adjusted their strategy by poaching across the net and came back against their opponents, eventually prevailing 6-1, 6-1.
Girls doublesThe final between Wiesbaden's Melissa Pritchett and Shelby Albers and Kaiserslautern's Victoria Thais-Lopez and Taylor Larned featured two teams with very different approaches.
Thais-Lopez and her teammate Larned had a quiet and confident trust throughout the match, while Pritchett and Albers were constantly coaching each other and talking strategy in their 6-3, 6-2 victory.
Pritchett and Albers attributed their successful strategies to their chemistry and friendship on and off the court.
"We keep each other calm out there on the court," Pritchett said.
"It was nerve-wracking in the beginning because we have seen them both play in the past," said the Wiesbaden duo. "They are amazing players."
In the end, it was Wiesbaden's ability to counter Kaiserslautern's constant barrage of powerful strikes that won them the championship.
Twitter: @AKStripes
---
---
---
---