Europe tennis finals
It's experience vs. youth in battles for titles
by
Gregory Broome
October 26, 2018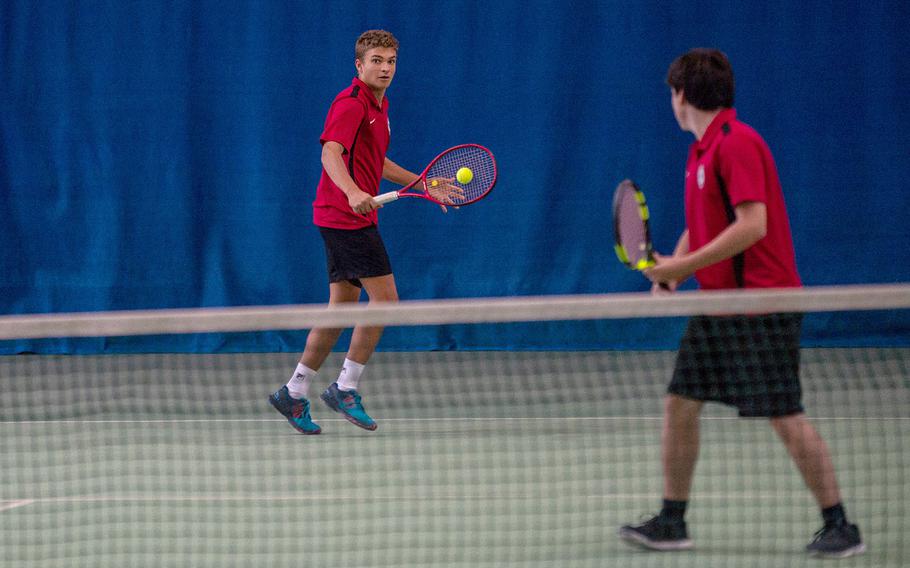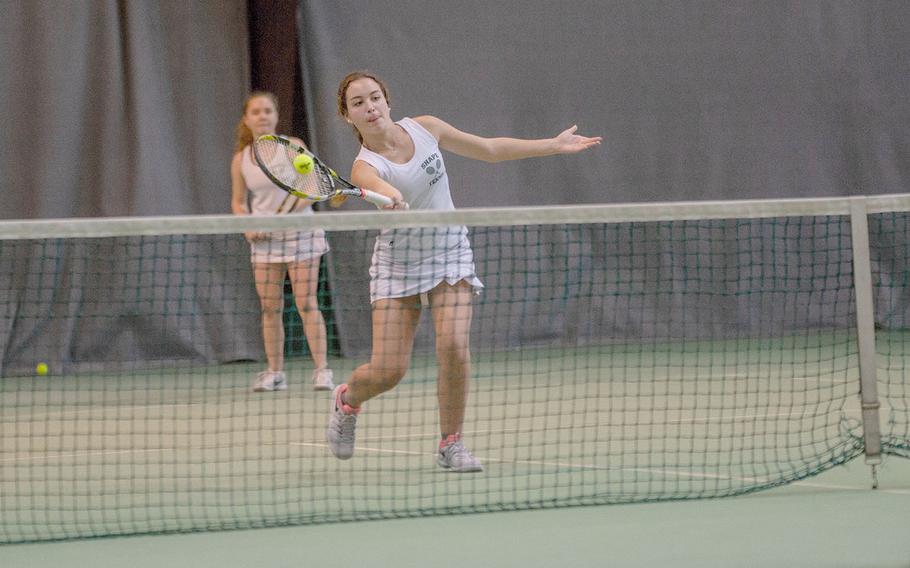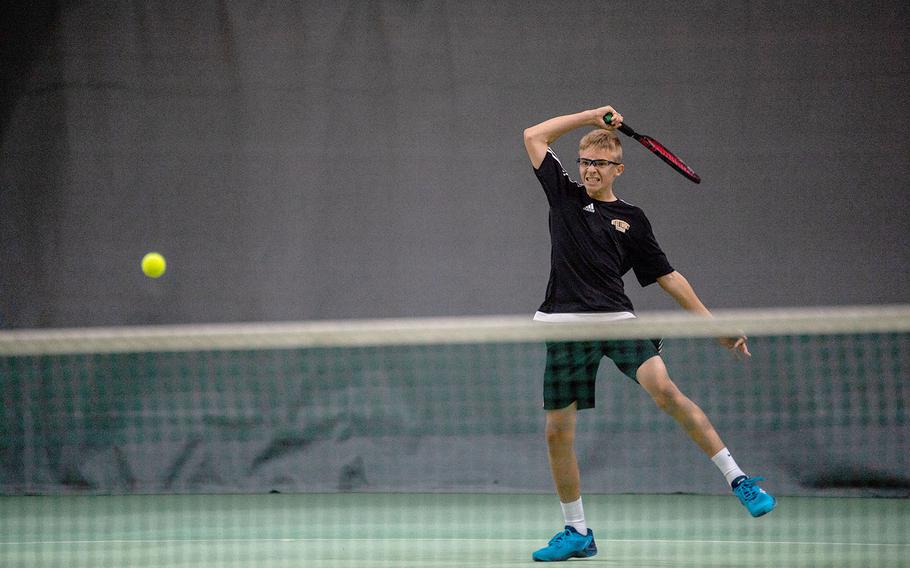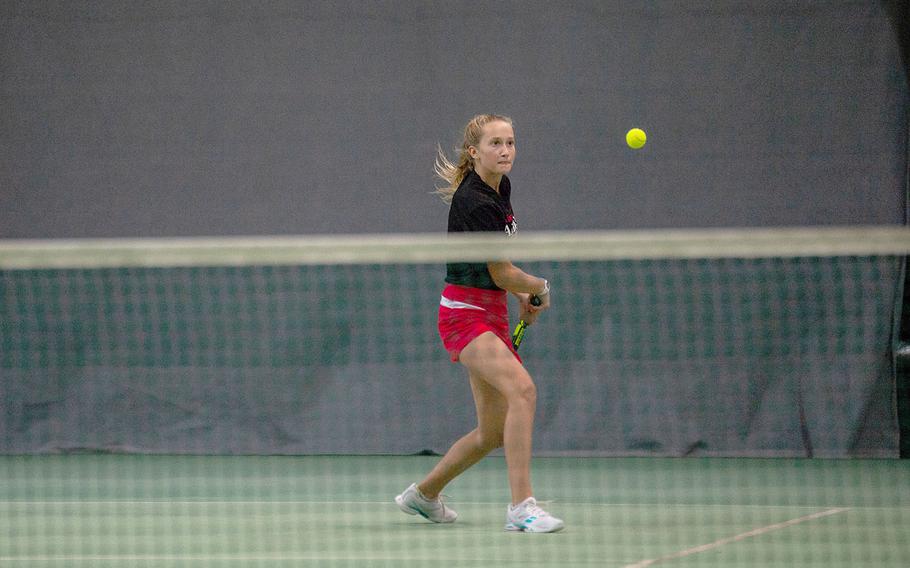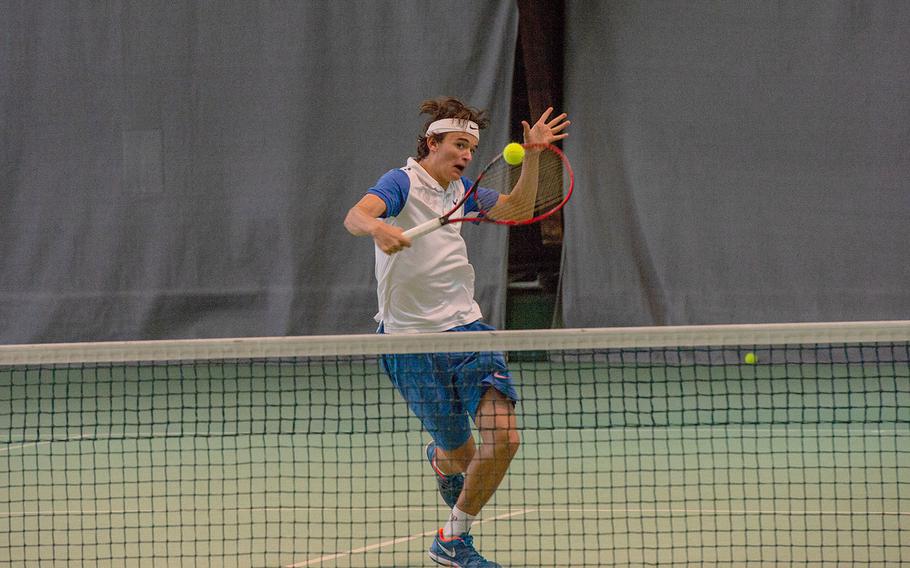 WIESBADEN, Germany -- For aspiring champions, the 2018 DODEA-Europe tennis championships are down to the final four matches after a flurry of Friday afternoon semifinal action at Vitis Tennis Center.
Marymount's Matthias Mingazzini will defend his boys singles title against standout freshman Amar Tahirovic of Stuttgart, while Wiesbaden sophomore Charlotte Kordonowy faces Kaiserslautern freshman Aiva Schmitz for the girls singles crown.
The Raiders and Warriors will face off again in the girls doubles final between Kaiserslautern's Victoria Thais-Lopez and Taylor Larned and Wiesbaden's Melissa Pritchett and Shelby Albers. The boys doubles final will pit American Overseas School of Rome's Paul Ranieri and Emanuele Di Paola against SHAPE's Seth Banken and Wesley Phelan.
The slate of championship matches is set to begin around 11 a.m. Saturday at Vitis.
Boys singlesTahirovic is locked in a sibling rivalry as well as a competitive elimination bracket.
He is trying to match the ninth-grade achievement of his older brother, Ajdin, who started his own DODEA-Europe championship run by winning the 2010 title as a freshman.
To begin his own reign, Tahirovic will need to unseat the current king of the DODEA-Europe court, defending champion Mingazzini. The two arranged a matchup that has been building throughout the season with dominant semifinal wins Friday. Tahirovic knocked off 2017 runner-up Noah Banken of SHAPE 6-2, 6-2; Mingazzini outlasted local rival Guido Plebani 6-2, 6-2 to play his way back to the final.
Saturday will be the first meeting between the two, though the Panther freshman has seen enough of the Marymount ace to be equal parts impressed and optimistic.
Tahirovic said Mingazzini "destroys with his forehand," but he has adjustments in mind to counter it.
"I watched him a little bit," Tahirovic said. "I could stand a chance against him."
Girls singlesKaiserslautern freshman Schmitz advanced to the finals with an overwhelming 6-0, 6-0 semifinal sweep of Marymount's Priscilla Ago. The straight-set victory was the sixth in a row for the Raider ace in this tournament, matching the preliminary performance of top overall seed Kordonowy, her Saturday opponent. The Wiesbaden sophomore and 2017 runner-up earned her second straight title shot with a 6-0, 6-4 semifinal defeat of Bahrain's Chloe McHenry.
Kordonowy ran into some trouble with her serve in the second set against McHenry, but said she was happy to "get the badness out" Friday as opposed to dealing with it in Saturday's final. There's hardly room for error against Schmitz; Kordonowy edged the freshman in a tiebreaker when the two met in the final weekend of the regular season.
Kordonowy launched her own upstart title bid as a freshman a year ago, ultimately falling to Vicenza senior Catherine Gulihur in the final. Now she's the more seasoned veteran looking to protect her hard-won turf from a newer challenger.
"I like it better in the freshman position," Kordonowy said. "The older you get, the more you have to lose."
Girls doublesThe Raider duo of Larned and Thais-Lopez has spent the fall building their friendship off the court and their cooperation on it. Those two things, they explained, are deeply intertwined.
"If you don't know each other at all, you won't know how to help each other," Thais-Lopez said.
That's a necessity in the grueling European tournament, which sends opponents and adversity in waves.
"When we're stressed out we try to go to each other and calm each other down," Thais-Lopez said. "Sometimes we might get mad at each other, but it's part of the game. We try to encourage each other."
That was evident Friday as the Kaiserslautern pair handled SHAPE's Nikola Janigova and Andrea Ruiz 6-1, 6-3 to advance to the European final.
That's not the way Larned once expected to be spending this fall. The senior is in the midst of her first year at a DODEA school after spending her entire life in Virginia. But the bonds she's formed with her new Raider teammates, particularly her freshman friend Thais-Lopez, has helped the adjustment.
"We have a lot of teamwork," Larned said. "We've been building our relationship over the entire season."
That season ends Saturday, when the Raider team will face a more seasoned opponent in Wiesbaden's Pritchett and Albers. That duo placed second in Europe last season, and earned another title shot this year with a 6-2, 6-2 semifinal defeat of Naples' Amy Stutzman and April Sullivan.
Boys doublesSHAPE's Phelan and Banken made quick work of their Benelux neighbors from AFNORTH, the senior team of Nico Aponte and Seth Bonen-Clark, in a 6-0, 6-2 victory. Banken will take another shot at the crown after finishing second in Europe with 2017 partner Gregor Vargyas.
The other semifinal went to the opposite extreme, concluding well over an hour after all of the other seven semifinals wrapped up. AOSR's Ranieri and Di Paola eventually bested Roman rivals David Lopez and Sergio Nogales 6-7 (4-7), 6-4, 6-4 to claim the day's last finals berth.
Twitter: @broomestripes