Hohenfels stuns Bitburg to stop the streak
by
Gregory Broome
October 26, 2013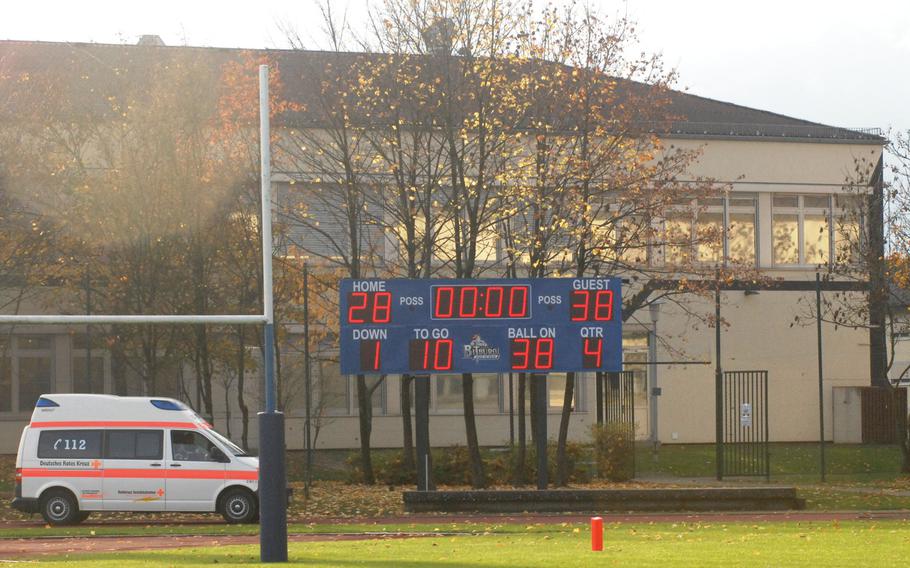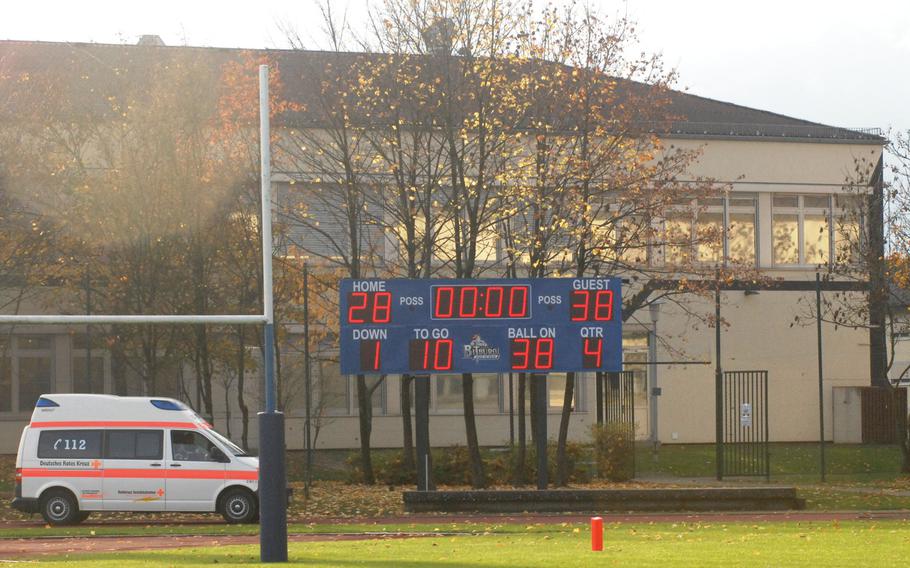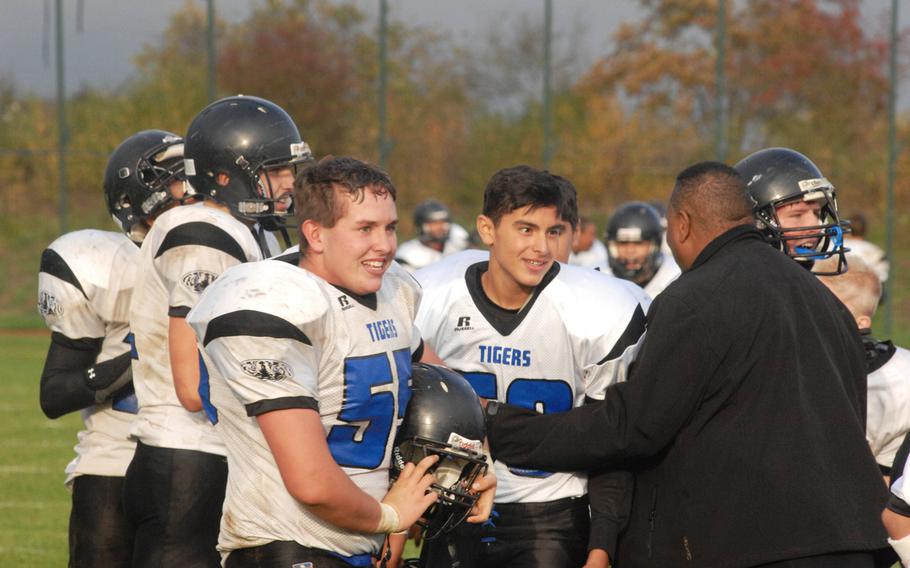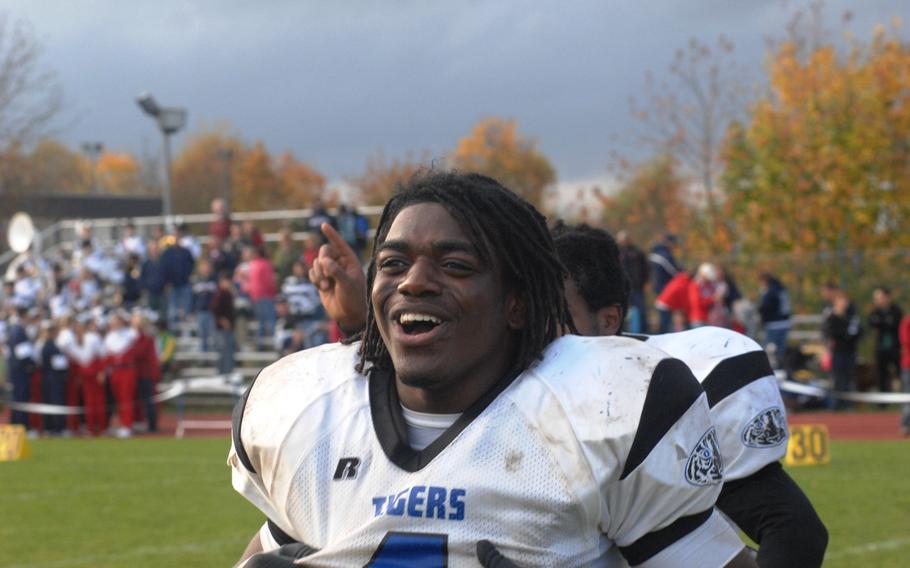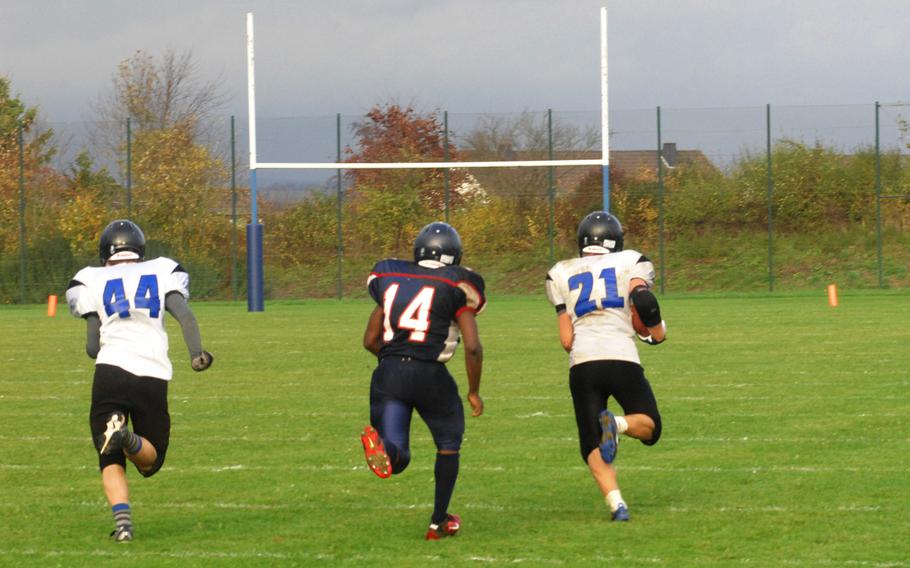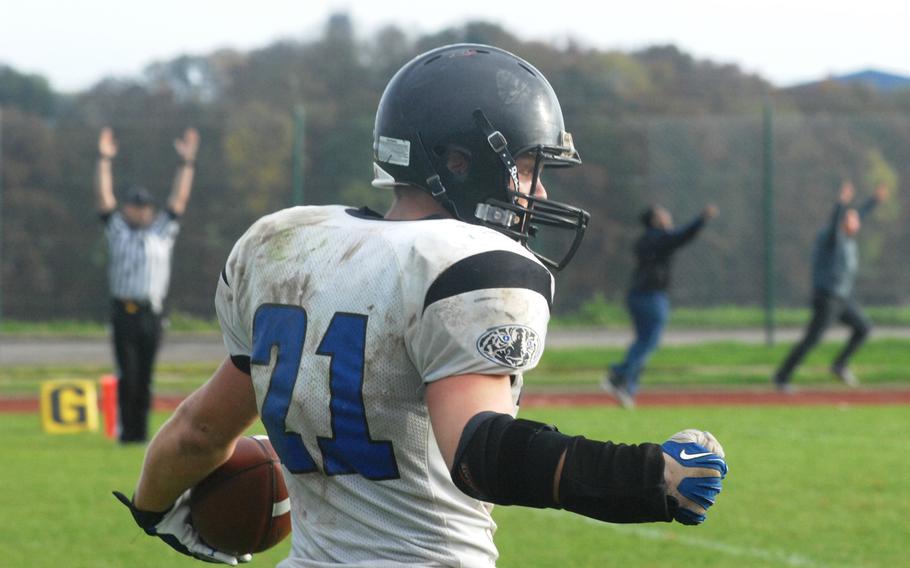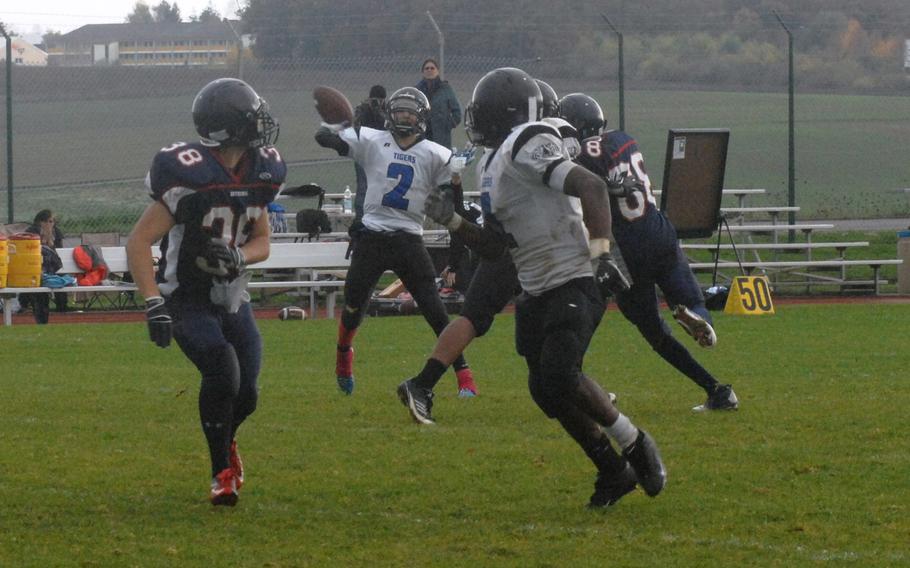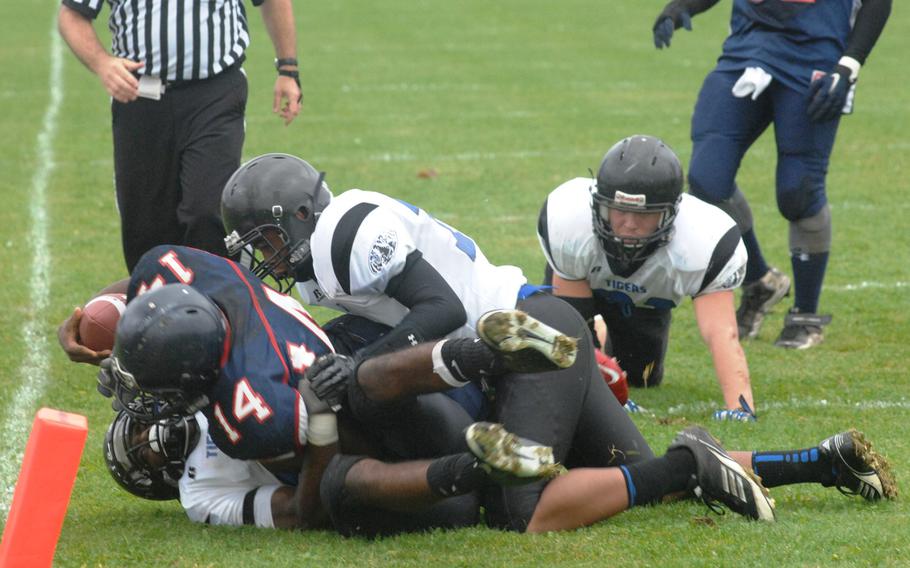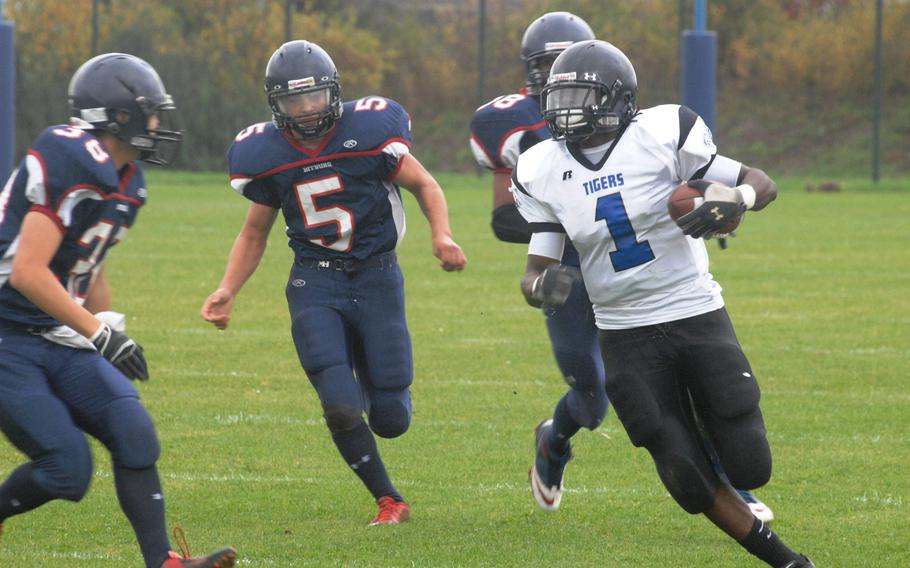 This article has been corrected.
BITBURG, Germany -- It started like the usual Bitburg Baron football game. It ended like no other in a very long time.
The visiting Hohenfels Tigers scored 18 unanswered points over the final five minutes Saturday to pull off one of the most stunning DODDS-Europe football upsets in recent memory, defeating four-time defending European champion Bitburg 38-28 in a Division II semifinal game.
Hohenfels will play SHAPE for the European title on Nov. 2 at Kaiserslautern, Germany.
"They never gave up," head coach Larry Daffin said as his players fell into the embraces of family members. "I'm so proud of them and so happy for them."
With 4 minutes, 55 seconds left in the game, Hohenfels quarterback Clayton Pinheiro found Jeantony Saintmelus for a touchdown reception. The Bitburg defense shut down the two-point conversion attempt, however, salvaging a 28-26 Baron lead.
It wasn't nearly enough. The Tigers pounced on a Baron fumble seconds later, regaining possession deep in Bitburg territory. All-Europe running back David Vidovic, after deferring to the Tiger passing attack much of the game, took it from there. He discarded futile attempts at tackles from at least nine Baron defenders en route to a gritty touchdown that would prove the game's decisive play, placing Hohenfels back in front 32-28 with under four minutes to play.
"Just keep moving your legs, is what I've been told," Vidovic said. "I never give up on a run."
But this instant-classic duel had yet more drama to give. Bitburg turned the ball over on downs on its ensuing possession, but got one last chance after a Hohenfels punt with 10 seconds remaining. A Curtiss Wilson catch and accompanying Hohenfels face-mask penalty put the Barons a mere 22 yards removed from a winning touchdown with time for one last pass attempt.
A player caught that pass and scored a touchdown on it. But that player was Vidovic, who neatly picked off the throw, dodged a couple of Baron tacklers and sprinted it to the opposite end of the field for six final points as time expired.
It took all of Hohenfels' perseverance to withstand Saturday's early going. The Tigers, arriving late from a morning practice session at Baumholder, were penalized on the opening kickoff, which Bitburg fielded.
On the first play from scrimmage, Baron running back Larry Jackson shook off several tacklers en route to a breakaway touchdown, and teammate Kenny Love skipped in for a two-point conversion.
Sporting an 8-0 lead just 15 seconds into the game, Bitburg looked every bit the unbeatable champs, with Hohenfels their newest hapless victim.
That perception changed quickly.
The Tiger offense responded immediately with a 25-yard scoring run from Saintmelus. After the Hohenfels defense forced a punt, Saintmelus found the end zone again, this time on a 12-yard pass from Pinheiro. Vidovic provided a two-point conversion on the latter score, giving Hohenfels a 14-8 lead.
Bitburg was able to stem the Tigers' momentum for awhile. Jackson scored twice more and teammate James Winkler nabbed an interception that stalled a promising Hohenfels drive at the end of the third quarter.
But the visitors still lurked entering the final 12 minutes, trailing 28-20, before their late-game heroics.
While Vidovic finished off the effort, it was new arrival Saintmelus that provided much of the Tigers' offensive firepower. The sophomore, who quickly learned about Bitburg's big-dog status upon his arrival to Hohenfels a few months ago, came into Saturday expecting to make a difference. Daffin's plan to exploit Bitburg's presumed focus on Vidovic gave him plenty of opportunities.
"I knew I was going to be good in this game," Saintmelus said. "I believe in myself. "We made our dream come true."
Bitburg, meanwhile, is left to reminisce over its storied run of success. In addition to their four straight titles, the Barons also set a DODDS-Europe record for consecutive victories, a streak that ended Saturday at 36.
Head coach Mike Laue has always taught his players how to grapple with defeat and disappointment, but Saturday was the first time in a near half-decade his players have had to put that advice into practice.
"We talk about football as kind of training for life. You can work hard, hard, hard, hard, and everything's going right," Laue said. "Then sometimes the wheels fall off.
"The sun will come up tomorrow, even if it may not feel like it."
While the Barons reflect, the Tigers look ahead to new prey.
"We just have to stay hungry," Daffin said. "That's all we can do. Hopefully things work out for us."
Twitter: @broomestripes
Correction Jeantony Saintmelus was misidentified in an earlier version of this article.