Goal on the mat: survive and advance
by
Gregory Broome
February 19, 2016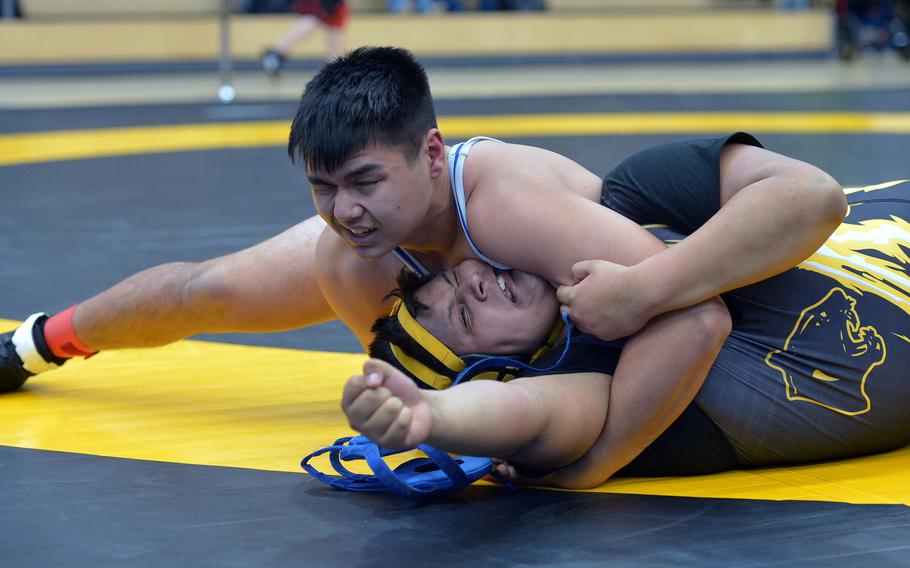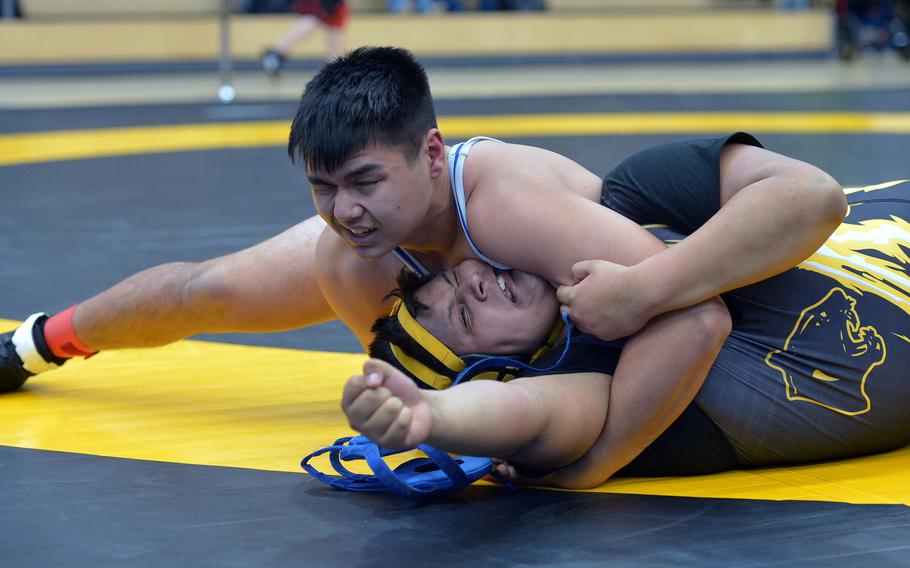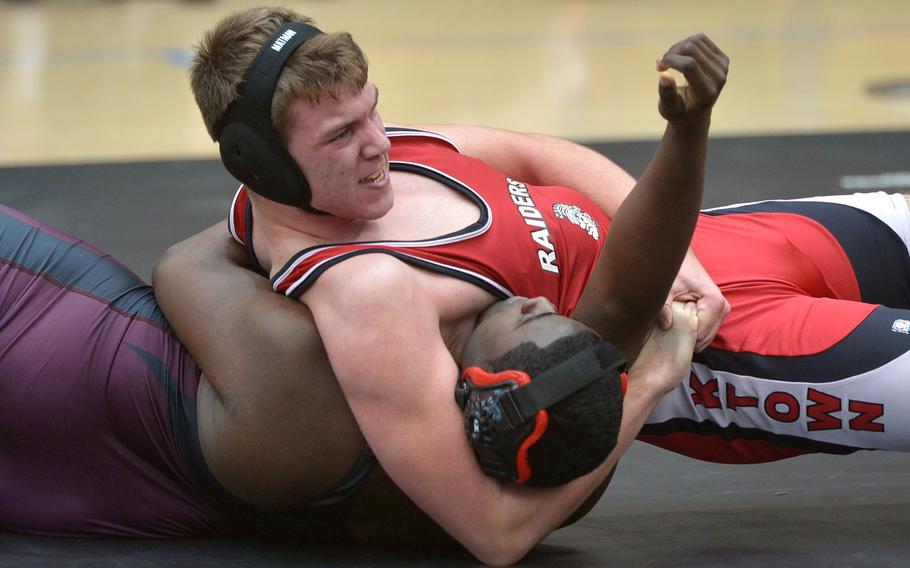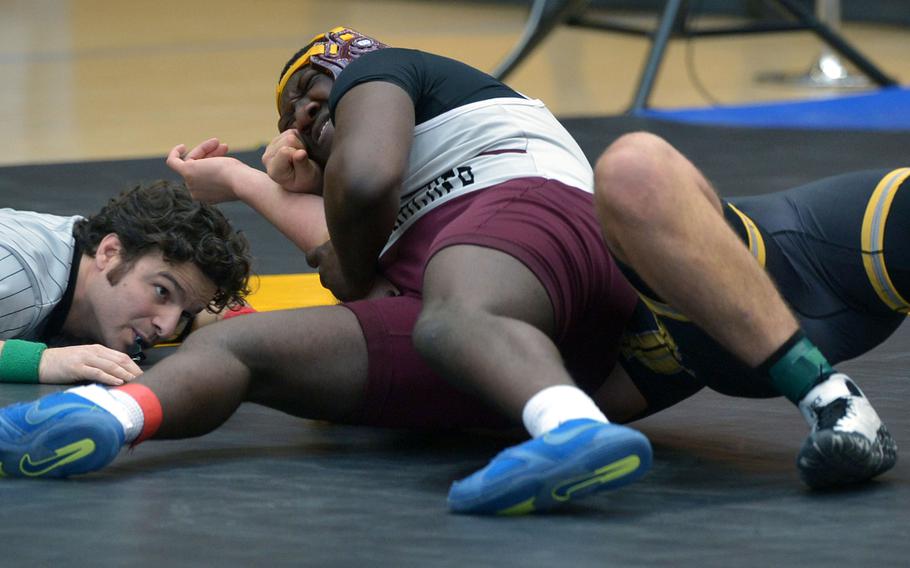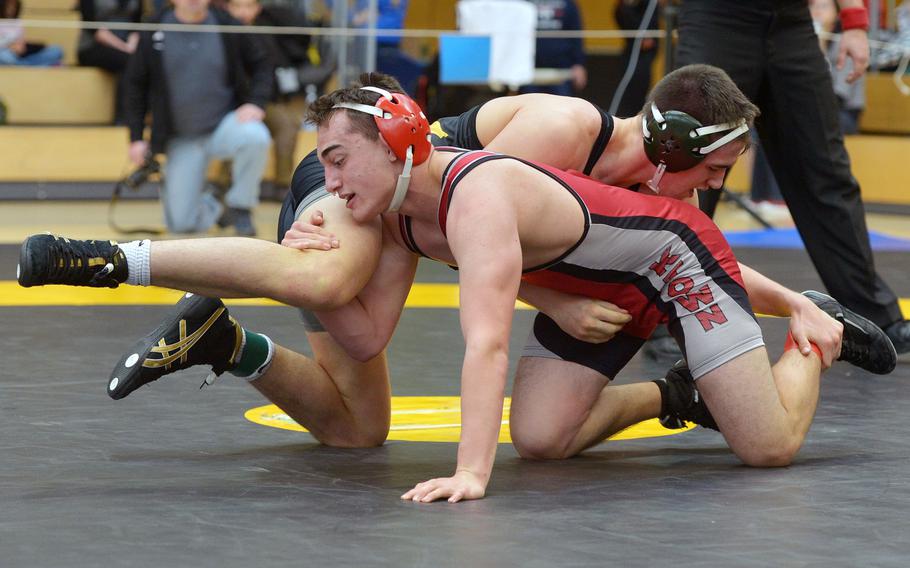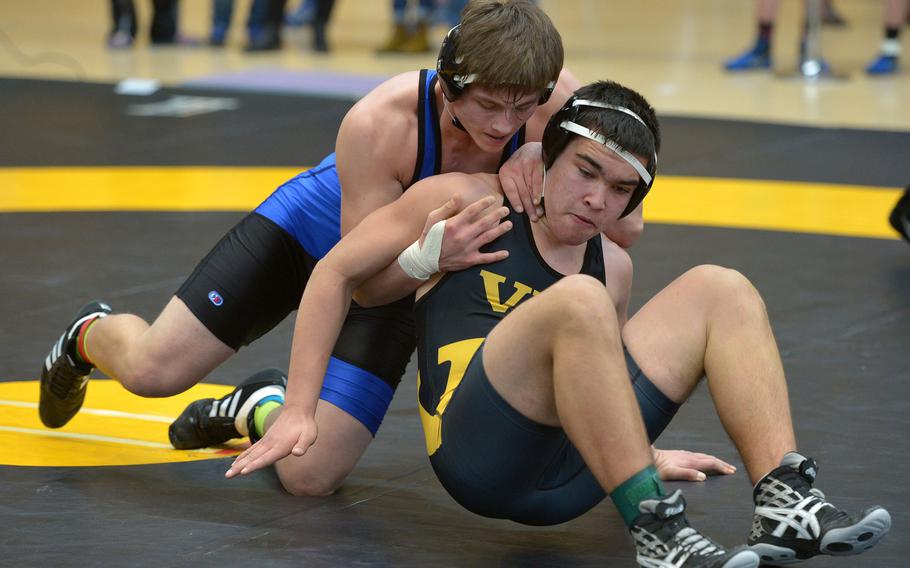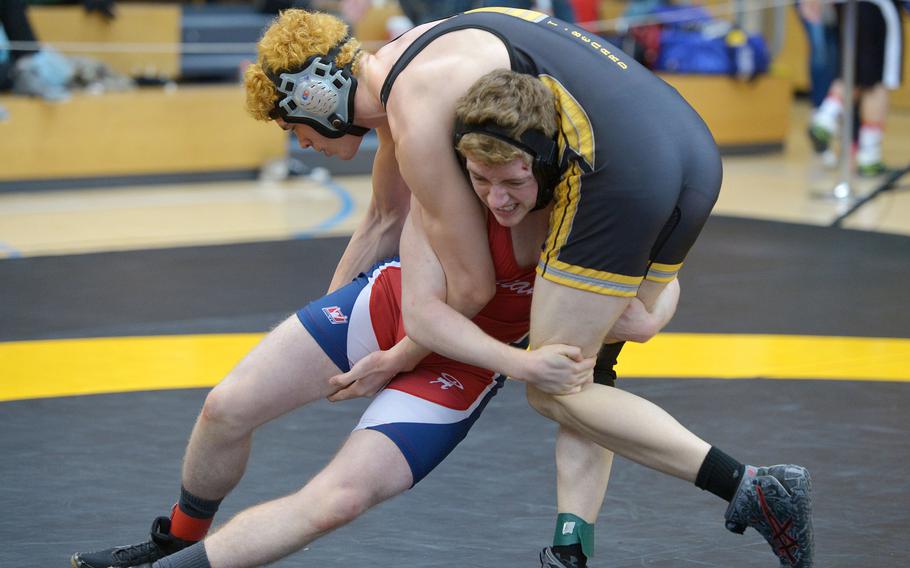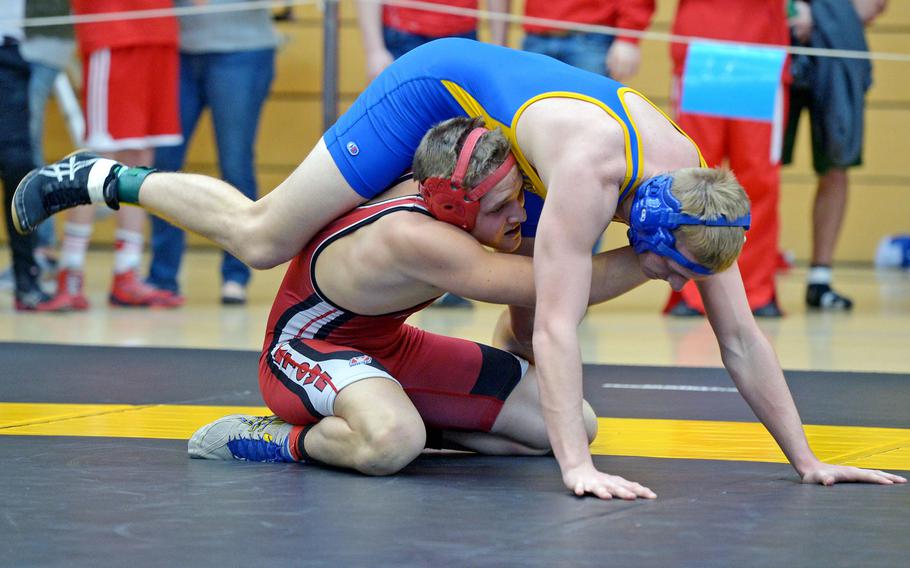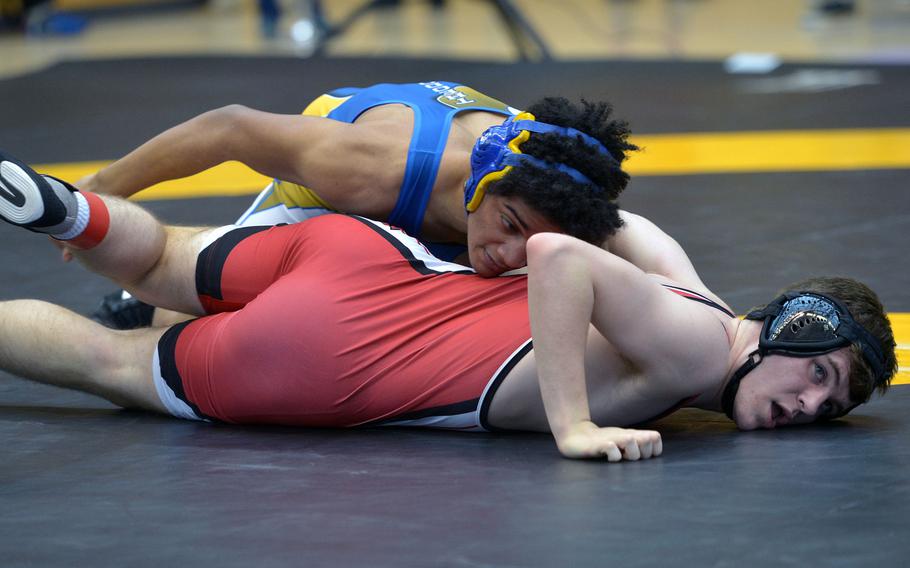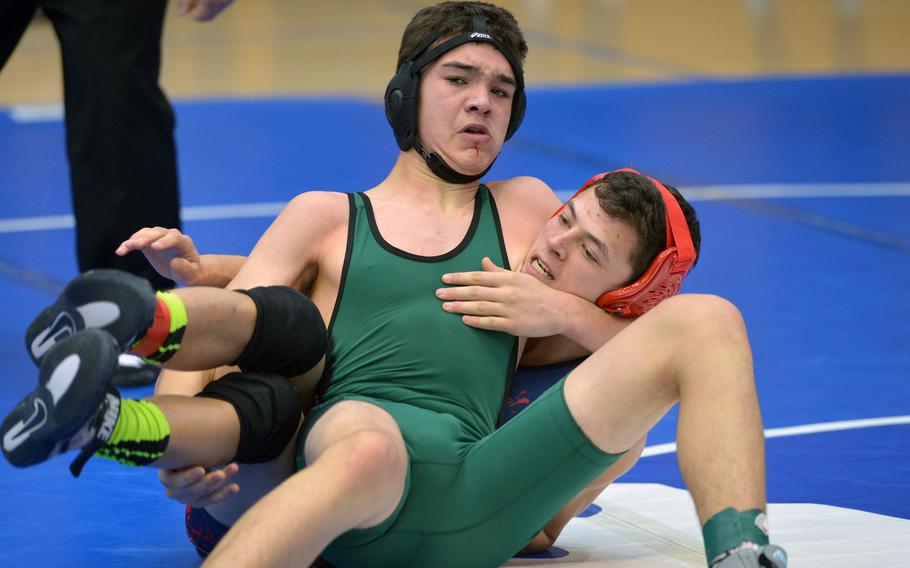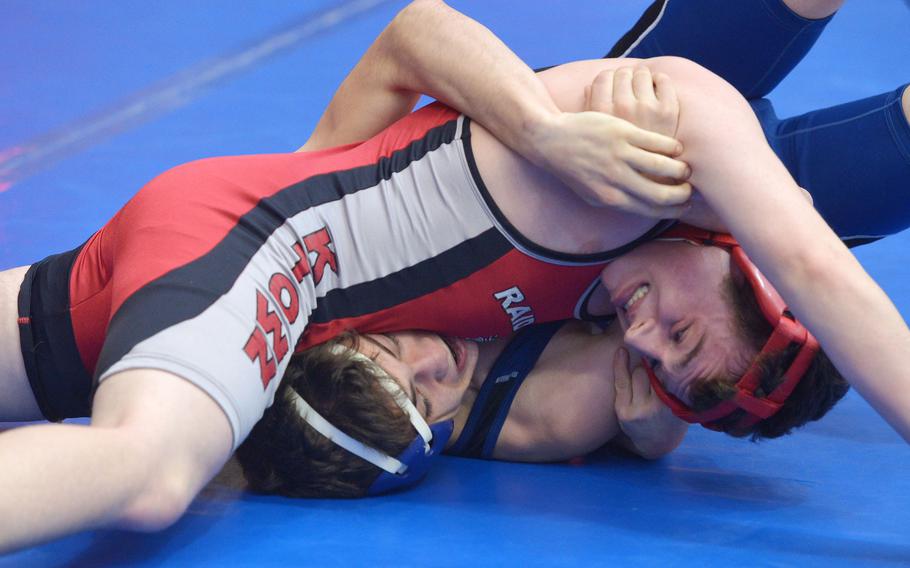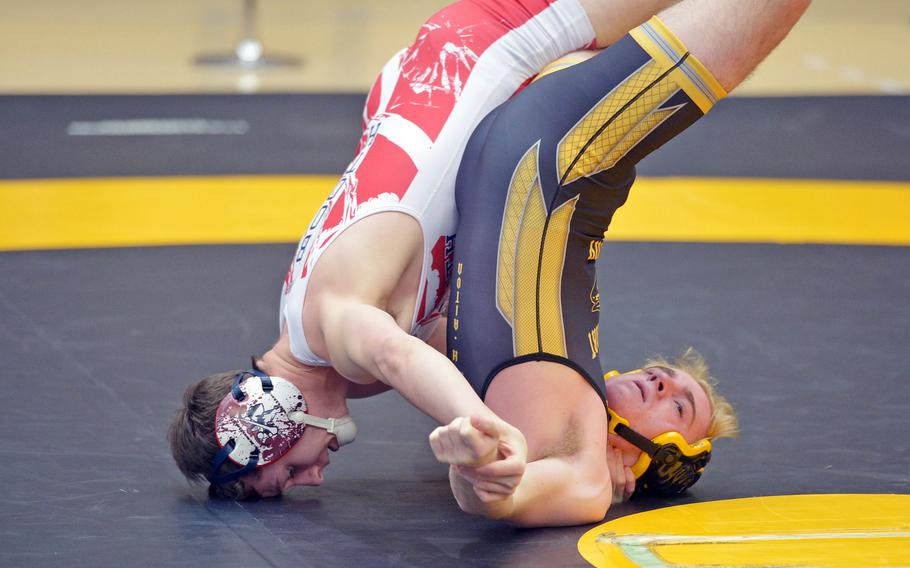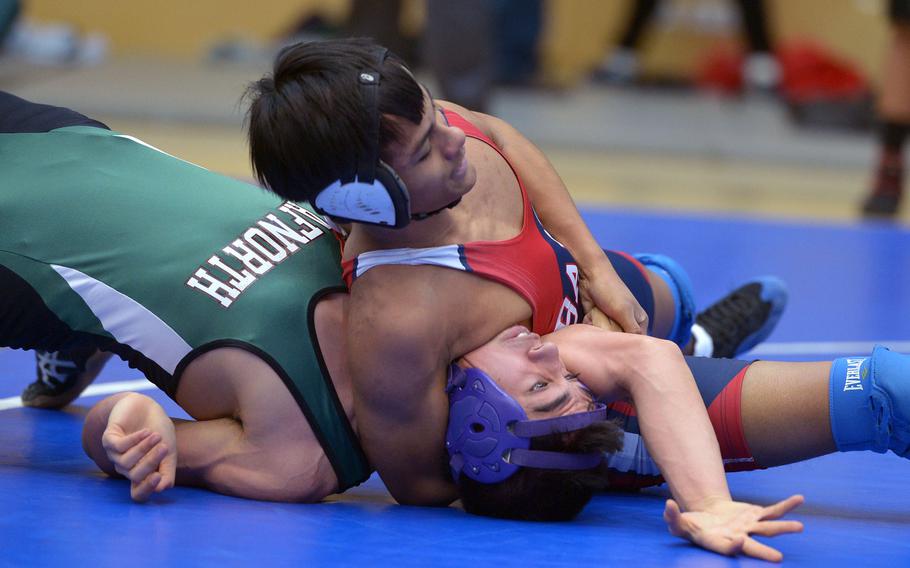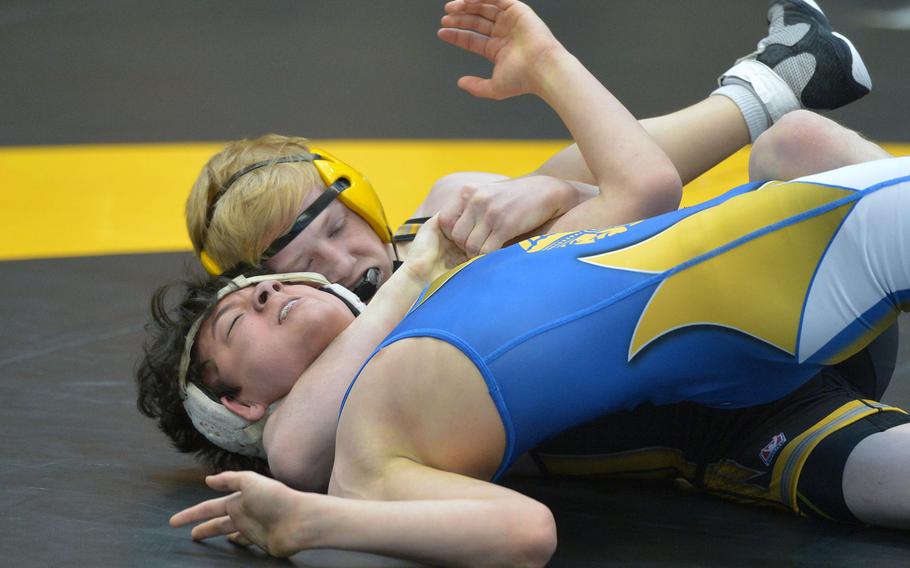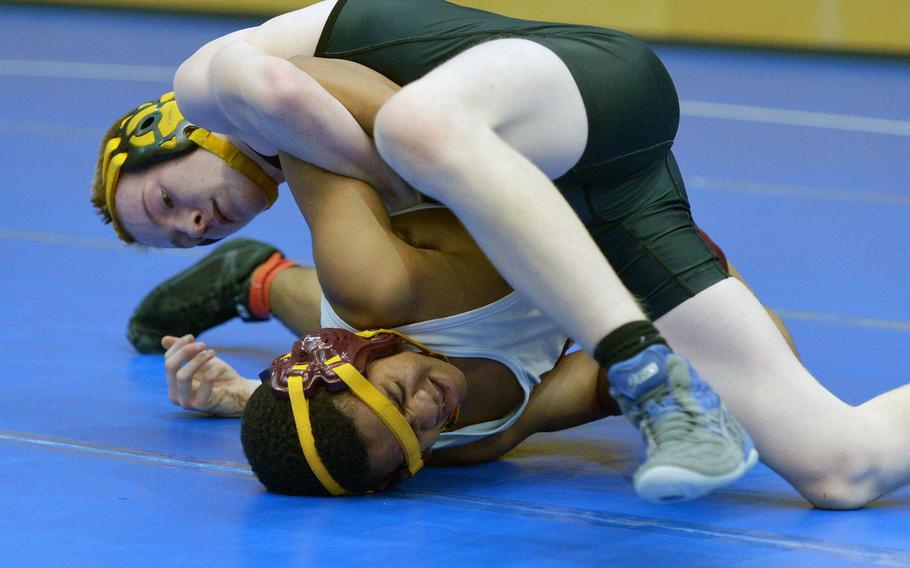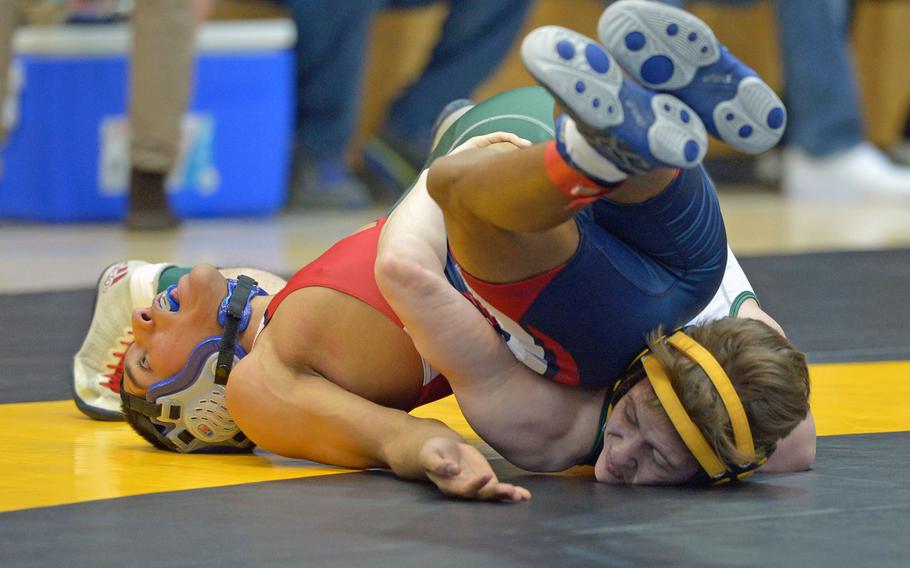 WIESBADEN, Germany – A DODDS-Europe wrestling championship can't be won on Friday. But it can be lost.
That's the fate wrestlers from across the continent worked to avoid on Friday at Wiesbaden's Clay Kaserne Fitness Center as the two-day championship tournament opened with four fast-moving preliminary rounds.
The event continues Saturday morning with one last qualifying round, followed by semifinals, fifth- and third-place bouts and, finally, a slate of 14 European championship bouts set to start at 3:30 p.m.
Friday's early rounds were all about giving oneself a chance to be there at the end.
"Right now I'm just trying to punch my ticket," Wiesbaden's Gabriel Charlifue said. "Mentally, I'm just going into things one match at a time and not looking past that at all."
The tournament held mostly to its projected form, with wrestlers from powerhouses Ramstein and Stuttgart clogging up nearly every bracket on the agenda. The two programs are considered the prime candidates to claim the coveted Division I team title, which Stuttgart has owned two years running, and that points-based battle likely won't be decided until well into Saturday afternoon.
Meanwhile, championship hopefuls from outside the Stuttgart-Ramstein axis of power also worked their way through the preliminary masses.
Cole Ronnau, representing new DODDS-Europe participant Munich International, pulled off a string of impressive victories to end the day squarely in contention for the 160-pound title.
At 220 pounds, Kaiserslautern's Royce Staley and Hohenfels' Connor Gibson grappled their way to the top of their field Friday.
In addition to his own solo aspirations, Gibson is hoping to lead the Tigers to a successful defense of the school's 2015 Division II team title. But the senior also has the event firmly in perspective.
"It would be nice. All of us would really like to bring home the championship again," Gibson said. "But as long as my guys leave here without getting hurt and they all do their best, I'm proud.
"It's been a good year this year. I'm really proud of myself and my team."
Things weren't so pleasant elsewhere. The 182-pound field, already one of the tournament's thinnest at 10 scheduled wresters, was plagued by a spate of injuries that littered the bracket with forfeits and denied its active participants enough matches to determine a true class hierarchy.
Meanwhile, Charlifue continued his season-long success with four Friday wins a week after a first-place finish at the northern sectional meet.
"I'm really happy with how I've been wrestling," the 152-pounder said. "I've been wrestling smart, doing what I need to do."
Charlifue's fun Friday was enhanced by the opportunity to perform in front of family and friends. "They kind of take the pressure off," Charlifue said. "It's more laid back for me at home."
Twitter: @broomestripes