Home Team
Get out the clock, it's time to play some ball
---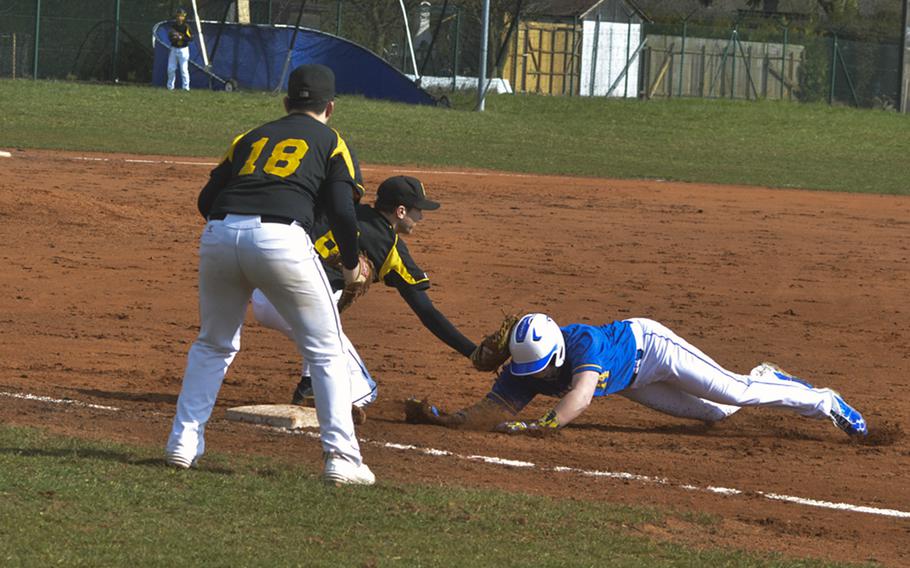 "There's no timing in baseball!"
Jimmy Dugan, the grizzled baseball manager portrayed by Tom Hanks in the movie A League of Their Own, would likely offer the same incredulous reaction to DODEA-Europe's use of time limits in baseball and softball that he did to the sight of one of his players crying on the field.
For diamond purists, the idea of a ticking clock disrupting the game's singularly serene pace is absurd.
But it is the reality in DODEA-Europe, and one many of the coaches who operate within it have come to accept.
"I honestly don't have a big issue with the time limit," said Tom Yost, coach of defending Division I baseball champion Ramstein. "It has always been in place since I've coached here and I've gotten used to it."
Aviano baseball coach Frank Lewandowski agreed, saying it's worthwhile to manage the time kids will be on the field.
"I think that it works well," Lewandowski said. "Baseball games can take a long time."
The time limit DODEA-Europe employs does not call for a game to abruptly end when a descending clock hits zero. Instead, a timer is started upon the game's first pitch. When it reaches one hour and 50 minutes, the teams complete the inning already in progress and then the game ends. No new inning can begin after the limit is reached unless the game is tied, in which case additional innings – with runners already prepositioned on base - are played until the game is decided.
This is a highly unusual approach to high school baseball and softball. The rules published by the National Federation of State High School Associations make no mention of time limits at the varsity level. But the system is in place overseas due to the very different set of circumstances that DODEA-Europe faces.
Baseball and softball, like most DODEA-Europe sports, are largely restricted to Fridays and Saturdays, and those weekends are crammed into a relatively short season. Furthermore, visiting teams often travel many hours to reach their opponent's field. With all that in mind, the organization attempts to maximize the number of games its teams play.
Basically, after all the logistical effort of putting two teams on the same field at the same time, it's better to play two games than one. And the only way to make sure the teams play twice, and return home at a reasonably predictable hour, is to apply limits to each game's length.
"We set time limits due to the fact that we play doubleheaders on Saturday," DODEA-Europe athletic director Karen Seadore said. "It is important that we have a good idea of the amount of time for games due to bus contracts."
That's especially true for some of DODEA-Europe's most distant programs.
"One positive about time limits is it gets us on the bus back home quicker," Sigonella softball coach Steve Larson said, citing his team's routine trips of nine hours or more from its base in Sicily.
But whatever the time and effort spent on arranging these meetings, some DODEA-Europe coaches would prefer to see their teams play one full-length, untimed game instead of two under the auspices of a clock.
"I hate the time limits," Bitburg softball coach Michael Cottrell said. "I feel we should be playing a seven-inning game. And if the powers that be think that seven innings takes too long, maybe we should not be playing doubleheaders."
The debate intensifies when the postseason arrives. With a long agenda of games to squeeze into a three-day schedule, DODEA-Europe shortens the time limits of preliminary tournament games to 90 minutes, following a pattern it applies to early-round games in most European tournaments. The semifinal and championship games revert to the regular-season limit of one hour and 50 minutes.
A few coaches would like to see at least the championship decided in an untimed game. But Wiesbaden coach Steve Jewell, while generally "not a big fan" of the time limit, understands the logic of keeping the time limit in place for the title games.
"Initially I felt there should be no time limit for the title game, but as seasons go by of watching the title game, I have changed my mind on that," Jewell said. "I think you play one way all year, it is unfair to change the rules for the title game."
While fairness is the ultimate intent of any rule, the time limit has created incentives for manipulation that some coaches feel violate the spirit of the game.
Clock management is an acceptable strategy in most team sports. Football teams run out of bounds to freeze the clock and ensure another snap. Basketball teams drag out possessions in games they're winning. A soccer goalkeeper might hold the ball in the box for a few extra ticks to deny the opponent a late chance to score.
When applied on the diamond, such tactics can seem nefarious, even though they're performed in the pursuit of victory just like the examples above. An extraneous pitching change, a few extra throws to keep a runner on first base, even a malingering trot down the line after a walk - all are technically legal maneuvers that could serve to trigger the time limit and deny a trailing team another turn at bat.
Seadore, a former DODEA-Europe softball coach, said the time limit had little or no impact on her strategic decisions, and some other DODEA-Europe coaches reached for comment offered the same analysis. But examples of such tactics abound.
"The time limit does not really change my strategy because I just want to let the kids play, but I have seen it work against me," Vilseck baseball coach David Nelson said, citing times he's seen opposing coaches "slow the pace of the game down" via substitutions and visits to the mound.
"I've seen some coaches try to run out the clock by stretching out each at-bat if hitting or taking their time in the field," Kaiserslautern softball coach John Culbreth said. "I believe both of these play against good sportsmanship."
Still, when the opportunity exists to nudge a game in one's favor, such an opportunity is unlikely to go completely unused. Vicenza softball coach Bryan Morvay admits that he and other DODEA-Europe coaches engage in "playing the clock" at the end of games.
"I have been a part of a handful of games in the past five years, including quarterfinal and championship games at Europeans, that have been affected by the time limit," Morvay said.
Seadore said she periodically reevaluates the time limit, along with "all rules in all sports." She added that coaches who wish to suggest a change can write to her and "provide justification" for the proposal.
In the meantime, there is still timing in baseball and softball.
Twitter: @broomestripes
---
---
---
---