Europe boys soccer - Day 1
First-day battles lead to second-day showdowns
by
Gregory Broome
May 21, 2018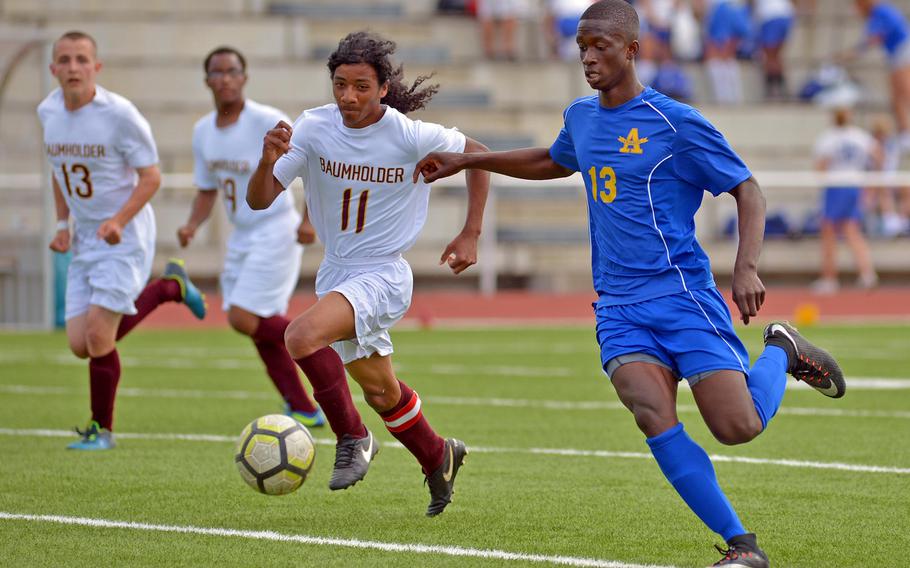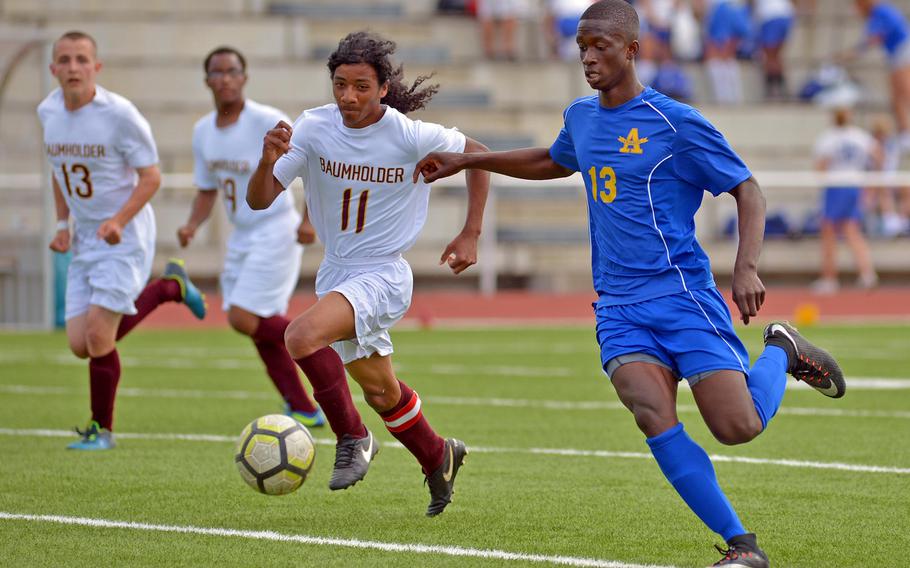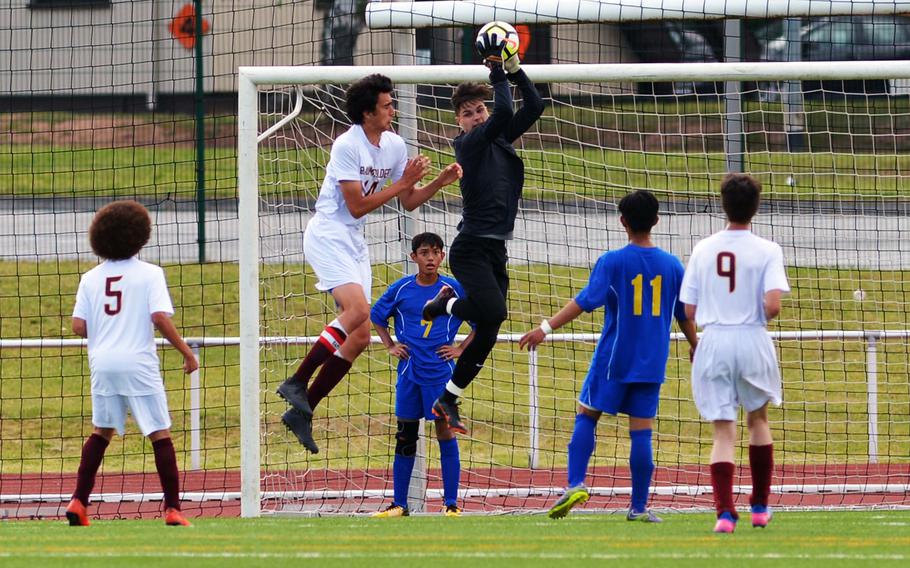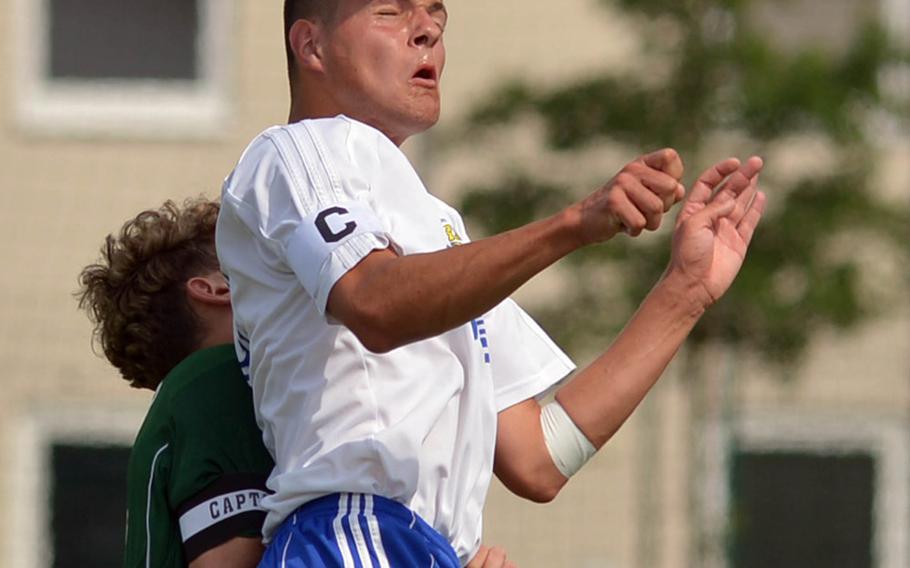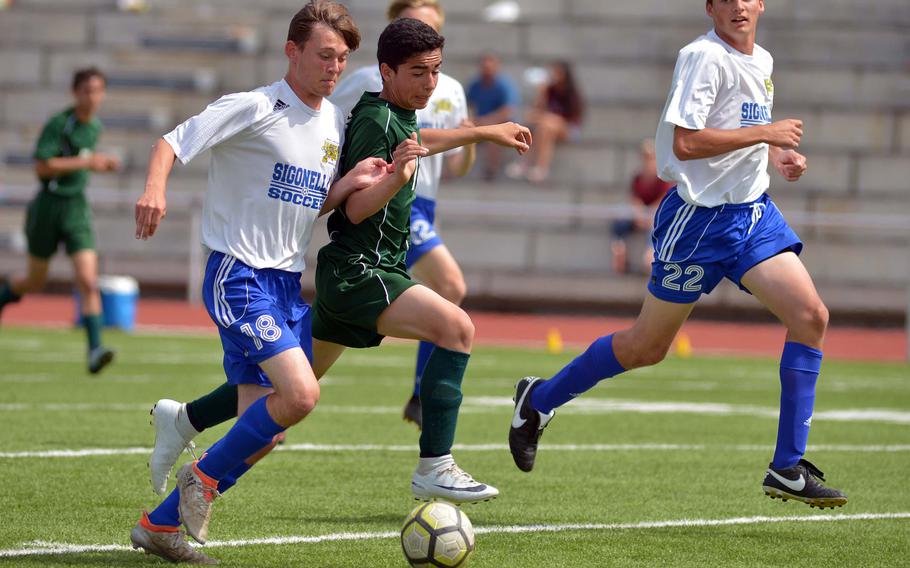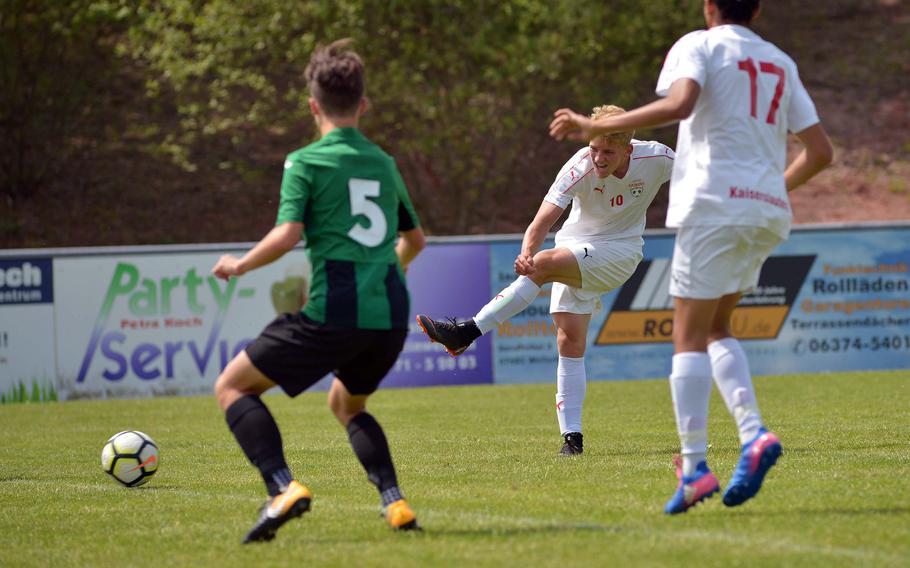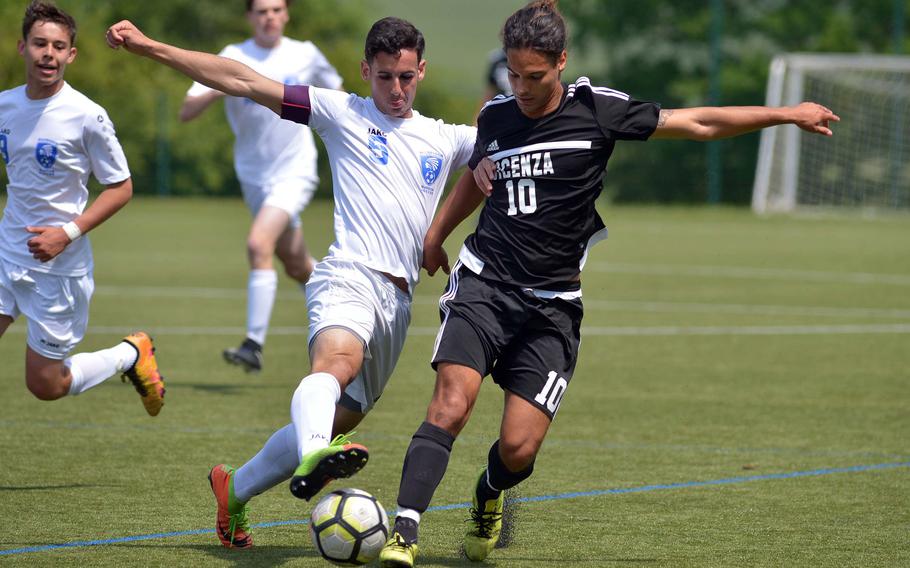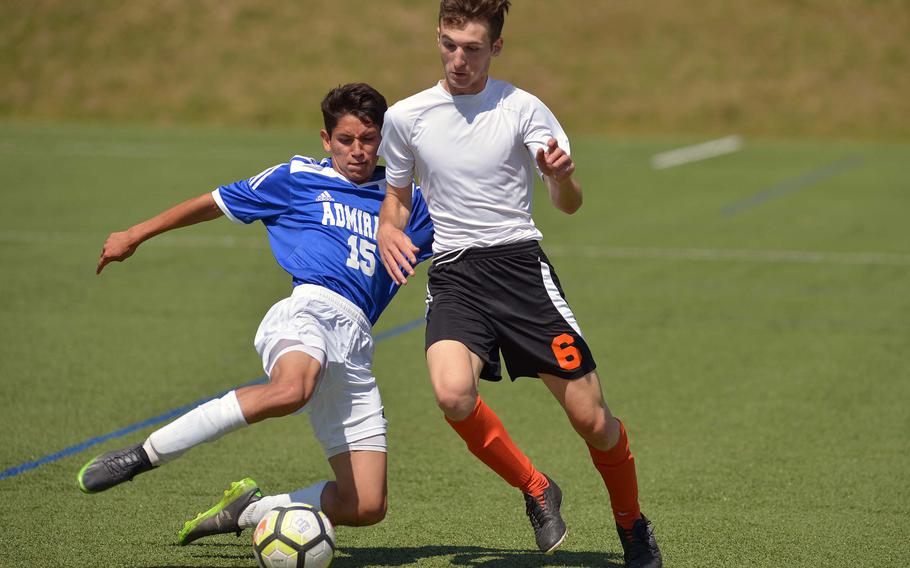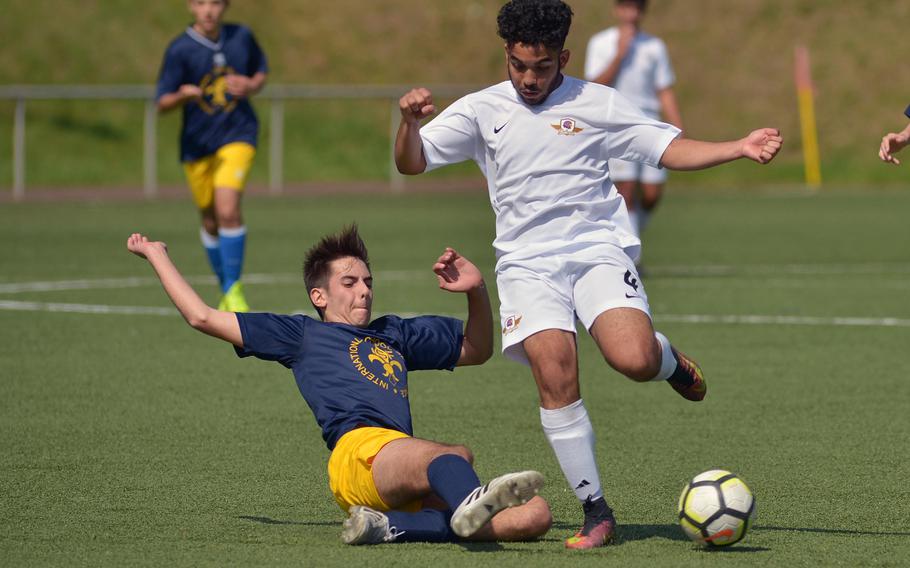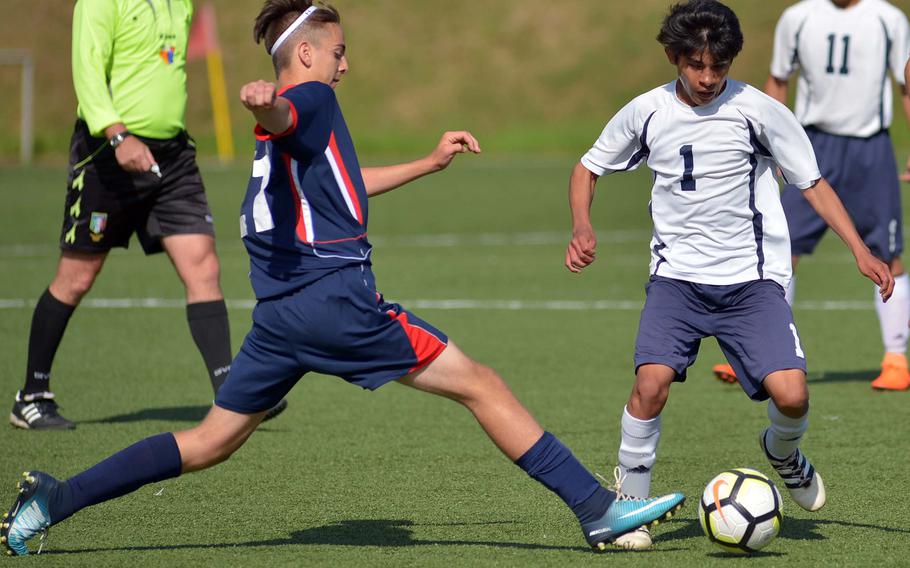 All the hallmarks of a DODEA-Europe boys soccer tournament were on display at sites around the Kaiserslautern Military Community on Monday as the 2018 edition of the annual event began.
Administrators grappled with schedule changes and delays. Coaches guided packs of players on quests for food and shade. Favored teams paced themselves through easy early wins, while fringe contenders pored over brackets and recalculated scenarios with each new final score.
The four-day tournaments continue Tuesday with more preliminary play. Wednesday holds the Division I and II semifinals along with the final day of Division III round-robin action. The 2018 DODEA-Europe soccer season concludes Thursday with a slate of European championship matches at Kaiserslautern High School.
Division ISHAPE 2, Stuttgart 1: Entering tournament openers they were heavily favored to win, this pool's trio of contenders needed to take a longer view.
Though each is at least a semifinal-caliber squad, no more than two of the No. 2 Wiesbaden Warriors, the No. 3 Stuttgart Panthers and the No. 6 SHAPE Spartans can advance to Wednesday's elimination round. The prospect of a tiebreaker, then, was a central theme from the beginning, and the teams set to work padding their goal differential to prepare for that eventuality.
The Panthers started the day with a 4-0 shutout of ninth-seeded Vicenza. The Spartans blanked seventh seed Vilseck 7-0 later in the morning. In the afternoon, the Warriors hammered Vicenza 6-0.
Five different Warriors found the net against Vicenza, led by two goals from Tyrese Harris. While putting that many players in the scoring column wasn't a specific goal for Wiesbaden, it was a by-product of an offense dedicated to sharing the ball.
"It worked out like that," Warrior junior Karim Morgan said. "We're a really unselfish team, always passing the ball, always letting somebody else have the shot."
The second phase of reaching the semifinals calls for the pool's three heavyweights to face each other, and the Spartans landed the first blow in that regard with a narrow defeat of the Panthers on Monday afternoon. Wiesbaden's games against SHAPE and Stuttgart on Tuesday will ultimately resolve the situation.
Kaiserslautern 6, Naples 1: The defending champions aren't done yet.
Recovering from an exodus of talent from their 2017 championship squad, overshadowed this spring by undefeated archrival Ramstein and reduced to a middling fourth seed in the tournament they dominated a year ago, the Raiders showed what they remain capable of with a thorough throttling of a solid fifth-seeded Wildcat squad.
The blowout was typical for the pool, which produced three lopsided scores in as many games on a light opening-day schedule. Both Naples and Ramstein handed Lakenheath multiple-goal losses.
The Raiders take on Ramstein to conclude their preliminary schedules Tuesday afternoon, though both teams may well have clinched semifinal berths by then. The game will be a rematch of Kaiserslautern's win in last year's European title match.
Division IIAFNORTH 6, Rota 0: The Lions are the second seed in the nine-team Division II bracket. But they know that doesn't guarantee them a spot in the championship game.
That's particularly true given the presence of two ubiquitous Roman powers - defending champion Marymount lurking in AFNORTH's own pool, and top-seeded American Overseas School of Rome floating atop the opposite one.
AFNORTH looked capable of hanging with the division's Italian standard-bearers in an overwhelming opening win over the Admirals. Five different Lions scored, led by a pair of goals from James Barata.
But AFNORTH isn't satisfied with routing the pool's lower seeds. The Lions are working their way up to their inevitable showdown, or showdowns, with Marymount and/or AOSR.
"A pretty strong performance. We have a couple of mistakes we can fix," AFNORTH senior Luke Priestman said after the win over Rota. "We executed when we had the chances on offense. We just need to tighten up the defense a little more against the higher seeds later on in the competition."
Even while AFNORTH was defeating Rota, Marymount was dominating Spangdahlem on an adjacent field. The third-seeded Royals claimed a 4-0 victory over the Sentinels.
Division IIIBaumholder 3, Hohenfels 0: The Bucs picked an opportune time to snap a multiple-year losing streak.
The Bucs opened their round-robin tournament schedule with a redemptive shutout victory, ending two years of futility and earning the persistent program its long-awaited breakthrough.
"We know we're putting in the work and the sweat and the blood," Baumholder coach Kyle Holland said. "No one's quitting, we're all going to stick through the season. That's something that we can trust each other on."
Brandon Perales, Jose Pinzon and Eli Rodriguez scored a goal apiece for Baumholder. Bucs goalkeeper Hylen James made nine saves, including a handful of highlight-worthy stops that prevented Hohenfels from getting a rally off the ground.
Baumholder was shoved back into the loss column later Monday in a 7-0 loss to returning runner-up Ansbach. The Cougars won both of their games Monday, including an early-morning shootout over Sigonella.
Defending champion Brussels cruised through its first day, notching 7-0 wins over Alconbury and Hohenfels.
Twitter: @broomestripes