Europe softball
Favorites roll along on opening day
---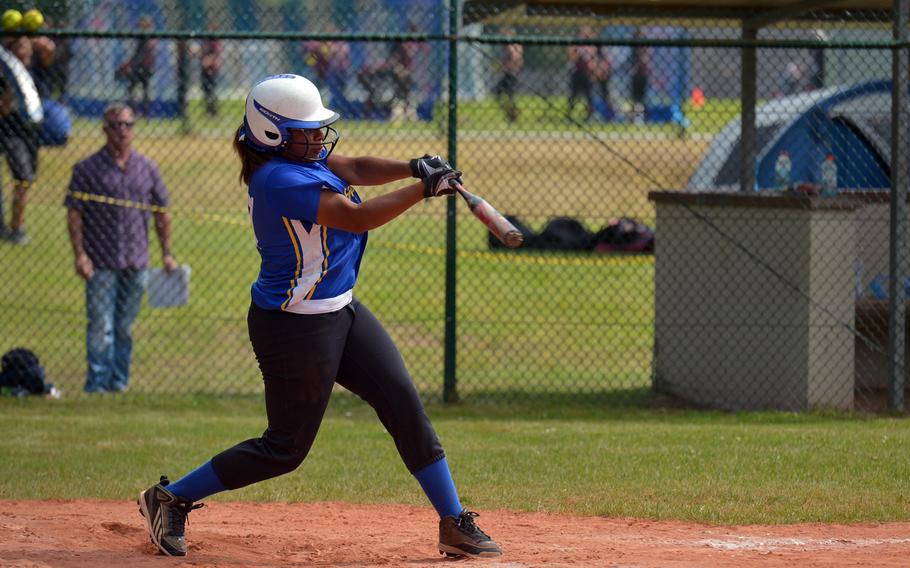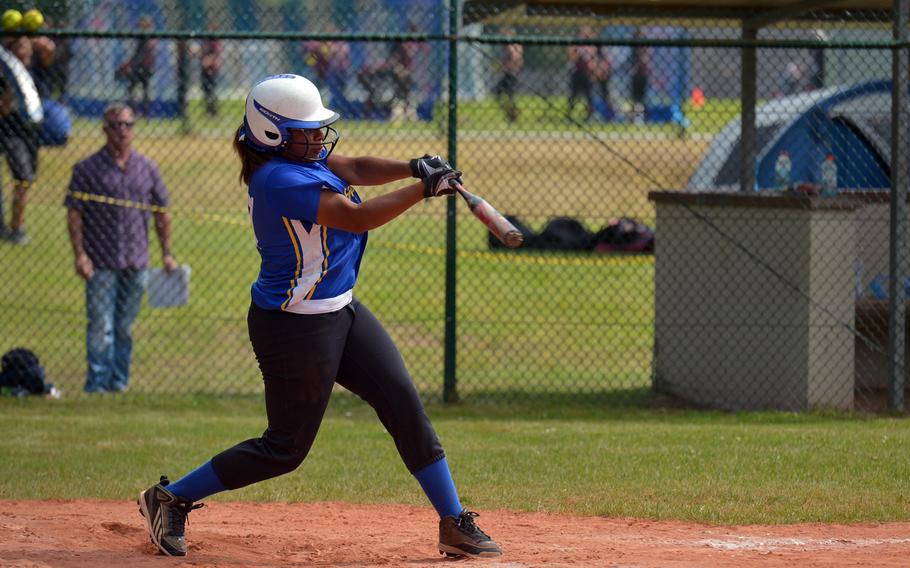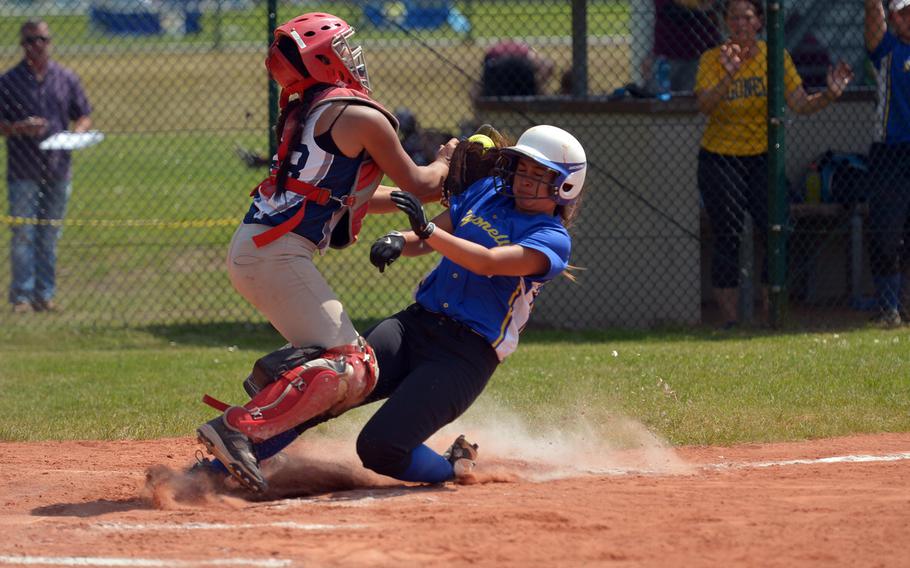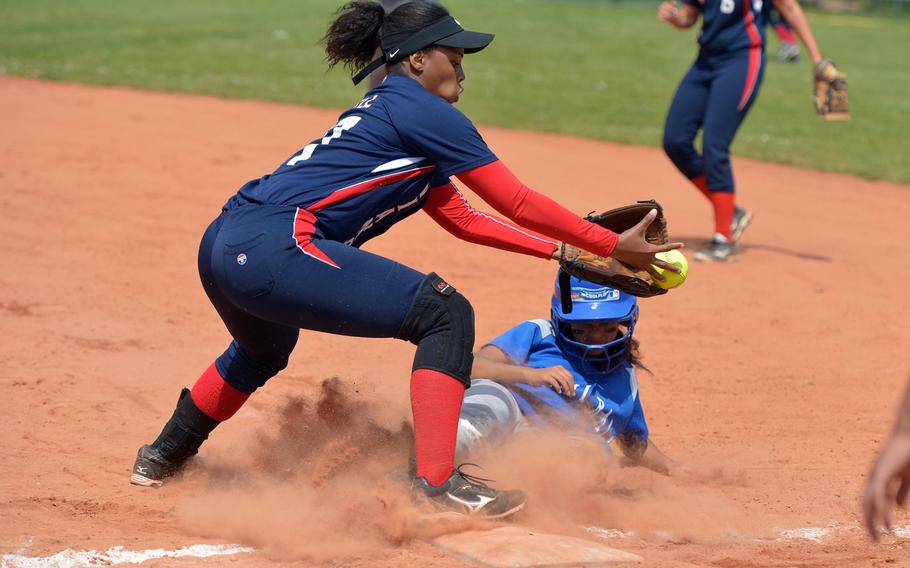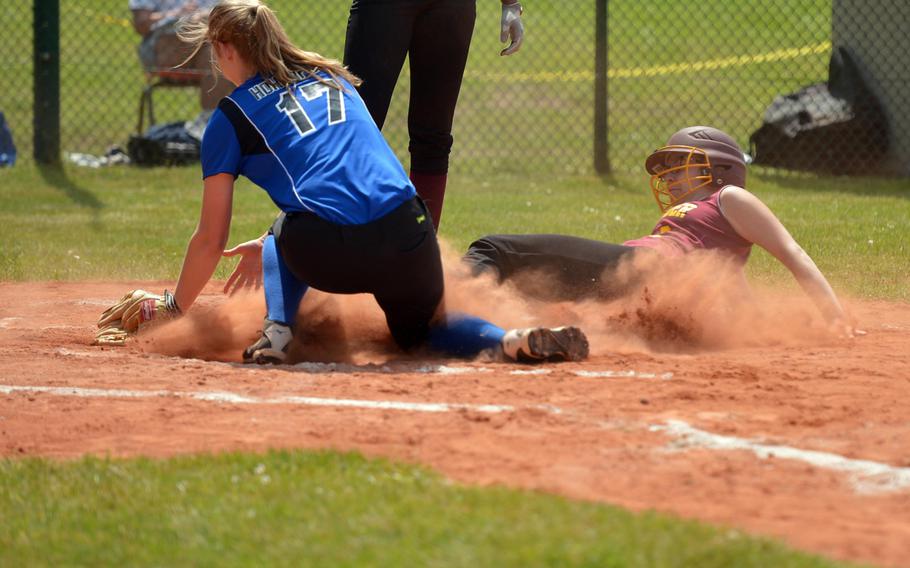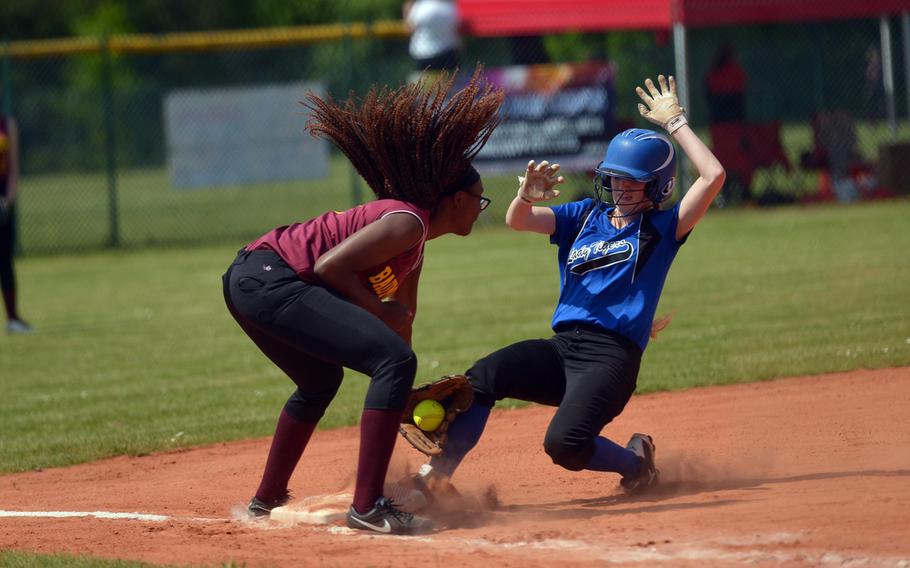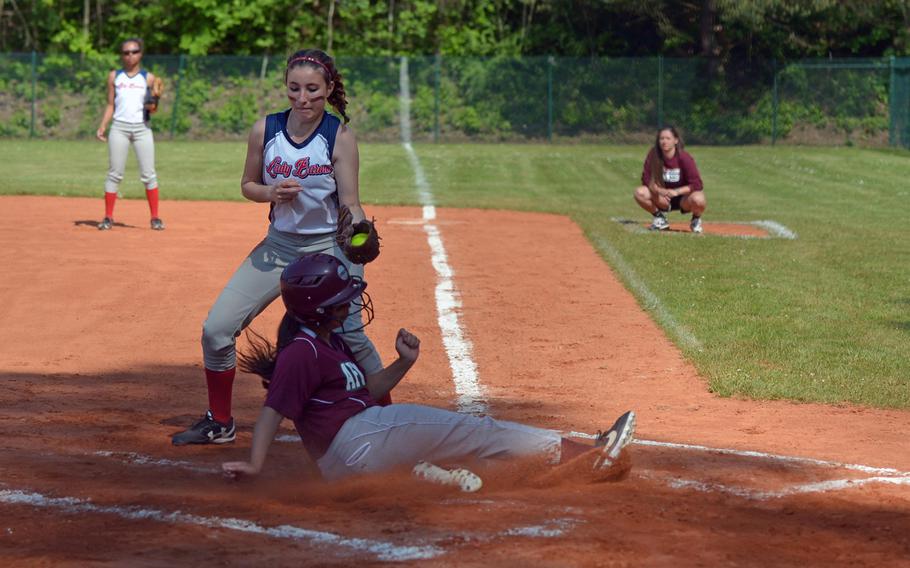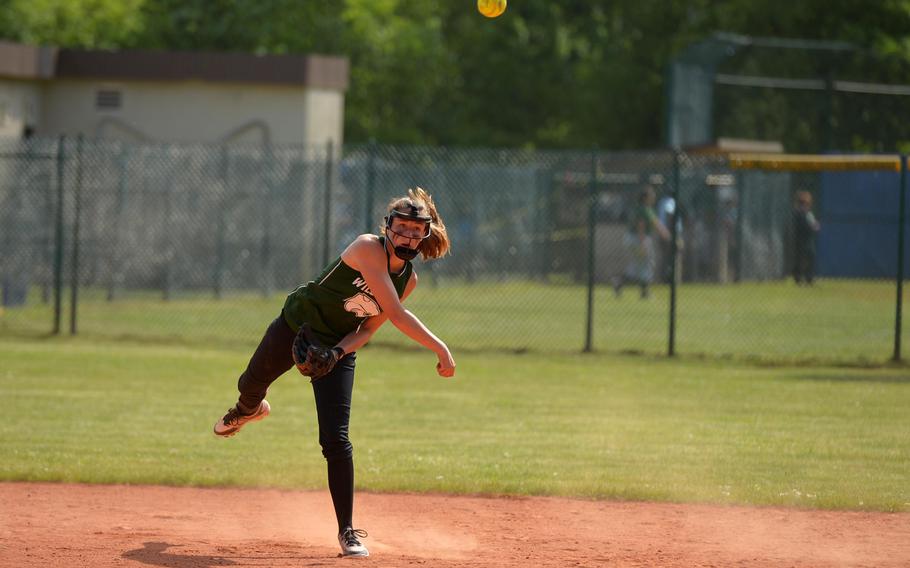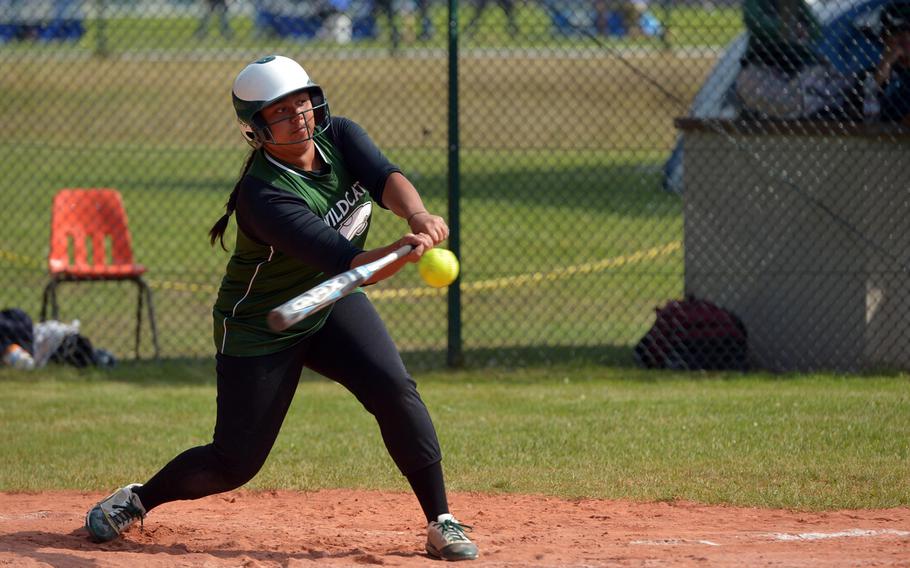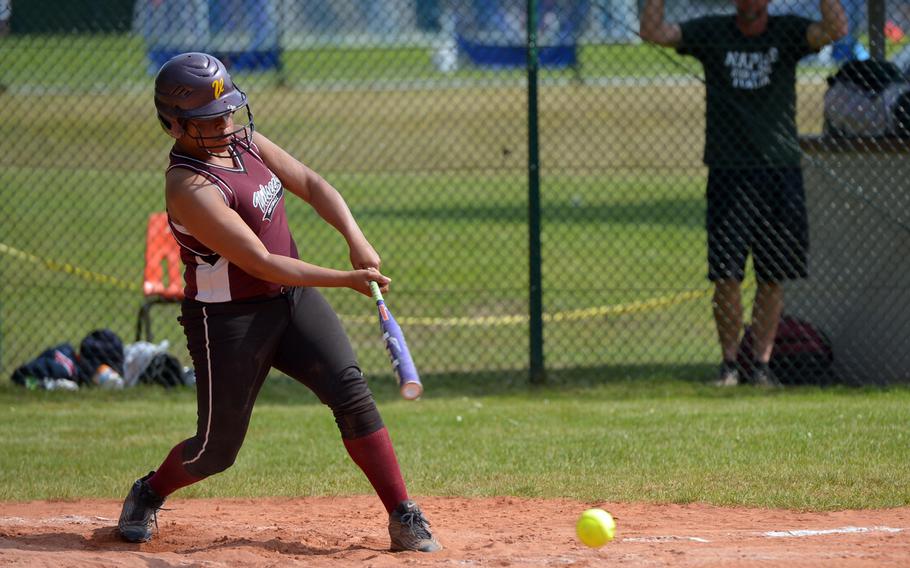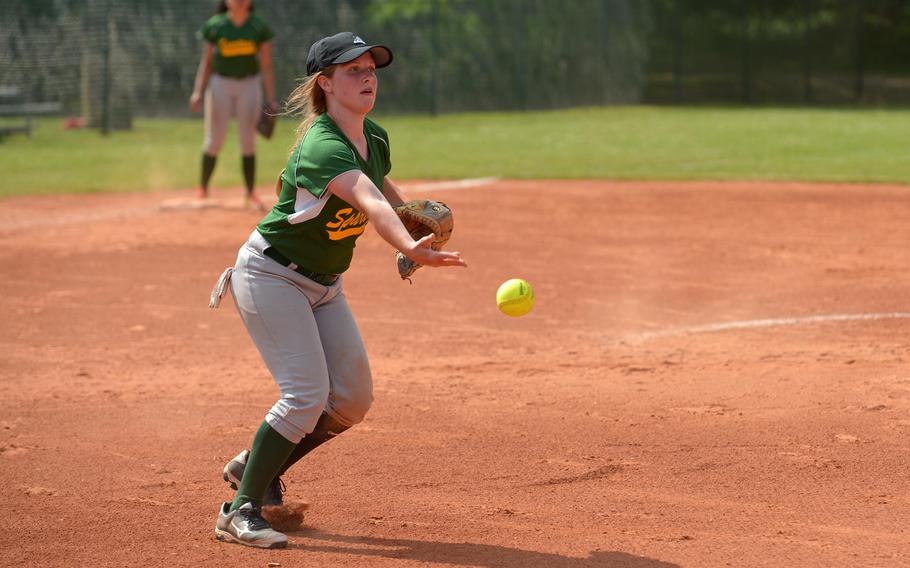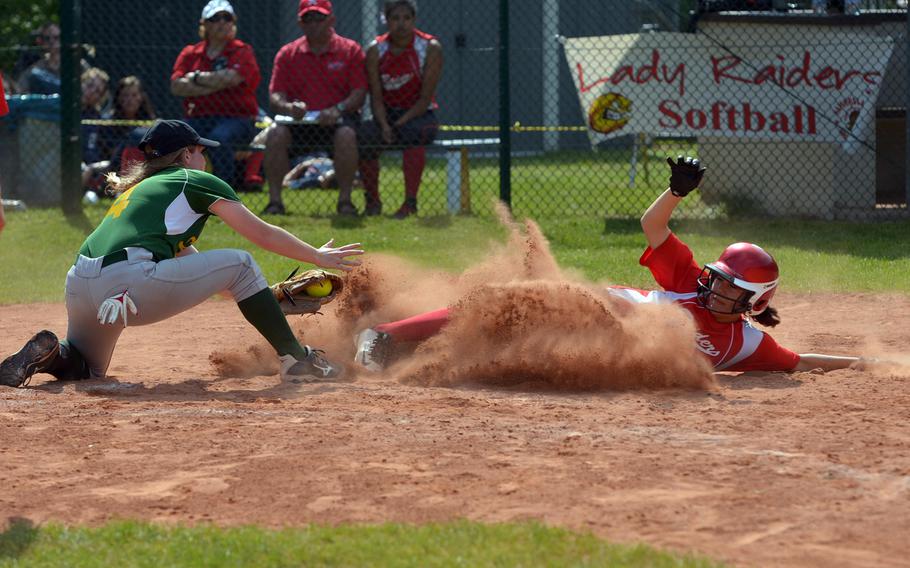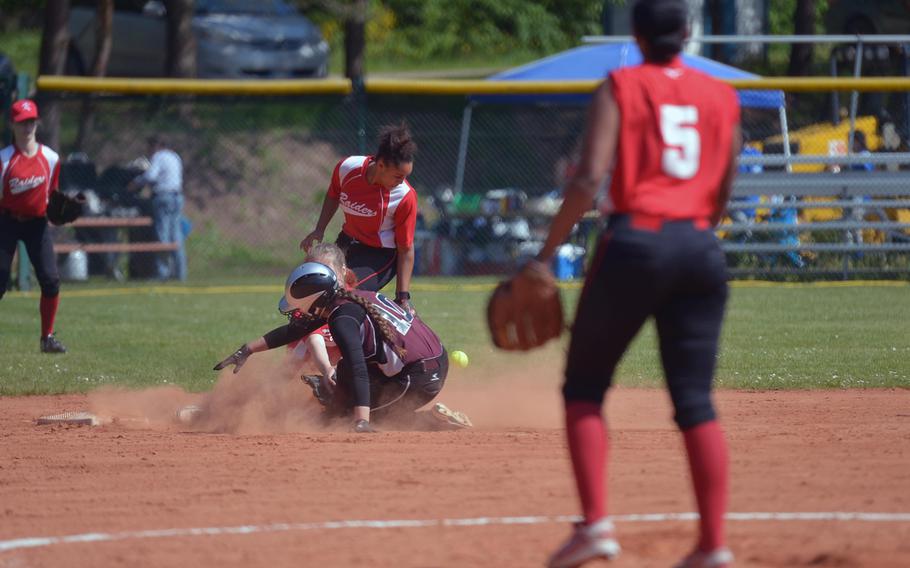 KAISERSLAUTERN, Germany – Before the DODEA-Europe softball championships began, it looked as if the Division I title game Saturday might very well feature either Kaiserslautern, Ramstein or both.
Nothing happened on Day 1 of the tournament to change that outlook.
Both the No. 1 seed Raiders and the No. 2 seed Royals handled business, crushing their ways to a combined 4-0 record.
In the first much-watch game of the tournament, the Raiders cruised past a Vilseck team that just days ago looked to be on fire heading into the championships.
As many a team this season can attest, the Raiders have a way of cooling off even the hottest of hands. They proved this once again against freshman ace Avery Hicks, whose last game was one walk away from perfect.
Avery walked a couple of batters and gave up six runs in the first two innings before being relieved by Crystal Morris. Chalk that up to freshman jitters, something the Raiders – especially their batting corps – didn't seem to have.
Tori Liggins led the charge, going 5-for-5 and batting in six runs. Nina Knight was also perfect at the plate and drove in a couple of runs.
The highlight of the game, though, belonged to sophomore slugger Victoria Jackson, who sent a ball so far out of the park it's probably sitting in customs.
Liggins also got it done from the mound. The senior scorched the Falcons to the tune of eight strikeouts.
"I love tournaments," she said before the game. "You get to see all kinds of teams out here, play against them. It's fun. There is pressure, but I try not to think about it."
The Raiders also took down the eighth seed SHAPE Spartans in a later afternoon match, 11-6. This game showed the depth of Kaiserslautern's bench, as players who hadn't gotten much playing time previously were given a chance to shine.
Phoenix Whisennand had eight strikeouts before hitting a rough patch – and a couple of SHAPE batters – and being replaced by Liggins. Tierra Kienzle had an RBI and Alicia Alamos had two. Whisennand chipped in three more.
"As a team it feels real good," she said after the game. "We're not bumped down at all, we're bumped up if anything. We're good. We're in a safe spot."
Safe, they may be, but not for long. If they continue their winning ways – and they'll have to get through a Naples team that beat SHAPE 16-1 first – they'll have to face the Royals. Ramstein had a couple of impressive victories themselves, beating Vicenza 16-1 and Lakenheath 19-0.
Maleece Wallace was instrumental in slaying the Lancers, as she hit an inside-the-park grand slam in the final inning. After the game, several Royals players stayed around to check on the competition. More than one was inquisitive about how the Raiders were faring.
Royal teammates Azure Agricula and Victoria Rady say while they are happy about their opening-day performance, they know there is a lot of softball still left to play.
"We don't expect to win," Agricula said. "We take it game by game."
Division II/IIIThe Division II/III tournament is quite a bit murkier than the Division I. There are no safe bets, though Sigonella is looking strong out of the gate.
The Jaguars rolled past Bitburg 16-1. Hanna Barnes held the Barons in check. It was an impressive feat considering the Barons had already proven their offensive might against AFNORTH earlier in the day, winning 16-12.
Kisiah Chandler went 3-for-3 with a single, a double and a home run that drove in an extra two runs.
"It's awesome, not only for me, but I feel like it helps energize my team," she said minutes after sending a ball into orbit. "It just feels awesome. It's great."
They weren't alone in having a great day. The Hohenfels Tigers beat Baumholder 17-5. Rota looked hot against the Buccaneers, beating them 12-5, but fell to the Aviano Saints 10-4 later in the day in a duel between two very capable pitchers.
Rota's Ophelia Vella lost the game, but had a solid showing nonetheless. She had six strikeouts and kept the game within reach until the final inning – something many pitchers weren't able to do Thursday.
Saints ace McKenzie Milligan continued her excellent season, racking up eight strikeouts with only two walks. And Milligan said that wasn't her team's best showing.
"It was kind of shaky at first, we weren't really hitting, we weren't getting the calls we wanted," she said. "It was jitters. Most of the team is new and haven't played before."
Those first-time nerves, she said, were responsible for the Admirals taking an early 4-0 lead. Rota's Cassidy Reyes bunted in a run to kick start a 3-0 tear in the bottom of the first. She ended up going 2-for-3, as did teammate Elizabeth Lamb.
In fact, until the top of the third, it looked like the seldom-seen Admirals – who entered the tournament with a 2-0 record – might have upset the top-seeded Saints.
Hannah Glass had a problem with that idea and cranked a two-run shot that started a Saints scoring drive that didn't end for the rest of the game.
"I think at the end of the game we played how we're supposed to be playing and that's why we came back and won," Milligan said.
---
---
---
---