Europe tennis finals
Favorites play like it on opening day on courts
by
Gregory Broome
October 25, 2018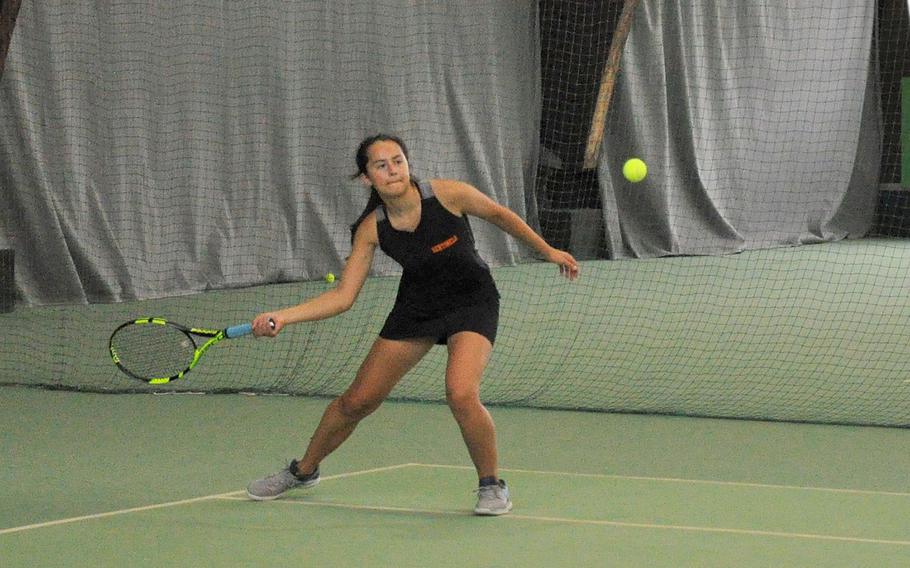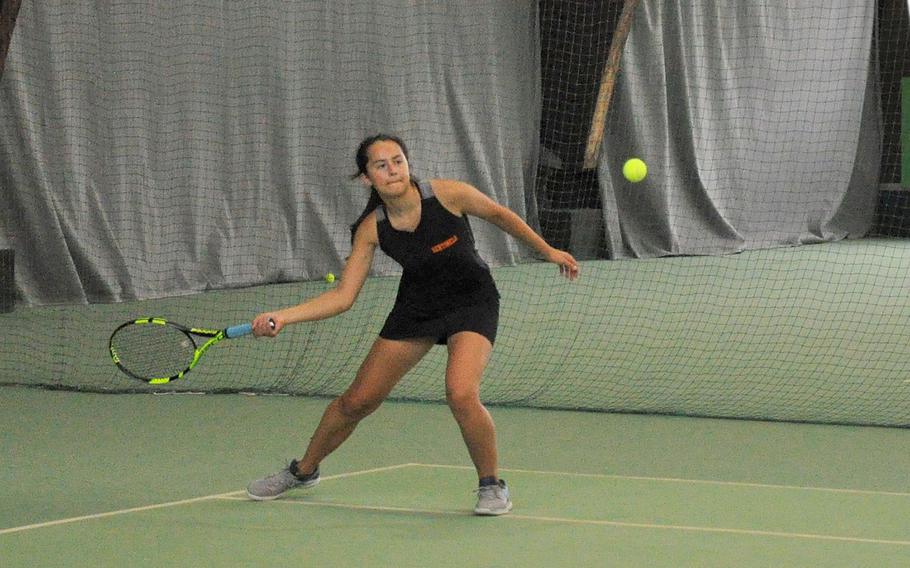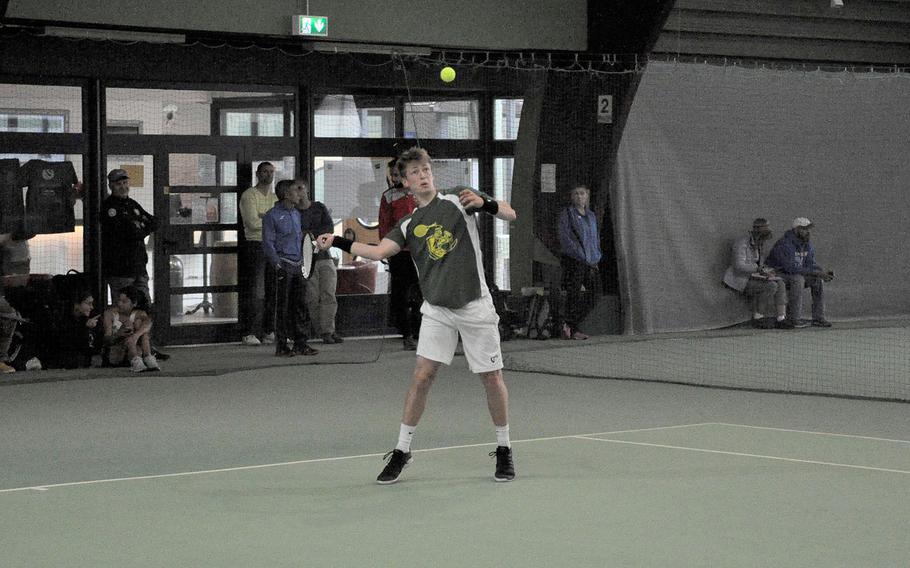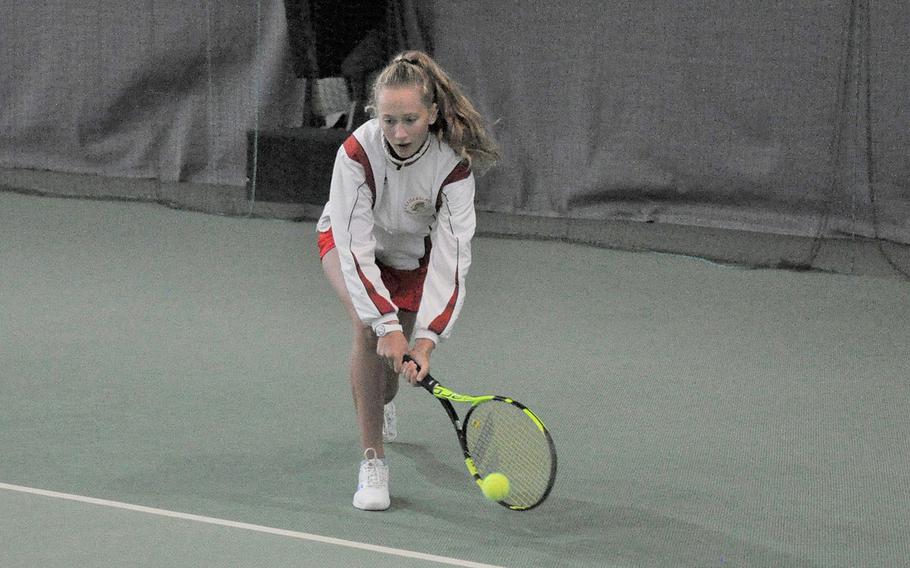 Favored players largely held serve Thursday as the 2018 DODEA-Europe tennis championship meet opened its three-day run at sites around Wiesbaden, Germany.
Top overall singles seeds Matthias Mingazzini of Marymount and Charlotte Kordonowy of Wiesbaden cruised through three first-day matches apiece, while freshman phenoms Amar Tahirovic of Stuttgart and Aiva Schmitz of Kaiserslautern kept the pressure on with impressive, undefeated tournament debuts.
The tournament continues Friday with the remainder of preliminary play and the semifinal round. Four European championship matches are set for Saturday at Vitis Tennis Center.
BoysReigning champion Mingazzini was in peak form Thursday, handling fellow Italian entries Lawrence Caro of Sigonella and William Hsia of American Overseas School of Rome in straight sets before entering an afternoon meeting with second-seeded Noah Banken of SHAPE. Banken, who lost to Mingazzini in last year's European championship match, gave his familiar foe some trouble before taking a 6-2, 6-2 defeat.
The seasoned SHAPE star has learned how to navigate the rigors of the tournament, winning his first two matches in straight sets before the rematch with Mingazzini.
"You've got multiple matches a day. You get sore, you get tired," Banken said. "The matches get progressively harder as well. You just try to stay loose and continue."
Another formidable threat to the defending champ lurks in the opposite pool. Panthers freshman Tahirovic tore through this first three matches, including straight-set wins over the pool's second and third seeds, and might be bound for what would be a fascinating final with Mingazzini.
The tournament's 12 boys doubles teams played a spirited set of three matches apiece Thursday. Only three teams - SHAPE's Seth Banken and Wesley Phelan, AOSR's Paul Ranieri and Emanuele Di Paola and Stuttgart's Charles Griffin and Colin Roedl - survived the day without a loss.
GirlsSchmitz, the Raiders' ace ninth-grader, is battling a lot of things this weekend: the pressure of being the highly-regarded "newbie," the increased crowds hovering around the courts to potentially "judge" her performance, and her own resulting anxiety.
She conquered all three on Thursday, along with three overmatched opponents. "Sometimes I kind of get in my head and I'll look and see who's watching me," Schmitz said. "I definitely have to make sure I'm not looking at the crowd and stuff, otherwise I do go crazy."
While the tournament environment is "definitely different than I'm used to," Schmitz is quickly learning to block out the distractions.
"I'll look at my strings and take a couple deep breaths, and then I'm usually fine," Schmitz said.
Fellow freshman Hope Goodwin of Wiesbaden was equally precocious Thursday, recording three wins in as many matches. She'll take on Schmitz on Friday in a compelling matchup of present and future DODEA-Europe singles stars.
Only Kordonowy emerged from the opposite pool undefeated. The sophomore, who lost to senior Catherine Gulihur of Vicenza in last year's European final, blazed through three straight-set wins to secure her status as the tournament's top overall seed.
Kaiserslautern and Wiesbaden dominated the girls double scene as well, fielding the only two teams to go unbeaten Thursday in the 10-team bracket. Kaiserslautern's Vicky Thais-Lopez and Taylor Larned and Wiesbaden's Melissa Pritchett and Shelby Albers formed the frontrunning duos.
Twitter: @broomestripes