Division II basketball
Far-flung teams battle to reach championship
by
Dan Stoutamire
February 25, 2016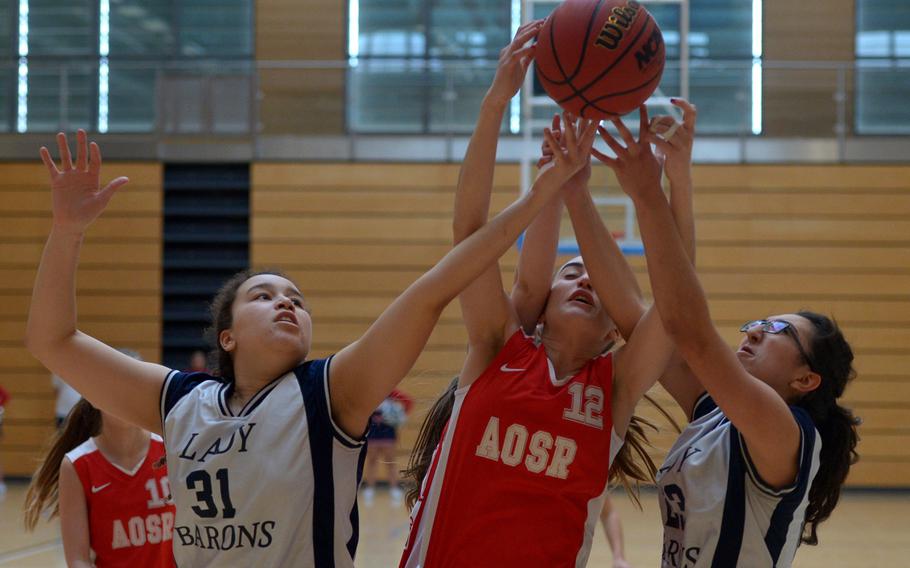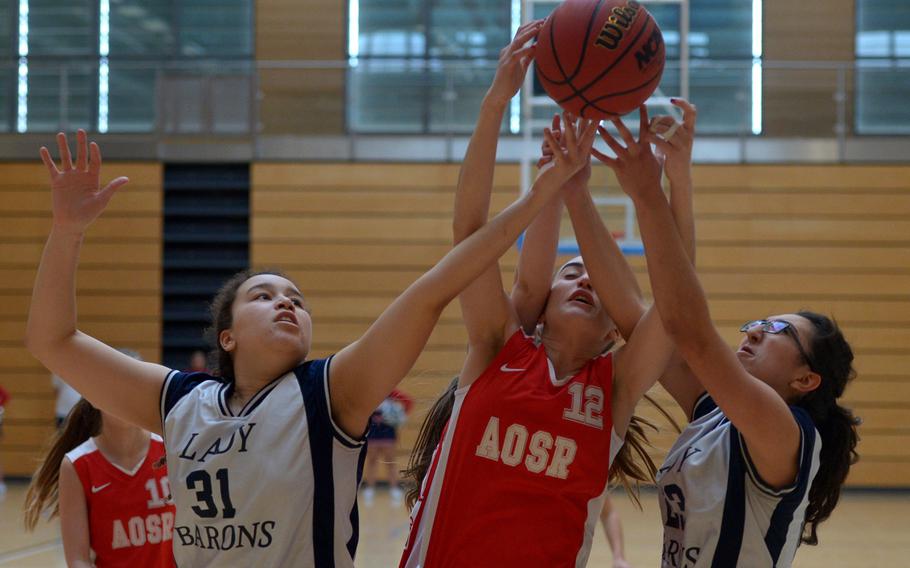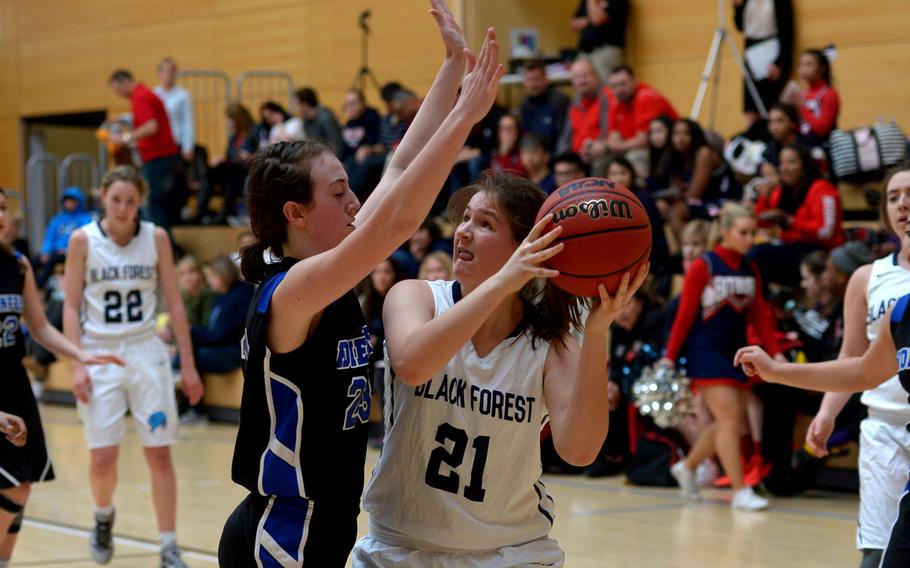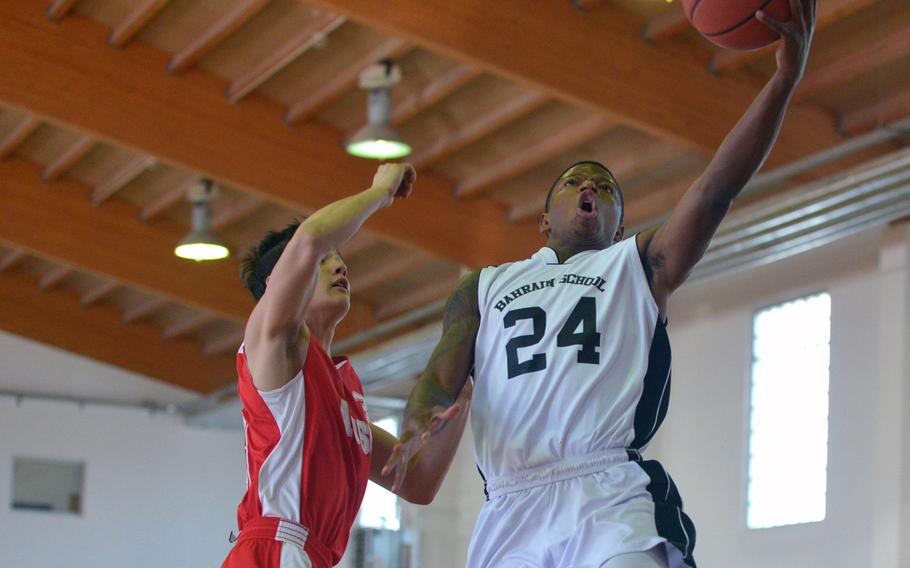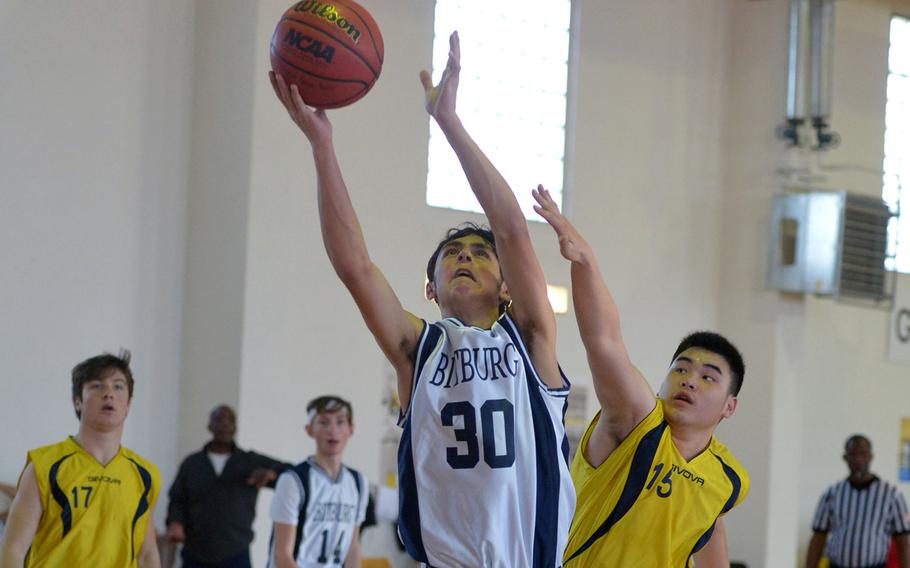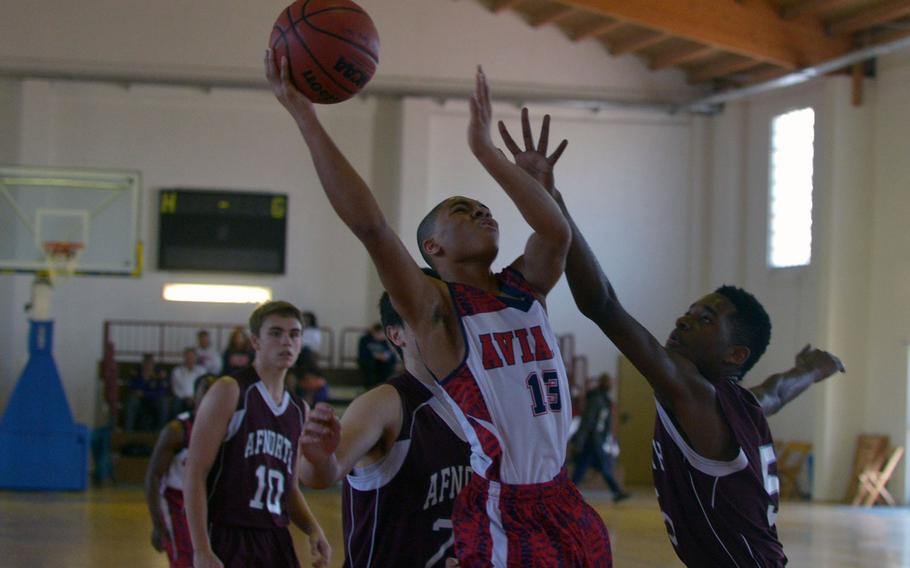 WIESBADEN — The wheat was separated from the chaff on day two of Division II DODDS Europe basketball championships action, as four teams in both boys and girls brackets provided themselves spots in Friday's semifinals .
On the boys side, top-seeded Rota was upended by an upstart Bahrain team that finished its four preliminary matches undefeated. Both advanced to the semifinals at Clay Kaserne Fitness Center, however, with Rota taking on Hohenfels at 1:30 p.m. and Bahrain facing Black Forest Academy at 3 p.m.
For the girls, impressive top-seeded Bitburg advanced from its pool along with the American Overseas School of Rome, while in the other pool a strong BFA squad finished unbeaten and advanced along with Bahrain.
BoysBahrain 48, American Overseas School of Rome 9: A stifling and athletic Bahrain defense, anchored by 6-foot-5 sophomore center Noah Henderson, overpowered AOSR - which also fell in its other game on the day to AFNORTH.
Bahrain would finish the day with a deserved win over top-seeded Rota, something that would have been unthinkable in recent years.
"When we first start a game, we want the opponents to know that we're there, that we're ready to play, we're not weak," said junior swingman Donovan Andrade. "In recent years we've always been the underdog, the only team traveling by plane. Basically, we've had enough of that."
On the evidence of pool play, Bahrain is going to be difficult to beat, with opponents struggling to score and the Falcons able to get easy baskets on turnovers consistently.
Rota 44, Aviano 28: Top-seeded Rota stamped its passport to the semifinals with a commanding win over an undersized Aviano team that fought until the bitter end, but was unable to contain Rota's dazzling sophomore point guard D'Angelo Gallardo.
Gallardo, who scored 11 of his team's first 13 points and finished with 19 points to pace the Admirals, also used sophomore center Andrew Drake's size to good advantage.
Gallardo's father, who had been on a nine-month deployment to Bahrain on the USS Ponce, came straight from the airport to watch his son.
D'Angelo Gallardo credited his teammates, and said they were taking the next few games as they came. But the ultimate goal is clear.
"One game at a time, one game at a time," he said. "We want a championship, we've been working since the summer, and it's been three years this starting five has been together and we want to end it off right."
Aviano senior guard Brandon Vigil, who had 11, said it was surreal being finished with his high school basketball career.
"A lot of emotions. Happy, sad. I've been here for four years and we've gotten close, but it's a lot of different emotions now.
"For what we have I thought we did really well. A lot of our guys haven't really played basketball for more than two years or so, and we're really small, so I couldn't be happier with the way the team played."
Black Forest Academy 50, Bitburg 30: A strong, well-balanced Falcons team earned a convincing win over the Barons.
The game started at a breakneck pace, with both teams guilty of sloppy turnovers.
Eventually, the ability of senior point guard Jason Kragt and junior swingmen and twin brothers Noah and Jonah Greathouse to rebound and quickly push the ball up the court proved decisive.
"We know that we're all a bunch of brothers playing together," Kragt, the team captain, said. "I've been varsity four years and because of that experience the guys look up to me, but at the end of the day we're all just a bunch of guys playing basketball as brothers out there."
BFA 68, Marymount 41: The final game of the day proved to be a decisive one, with the winners able to join pool winners Hohenfels in the last four.
It was an offensive explosion by Black Forest Academy, particularly the brothers Greathouse, who combined for six first-half three-pointers and totaled 44 of their team's 68 points.
The Falcons outscored MMI 18-6 in a decisive third-quarter outburst.
"It's heartbreaking, but all you can do is fight and do your best, and whatever happens, happens," said Marymount's senior forward Lotanna Mba. "It's been amazing, I love basketball, and coming to practice every day is all I want to do. I couldn't have asked or anything better from my teammates and I'm really proud of them."
GirlsBitburg 43, AOSR 18: Bitburg's backcourt combination of junior Hailey McKenna and senior Audrey Simmons were too fast for the full-court press tactics of AOSR, who despite the loss advanced into the semifinals.
The defending champs consistently were able to take rebounds off of Falcon misses and get easy layups at the other end, usually finished off by McKenna or Simmons, who finished with a combined 17 points.
"We were proud of our team in our first two games against MMI and AFNORTH, and this one we knew would be hard coming in because while we had done well this season— Bitburg was undefeated and the reigning champions, so we expected them to be very good," said AOSR senior guard Alessia Giombini. "We tried to do a full court press but at the end of the day their speed kind of beat us down. We're hopeful to do better tomorrow."