D-II boys final
Falcons get past nemesis to wear crown
---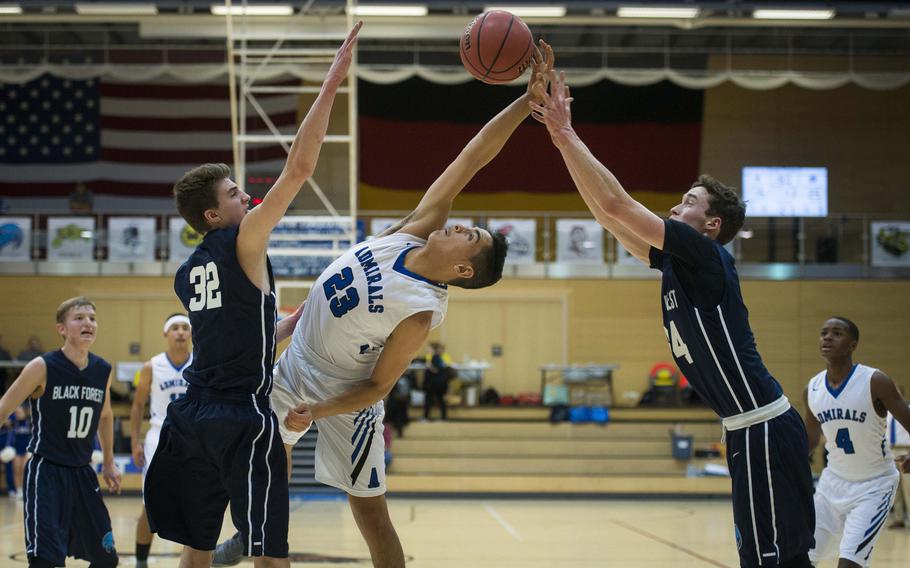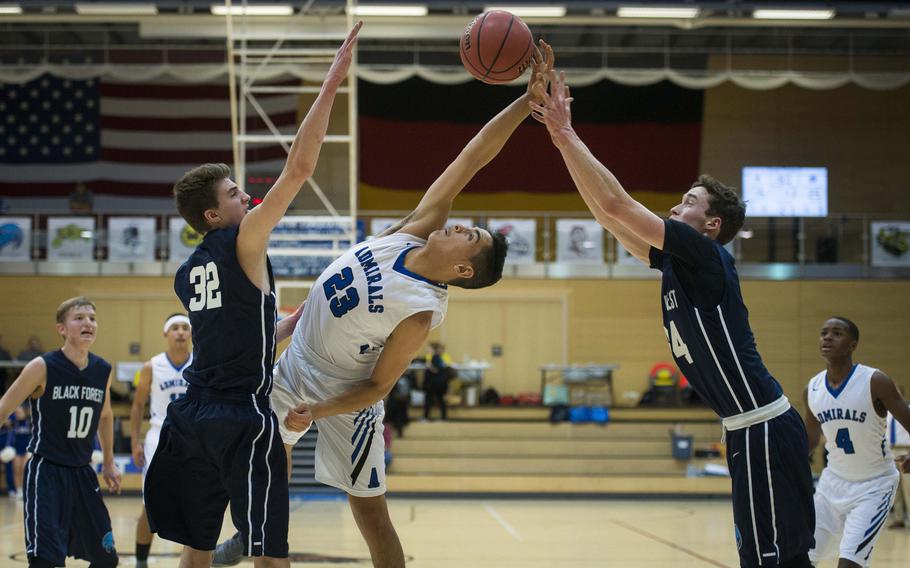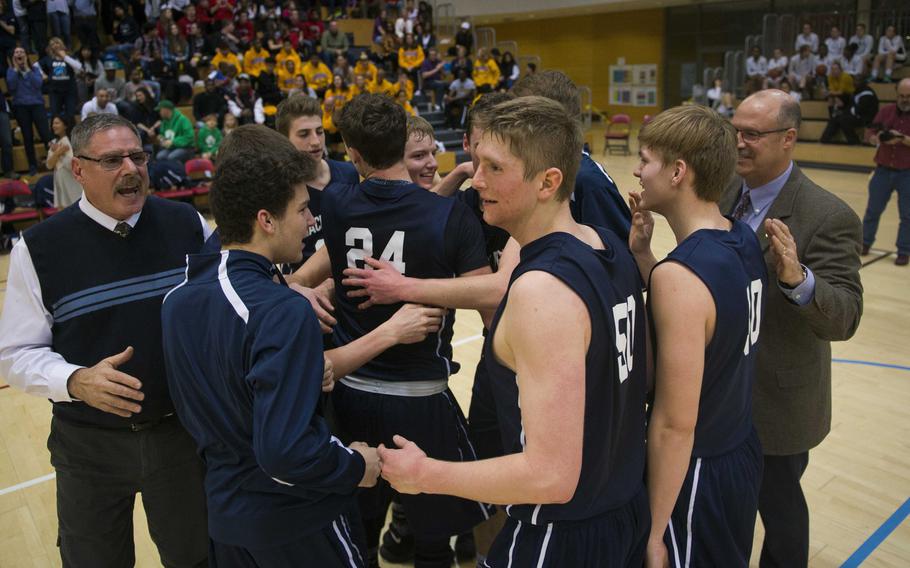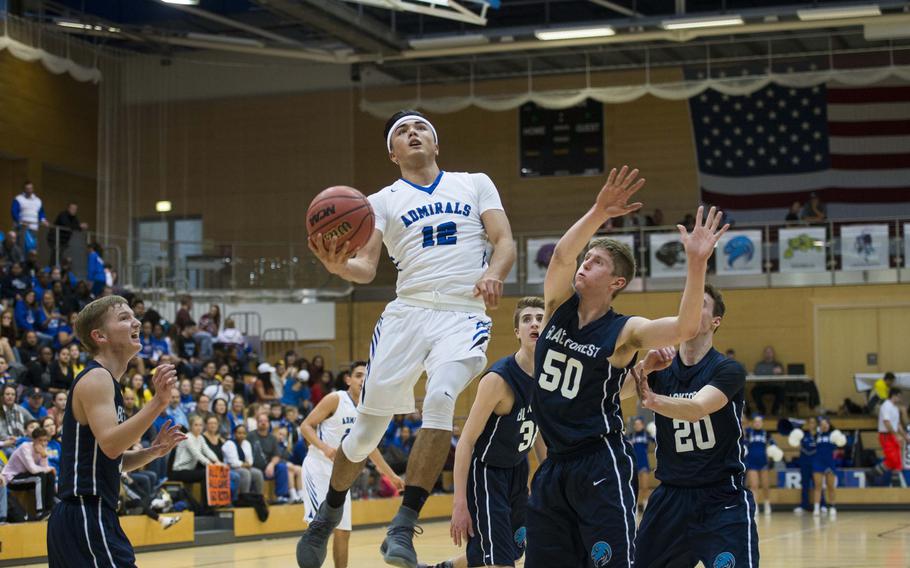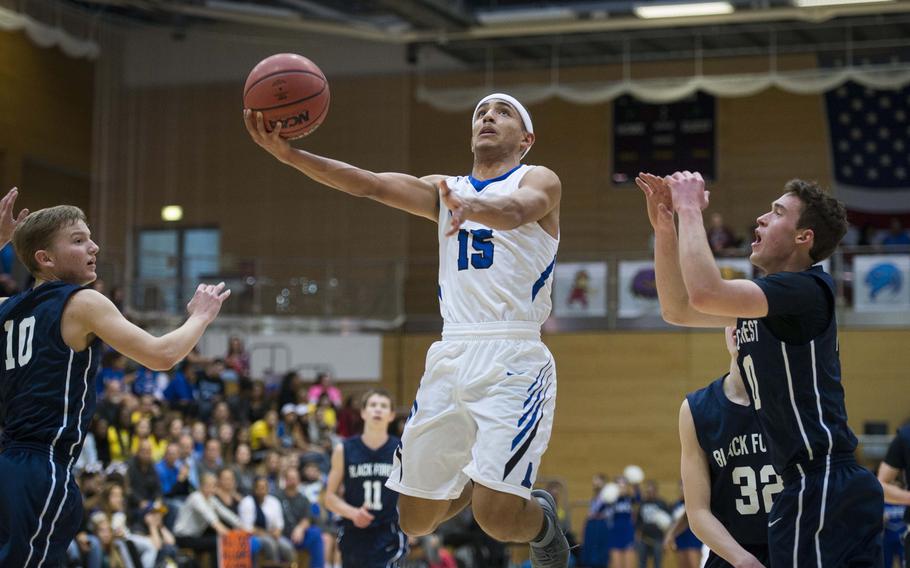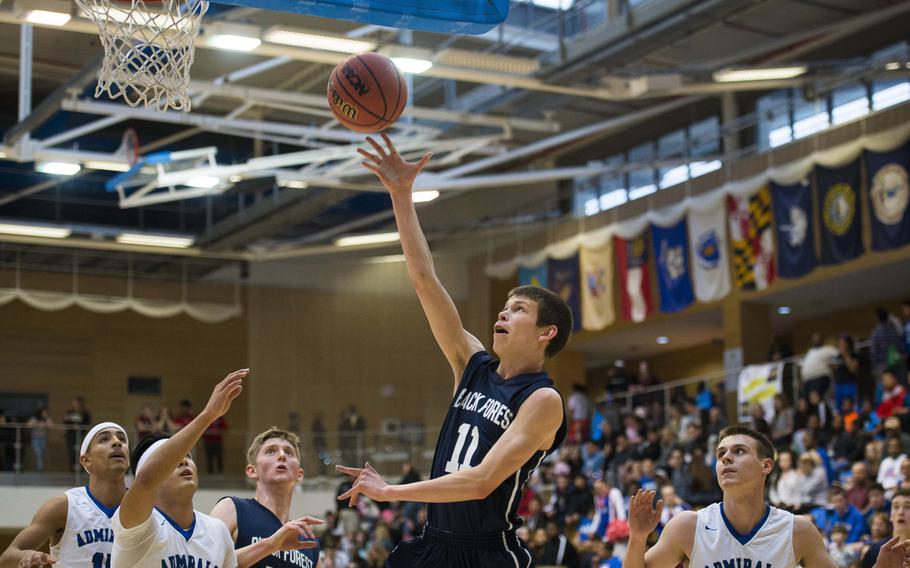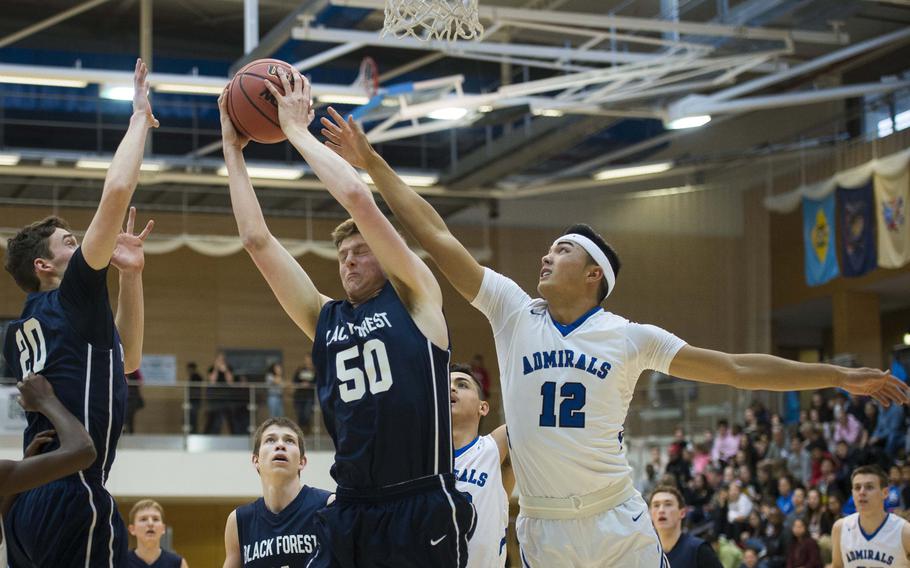 WIESBADEN, Germany – The Black Forest Academy Falcons had almost everything a basketball team could ask for, from size to shooting to senior leadership.
Now they've acquired the one thing they were missing – a championship.
BFA defeated the Rota Admirals 46-32 for the 2016-17 DODEA-Europe Division II boys basketball championship Saturday, avenging its 71-43 loss to Rota in last year's championship game and joining the school's girls team as European champions.
The title is BFA's first DODEA-Europe boys basketball crown.
"So grateful, so grateful," BFA coach Chris Greathouse said as his team lined up for the awards ceremony it would finally headline. "They've really worked hard and I'm really excited for them."
The second-seeded Falcons came into the game favored to unseat the reigning champs, who managed to return to the title game despite the loss of some of the key playmakers and shooters from last year's high-octane squad. But this week's injury to standout big man Andy Drake irrevocably damaged the Admirals' ability to go shot-for-shot with the title-hungry Falcons.
Still, the business of actually supplanting Rota remained, and the Falcons attended to that immediately Saturday. Hard-charging big man Kaden Proctor controlled the interior while his teammates rained points from long distance as BFA built a 17-5 lead through one quarter.
Obstinate senior guard Jashaun Garrison led a sustained Rota resistance that prevented a BFA blowout, but the Admirals' diminished offensive punch prevented a full-fledged comeback. BFA's win capped the impressive careers of senior brothers Jonah Greathouse and Noah Greathouse.
"It means everything. We've hit a turning point in BFA history," said Noah Greathouse, who hit three three-pointers and matched Garrison for game-high scoring honors with 17 points. "It's been a great year. Great team, great season, great careers."
Both Greathouse brothers exited their final game as Falcons with 30 seconds to play and the elusive title firmly in hand. They were greeted with hugs from their coach and father and a raucous ovation from the BFA cheering section.
"I was very honored to have everybody clap for us," said Jonah Greathouse, who also made three three-pointers in an 11-point outing. "It's a great feeling."
BFA blew out all challengers on the way to its long-awaited rematch with Rota. The Falcons won their three pool-play games by a combined 95 points and routed Bahrain 74-50 in Friday's semifinal.
No. 1 seed Rota also cruised through pool play and handled Aviano 49-29 in its own lopsided semifinal before encountering the high-flying Falcons.
"I just thought we played really resilient," Rota coach Ben Anderson said. "We just couldn't find enough ways to score."
With another entry in their growing rivalry recorded, the two coaches traded compliments after the game.
"They're a really good team," Anderson said. "All respect and honor to them."
Chris Greathouse said he was "sick" that Drake couldn't participate in the rematch and lauded the defending champs for the challenge they still presented.
"Rota played a great game. They adjusted and came out fighting," the BFA coach said. "We love competing against them."
BFA's sweep of the Division II boys and girls hoops titles came immediately after Sigonella did the same at the Division III level, and just before both Ramstein teams contended for Division I championships.
Twitter: @broomestripes
---
---
---
---