European baseball
Eight teams still have a shot at two titles
by
Gregory Broome
May 25, 2018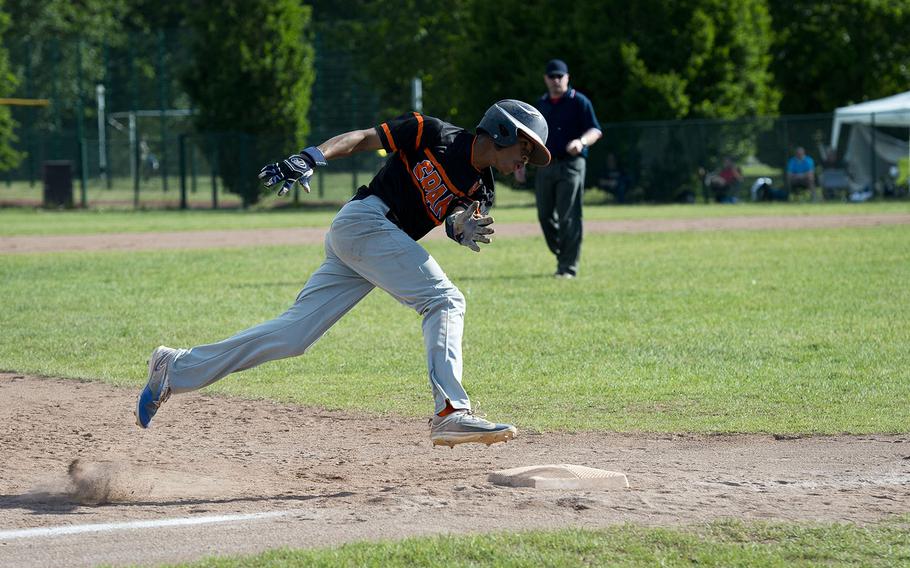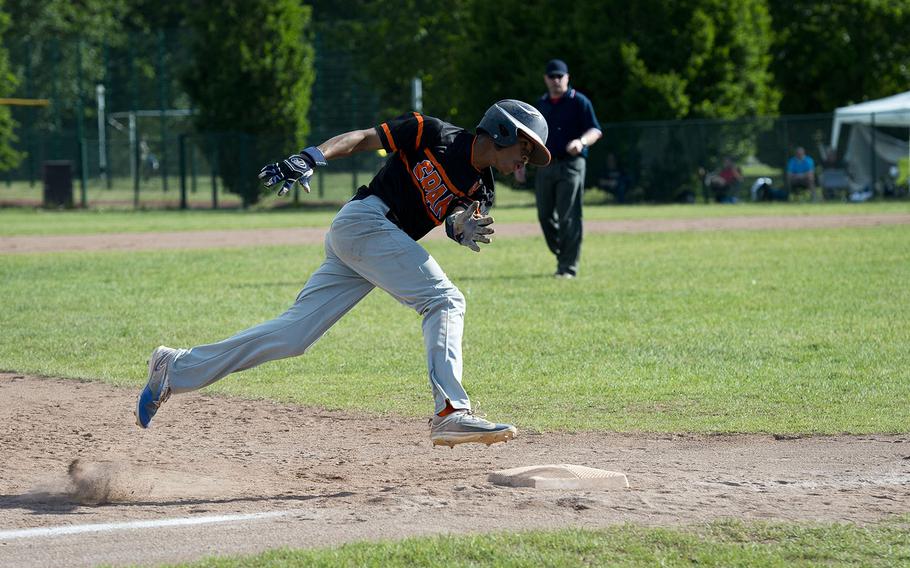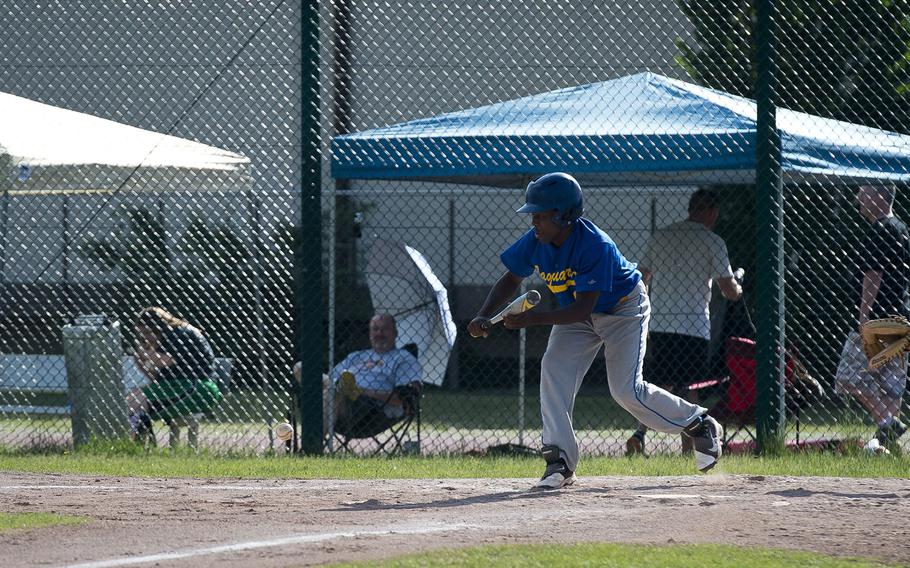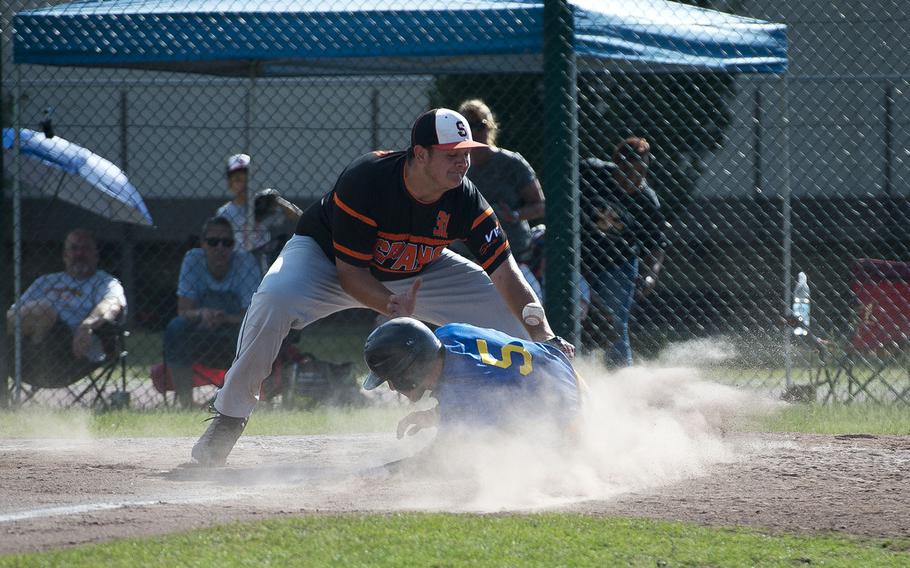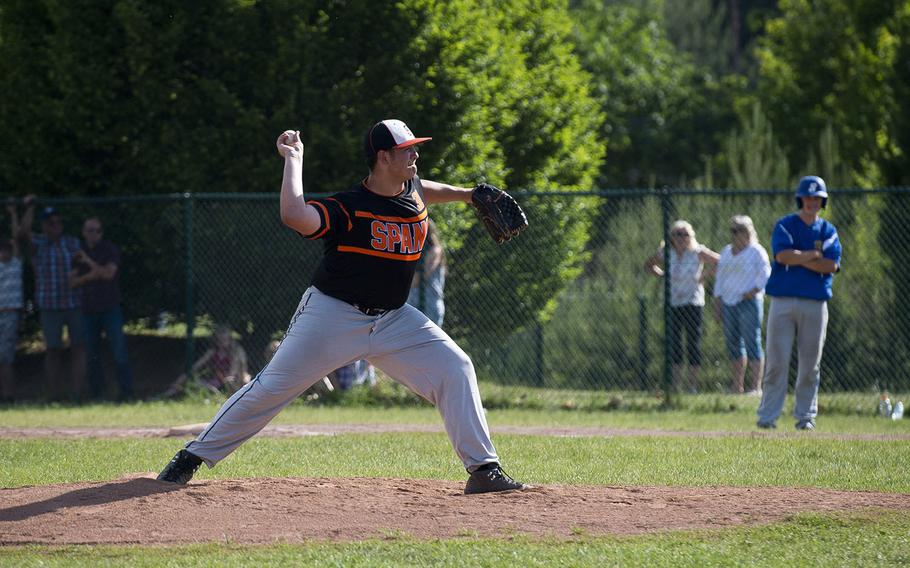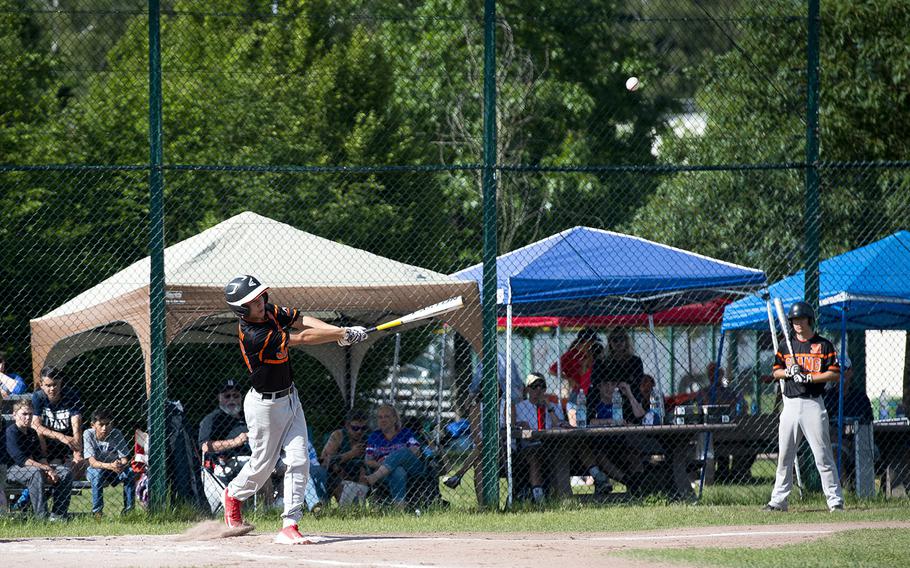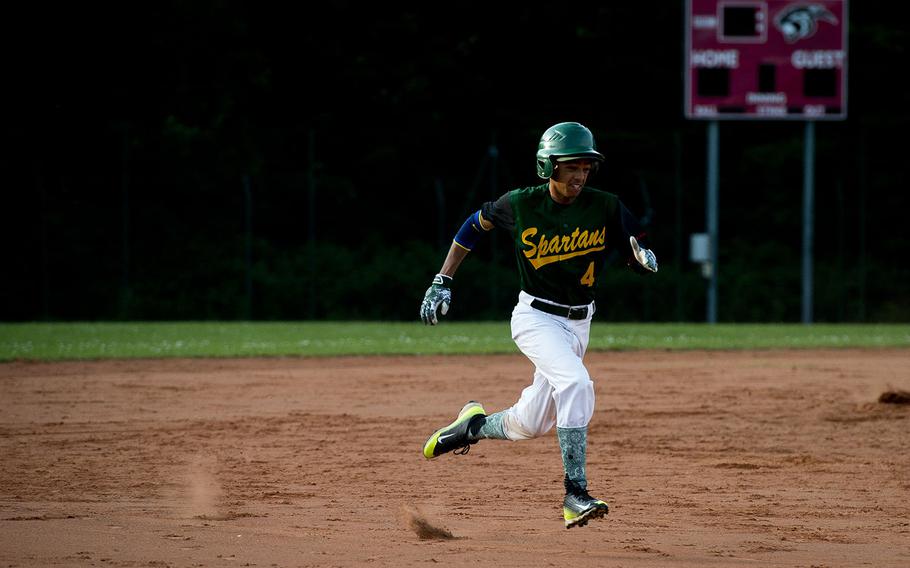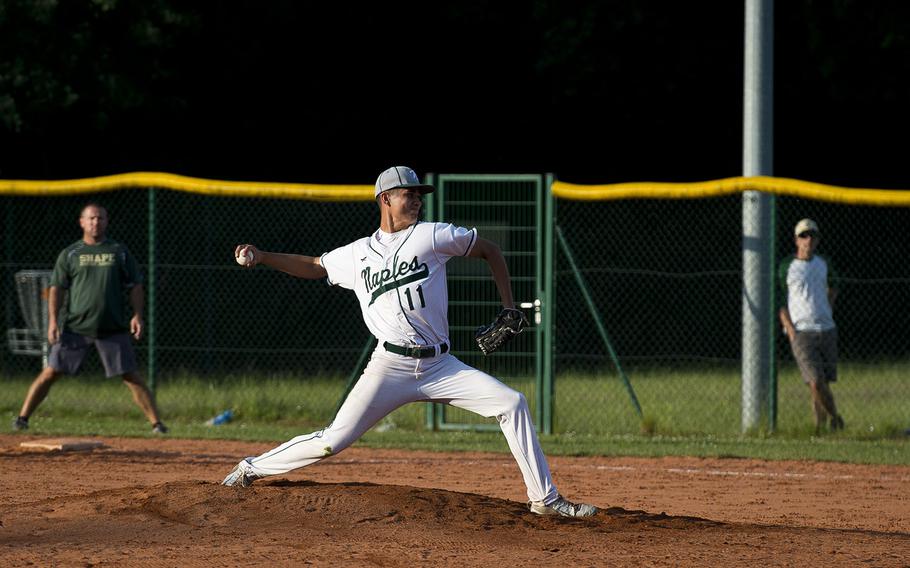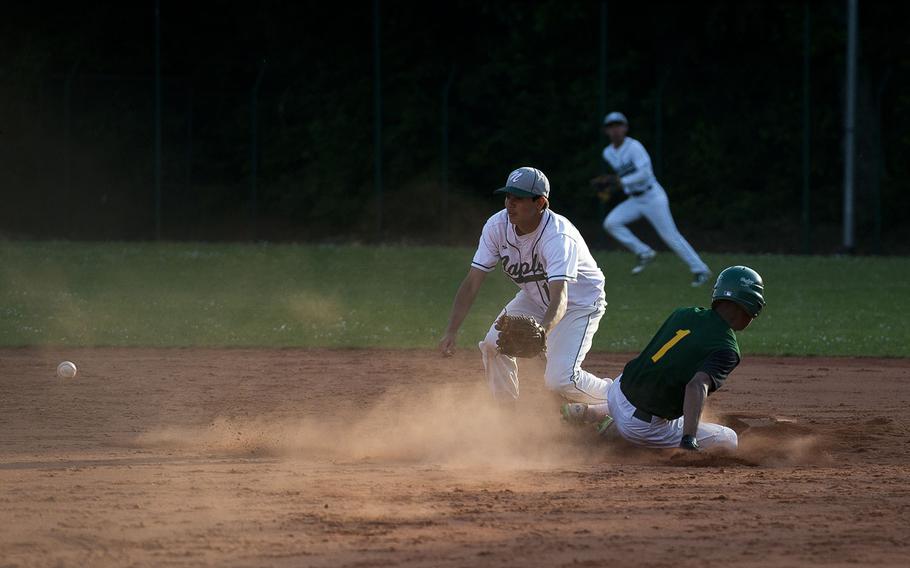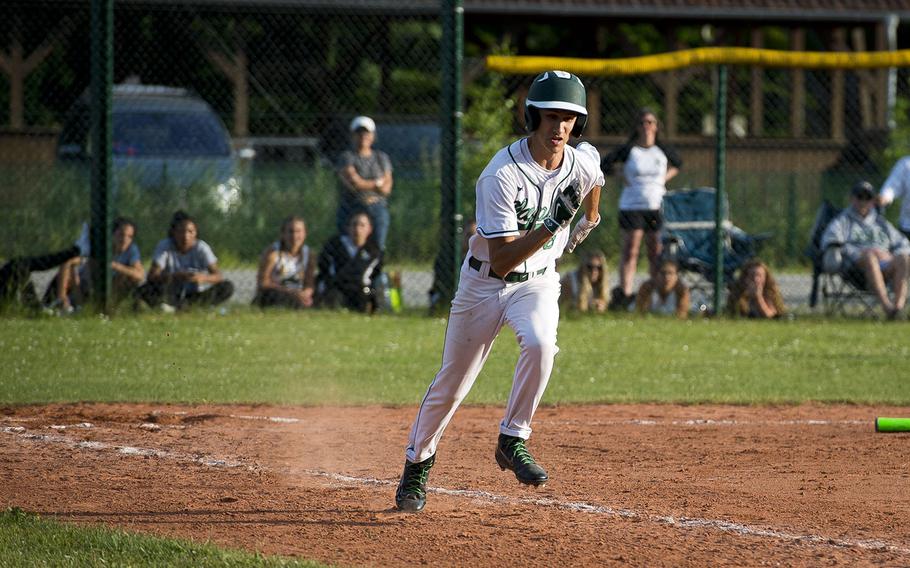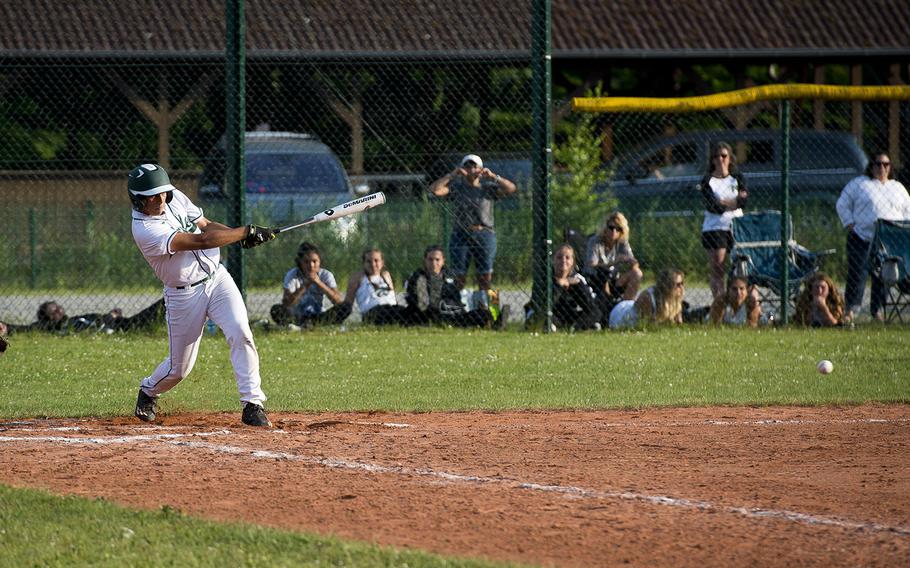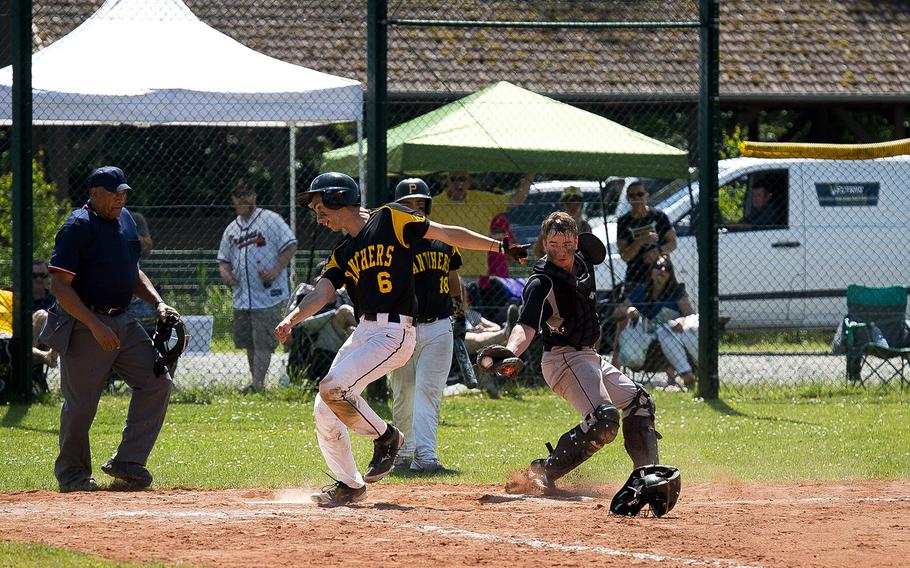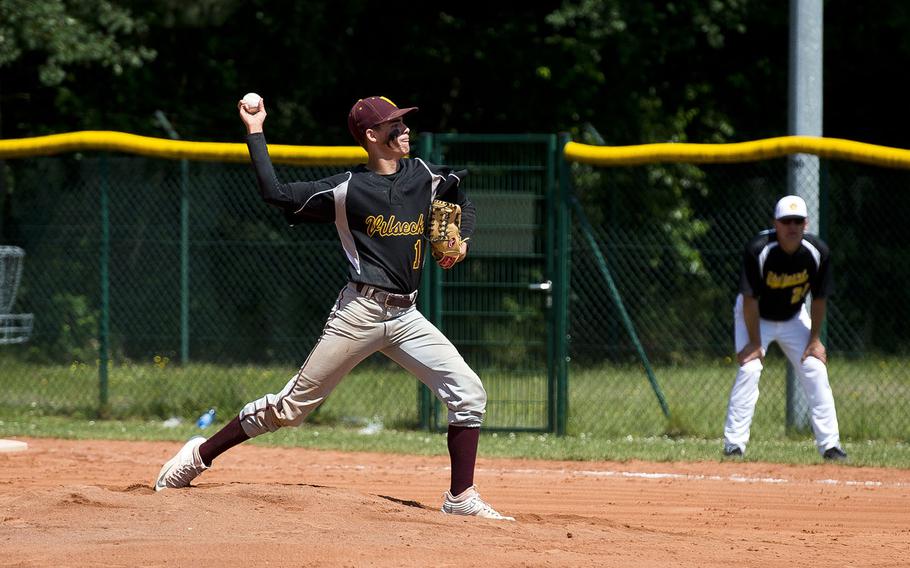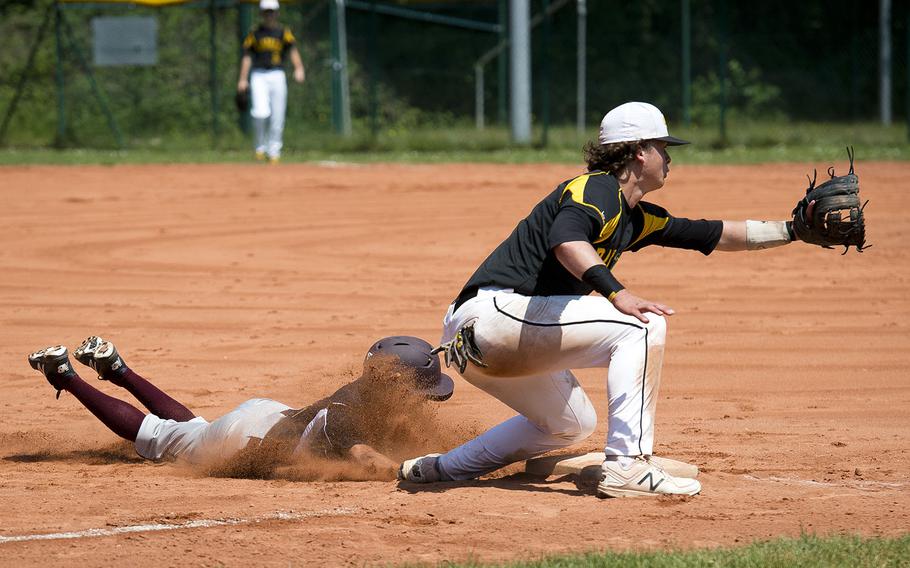 Clashes between high-seeded teams in the 2018 DODEA-Europe baseball championship tournaments were muffled by a thick layer of bracket bureaucracy on Friday, leaving several top contenders in Division I and II/III to bide their time for more meaningful Saturday-morning semifinal games.
The defending champion Ramstein Royals will face the Lakenheath Lancers while the Wiesbaden Warriors will face the Kaiserslautern Raiders to arrange the Division I championship matchup.
The Division II/III semifinals feature the Spangdahlem Sentinels against the Aviano Saints and the reigning champion Sigonella Jaguars against the Rota Admirals.
Saturday morning's semifinal round is followed quickly by the two European championship games. The Division II/III title game is set for 1:30 p.m., while the Division I final is scheduled for 4 p.m. Division I
Lakenheath returns to elimination round: The sixth-seeded Lancers faced down the third-seeded Raiders on their home field Thursday and came away with a dramatic 6-4 opening victory. Later that day, they handled second-seeded Stuttgart 11-7 for a 2-0 start.
The Lancers are tournament-tested after a run to last year's European title game. Lakenheath coach Kelly Stacy said between the two Thursday wins that he didn't mind facing both of the pool's two biggest sharks to start the postseason.
"I think we're actually in a good situation," Stacy said. "When we play the best two teams in our bracket first day, I think that's good. It allows to see what we've got when we go into Friday."
The Lancers answered that question with an early 10-5 defeat of Vilseck to clinch a spot in Saturday morning's semifinal, and kept the momentum rolling with a 12-9 victory over Vicenza.
Kaiserslautern 9, Stuttgart 6: The rise of the lower-seeded Lancers left the third-seeded Raiders and second-seeded Panthers to scrap for the pool's second semifinal berth.
While several late Friday games were light on motivation, the stakes in the evening Raider-Panther showdown could not have been clearer: win or go home.
Kaiserslautern, after giving back early leads against Ramstein to end the regular season and Lakenheath on day one of the tournament, avoided that pitfall to extend its season Friday.
Wiesbaden 9, Ramstein 5: The top-seeded Royals and fourth-seeded Warriors made quick work of their side of the bracket on Thursday, with each recording wins over Naples and SHAPE. That rendered their Friday evening showdown meaningful only in terms of arranging their semifinal opponent. The Warriors' win gave them the top seed and a matchup with the opposite pool's second seed, Kaiserslautern.
Division II/IIIThe Spangdahlem Sentinels and Sigonella Jaguars have been speeding in each other's direction all spring, seemingly destined for a rematch of Sigonella's 10-1 win for the 2017 small-school championship. This week, neither is swerving to avoid the increasingly imminent impact.
The top-seeded Sentinels and second-seeded Jaguars rollicked through two days of round-robin play, both easily clinching semifinal berths ahead of their late head-to-head meeting. Sigonella and Spangdahlem each kept plenty in reserve for Saturday in the largely consequence-free Friday game, which Spangdahlem won 19-4.
While the favored returning finalists sailed into the elimination round, the margins were tighter for the division's other contenders. The Aviano Saints fell to Rota 6-2 and to Spangdahlem 12-5 on Friday, but remained alive for one of four semifinal spots available in the five-team pool. They had no trouble staying loose as they waited for the afternoon game between Rota and Hohenfels to determine their fate.
"We're a young team, so really our players are just pleased that they're here," Aviano coach Frank Lewandowski said. "The tension isn't there for them. They're just happy to play."
Happily for them, they'll play on.
Rota's 5-4 win over Hohenfels put the Admirals and Saints in Saturday morning's semifinal, where they'll attempt to step in front of the expected Sigonella-Spangdahlem rematch.
Twitter: @broomestripes