Dragon spikers still flying high
by
Adam L. Mathis
October 5, 2013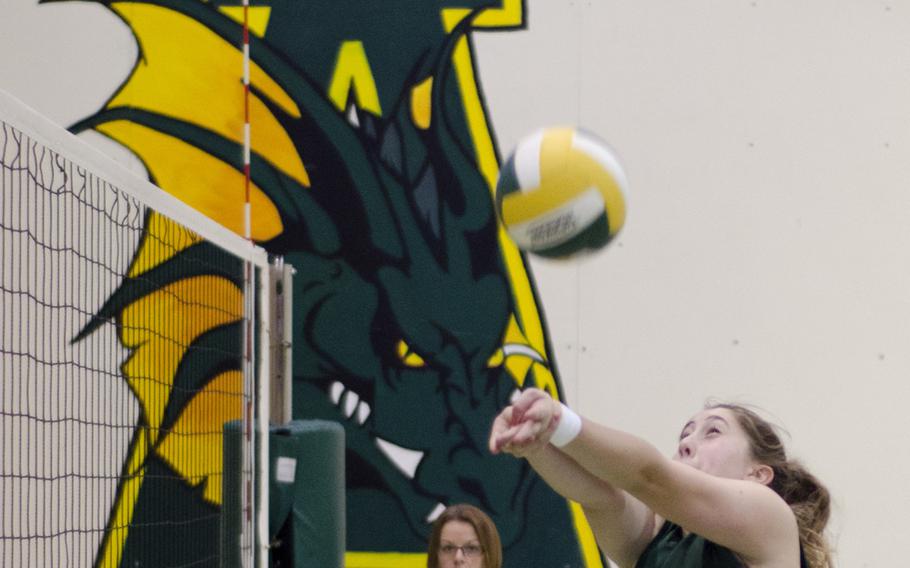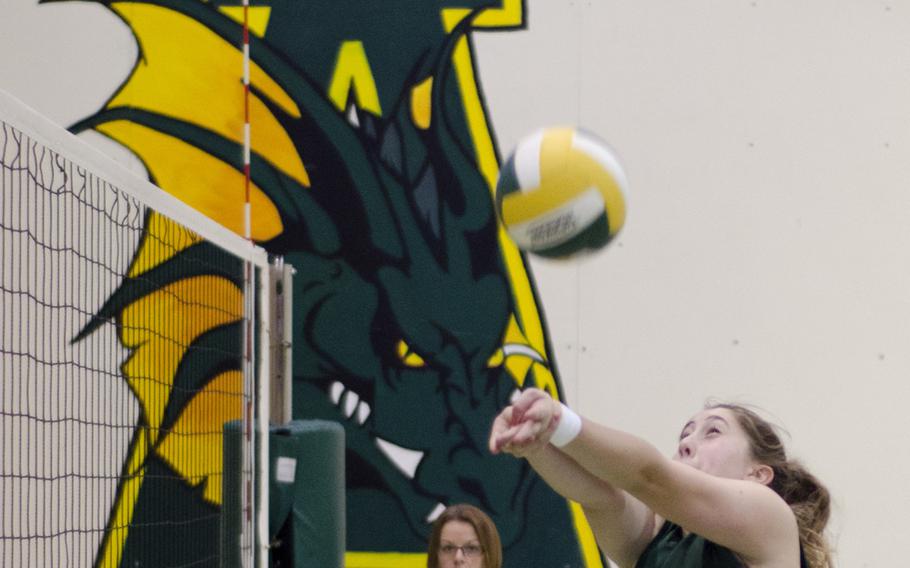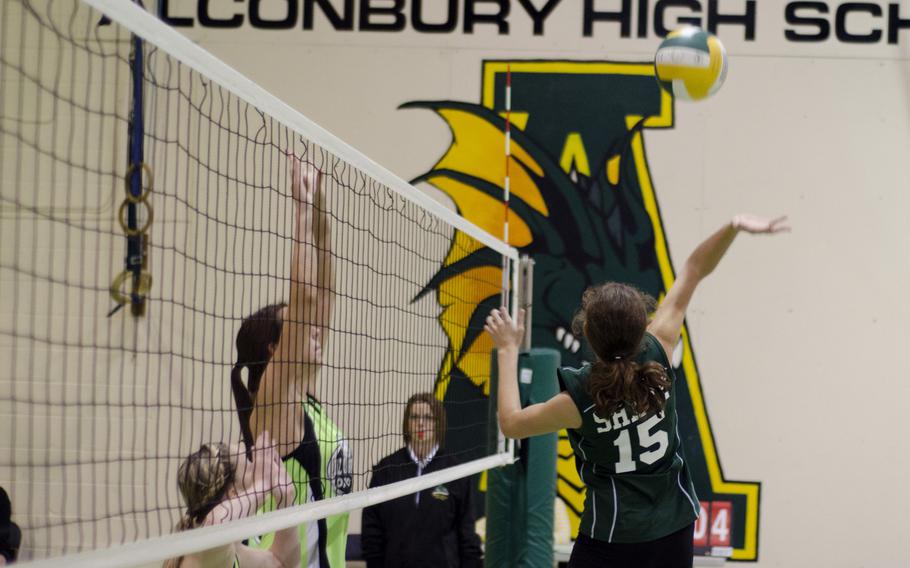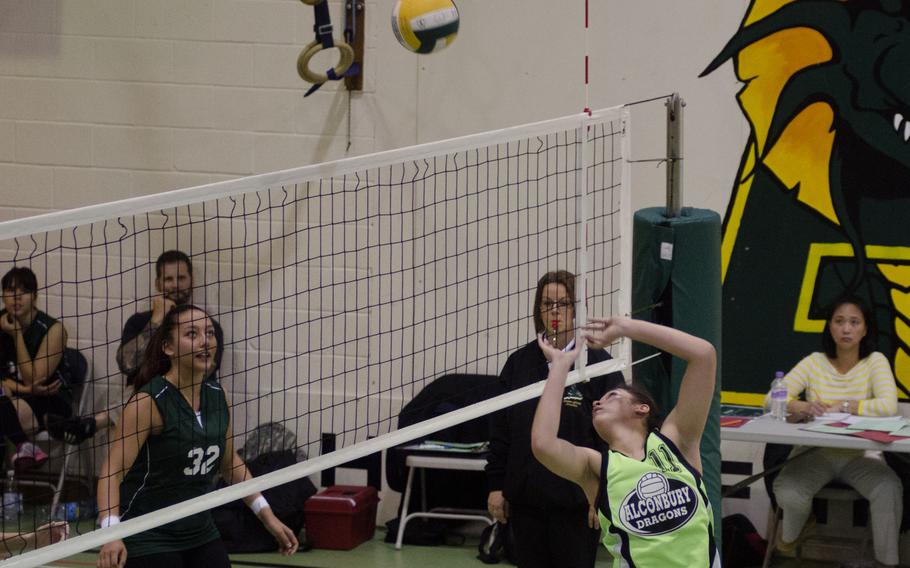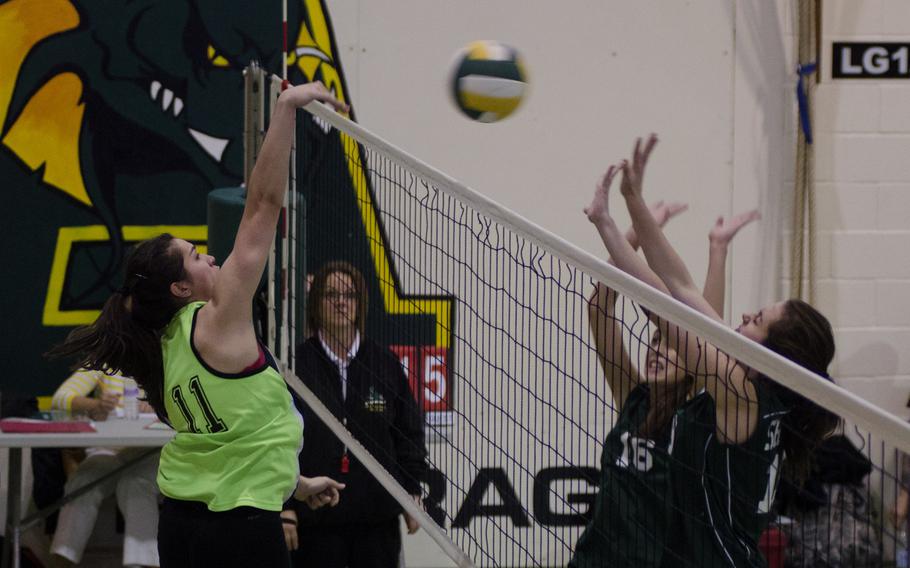 This report has been corrected.
RAF ALCONBURY, England – Alconbury's volleyball team continued a perfect season Saturday by defeating Belgian rival SHAPE 25-7, 25-23, 25-8. The match started poorly for SHAPE, with Alconbury taking an early lead in the first set that the Spartans could never come back from. It wasn't that close, even with strong serving from SHAPE's Maddie Coon. That wasn't the case in the second set. SHAPE, which finished Region I play last year just a game behind the Dragons, seemed to return to its 2012 form in the second set. But Coon was injured and the match paused while she was tended to by medical personal. SHAPE coach Jerry Prestridge said that rattled his team, who he described as a close group. "It's hard to backfill someone who's got a wicked serve like that," Prestridge said. "Plus, it affects the team a little bit because all these girls are real good friends." Prestridge also said his team was missing players out taking the SAT. "We just couldn't generate as many … attacks as (Alconbury) did," he said. "I thought we passed the ball, really, really well 90 percent of the time … I thought we controlled the net with our middles," said Tom Kelly, coach for Alconbury. "We played good defense." The Dragons are off to a 5-0 start, tied with Lakenheath atop the Region I standings. The two teams are set to meet Oct. 19 and Oct. 26. With only one win so far this season, and a lot of starters gone from last year, the Spartans are far from their 7-6 finish in the 2012 regional standings. But their coach is hopeful. "We still have a chance to get back up to that center (of the regional standings)," Prestridge said.mathis.adam@stripes.com
CorrectionLeila Hall's name was incorrectly reported in a photo caption.