DODEA-Europe volleyball
Day 1 sees action ranging from romps to upsets
---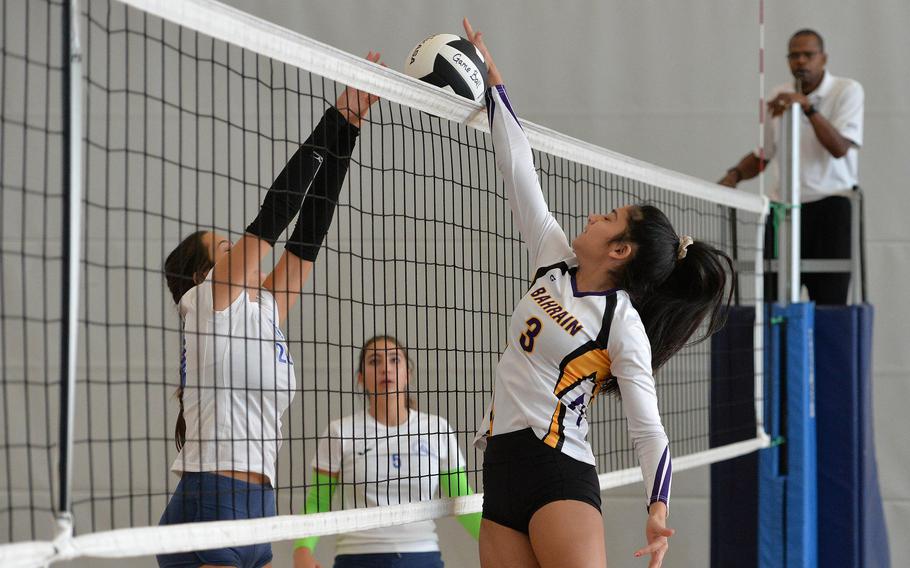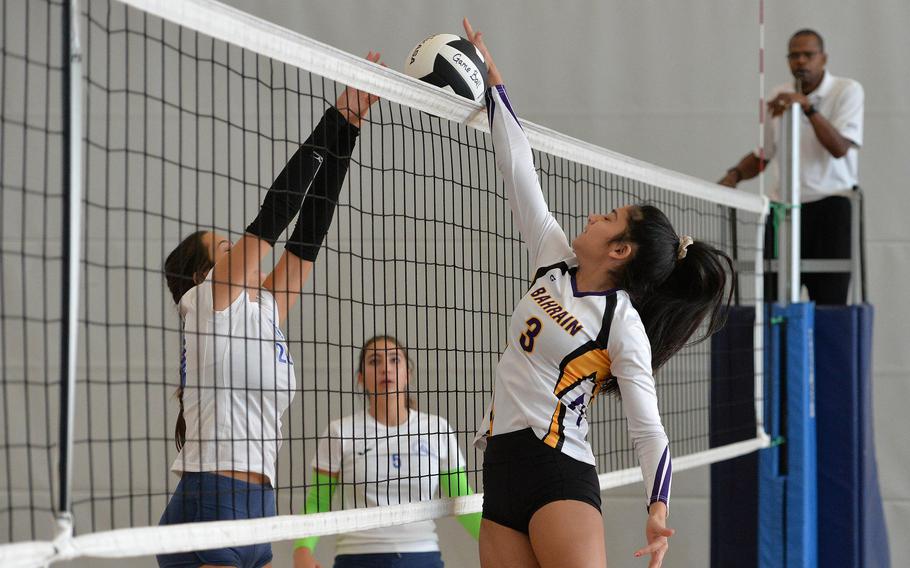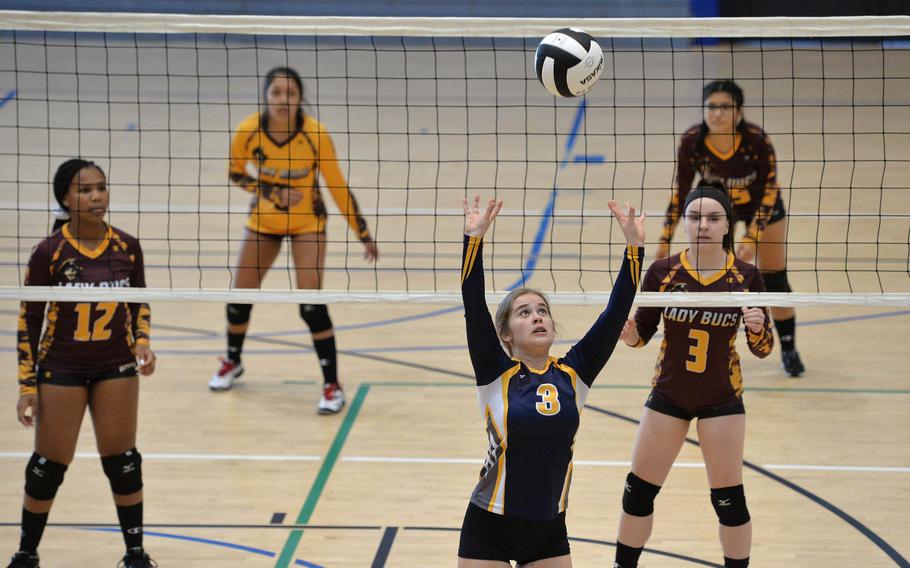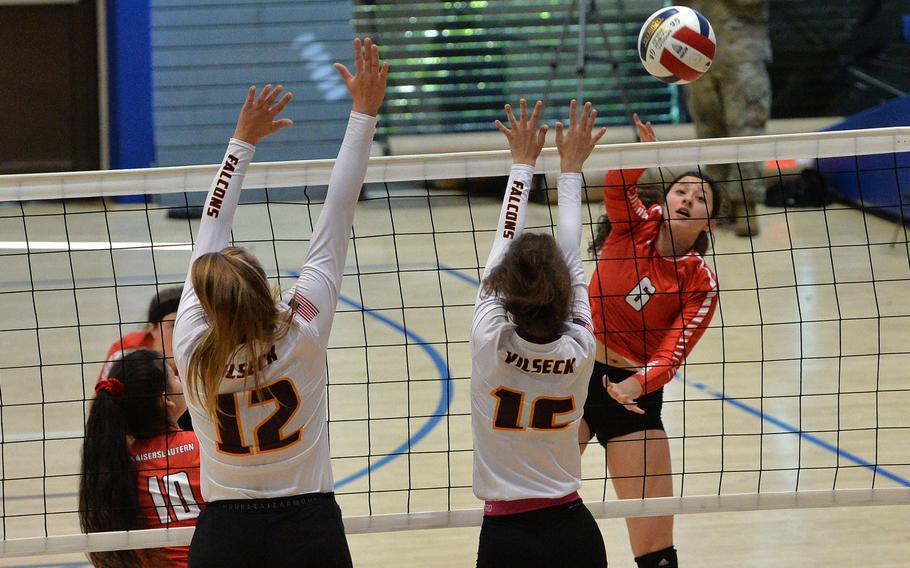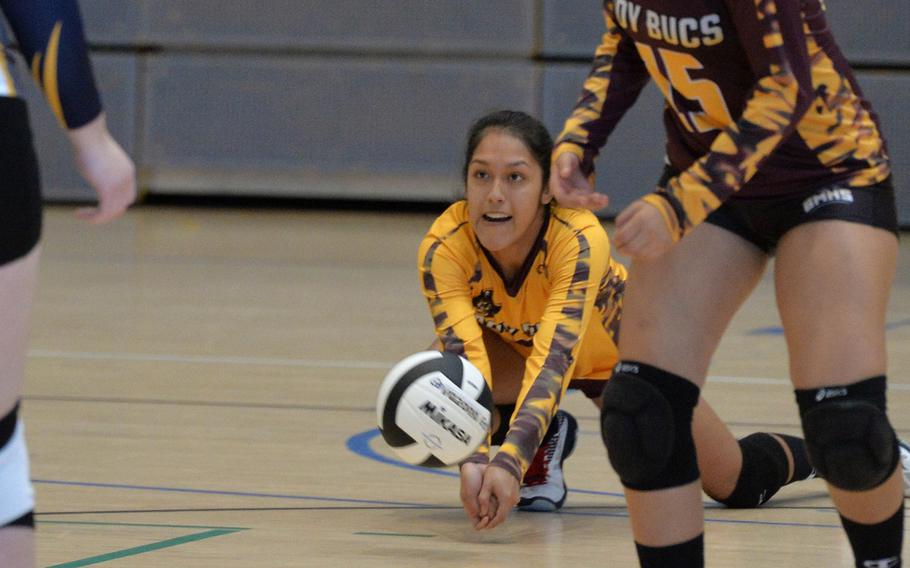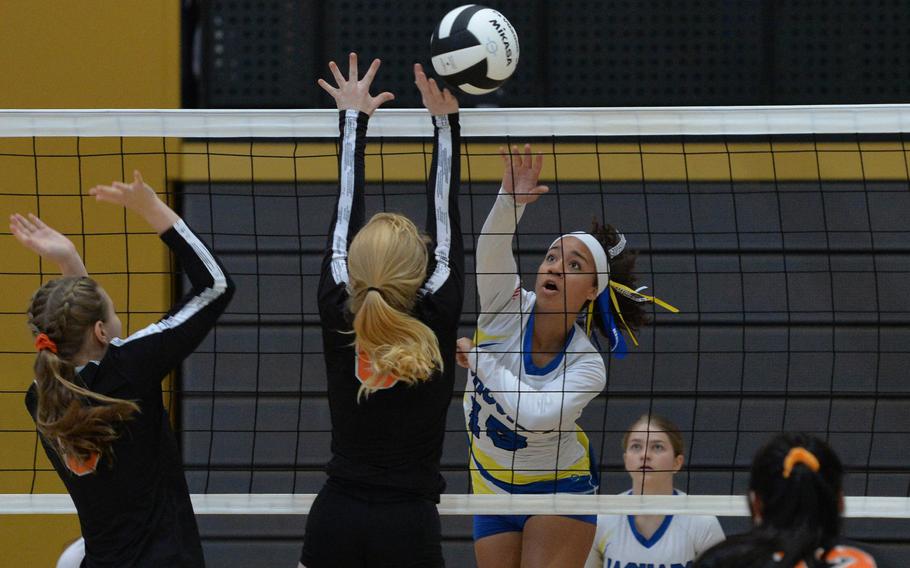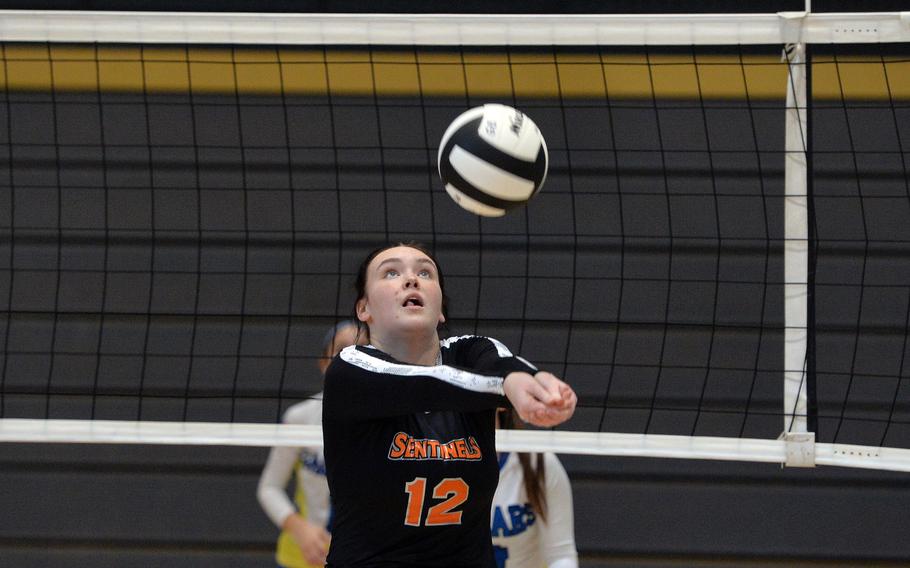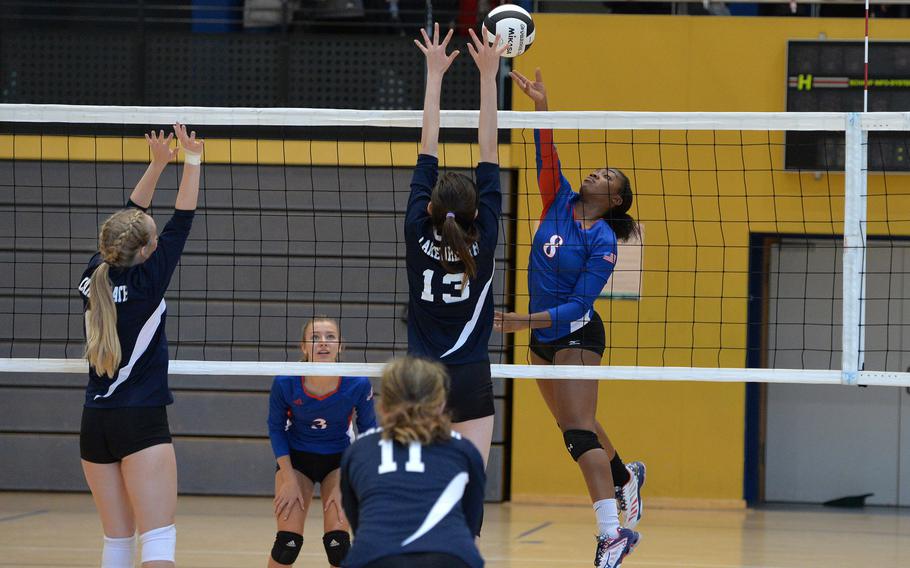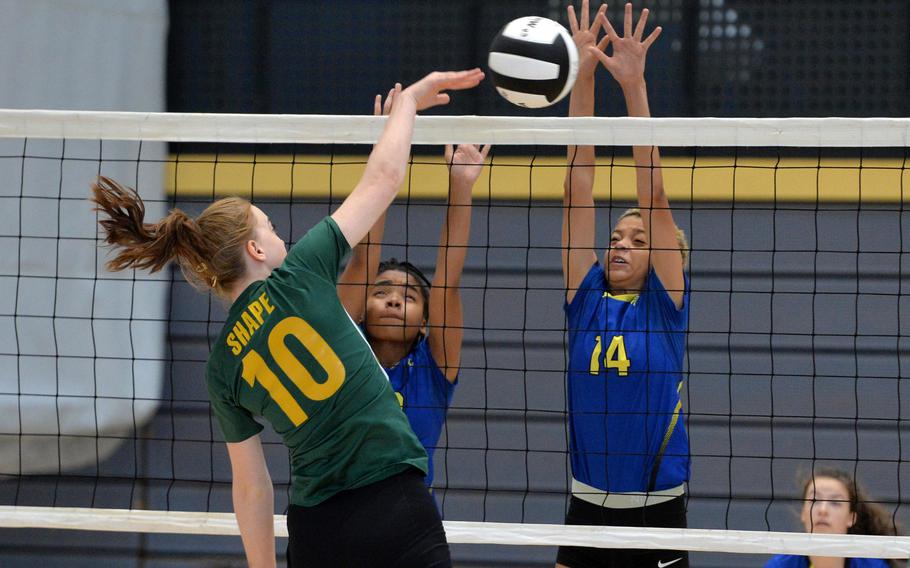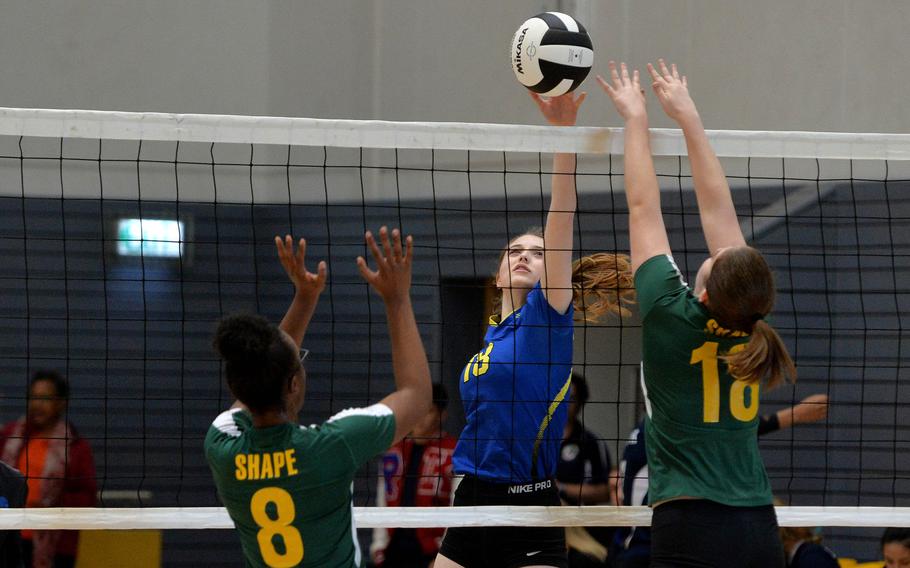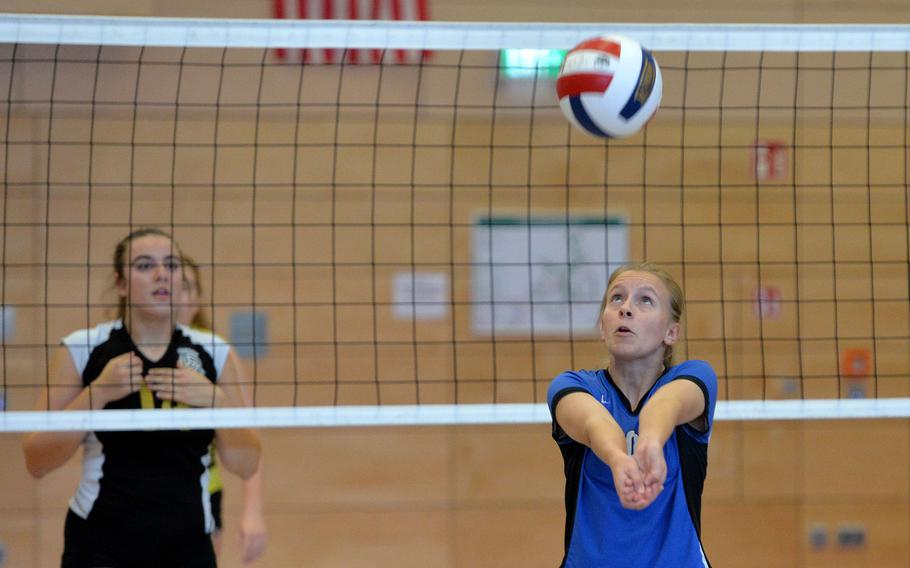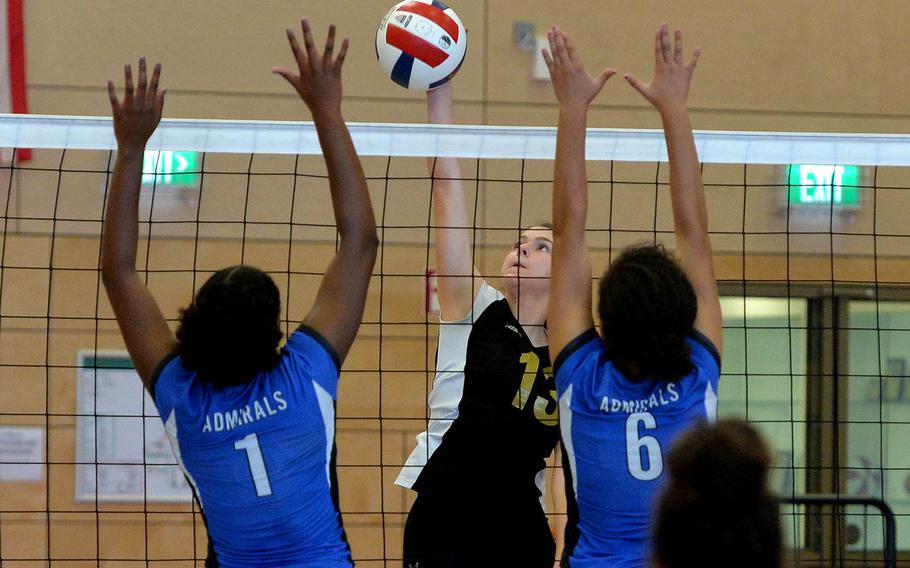 Two dozen volleyball teams took to area courts Thursday in the Kaiserslautern Military Community as the 2019 DODEA-Europe girls volleyball championships began a three-day run.
The eight-team Division I bracket and nine-team Division III bracket will wrap up pool play Friday morning to determine matchups for the semifinals later that same day. The seven Division II teams will play six best-of-three matches over the tournament's first two days; the top two finishers will advance straight to Saturday's final.
Division IWith so many teams looking to beat you at the European tournament, it's important not to beat yourself.
The Wiesbaden Warriors did just that Thursday morning with a precise service game that put the pressure on opponents to work for every point they got. The third-seeded Warriors didn't miss a serve in the first set of their convincing 25-12, 25-15, 15-7 sweep of the SHAPE Spartans.
Wiesbaden senior Emily Young said that consistent service is a point of emphasis for the team as it pursues its goal of a berth in Friday afternoon's semifinals.
"Whenever you serve, you get momentum," Young said. "And if you lose a serve it's hard to pick the momentum back up."
Ramstein stalled the Warriors' momentum later Thursday with a 25-17, 25-20, 11-15 victory, the Royals' second in as many opening-day matches. The loss raised the stakes for Wiesbaden's preliminary finale against Lakenheath on Friday morning. Ramstein can complete a perfect run through pool play with a defeat of SHAPE on Friday.
In the opposite pool, the Vilseck Falcons claimed victory in a key preliminary matchup with the Kaiserslautern Raiders. The fifth-seeded Falcons claimed an edge in the pool with a 25-22, 25-13, 15-12 sweep of the fourth-seeded Raiders. Vilseck will take on top-seeded defending champion Stuttgart on Friday in the pool-play finale for both teams.
Division IIIt took some time for the Aviano Saints to get going Thursday morning. But once they did, they didn't stop.
Aviano won all three of its first-day matches, perfectly navigating the first half of a grueling preliminary schedule. Jasmine Vasquez totaled 45 assists across the Saints' three first-day victories.
Aviano has a solid chance to be one of those two. Senior Danielle Kandle said her squad came out sluggish after a long day of travel followed by an early 8 a.m. start time for their Thursday opener. But after splitting the opening two sets, the Saints pushed through with a dominant final set to beat Bahrain 25-16, 25-27, 15-1.
"Today it took a while for us, definitely. The adrenaline didn't really snap immediately," Kandle said.
But the pressure of a decisive third set stoked the Saints' competitive fire.
"That's when the adrenaline kicked in and we just...basically blew them out of the water," Kandle said.
Elsewhere in the pool, Vicenza and Naples went the distance in a 25-27, 25-22, 15-10 win for Vicenza. A summer divisional realignment sent the Cougars and Wildcats back to Division II this year after five years at the Division I level.
Division IIIThe reigning champion Sigonella Jaguars wasted no time reasserting their dominance Thursday, handing the top-seeded Spangdahlem Sentinels their first loss of the season in a 25-18, 25-21, 10-15 decision.
Sigonella entered the tournament a middling fourth seed in the nine-team bracket, a function of its limited divisional body of work compared to higher-seeded squads Spangdahlem, Brussels and Hohenfels. The defending champions used that as motivation to prove themselves all over again; co-captain Averi Chandler said the Jaguars were "super excited" to see their top challenger scheduled for their first tournament game and were ready to "come in fighting" against the Sentinels.
With that task complete, the next challenge for the Jaguars is to maintain that level of intensity throughout pool play and into the elimination round.
"I think we play all points like it's going to be the last game," Kylee Fall said. "We all try to energize each other and bounce off each other's energy."
Second-seeded Brussels and third-seeded Hohenfels dominated the opposite pool Thursday ahead of their head-to-head meeting Friday morning.
broome.gregory@stripes.com Twitter: @broomestripes
---
---
---
---