DODEA-Europe girls hoops
D-I girls favorites all advance to semifinals
by
Gregory Broome
February 20, 2020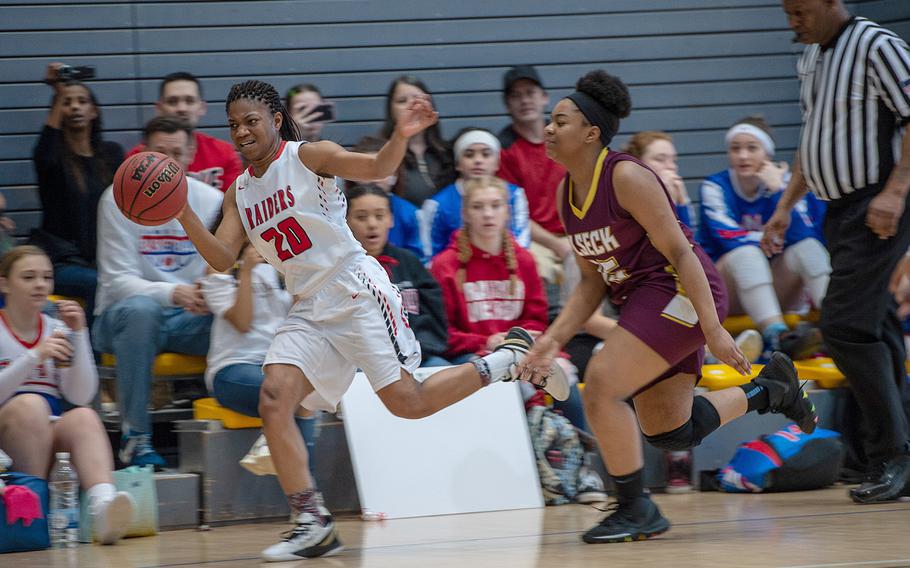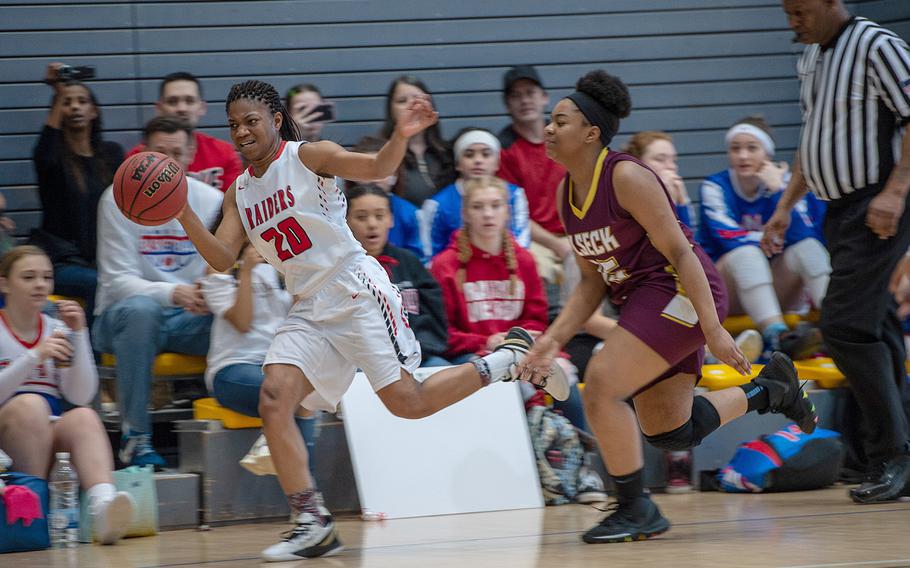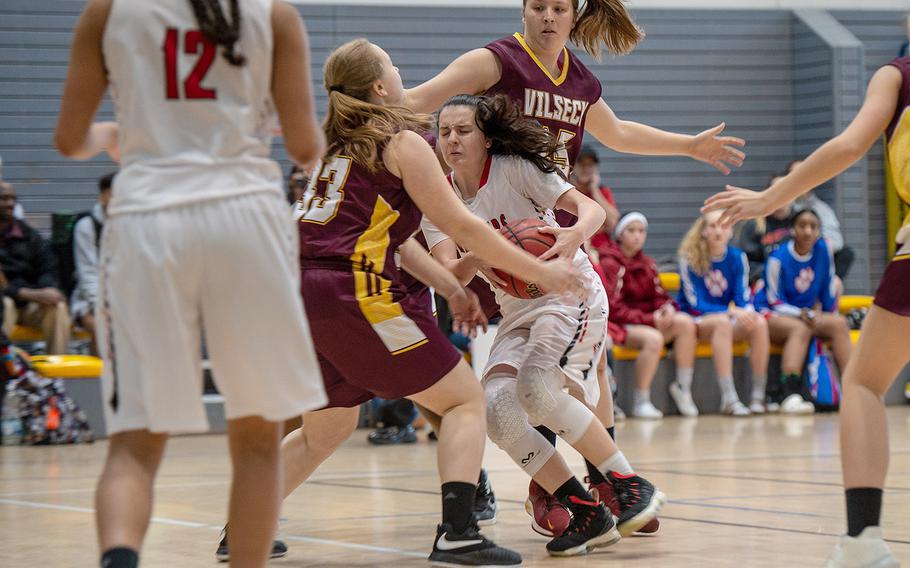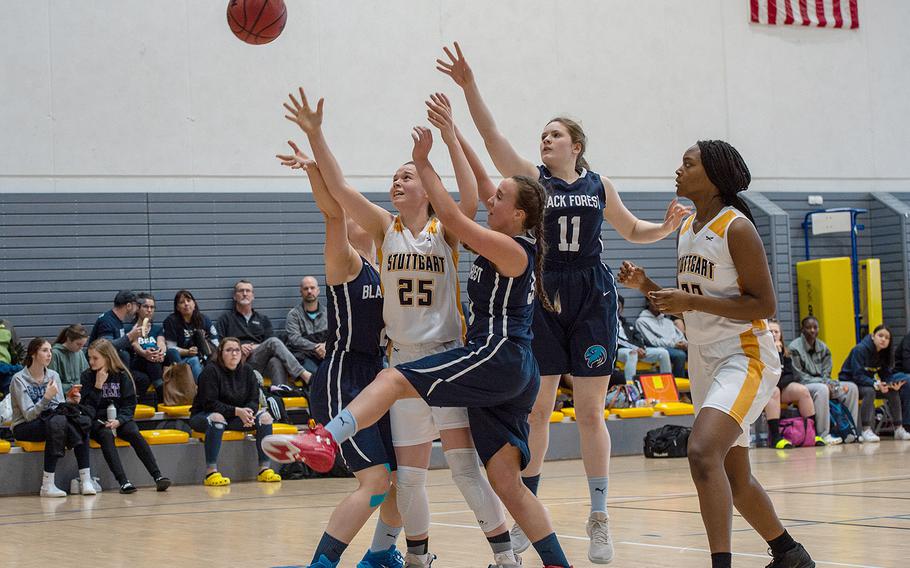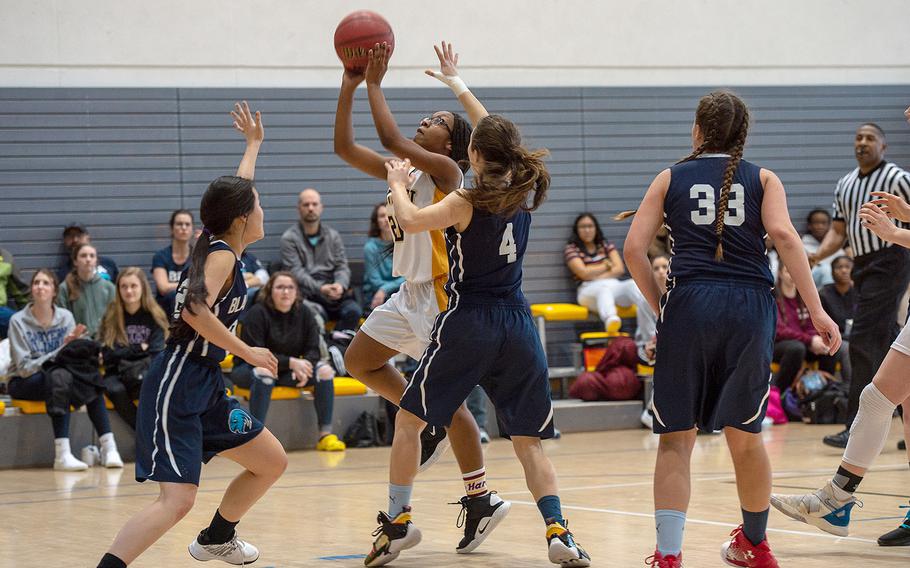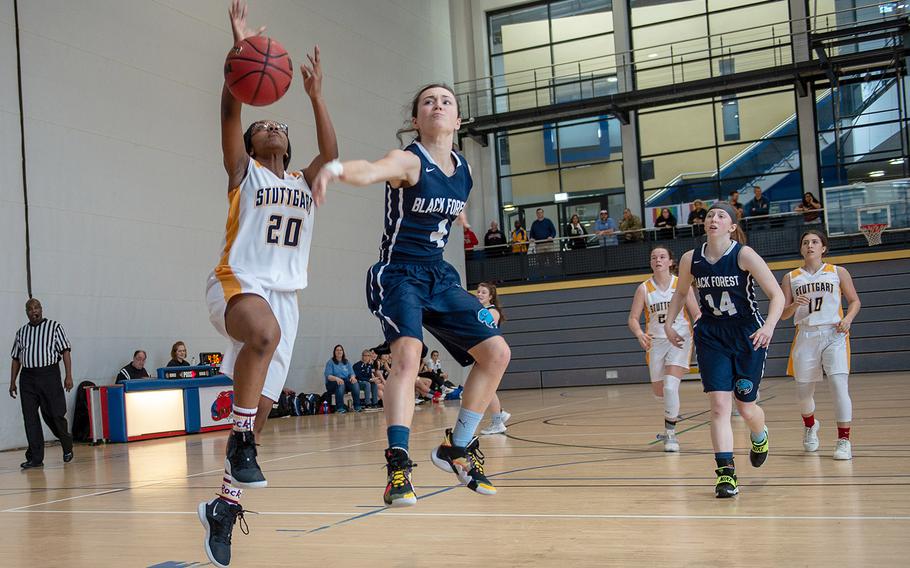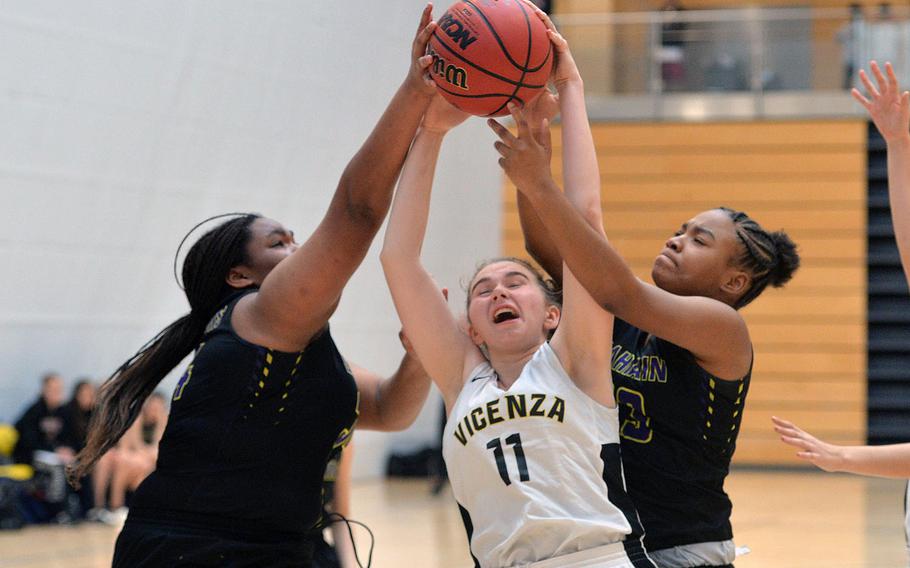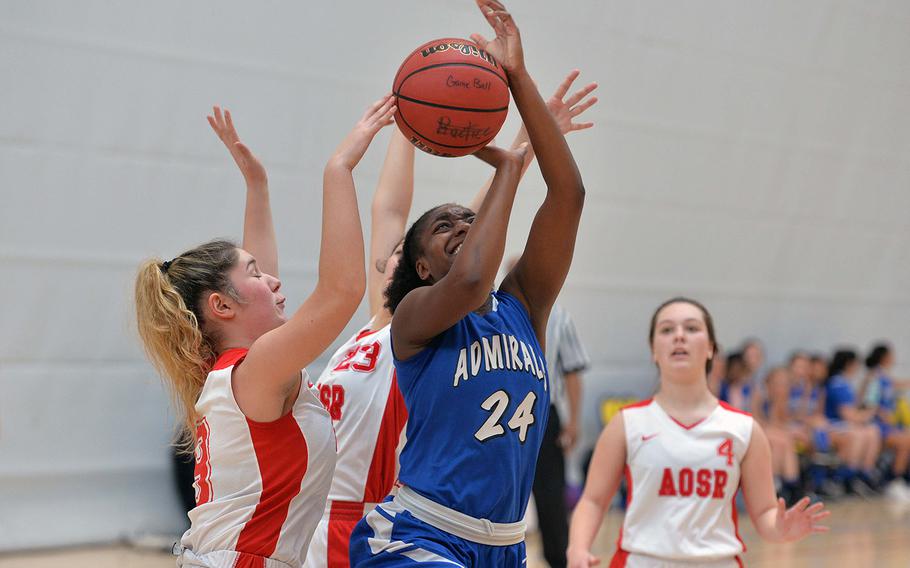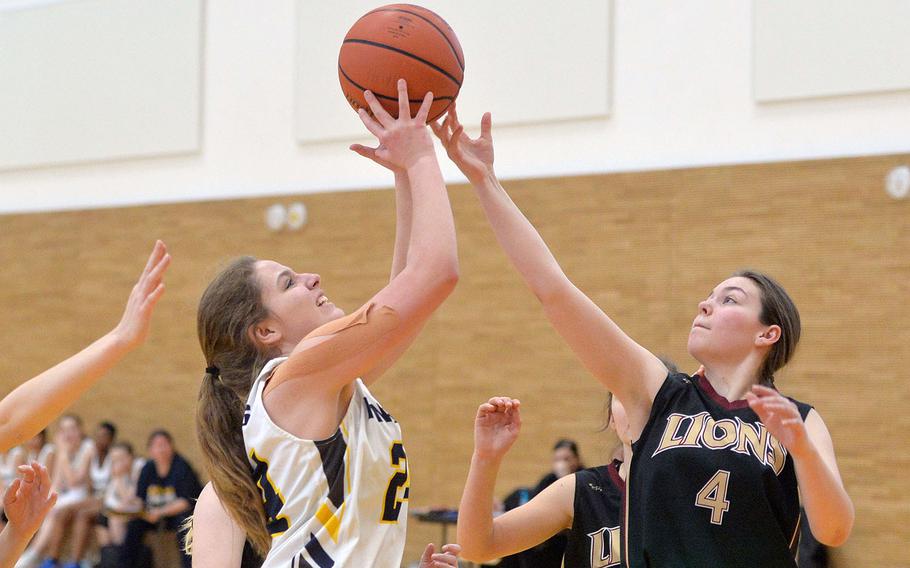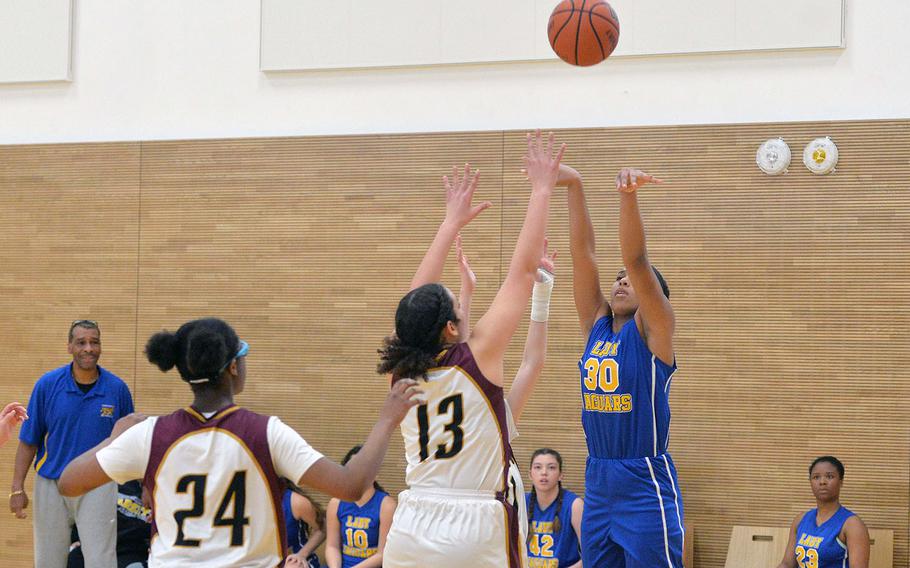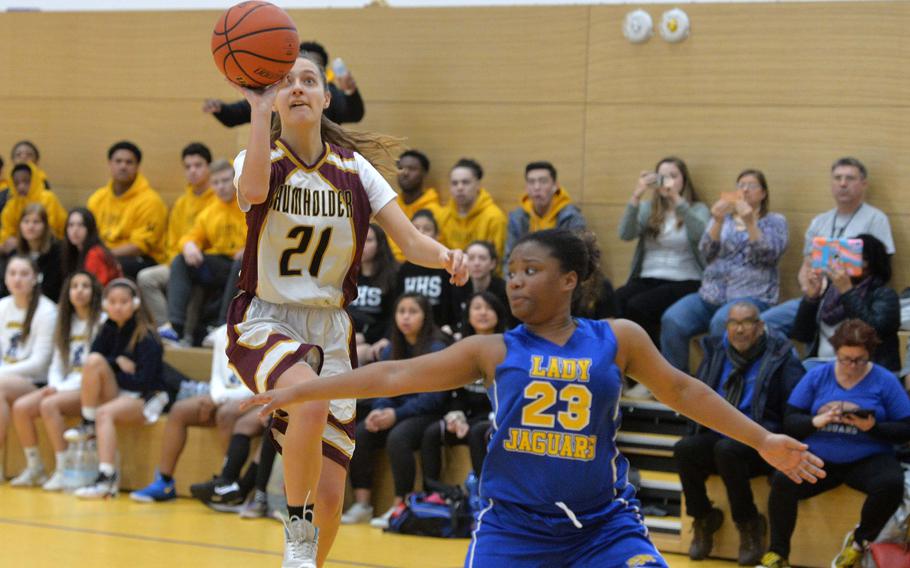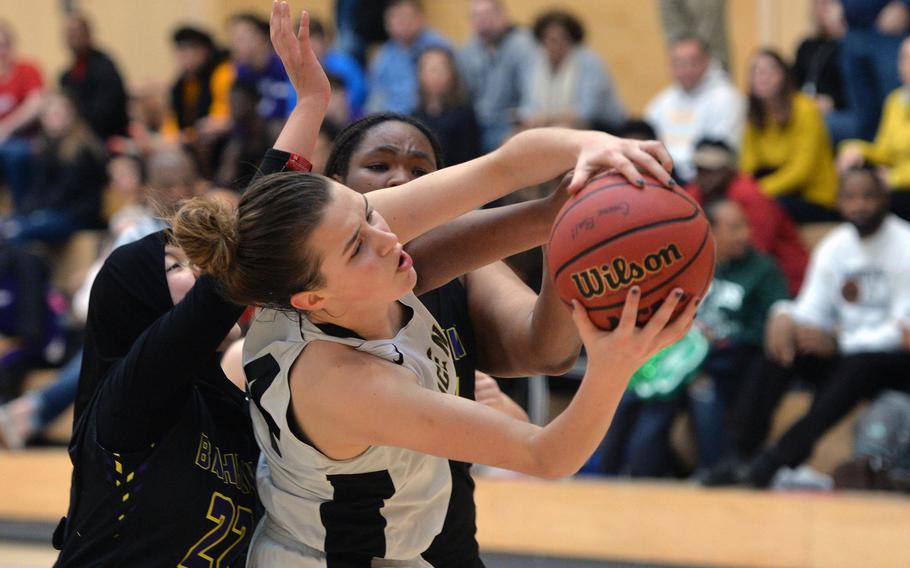 The top four teams in Division I claimed their places in the elimination round Thursday to set up a pair of DODEA-Europe girls basketball semifinals Friday.
Reigning dynasty and top seed Stuttgart will face fourth seed Kaiserslautern, while No. 2 Ramstein takes on No. 3 SHAPE in the opposite semifinal.
Seventh-seeded defending Division III champion Sigonella, meanwhile, played its way into the elimination round and a semifinal matchup with top-seeded Spangdahlem. Hohenfels faces AFNORTH in the other Friday semifinal.
Division II, meanwhile, has one more day of round-robin play on deck Friday to determine the two finalists for Saturday's European title game.
Division IStuttgart 43, Black Forest 10: The wait continues for challengers looking for signs of vulnerability from the three-time defending Division I champions.
The Panthers handled a third and final preliminary opponent with ease on Thursday, playing their reserves for extended stretches of another blowout victory. Stuttgart won its three pool-play games by a combined margin of 93 points.
Those games weren't the only ones decided by double-digits in a Division I tournament thus far defined by blowouts. Wednesday's first two preliminary games were decided by a total of six points, but all 10 of the games since featured at least a nine-point margin of victory.
Ramstein 43, Lakenheath 25: The Royals are ready to leave the lopsided preliminary round behind them and get to the business of playing for a championship.
That was the sentiment expressed by Ramstein junior forward Alayna Potter after her team's "kind of messy" defeat of the eighth-seeded Lancers.
"We just didn't play up to our potential. I think we have the capability to do really well," said Potter, who scored six of her seven points in the third quarter. "Now we've just got to look forward."
What's ahead is a semifinal against SHAPE and a rematch of a close 37-32 Royal win on Dec. 7, the opening weekend of the regular season.
SHAPE 44, Wiesbaden 34: The Spartans used an 11-0 first half run to separate themselves from the Warriors.
Third-seeded SHAPE completed a sweep of its three preliminary games to earn the pool's top semifinal berth.
The Spartans ran into occasional trouble Thursday with the frenzied full-court pressure applied by the Warriors. But senior point guard Gabi Shultz kept the SHAPE offense squared away with steady ball-handling and a game-high 17 points.
Kaiserslautern 38, Vilseck 14: The Raiders stormed into the elimination round with a runaway defeat of the sixth-seeded Falcons.
Kaiserslautern deployed a balanced offensive attack to extend its season. Three players - Audrey Elisondo, Rebecca Moon and Azora Williams - scored nine points apiece, while Maya Henderson added seven.
The Raiders' reward is a date with Stuttgart, which handed Kaiserslautern 57-33 and 41-28 losses in January.
Division IINaples 45, Aviano 31: The Wildcats took control of the round-robin tournament by handing the Saints their first loss of the winter.
Naples, which also beat Bahrain 45-22 on Thursday, enters the final day of preliminary play at 4-0 and with the inside track on a spot in Saturday's championship game. The Wildcats face seventh-seeded Rota and fourth-seeded AOSR on Friday.
Aviano remains in good shape despite the loss. The Saints wrap up round-robin play against AOSR and third seed Vicenza on Friday; the matchup with Vicenza, also at 3-1 on the tournament, looms as a potential play-in game.
Division IIISigonella 27, Baumholder 26: The Jaguars roared back from a huge deficit to extend their season.
Reigning champion Sigonella struggled through a trying regular season as they carried on without much of the talent responsible for last year's title.
But the team has responded to the rigors of the postseason, adding its Thursday comeback to Wednesday's 2-0 showing and earning a return trip to the elimination round.
Despite Sigonella's resurgence, Spangdahlem and AFNORTH remain the heavy favorites in Friday's semifinal round. Top-seeded Spangdahlem won its three pool-play games by a combined score of 120-25. AFNORTH knocked off Sigonella 29-23 late Thursday to complete its unbeaten preliminary run.broome.gregory@stripes.com Twitter: @broomestripes