Girls basketball roundup
D-I favorites advance while BFA joined by underdogs in D-II
---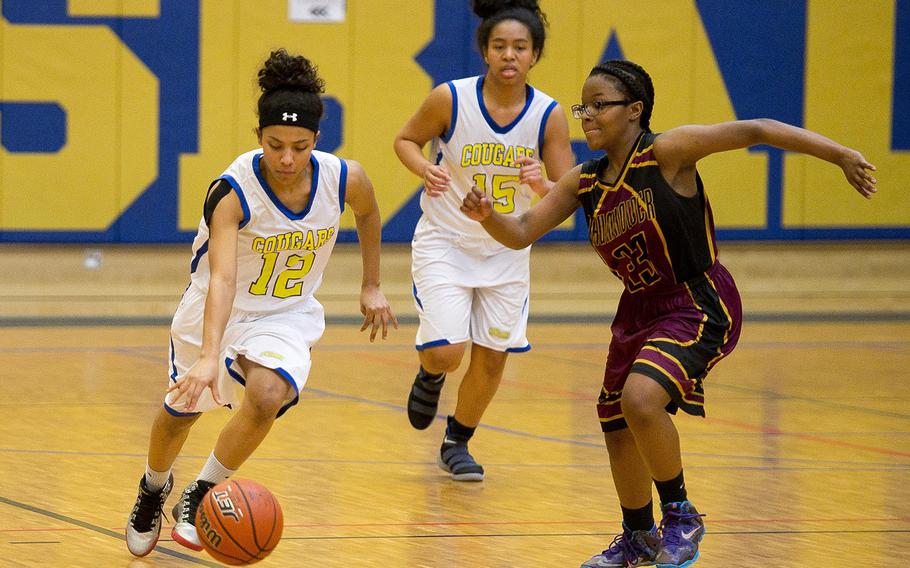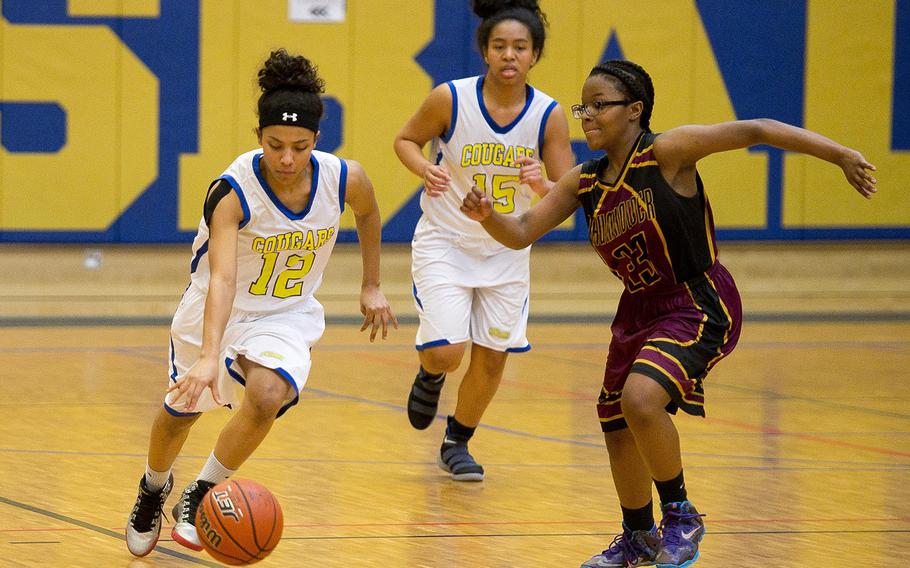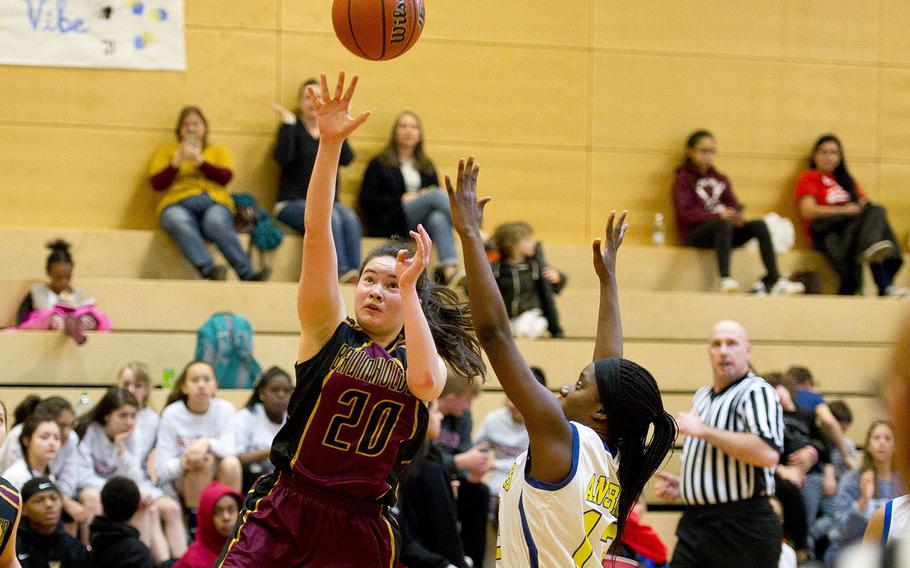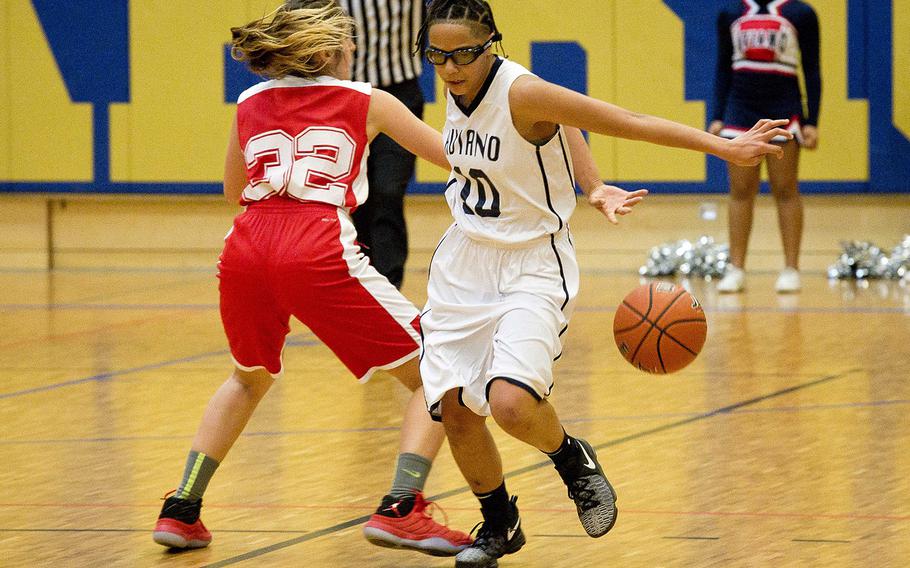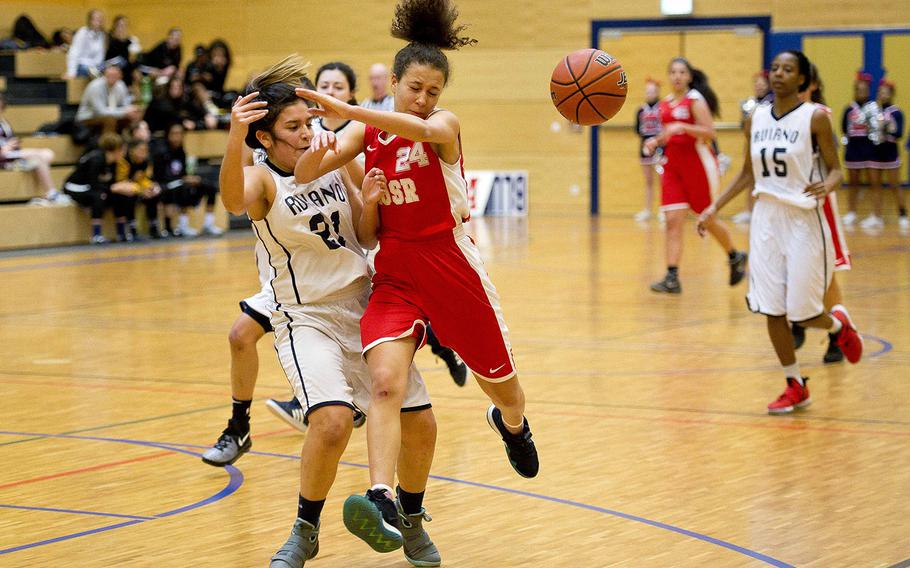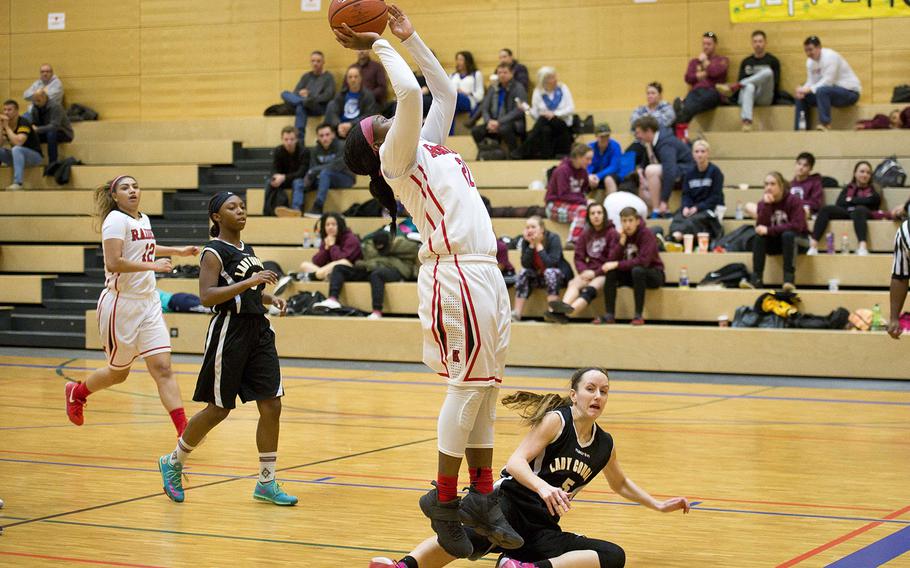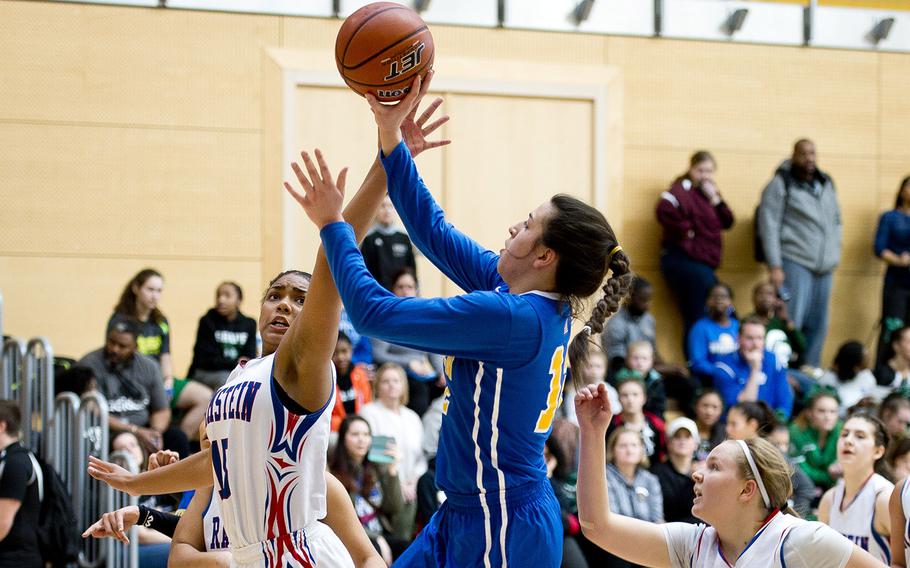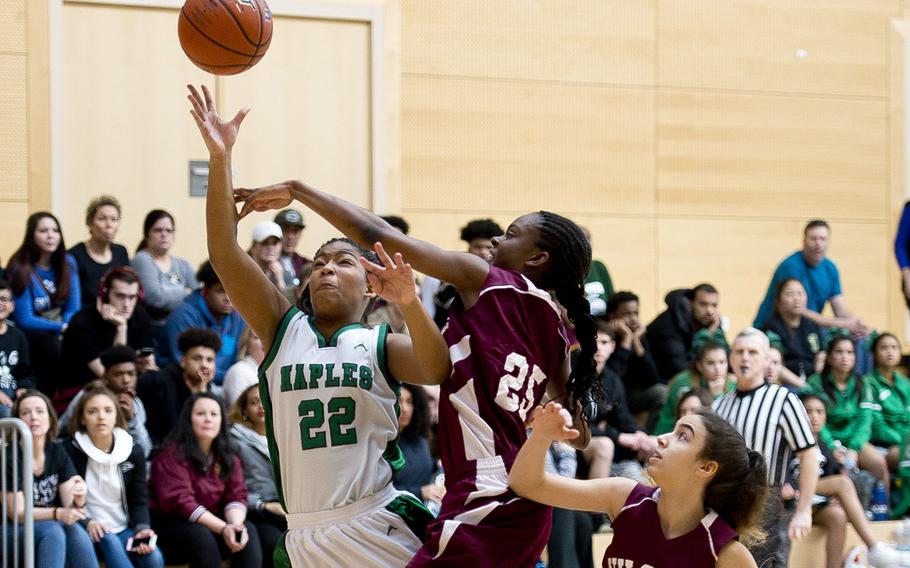 Two days of tumult in the DODEA-Europe girls basketball championship tournament gave way to the stark clarity of the elimination round Thursday.
Four Division I semifinalists and four Division II semifinalists broke free of their preliminary brackets and moved to within two victories of a coveted European title.
Defending European champion Stuttgart will take on Vilseck in one Division I semifinal, while tournament top seed Naples faces 2017 runner-up Ramstein in the other. In Division II, reigning champion Black Forest Academy will face Bahrain and Spangdahlem will take on Marymount.
The semifinals run throughout Friday at Clay Kaserne Fitness Center, producing finalists for Saturday's slate of six championship games starting at noon at Clay.
While Division I and II are down to their respective final fours, preliminary play is ongoing in Division III. A final day of round-robin play Friday will send the top two finishers among the bracket's six teams straight into Saturday's title game.
Division INaples 28, Vilseck 18: The top-seeded Wildcats shook off their first loss of the winter with a defeat of the gritty fifth-seeded Falcons.
Jada Williamson scored nine of her 11 points in the second half to lead the Wildcats to victory. The bounce-back win came after some self-reflection in the wake of Wednesday's upset loss to Kaiserslautern.
"We knew that we messed up a little bit (Wednesday)," Williamson said. "But we had a little team meeting, we made sure that we kept our heads up."
The Wildcats remained resilient Thursday even as the Falcons made a game of it. Another tweak to its approach set the No. 1 seed straight.
"At the beginning, it was a lot of 'I need to do this, I need to do that,'" Williamson said. "But after the first quarter we realized it's a team thing."
Falcons advance anyway: Despite its loss, Vilseck advanced to the semifinals on the strength of two Wednesday wins and favorable tiebreaker math.
Naples, Vilseck and Kaiserslautern finished tied at 2-1, triggering a three-way tiebreaker process that considered point differential in games among the three tied teams, with a maximum margin of victory of 13 points.
Fourth-seeded Kaiserslautern was the odd team out of that process as the only team among the three with a negative point differential, and will sit out the semifinals despite its rousing upset of Naples on Wednesday. The Raiders went down swinging, however, with a 56-17 demolition of Vicenza.
Ramstein, Stuttgart back in the mix: The third-seeded Ramstein Royals secured their semifinal spot early with a 26-12 victory over Wiesbaden.
That outcome rendered their afternoon clash with the rival Stuttgart Panthers, a rematch of Stuttgart's blowout win in last year's title game, largely anticlimactic.
That was true at least from Ramstein's perspective. But the third-seeded Panthers still had business to handle, and did so with a 26-14 win over the Royals that punched their ticket back to the elimination round. A 41-37 defeat of Lakenheath late Thursday kept the Panthers perfect in the playoffs.
Division IIBlack Forest 46, Marymount 7: The Falcons continued their reign of preliminary terror by throttling the Royals.
BFA wasn't even remotely challenged in pool play. The Falcons cruised to a 50-14 win over Aviano and a 49-10 defeat of American Overseas School of Rome before dismantling the Royals.
BFA's only Thursday game was over by early afternoon, allowing the Falcons to sit securely in the semifinals while the rest of Division II scrapped for the chance to join them.
Tiebreaker points favor Marymount: The fifth-seeded Royals limped away from BFA's path of destruction to claim the pool's second semifinal seed.
AOSR did what it could in a 40-24 rout of Aviano on Thursday. But it was Marymount, owners of a 20-12 defeat of AOSR and a narrow 17-16 loss to Aviano, that survived the same tiebreaker process that clinched semifinal spots for Naples and Vilseck in Division I.
Bahrain 40, AFNORTH 20: The sixth-seeded Falcons added another upset to the tournament's most unpredictable pool with a rout of the second-seeded Lions.
Bahrain has been outstanding since opening the tournament with a 28-25 loss to seventh seed Spangdahlem, including a 46-28 rout of third-seeded Rota on Wednesday and Thursday's thumping of the No. 2 seed.
"We fixed what we needed to fix," Bahrain forward Tofunmi Sodeinde said. Sodeinde played a big part in that effort with a dominant presence on the boards and a game-high 17 points.
After its typical regular season without a DODEA-Europe game, Bahrain made sure it extended its winter campaign on Thursday.
"It's exciting," Sodeinde said. "We don't have this type of competition back where we're from."
Spangdahlem moves on: The Sentinels, long a Division II powerhouse under their former identity as the Bitburg Barons, defied their humble seeding and returned to the elimination round.
Spangdahlem had just one early-morning game on its Thursday slate, and made the most of it with a 33-20 defeat of Rota. That win, along with their tournament-opening defeat of Bahrain on Wednesday, held up through a long and eventful day of pool play. The Sentinels' edge in the head-to-head tiebreaker with Bahrain ultimately gave them the more favorable semifinal draw against Marymount as opposed to a dreaded date with BFA.
Appropriately enough, the topsy-turvy pool sent its bottom two seeds on to the semifinals in place of its top two seeds. The evening's AFNORTH-Rota matchup, which loomed as a consequential game when brackets were announced, was ultimately moot in terms of determining the pool's two semifinal qualifiers.
Division IIIAnsbach 31, Baumholder 23: The small-school round-robin bracket heated up with all six teams playing twice on Thursday.
The Ansbach Cougars won both of their games after a Wednesday loss to defending champion Sigonella, including a 33-26 morning defeat of Brussels and the afternoon win over the Bucs.
"Today was our day," said Ansbach's Katelynn Patterson, who scored 14 of her 18 points against Baumholder in the second half. "We wanted to focus and get it right."
Work yet remains for the resurgent Cougars, or any other team hopeful of reaching Saturday's final. Ansbach, Brussels, Hohenfels and Sigonella all enter the last day of preliminary play at 2-1, while Baumholder remains mathematically alive at 1-2.
Twitter: @broomestripes
---
---
---
---