Girls basketball roundup
D-I, D-II powerhouses start strongly again
---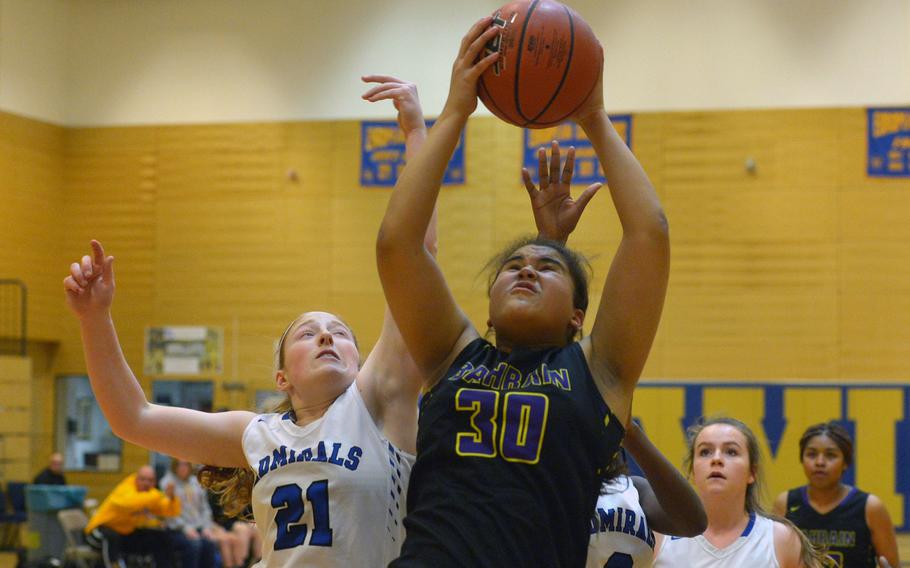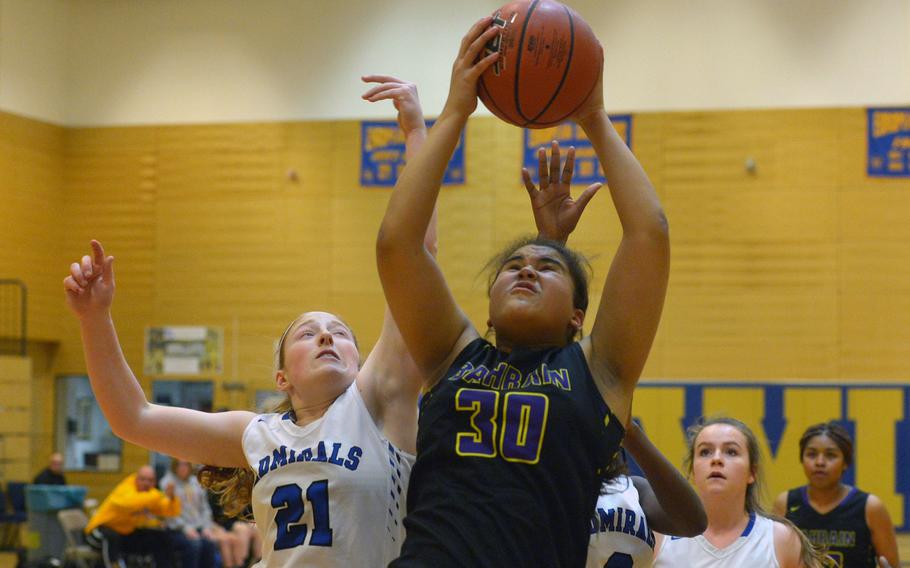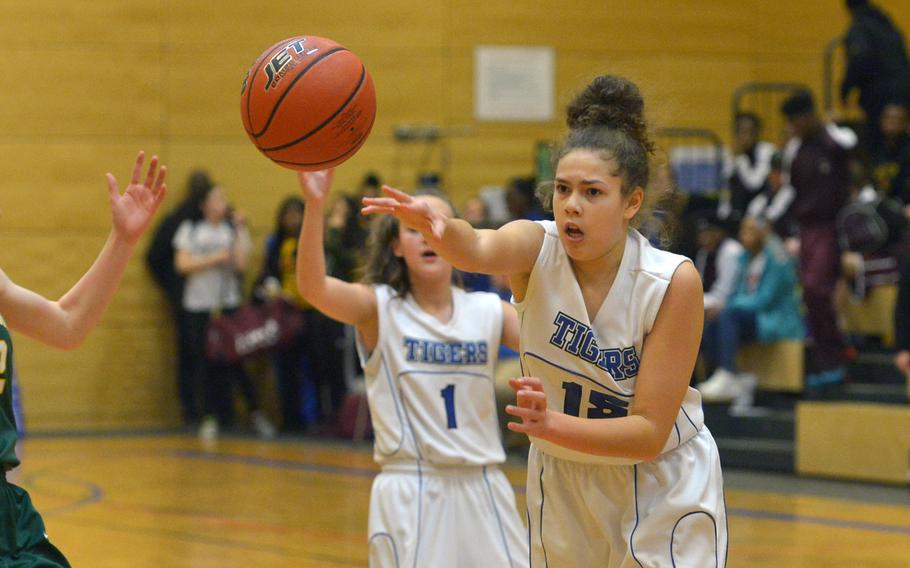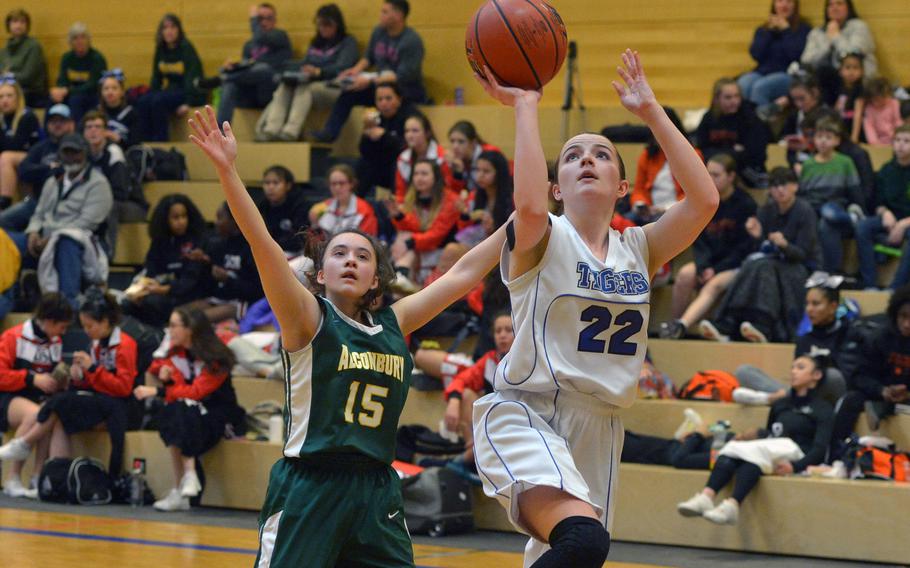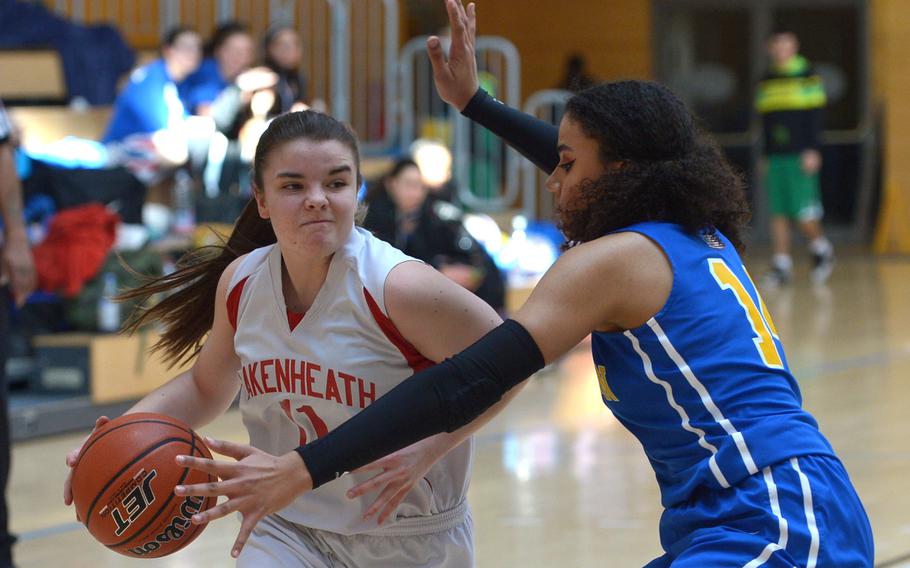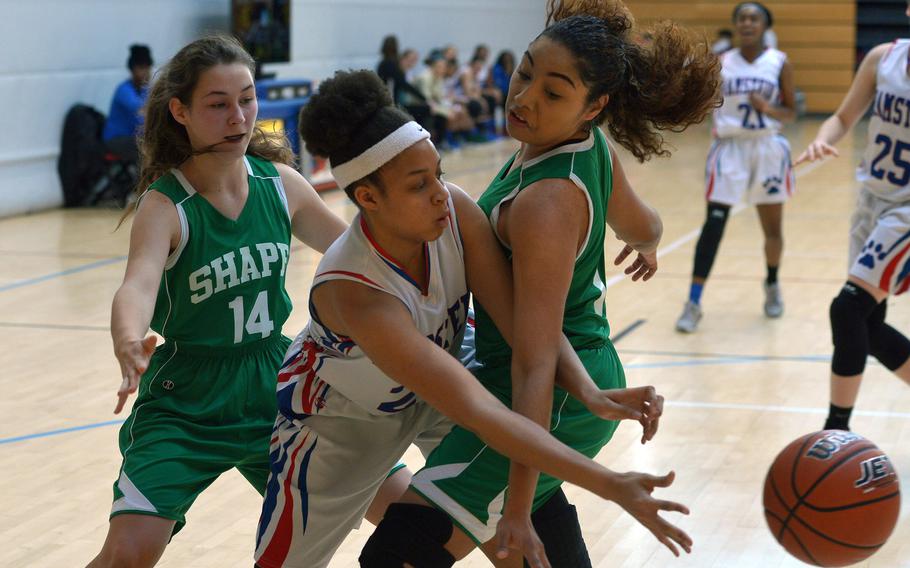 WIESBADEN, Germany -- A few surprising outcomes disrupted the divisional brackets Wednesday as the 2017-18 DODEA-Europe girls basketball championship tournament opened its four-day run.
Division I upstart Vilseck and Division II powerhouse Black Forest Academy were among the teams to earn two valuable opening-day pool-play wins.
The tournament continues with preliminary play in all three divisions Thursday. On Friday, Division I and II will hold its semifinals while Division III completes its three-day round-robin schedule. Three girls champions will be crowned Saturday as part of DODEA-Europe's six-game slate of title games at Clay Kaserne Fitness Center.
Division IReturning finalists fare well: The Stuttgart Panthers and Ramstein Royals took their first steps towards a potential championship-game return on Wednesday. The second-seeded Panthers and third-seeded Royals each handled two lower-seeded opponents to open their tournament runs.
Defending champion Stuttgart produced a 31-19 defeat of SHAPE and a late 38-35 defeat of Wiesbaden. Ally Taylor poured in a game-high 14 points to pace the Panthers against SHAPE.
Ramstein, too, survived the day with a 2-0 record, including a 36-10 rout of SHAPE and a 42-37 defeat of Lakenheath.
The Royals held sixth-seeded Lakenheath to a single point in the first quarter, but the Lancers persevered to make a game of it down the stretch. Reinha Williams contributed five points to the Royals' first-quarter run, then helped seal the deal with seven points in the fourth quarter. The freshman finished with a game-high 14 points.
Williams admitted the Royals were "kind of worried" when the Lancers refused to disappear, but was pleased that the team didn't panic. "We communicated very well," Williams said.
The Panthers and Royals will meet in pool play Thursday afternoon, the latest entry in one of DODEA-Europe's fiercest rivalries. Stuttgart blasted Ramstein 36-8 to win last season's Division I championship, but the teams split two close regular-season games in January of this year.
Vilseck 24, Kaiserslautern 13: The fifth-seeded Falcons used a second-half push to secure a key preliminary win over the fourth-seeded Raiders.
Neither side mustered much offense in a game marked by errant shooting and turnovers of the forced and unforced variety. Both teams remained in single digits on the scoreboard until 30 seconds remained in the third quarter, when Vilseck's Tedeja Marshall drew a foul down low and split a pair of free throws for a 10-9 Falcon lead. A late putback by Kayla Silden gave Vilseck a three-point lead entering the final quarter, and Marshall's three-point play to start the fourth started an onslaught that produced the double-digit final margin.
Though they largely struggled to put the ball in the hoop, the Falcons knew the only way to win would be to keep trying.
"We just knew that we had to put up shots," Silden said. "We all worked together and came through."
Vilseck completed a 2-0 day with a 28-22 defeat of Vicenza.
Top-seeded Naples falls: The Raiders recovered from their uninspiring opener with a 36-32 upset of the bracket's No. 1 seed. The loss was the first of the season for Naples, who earned the top seed after a perfect regular season that included a defeat of defending champion Stuttgart.
The Wildcats opened Wednesday in familiar fashion, blasting regional rival Vicenza 55-29. Jada Williamson and Mia Rawlins each scored 13 points for Naples.
The win gives the Raiders a very manageable path to the semifinals; they'll advance if they beat eighth-seeded Vicenza in their only scheduled game Thursday. Naples will need to beat Vilseck on Thursday to stay alive for a semifinal berth.
Division IISpangdahlem 28, Bahrain 25: The seventh-seeded Sentinels scored seven points in each quarter to secure an opening victory.
Spangdahlem's Emerson Retka chose an opportune time to step up her offensive contributions, leading the Sentinels with nine points. The freshman said she asserted herself on offense in a way she didn't during the regular season.
"I was looking more towards the basket and not just getting caught up in the game," Retka said. "I just saw a lot of lanes to drive and take shots that I just went for."
The Sentinels' win was part of a wild, unpredictable day that left much to still be decided in their pool. Sixth-seeded Bahrain recovered to knock off third-seeded Rota 46-28, while Spangdahlem narrowly missed another upset in a 24-22 loss to second-seeded AFNORTH. A busier slate of pool games Thursday will determine Friday's semifinal participants.
BFA starts strong: Top-seeded defending champion Black Forest Academy ran into absolutely none of the problems some of its fellow favored squads experienced Wednesday. The Falcons blasted eighth seed Aviano 50-14 and fourth seed American Overseas School of Rome 49-10.
Fifth-seeded Marymount avoided the BFA juggernaut on Wednesday and celebrated with a 20-12 defeat of crosstown rival AOSR. But the Royals will see the reigning Falcons to round out pool play Thursday afternoon.
Division IIIHohenfels 39, Alconbury 22: The favored Tigers put away the Dragons with an overwhelming run after halftime.
Billyanna Garland scored nine of her game-high 13 points in a 20-4 third-quarter outburst that blew open a tight, physical game.
The round-robin small-school schedule will ramp up after Wednesday's light three-game opening slate. Six preliminary games are scheduled for each of Thursday and Friday; the teams with the top two records will advance straight to Saturday morning's European championship game.
Twitter: @broomestripes
---
---
---
---