Cougars roll past short-handed Brigands
by
Martin Egnash
September 28, 2019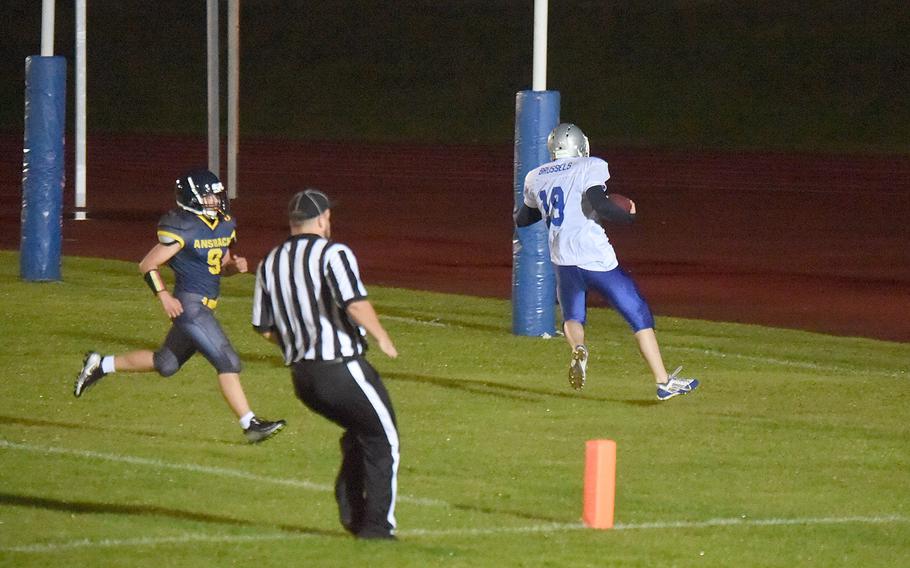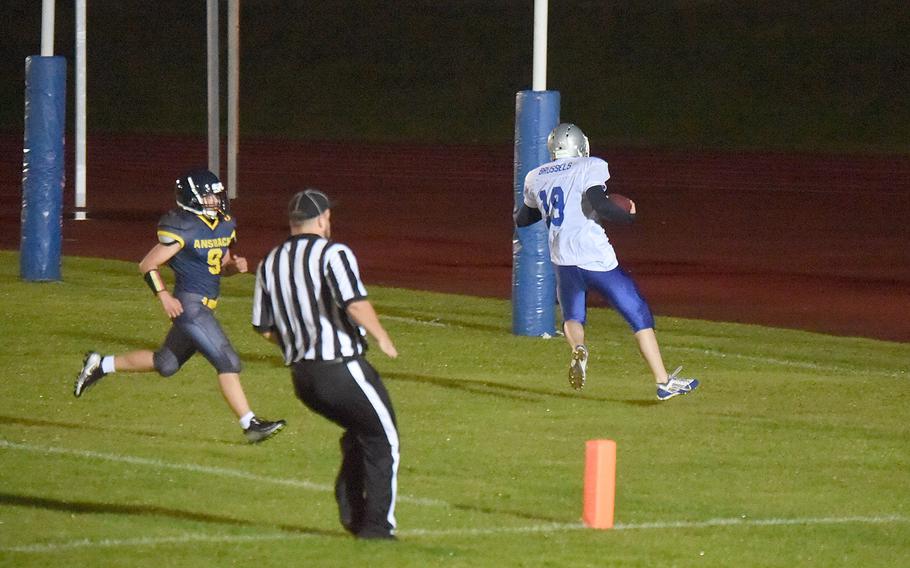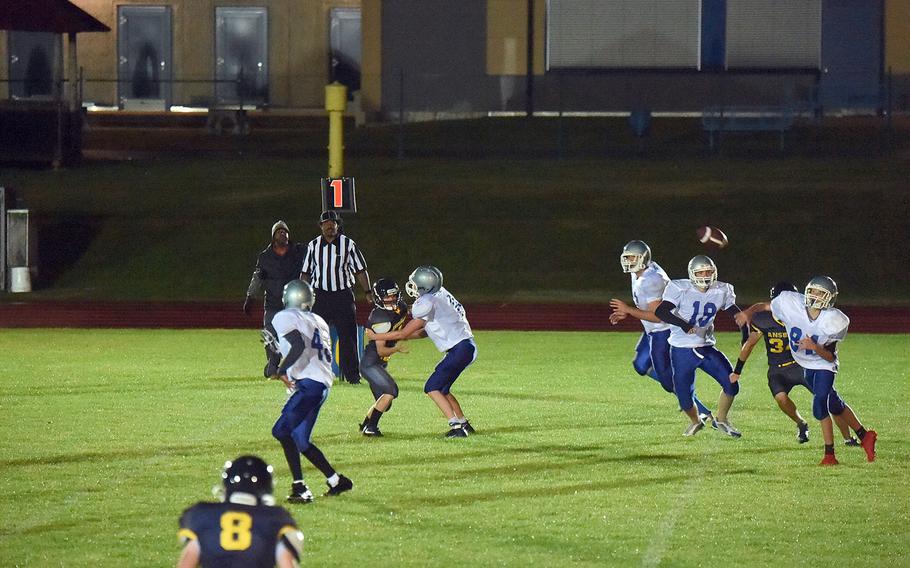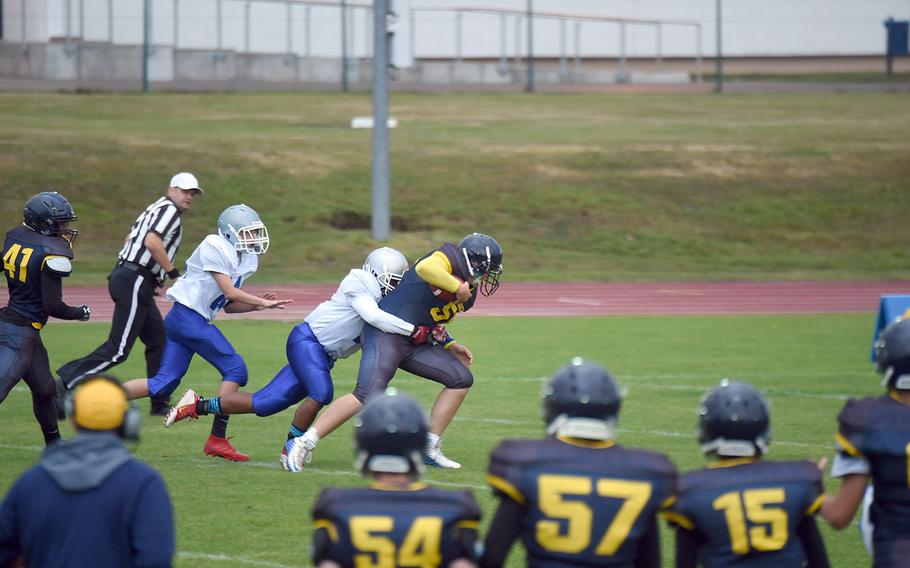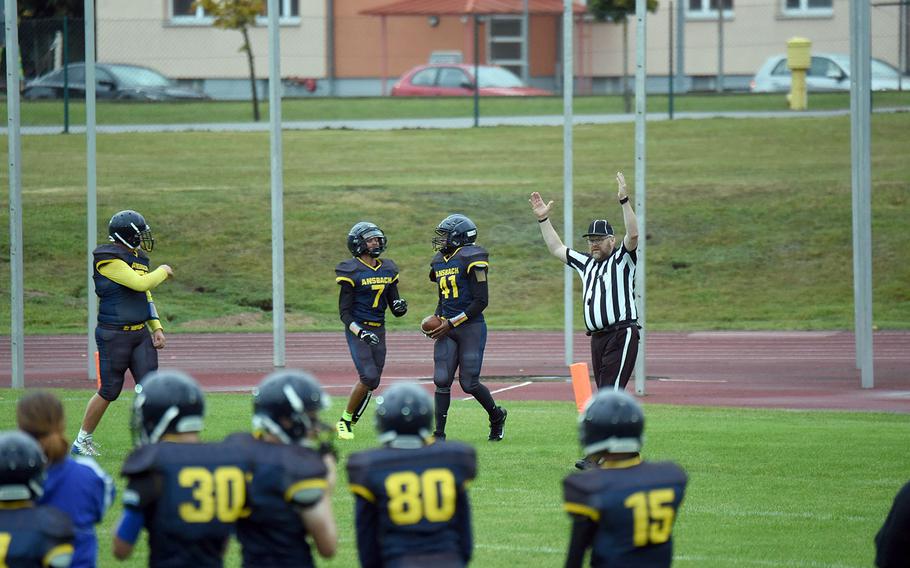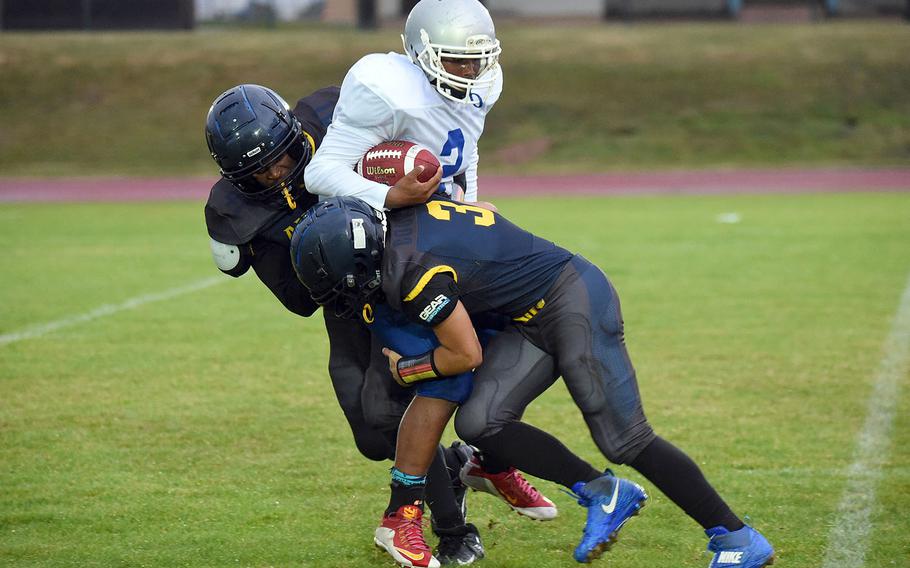 ANSBACH, Germany – Just about everything conspired against the Brussels Brigands on Friday night. Heavy rainfall made carrying the football treacherous. Only nine players suited up. And they were facing the defending Division III champions.
So the result wasn't too surprising. The Ansbach Cougars tore apart the Brigands 55-6 in a six-man division contest.
The Cougars fielded twice as many players as Brussels, allowing more players to catch a breath on the sidelines. And Ansbach looked solid all around, with many players getting time touching the ball and scoring points.
"Tonight is probably the first time that we put four quarters of solid football on the field the whole season," Cougars coach Stephen Choate said. This win seemed to have done wonders for the team's morale as well, following a 58-0 loss to Spangdahlem last weekend.
"It feels great to win after last week," quarterback Dustin Martin said. There were several standout performances.
Running back Devin Jenkins scored two touchdowns in the first quarter, setting up the momentum for the rest of the game.
"Devin is one of the fastest kids in Europe, and he's really starting to figure things out in football," Choate said.
Just before the end of the first quarter, Ansbach's Josiah Jackson ran the ball into the endzone, bringing the score to 21-0.
The next two quarters were more of the same, with Jenkins scoring one more touchdown and fellow Cougar Josiah Quinland reaching the end zone multiple times as well.
By the beginning of the fourth quarter the scoreboard was 47-0 and many fans thought Brussels would call the game. But the Brigands played on.
A touchdown late into the fourth quarter by Ognjen Pavlovic finally brought Brussels up from zero.
Part of Ansbach's success was a solid defense and blocking that allowed their fast runners to spring ahead of the slightly slower Brigands, Choate said.
"Our defense was definitely flawless tonight," Jenkins said.
"We have exceptional speed," Choate said. "Part of our problem has been putting people into the right places. And tonight, everything came together and clicked. We had people blocking at the right places and our speed was great."
Ansbach has a week off before traveling to Hohenfels, while Brussels has two Saturdays off before playing AFNORTH on Oct. 18.
egnash.martin@stripes.com Twitter: @Marty_Stripes