D-III volleyball semifinals
Can Brussels stop the Sigonella title machine?
by
Gregory Broome
November 2, 2018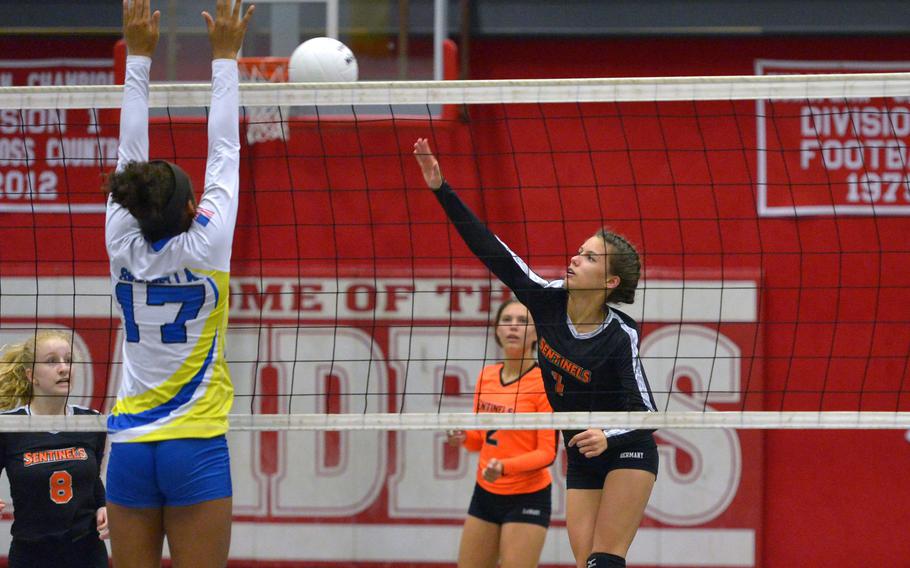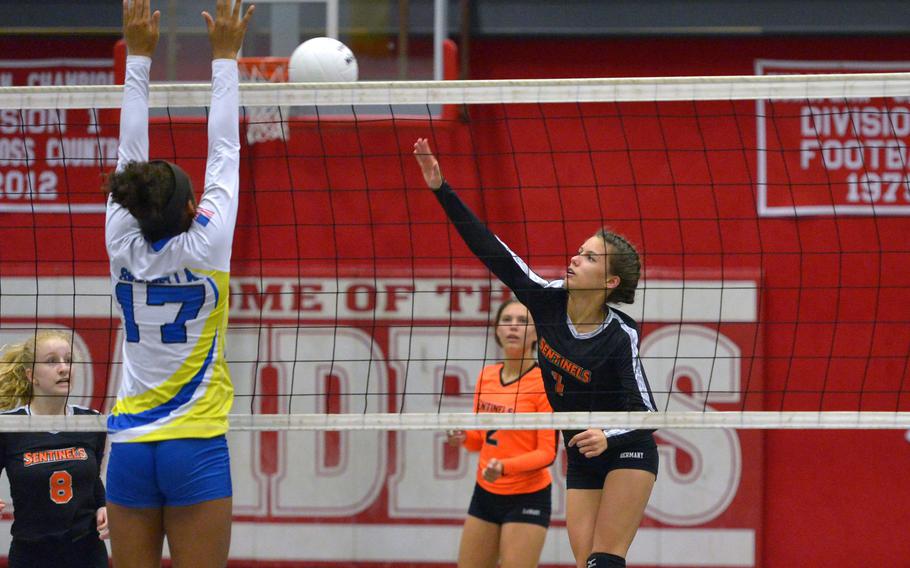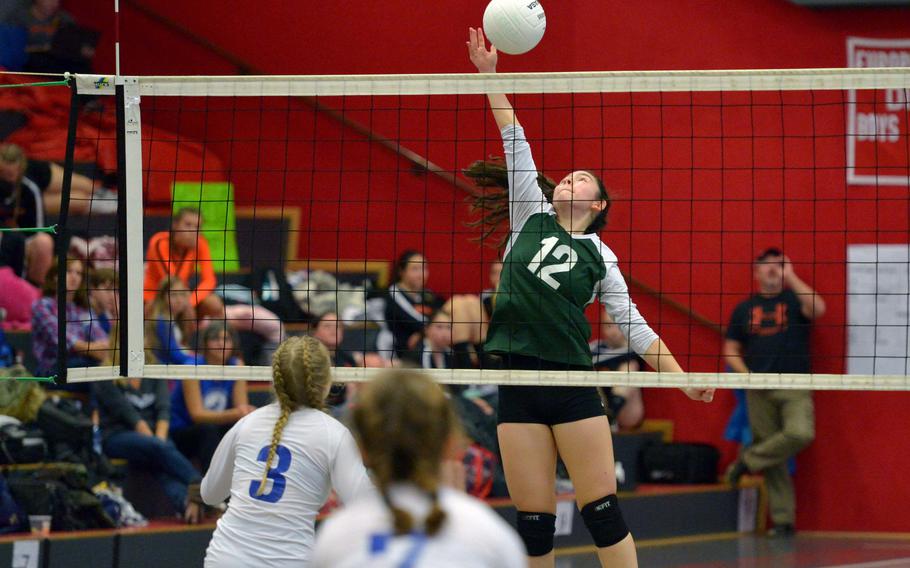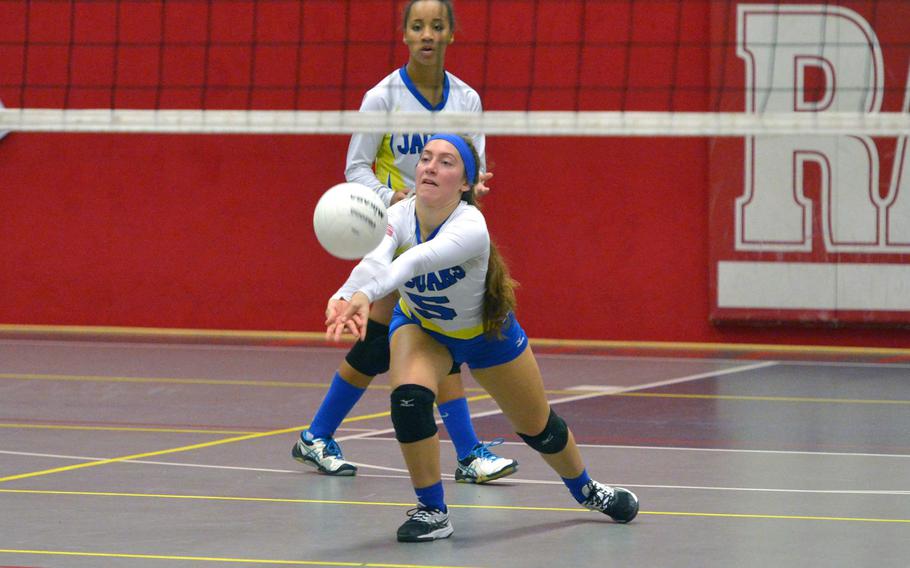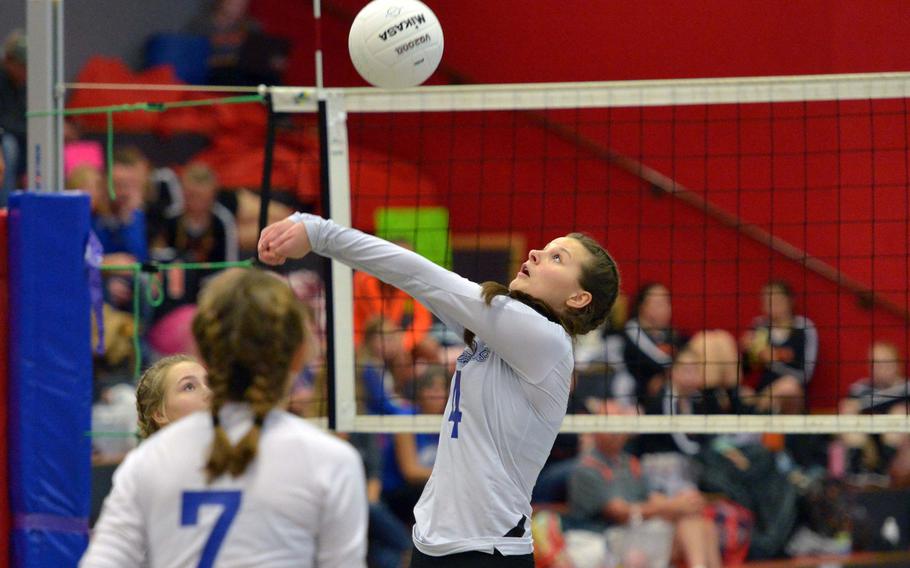 KAISERSLAUTERN, Germany -- The Sigonella Jaguars will play for their fourth straight DODEA-Europe Division III girls volleyball championship after successfully defending their turf from a new rival Friday.
Sigonella turned back the Spangdahlem Sentinels in a steady four-set semifinal victory to earn the chance to extend an ongoing small school dynasty. They'll face the Brussels Brigands for the title on Saturday at 10 a.m. CET at Kaiserslautern High School.
Sigonella def. Spangdahlem 25-17, 25-20, 21-25, 26-24: The Jaguars never know exactly what to expect in the European tournament. But they certainly know what they're capable of.
The three-time defending champion and the bracket's top overall seed, the Jaguars are the target for every other small-school title hopeful. But the division's geographic realities prevent Sigonella from fully settling into the role of annual favorite.
"During the season we're so far away from everybody else, it's kind of hard to gauge how you're going to be within your division," said Sigonella's Averi Chandler, who produced 16 kills, two aces and eight digs against Spangdahlem.
That was particularly true this year, as former Division II power Spangdahlem was added to the Division III ranks earlier this fall. But these Jaguars have turned out just fine, winning all six of their preliminary sets and outlasting a spirited Sentinel squad to return to the final.
One more performance like that will coronate Sigonella as the class of its division for another calendar year.
"We just need to work as a team, really, get our passes up," Chandler said of Saturday's final. "Setters set the ball and we kill it, and hopefully win."
Brussels def. Alconbury 17-25, 25-20, 25-22, 26-24: The Brigands shook off a first-set loss to claim an exuberant four-set semifinal victory.
While some teams strive to keep an even keel when the pressure ramps up, Brussels senior Sofia Beckley said her team prefers to be "really, really hyped" in those situations.
"Whenever we're at our happiest...there's no other time when we play our best," Beckley said.
The Brigands reached their emotional and physical peak in the decisive fourth set, screaming and celebrating each point of its dramatic comeback and avoiding the dangers of a 15-point fifth set.
"You've got cheering fans, and your parents are here, and your coaches; you don't want to disappoint them," Beckley said. "But it's just you six on the court. That's all that matters."
Brussels swept Baumholder 25-22, 25-10 in a quarterfinal earlier Friday to earn its semifinal berth.
Alconbury, meanwhile, couldn't quite put together the late-set heroics that fueled its 27-25, 26-24, 26-24 sweep of Spangdahlem on Thursday, a win that clinched a perfect six-set preliminary performance and sent it straight into Friday evening's semifinal.
Twitter: @broomestripes