DIII boys final
Brussels hits buzzer-beater to capture crown
by
Gregory Broome
February 27, 2016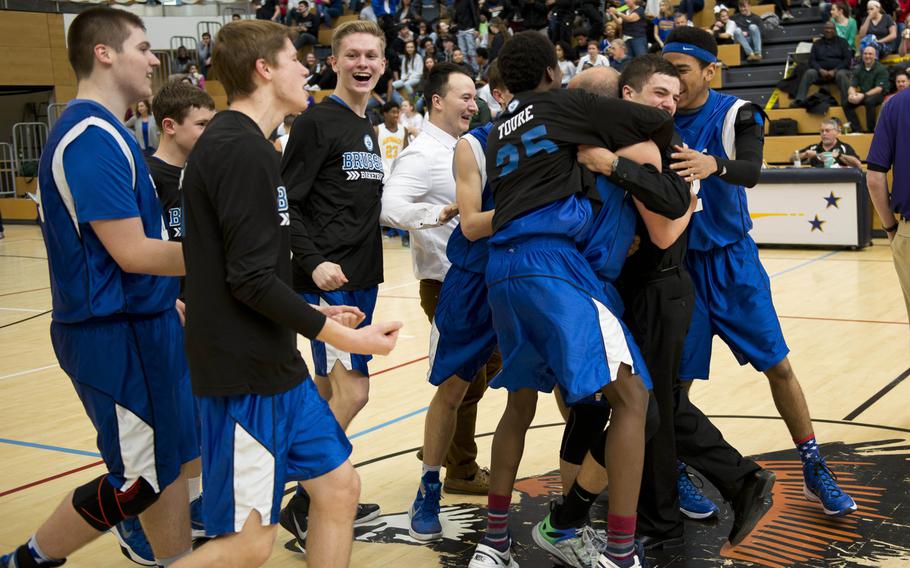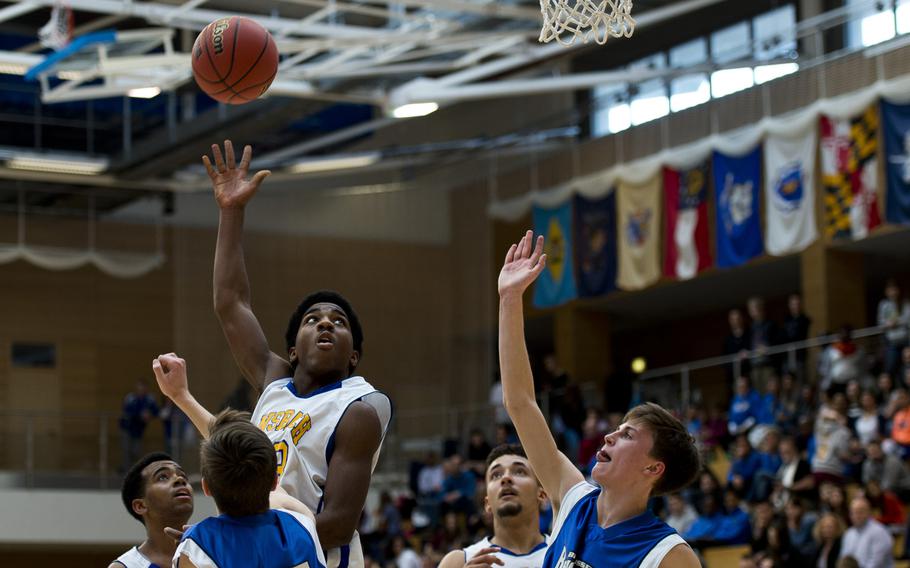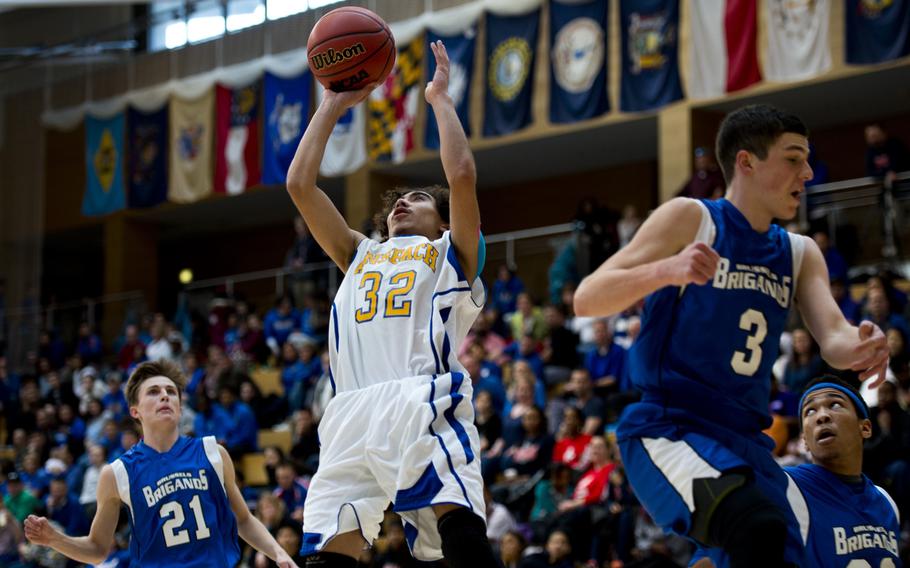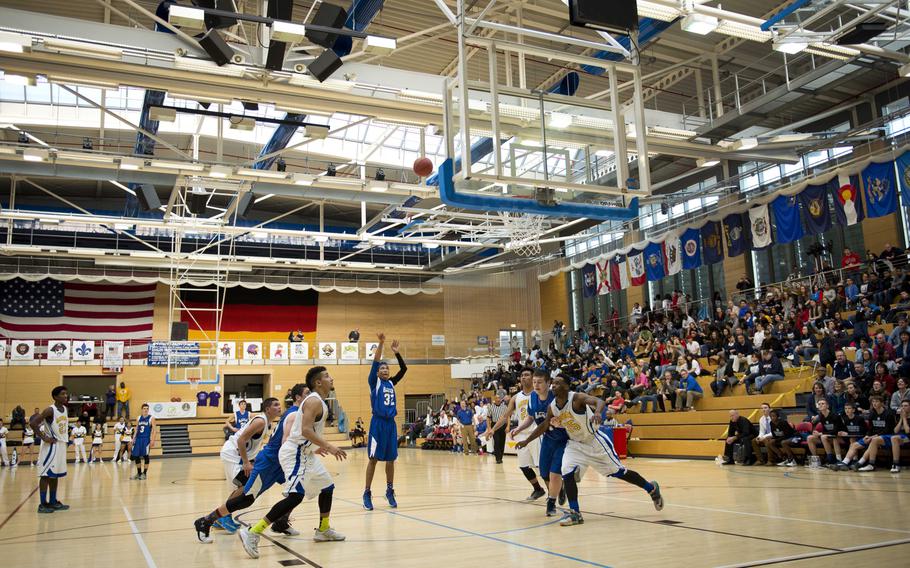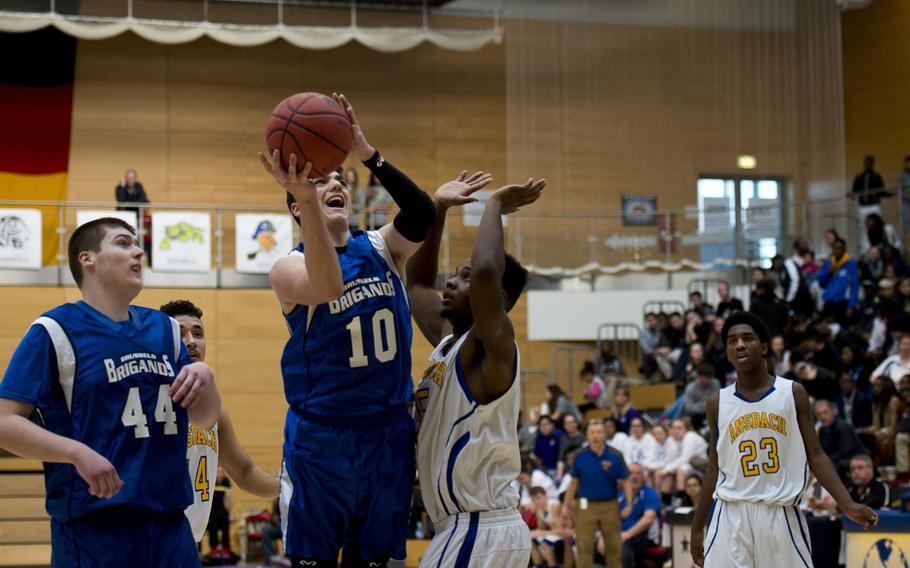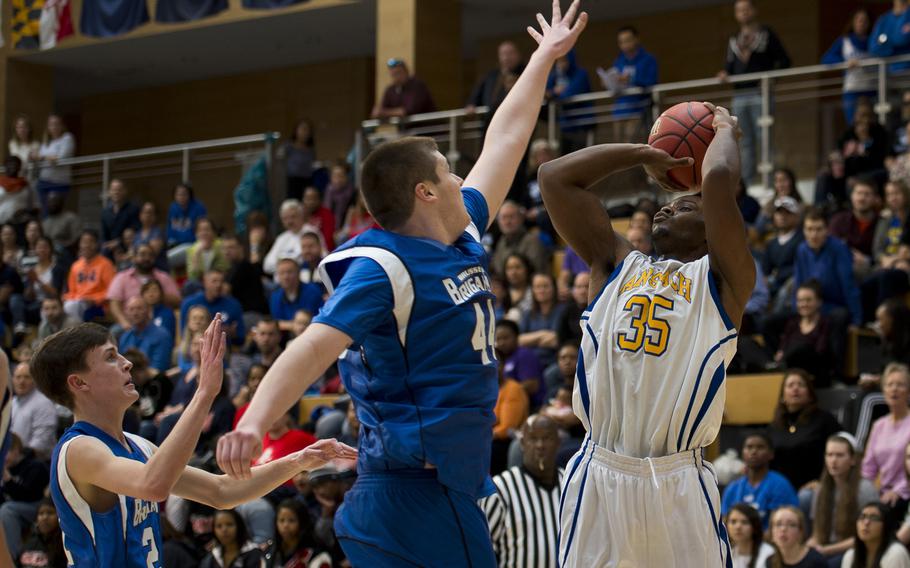 WIESBADEN, Germany – Brussels senior Michael DeFazio hit a buzzer-beating, game-winning three-pointer Saturday to give the Brigands a 41-38 win over the Ansbach Cougars and the 2015-16 DODDS-Europe Division III boys basketball title.
That one high-arcing three-pointer, coming off a wide-open look from just left of the top of the key against a scrambling Ansbach defense, accomplished a lot.
It gave Brussels the title that eluded the team last year, when it finished fourth in Europe.
It avenged the 50-44 loss to Ansbach suffered in Friday's round-robin matchup, and denied the Cougars a Division III sweep after the school's cheer and girls basketball programs claimed early titles Saturday.
It earned DeFazio the Division III tournament MVP award, a long line of congratulatory handshakes and hugs from family, friends, teammates and opponents and an almost unimaginably perfect end to an accomplished DODDS-Europe career.
"It's sort of sinking in right now, but not quite," a beaming DeFazio said moments after the shot.
"Michael deserves it so much. He works so hard," Brussels coach Chris Vahrenhorst said. "That doesn't happen by accident. That's hard work."
In simplest terms, DeFazio's shot decided a hard-fought championship game that ended in a 10-second blaze of both fleeting and enduring glory.
Brussels, having erased the eight-point lead Ansbach held through three quarters, sat on a three-point lead of its own as the Cougars advanced for a last-ditch possession. Freshman Ogden Andrew took a pass on the left wing and stroked a three-pointer that tied the game and, but for DeFazio's ensuing heroics, would have forced overtime.
Instead, the Brigands reacted with what looked like composure but was in fact the product of pure instinct.
"I wasn't thinking anything," DeFazio said. "Fling that ball up there and hope it goes in."
Vahrenhorst agreed with that assessment.
"I don't think there was any thinking going on," Vahrenhorst said. "It was just get the ball to Michael somehow."
Ansbach played without the services of standout guard Lamar Finley, who was sent home from the tournament for disciplinary reasons. The Cougars struggled at the outset without their high-scoring backcourt catalyst, scoring just a single point in the first eight minutes. But their defense limited Brussels to five points, and the Cougars knotted it at 14 entering halftime.
A third-quarter push put Ansbach ahead. The run, sparked by five points from Andrew, gave Ansbach a 32-24 lead entering the fourth quarter.
But Brussels wasn't overwhelmed by the deficit.
"We were feeling down a little bit," DeFazio said. "But we've been through so much, this is nothing."
And Ansbach wasn't secure in its advantage.
"I never felt super comfortable with that lead," Ansbach coach Michael Ellyson said, explaining that the Cougars faced a lot of larger opponents during the regular season and thus had limited experience playing from in front. "Once you start to pull the ball out a little bit, it changes the dynamic. It's hard to get going again."
DeFazio scored eight of his 11 points in the Brigands' fourth-quarter rally. Dominick DeFazio led the way with 17 in the game, including a pair of fourth-quarter baskets, and Paul Hubbard knocked down three free throws in the fourth quarter.
Andrew led the Cougars with 17 points, including three three-pointers, while guard Yadiel Rodriguez scored nine.
Twitter: @broomestripes