D-III girls championship
Brigands outlast Sigonella to defend title
---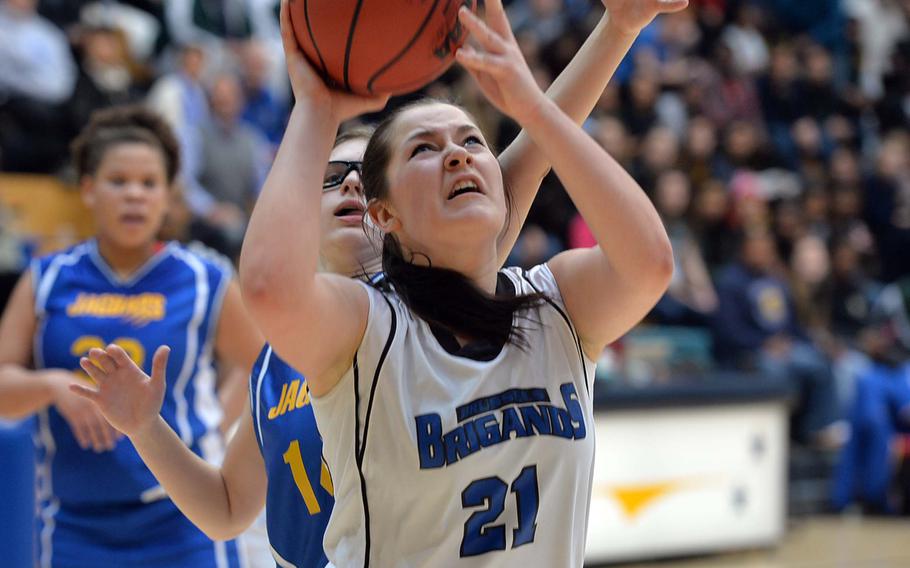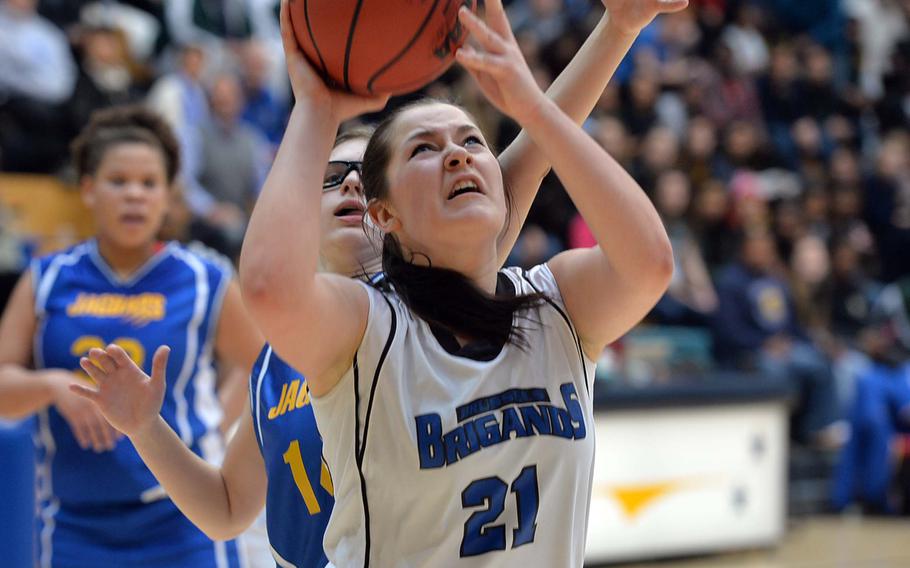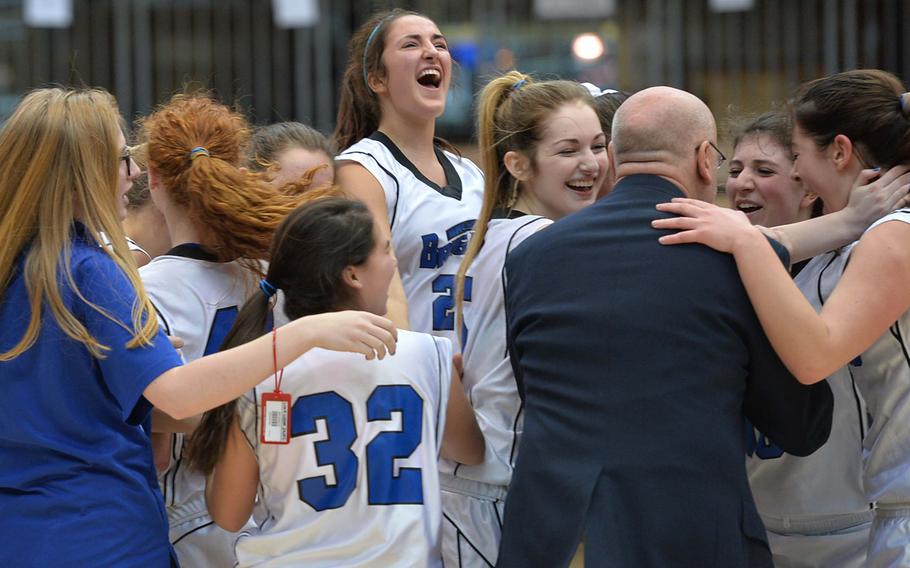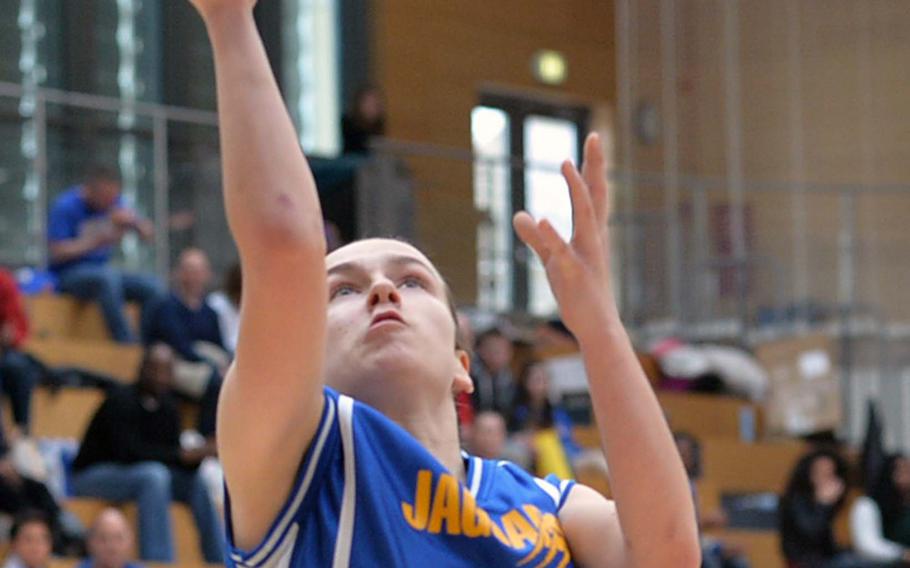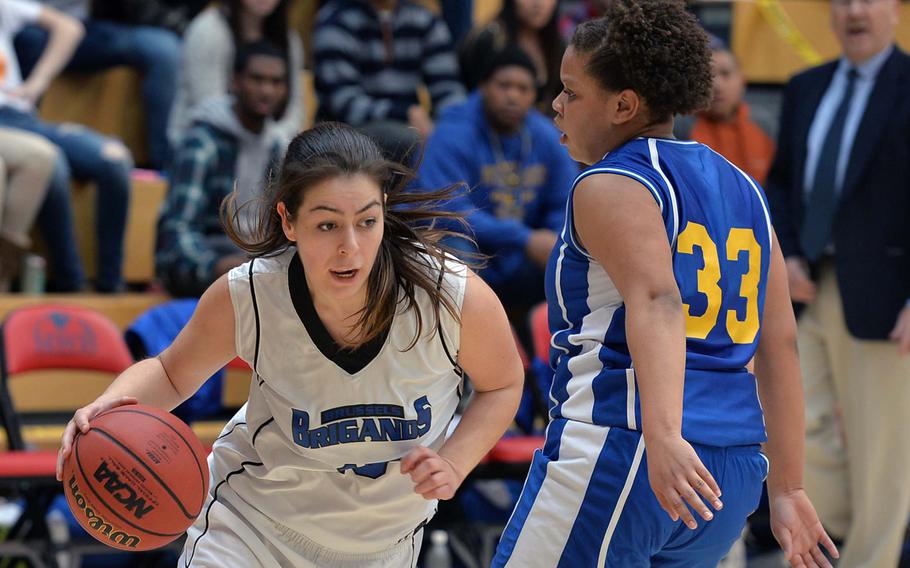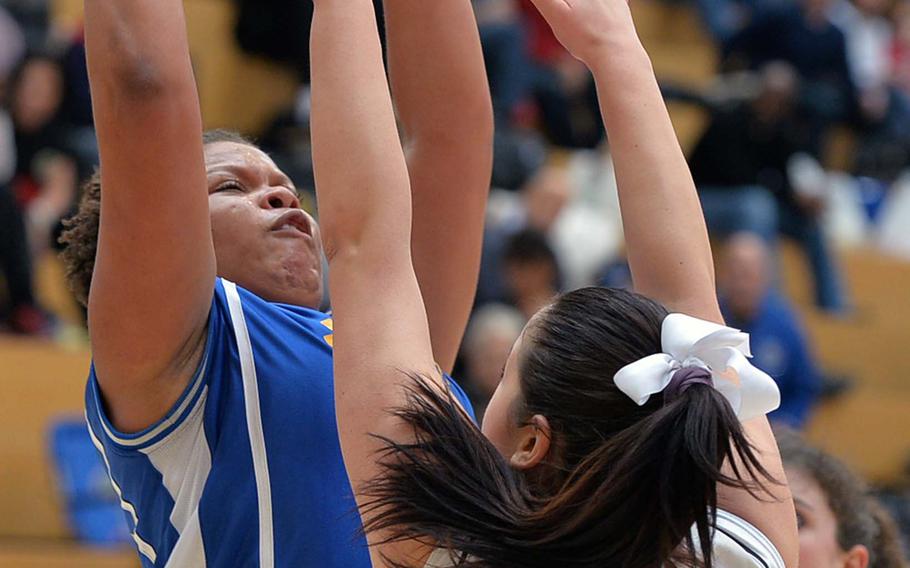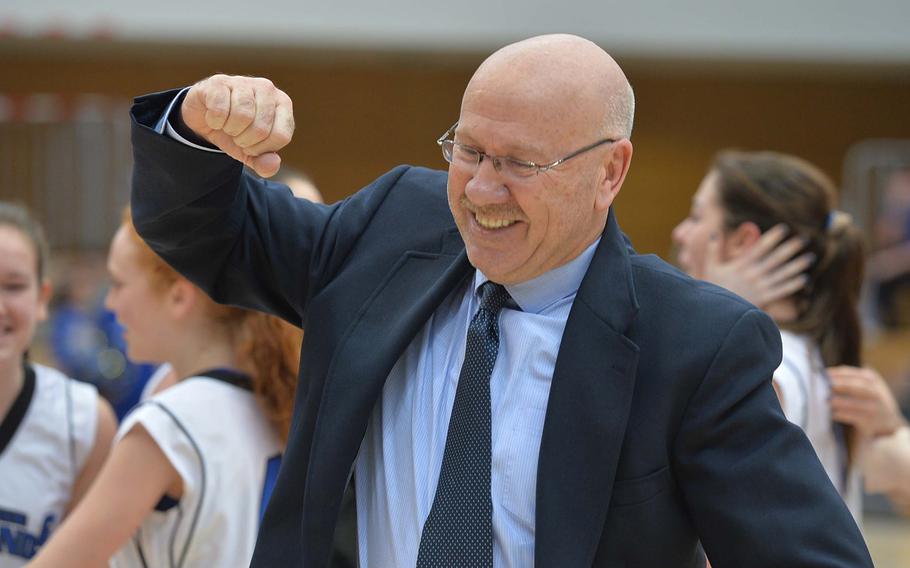 WIESBADEN, Germany – After giving up a five-point halftime advantage to defending champion Brussels, Sigonella hung in to force overtime and make Saturday's Division III girls' basketball title game a thriller.
But the Jaguars, after fighting back to a tie, faded in the four-minute overtime period, and failed to put a point on the board. Sigoenlla couldn't stop the Brigands' double threat at post, Ana-Marija Vasileva and Teodora Vasileva, and fell 38-31 in the fnals of the DODDS-Europe Division III basketball championships final.
The sister duo scored a combined seven points in extra time. They provided most of the offense for the Brigands, together scoring 26 points.
Point guard Ali DeFazio, nursing a hamstring injury, played the entire game and directed the team's offense. At times, she appeared to be limping and missed some shots early on, but came through with seven points.
DeFazio said her hamstring – which she pulled about two weeks ago going up for a layup during a game against St. John's - hurt, but she was determined to gut it out.
"Four of our starters our seniors," she said, herself included. "It was so important that we could win this for all four of us."
Brussels head coach Tim Como said he gave DeFazio the option whether to play.
"She said 'Coach, I want to try.' I didn't think she would last five minutes," he said. "I'd have to give her this victory. I don't know if we could have done it without her. She brings chemistry to the team; she runs the show."
In the third quarter, Brussels outplayed Sigonella on both ends of the court, outscoring the Jaguars 13-4 and jumping out front 25-21.
But Brussels couldn't put it way – just yet. The Brigands' offense fell flat in the fourth, giving the Jaguars the chance to stay in the game. They capitalized on the opportunity.
With about four minutes to play, junior forward Sydney Moore grabbed a basket and converted two points on free throws, after drawing several fouls, to tie up the score at 25-25.
As regulation wound down, both Sigonella and Brussels missed several scoring opportunities and possession flip-flopped back and forth with each team making unforced errors.
Sigonella regained the lead when Moore grabbed a rebound, after two Sigonella tries at the net, and put it in for two. Ana-Marija Vasileva came through for Brussels again with a short jumper with under 45 seconds to play, tying the score at 31 and sending the game into overtime.
After that, it was all Brussels.
"It feels amazing," Ana-Marija Vasileva said. The game was tough, she said, with the players not getting much time, if any, on the bench to rest.
Vasileva and her sister played as freshmen and sophomores, but she said they sat out last year to focus on academics. "It was worth it to come back this year."
For Sigonella, the loss was emotional after coming so close to upending the reigning champion.
"I just know that I wanted it really bad," said Moore, who's played for Sigonella since her freshman year. "It was disappointing that we didn't win, but I'm happy how our team played. We fought to the end."
Sigonella coach David Graham said with only two returning players, his team's inexperience in clutch situations made the difference.
"Being there for the first time (in a championship), the pressure kind of got to us in overtime," he said.
But after not even placing in last year's basketball tournament, Graham said "he couldn't be prouder of our girls. They left everything on the floor; emotionally, physically - everything."
---
---
---
---