European track - Day 2
Branch, Serrano wow crowd, set new marks
by
Jennifer H. Svan
May 26, 2018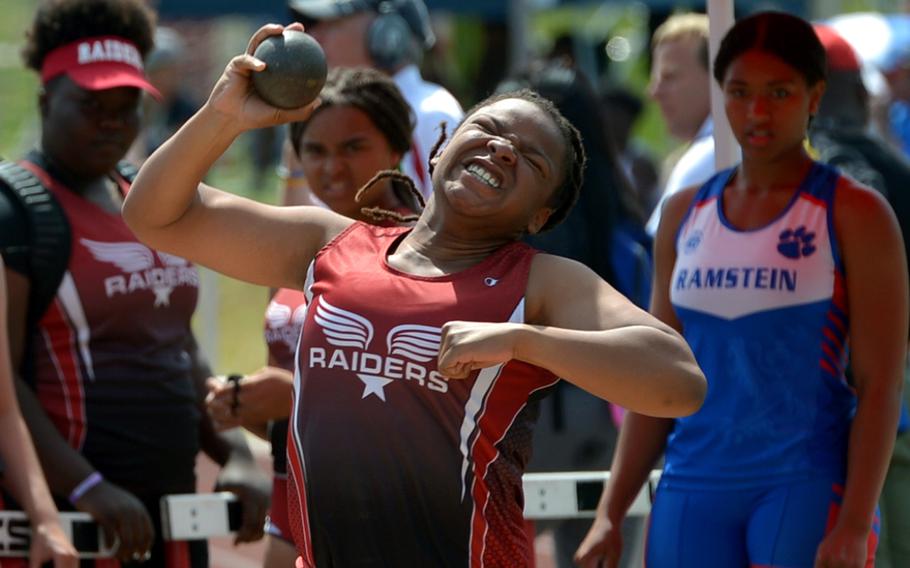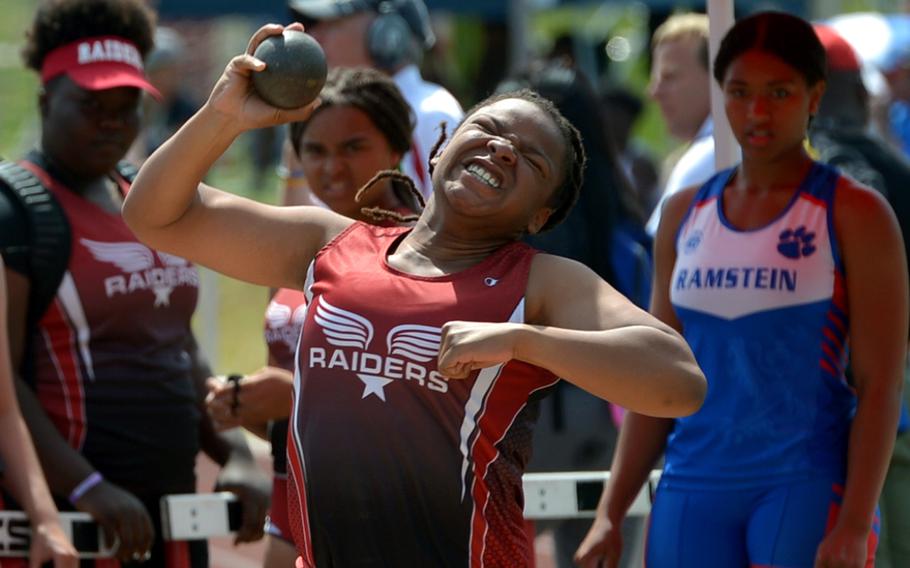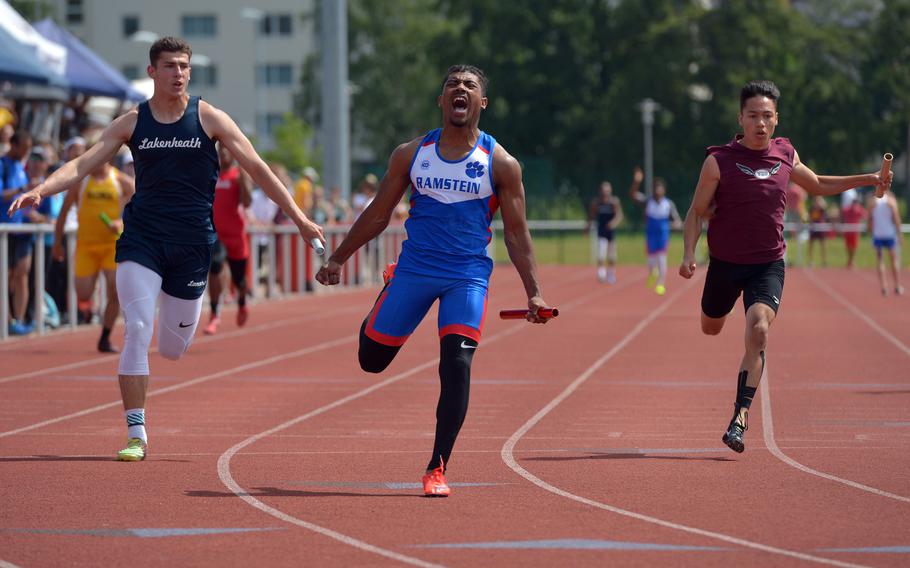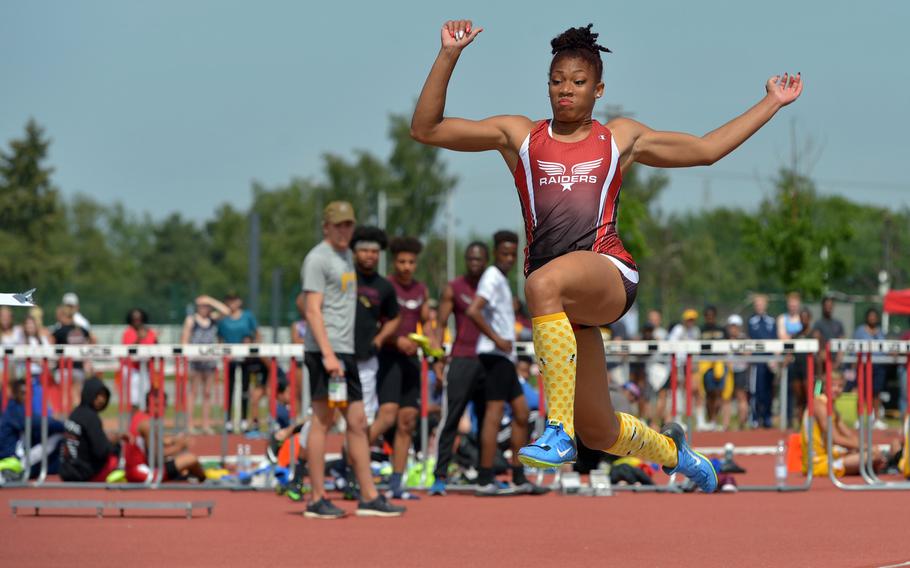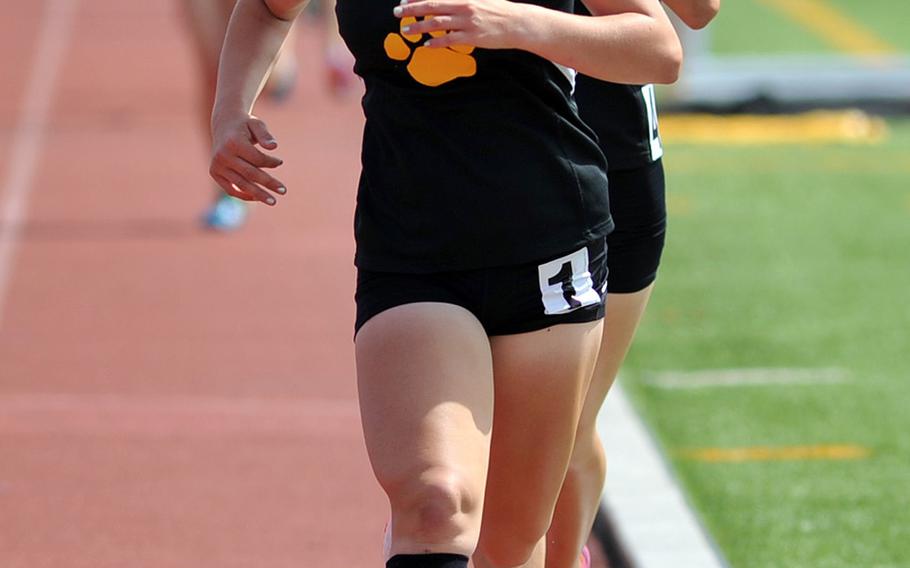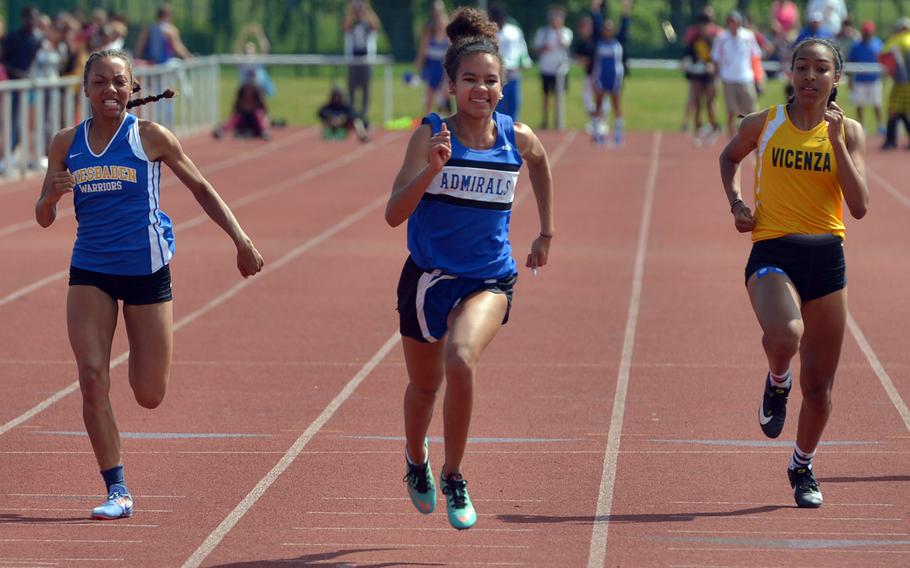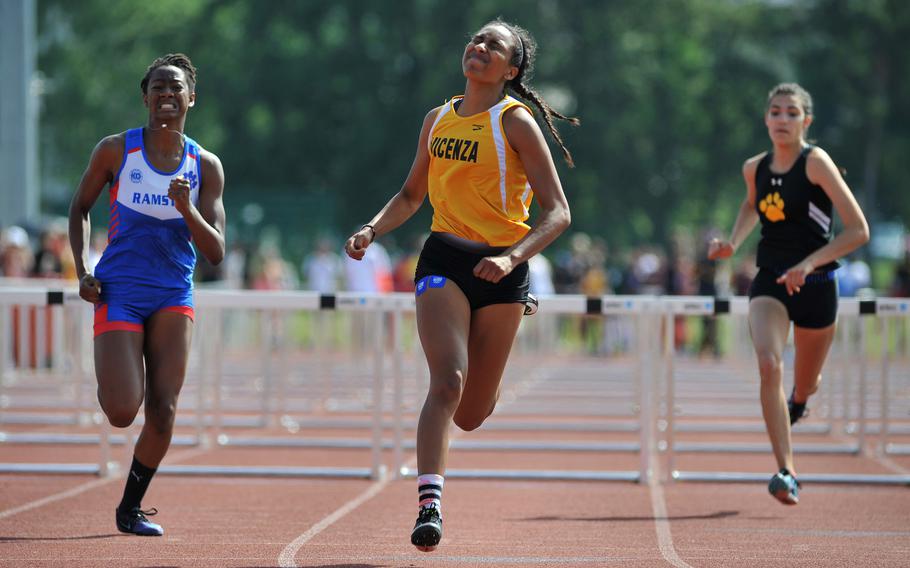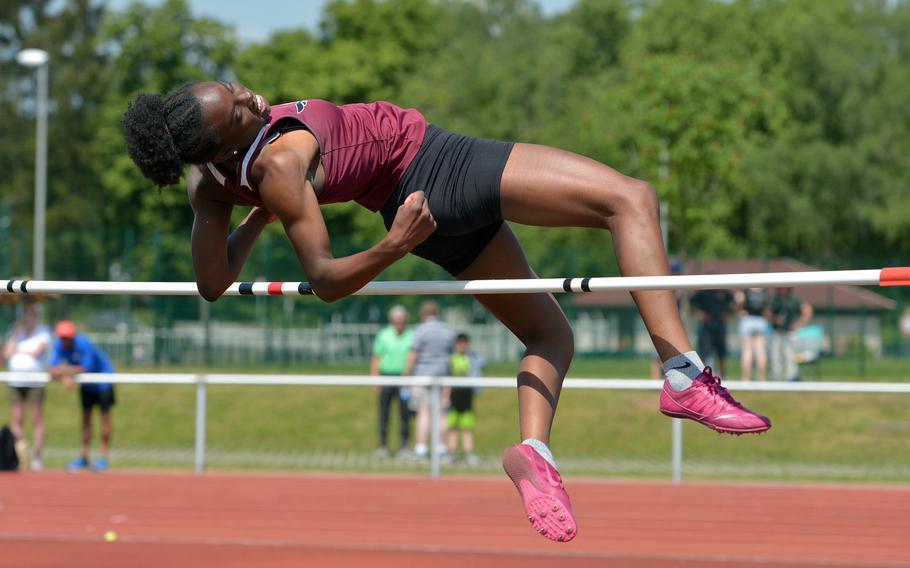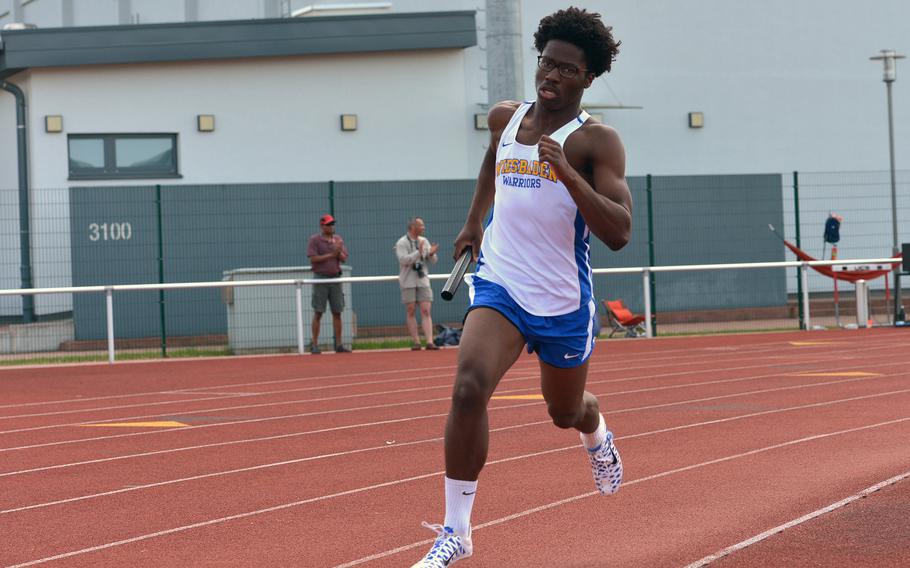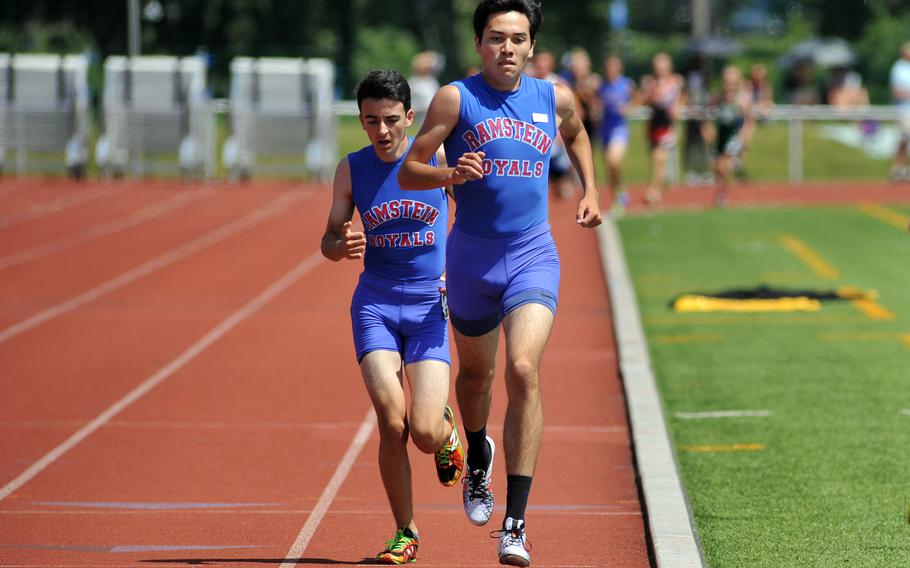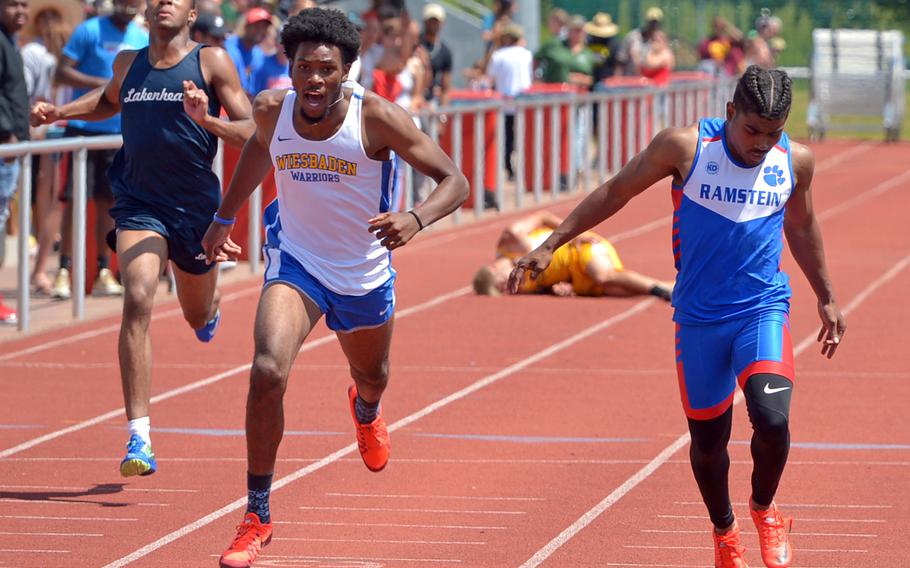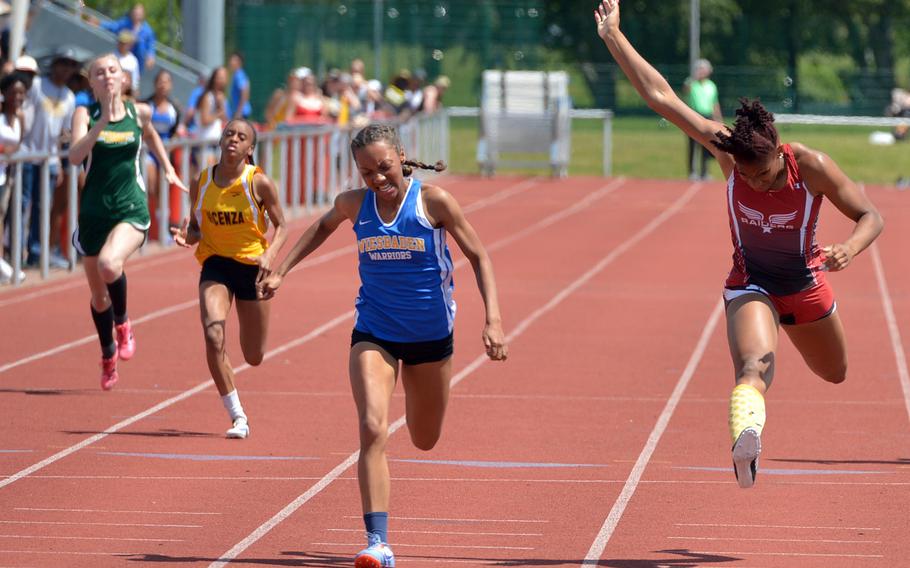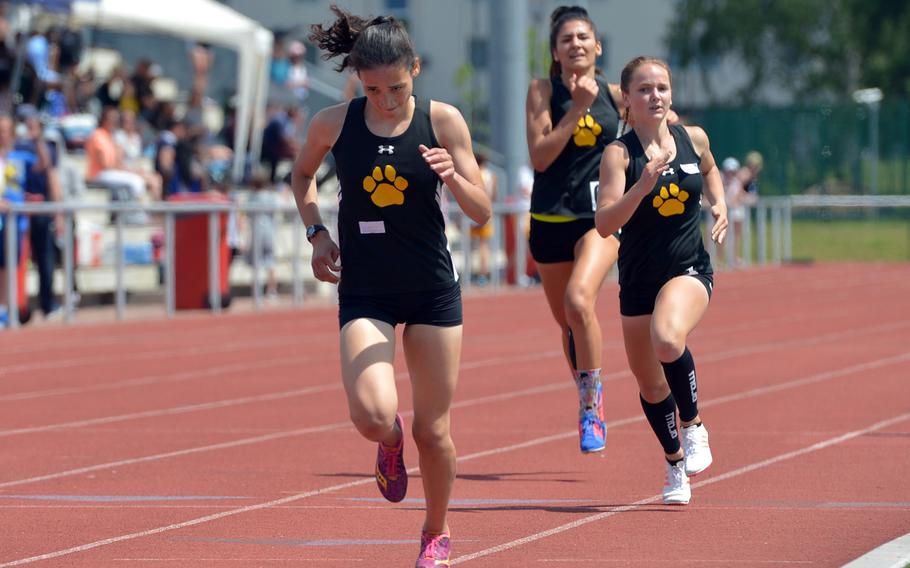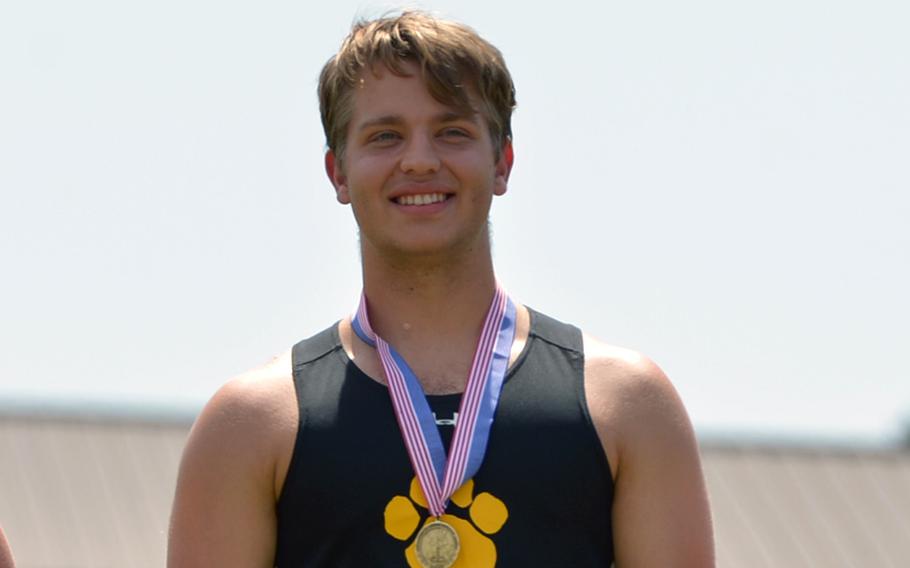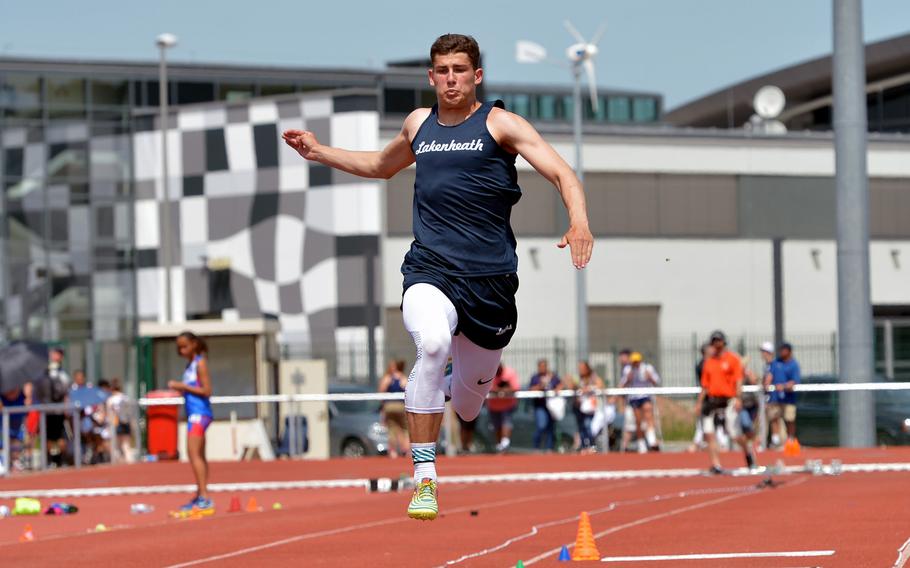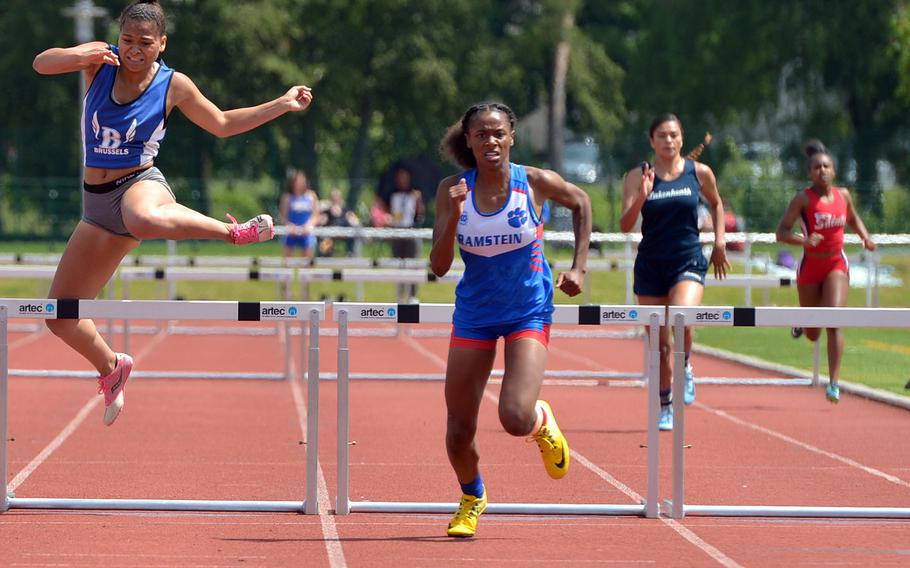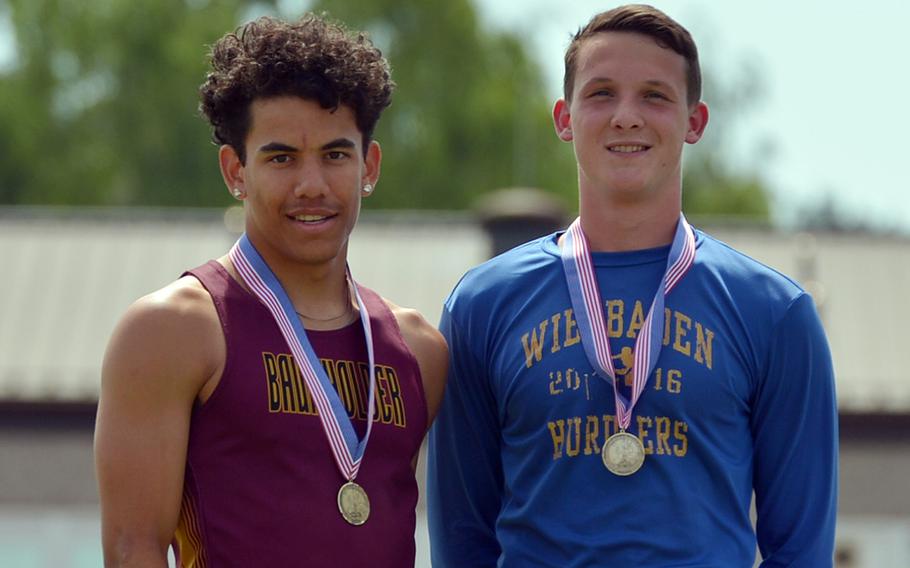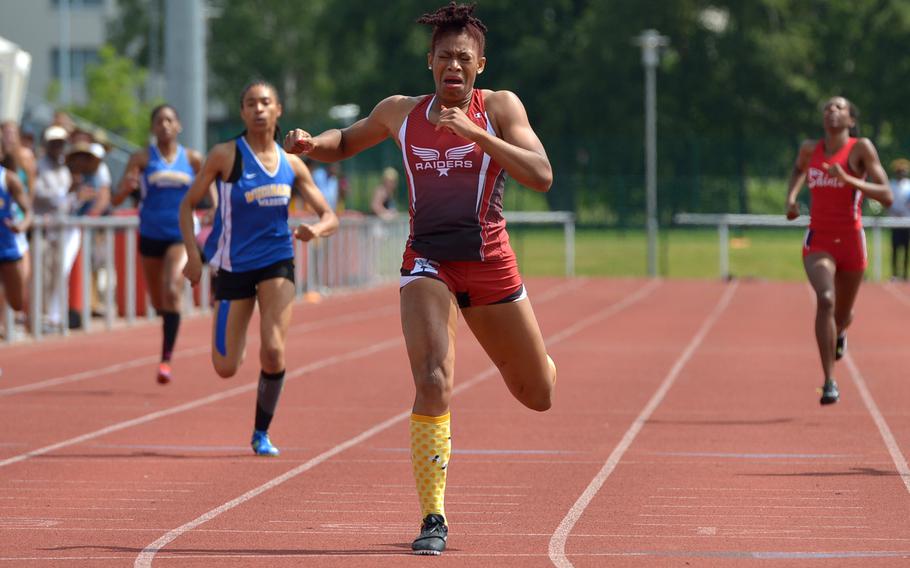 KAISERSLAUTERN, Germany – Two new European records are freshly inked in the books following the Saturday conclusion of the 2018 DODEA-Europe Track and Field Championships.
In the 400 meters, Kaiserslautern's Jada Branch bounced back from a third-place finish in Friday's preliminaries to cross the line in 57.28 seconds for the win and a new record. The old mark of 57.30 was set by Hohenfels' Christina McDuffie in 2000.
Branch had already dipped under 57 seconds this season and last year, she barely missed breaking the record at Europeans; her feat did not come as a surprise but was more of a relief.
"So happy, coming back from last year and yesterday, especially," Branch said. A year ago, Branch missed the record by less than a second.
The other record to fall Saturday was more of a surprise.
In the boys' 3,200 meters, Ramstein senior Jose Serrano ran the race of his life to out-stride teammate Dashiell Rogers at the finish line by less than a second. Serrano's time of 9:51.43 erased former Royal Colin McLaren's 2017 record of 9:51.90. Serrano, who collected four gold medals over two days, said he was trying to end his high school track career with a win and wasn't focused on the record.
"It's my senior year. Got to go out with a bang," he said.
Serrano helped lead Ramstein to the Division I team crown over Wiesbaden and Lakenheath. In Division II, Aviano took the title and top Division III boys' team Baumholder showed its depth by finishing fifth in the overall team standings.
On the girls' side, Stuttgart rode to a Division I team victory on the legs of a group of runners that dominated the middle- and long-distance events. Wiesbaden was second on the strength of its sprint relays and Ramstein was third. In Division II, Rota topped Aviano and Bahrain, while in Division III, a deep Brussels team led by senior Evin Harper took the title.
The Most Outstanding Athlete awards went to Serrano in the running events and to Baumholder's Nathaniel Horton in field events. Branch was awarded the title in both categories. Besides winning the 400, the senior set a new European record in the triple jump on Friday, and on Saturday won the long jump and finished second in the 200.
For the second day in a row, hot temperatures cooked the track at the Kaiserslautern High School stadium. Bags of ice were given out to cool off runners as they finished races and many athletes doused themselves with water after their events.
Vilseck's Tynniesia Wilson kept her cool en route to tying the European record in the high jump. The junior cleared the bar at 5 feet, 5 inches, matching the record set in 1993 by Hahn's Drisana McDaniel.
With the high jump the last field event of the day, Wilson had already run three races - including finishing second to Branch in the 400 - by the time she lined up at the high jump pit.
"It was tough," she said. "I had to make sure to stay focused. My teammates, coaches, they had drinks ready and everything."
While Wilson eclipsed her closest competitor by six inches, there were plenty of nail-biting races on the track.
None, however, were closer than the boys' 110 hurdles, where the finish was too close to call at the line. And it was too close to call by judges looking at the video replay, which showed the torsos of Baumholder's Solo Turgeon and Wiesbaden's Garrett Armel crossing the line at the same time. The result: A rare tie for first place.
When the announcer called out the results and said "'in second place, nobody,' I was like, 'Oh, what happened?'" Turgeon said. "And then he said 'a tie for first place', and I was like, 'Oh, wow.' I guess it never happened before."
Turgeon, who was seeded fourth with a 16:01, "ripped a 15:47" to match Armel, he said. "I was just really happy for that."
Wiesbaden sophomore Isaiah DeVane orchestrated a thrilling come-from-behind victory in the 1,600-sprint medley to beat Ramstein and Kaiserslautern. DeVane brought his team from fifth to first in his 800-meter anchor leg.
Wiesbaden's girls' sprint medley also won an exciting race, with anchor Ta'Nya Thomas holding off a late charge by Stuttgart freshman Linnea Meier, giving Wiesbaden the win, 4:34.07 to Stuttgart's 4:34.62. The sprint medley consists of two 200 meters, a 400 meters, and an 800 meters.
Other notable performances Saturday included:
- Wiesbaden senior Markez Middlebrooks, who followed up on Friday's win in the high jump with two more golds, in the 100 and 200. "Track might be my sport," Middlebrooks said, reflecting on his achievements.
- Lakenheath senior Kobe Cox was a big reason the Lancers landed in the top three in team standings. Cox handily won the triple jump with a leap of 45 feet, 1.5 inches and was second in the 100; on Friday, he was third in the long jump.
- The Ramstein boys' 3,200 relay team of Serrano, seniors Nick Clinton and Nicholas Blake, and junior Denver Dalpias missed the European record of 8:06.72 by less than a second.
- Stuttgart freshman McKinley Fielding won the 1,600 in 5:19.92, her third gold medal of the meet. Fielding ran about 10 seconds faster than fellow Panther Tatiana Smith. But in the 800 later in the day, Smith nabbed the gold with a time of 2:26.51, about a second faster than Fielding. Stuttgart, its depth on display, swept the event, taking the top five places.
- Wiesbaden junior Whitney Bivins gutted out a win in the 200 to edge Branch, 25.36 to 25.45. Bivins also placed second in the 100 and was part of the Warriors' winning 400 and 1,600 relay teams.
- Kaiserslautern junior Zhane Williams threw a personal record in the shot put to win her first European title. Seeded seventh with a mark of 31 feet, 1.75 inches, Williams heaved the shot put 32 feet, 11.5 inches to top the field. "I'm on cloud nine," she said. "I cried at first when I found out I won; I literally started bawling."
- Vicenza senior Brandy James defended her title in the 100 hurdles, clocking a 15.47 to nip Ramstein junior Jaya Worthington, who was second in 15.87, the only other hurdler to break 16 seconds. Worthington's teammate, sophomore Christierra Williams, won the 300 hurdles in 46.88.
- Stuttgart senior Anders Bergeson threw 134 feet, 10 inches to take gold in the discus, one year after finishing second in the event. Kaiserslautern's Austin Higby was second.
- In the boys' 300 hurdles, Wiesbaden junior Caelum Wallace beat Baumholder's Turgeon by a lean, 40.53 to 40.55.svan.jennifer@stripes.com
Twitter: @stripesktown