European track - Day 1
Branch breaks own record on sweltering K-town track
by
Jennifer H. Svan
May 25, 2018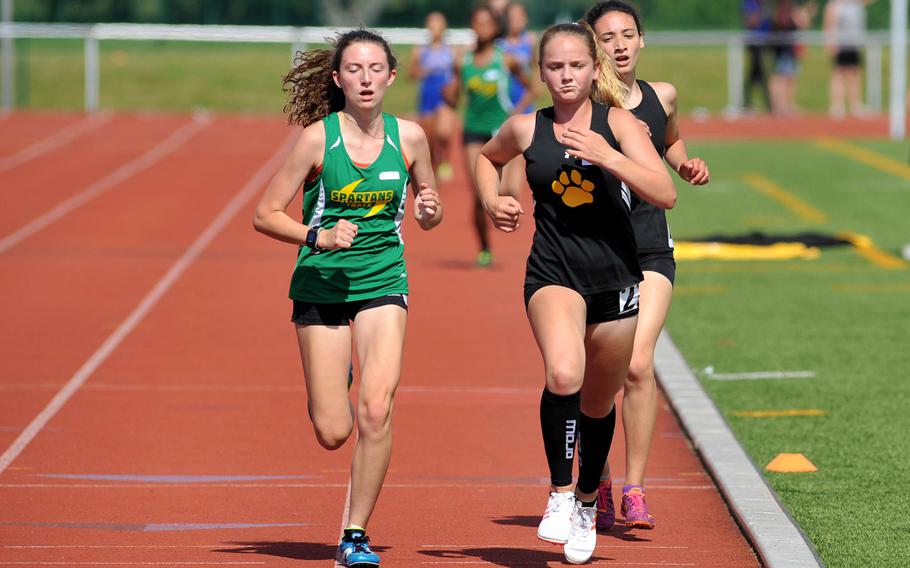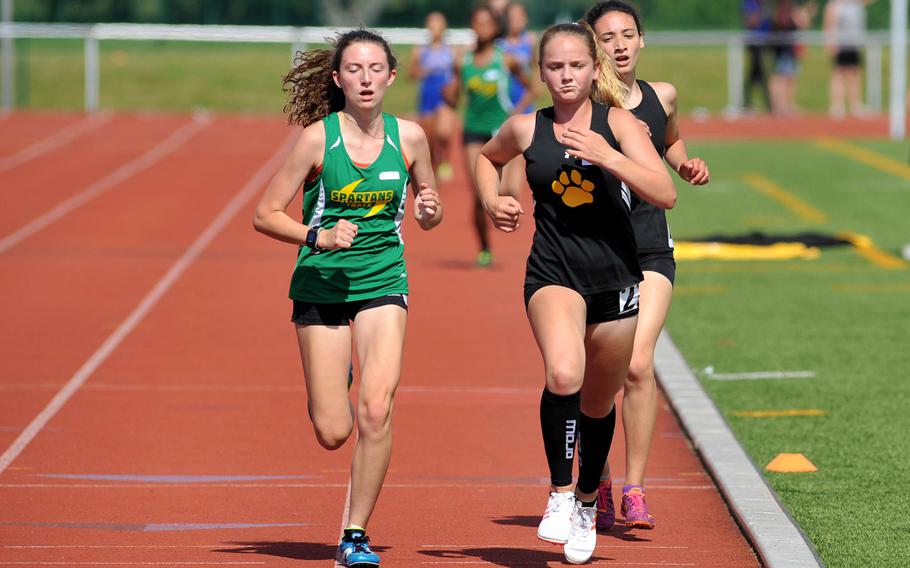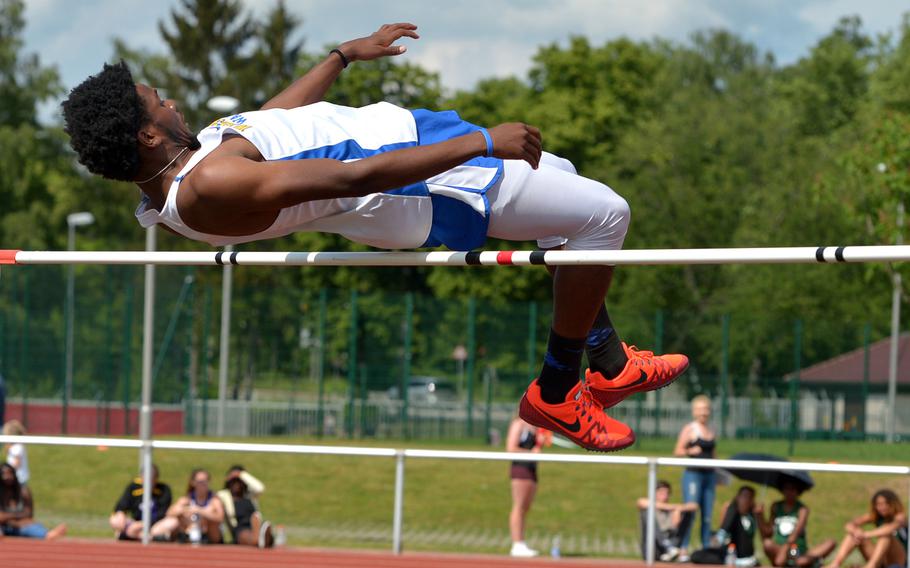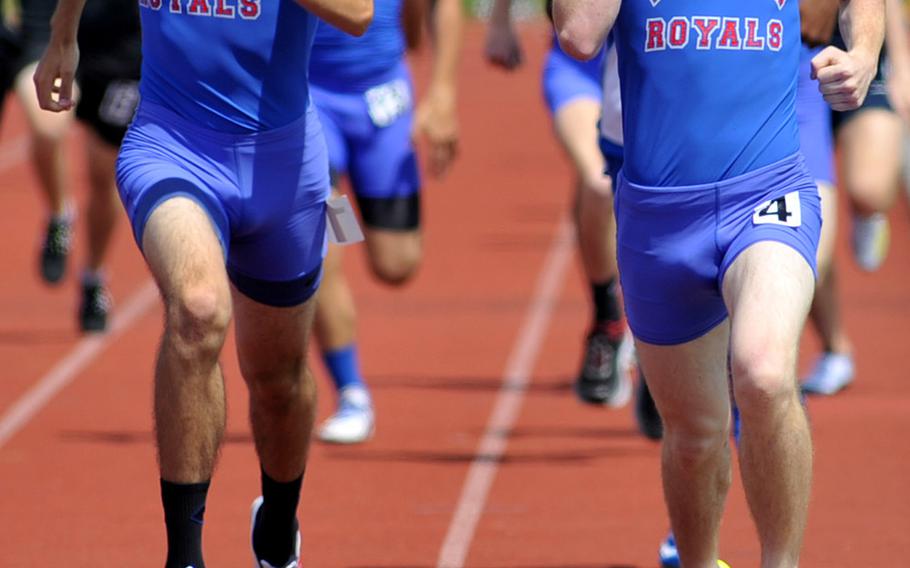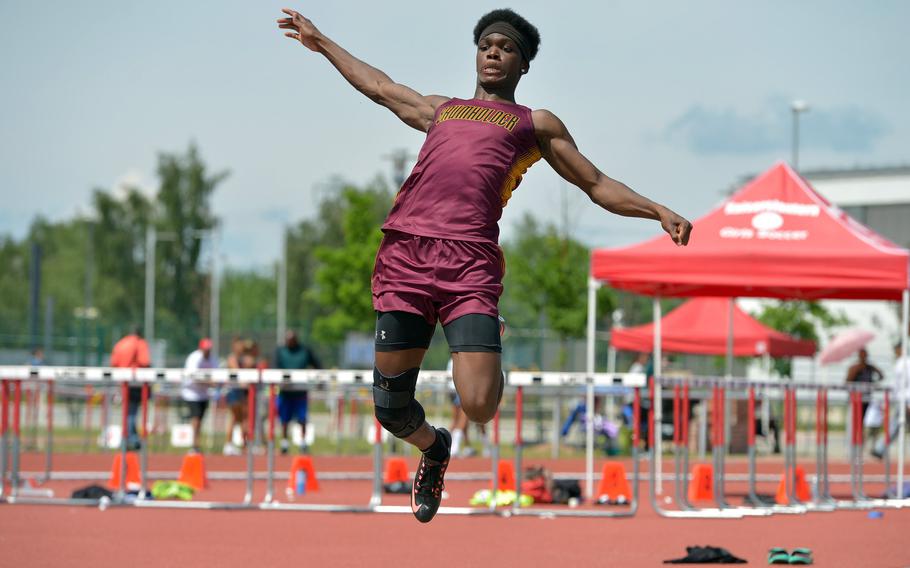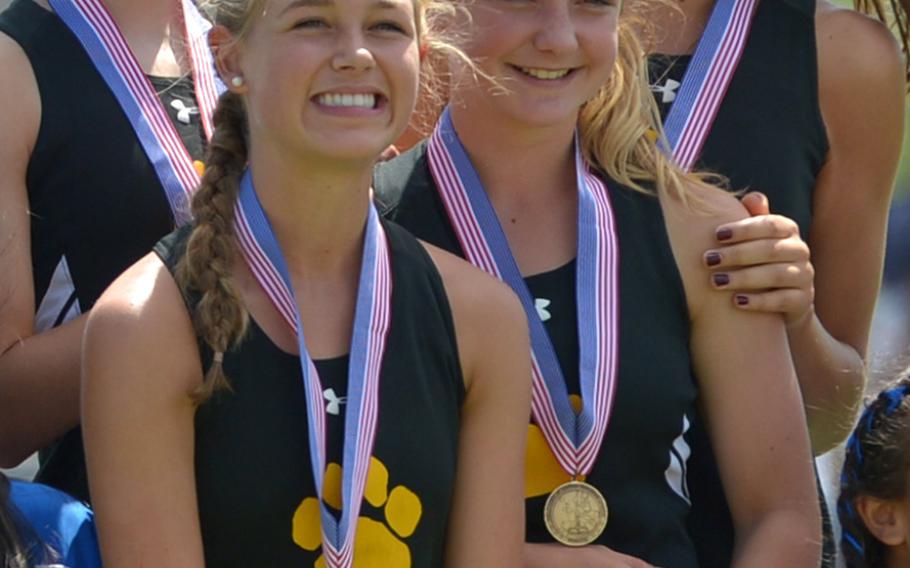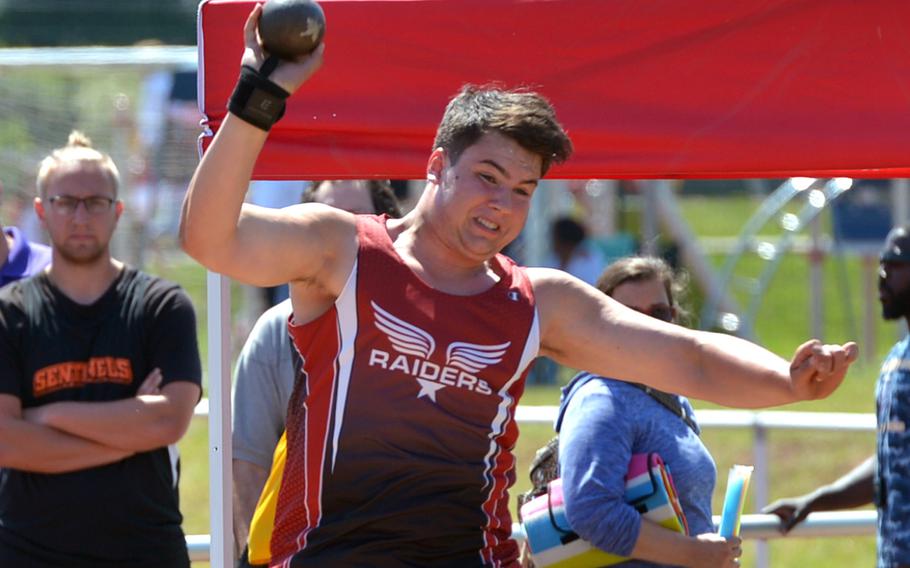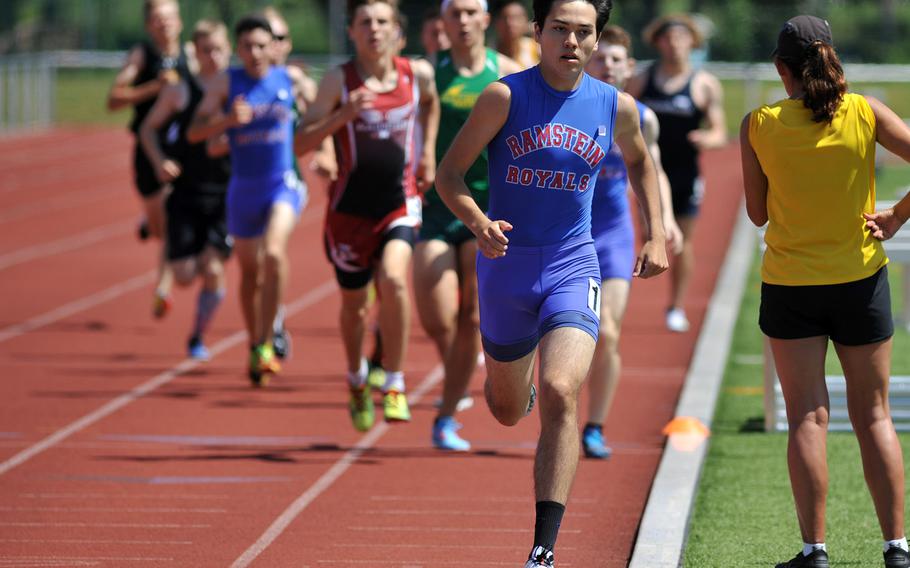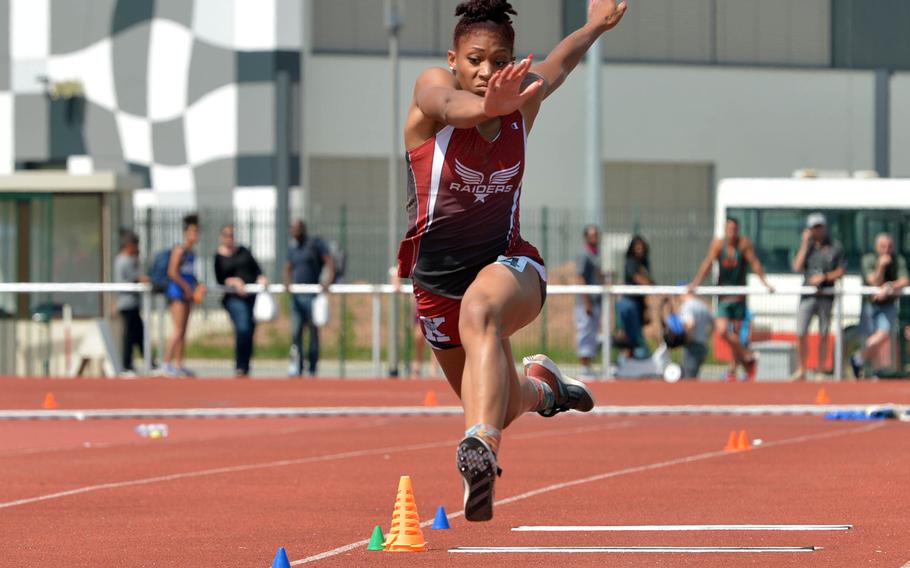 KAISERSLAUTERN, Germany – Just like last year, Kaiserslautern phenom Jada Branch set a new European record in the triple jump on the first day of competition Friday at the 2018 DODEA-Europe Track and Field Championships.
But this time, it was her own record that she toppled, setting a new mark of 39 feet, 6 inches to surpass her old record by 3.75 inches.
"Getting it (the record) last year and being able to push further this year, it feels really great," Branch said.
Branch's jumping feat was part of an exciting day of competition that saw another record almost fall on the track, a slew of new champions emerge, and a few familiar faces exert their dominance again. Events resume at 10 a.m. on Saturday at the Kaiserslautern track.
In Friday's first event on the track, the Stuttgart girls' 3,200-meter relay team controlled the race from the gun.
After freshman McKinley Fielding opened nearly a 60-meter lead on the rest of the field, the Panthers' toughest competition was against the stopwatch. Sophomore Katie McLellan, senior Kate Bowman and junior Tatiana Smith carried the baton the rest of the way to clock a 9:56.33, about one second shy of the 2012 record set by Stuttgart.
"I think it was hard for us to push ourselves," Bowman said. "We were running against great teams, but … it was hard running alone."
The margins in most events, however, were much smaller, such as in the boys' 800-meter run, which came down to inches – or less.
Ramstein senior Jose Serrano was aiming for his second gold of the day after an earlier win in the boys' 1,600. It appeared he was going to get it, until Ramstein senior Nick Clinton turned on the afterburners in the final 200 meters.
But just as it looked like Clinton would take it over a fading Serrano, Serrano found a second wind and nipped Clinton in a finish that was so close that not even the runners knew who had won until the results were announced: Serrano 2:00.55, Clinton 2:00.56.
When Clinton passed him, Serrano thought: "He deserves it, but I got to still fight for it," he said.
The weather Friday was perfect for picnicking and barbecues, but the sun was withering on the Kaiserslautern High School all-weather track, where shade is in short supply.
Several runners collapsed at the end of races, including Branch - who fell at the finish in her heat of the 400-meter preliminaries. She said the heat, dehydration and going out too hard were factors.
She recovered in time to finish the triple jump and earn the top seed in Saturday's 200 finals. Branch will also go for gold in the long jump and the 400, where she's seeded third going into the finals.
The girls' 3,200 was a contest against the heat as much as the runners, who gritted through eight laps during the hottest part of the day. Fielding proved to be a fierce competitor, refusing to relinquish the lead despite challenges from her teammate Smith and SHAPE's Holly Moser, who entered the race with the fastest time.
Fielding clipped more than 10 seconds off her personal best to win in 11:48.80.
"It was hot," Fielding said. "I really wanted to die on the last three laps."
She didn't think she was going to win, based on her seed time, but "everybody's times don't count until you come to Europeans and then you see how people really can run."
The heat didn't stop Baumholder senior Nathaniel Horton from claiming his third consecutive gold medal in the boys' long jump. The senior hit 21 feet, 7.75 inches to beat Aviano sophomore Donavin Robinson by almost 7 inches.
Horton fell short of another title in the high jump, where he finished third behind Wiesbaden junior Markez Middlebrooks and Lakenheath senior Josiah Kim.
Middlebrooks, a newcomer to the event, was among four jumpers, including Horton, seeded with a jump of 6-01. But Middlebrooks was the only one who could match that on the day it counted most. In the throws, two new champions were crowned.
Kaiserslautern junior Austin Higby surprised himself with a mark of 47 feet, 11.25 inches in the shot put, eclipsing his previous best by more than four feet.
"Oh, yeah, I knew it right away," he said, of his first throw, the winning one. "Once it left my hands, I knew it."
Higby, sixth at Europeans in the shot put last year, said he's been practicing adding more spin to his throw, rather than just a straight-back launch. "I've been working hard at this," he said.
Kaiserslautern's Mercedes Durden also won her first gold in the discus, with a mark of 100 feet on her final throw. A year ago, she was playing soccer.
Durden said she had no idea she could throw a discus so far.
"I can barely pick up a big box with anything in it," she quipped.
Twitter: @stripesktown