Division I playoffs
Both Wiesbaden teams reach semis
---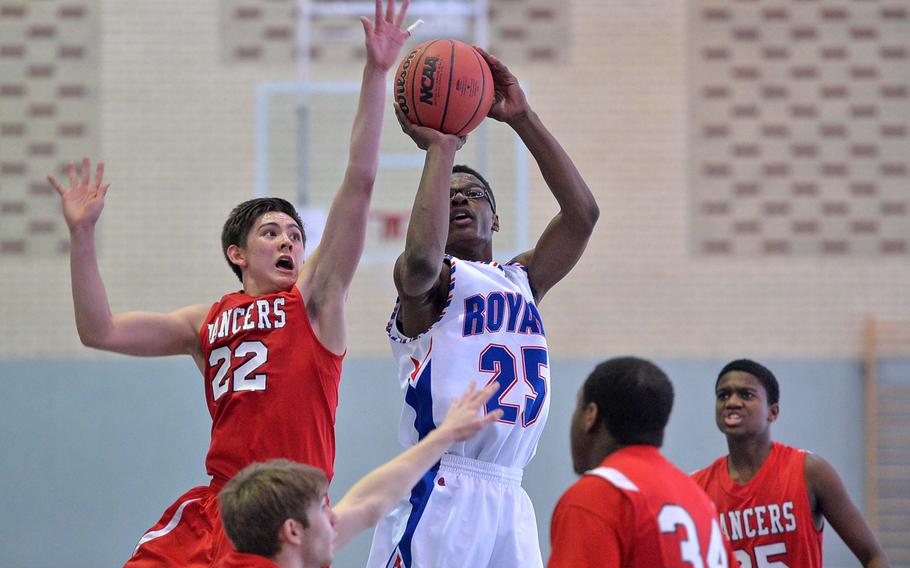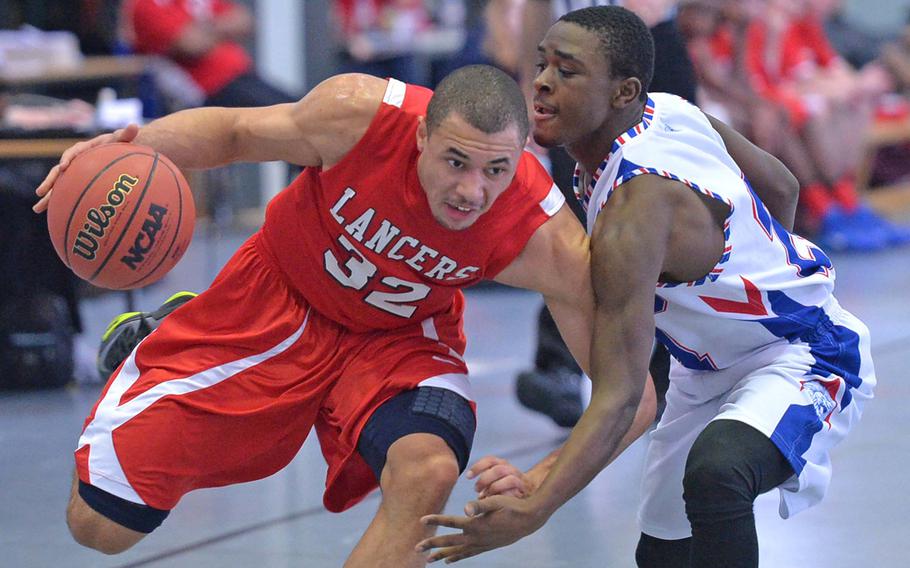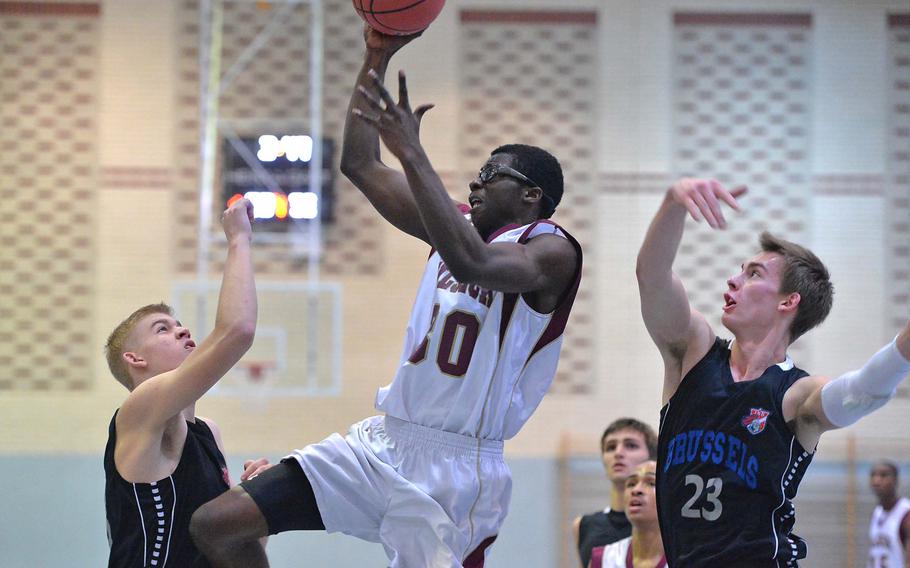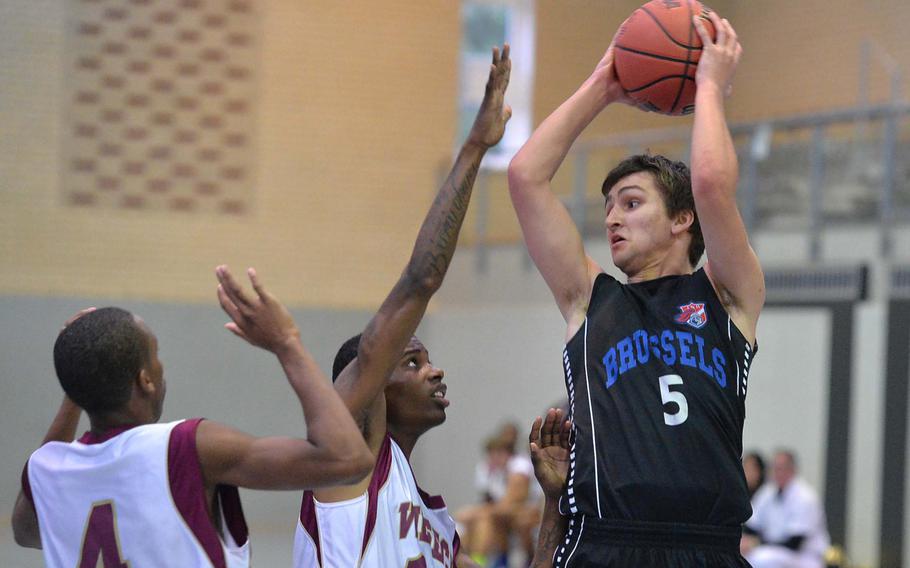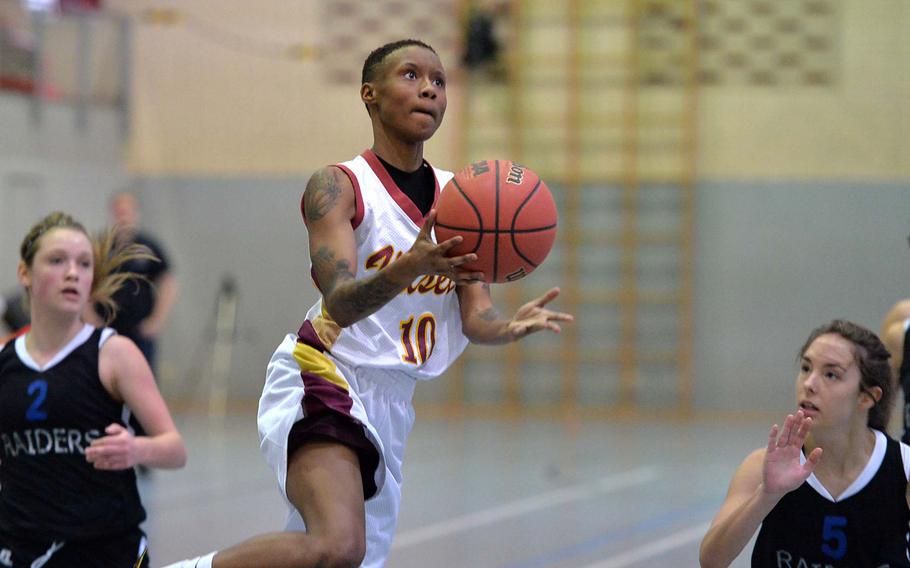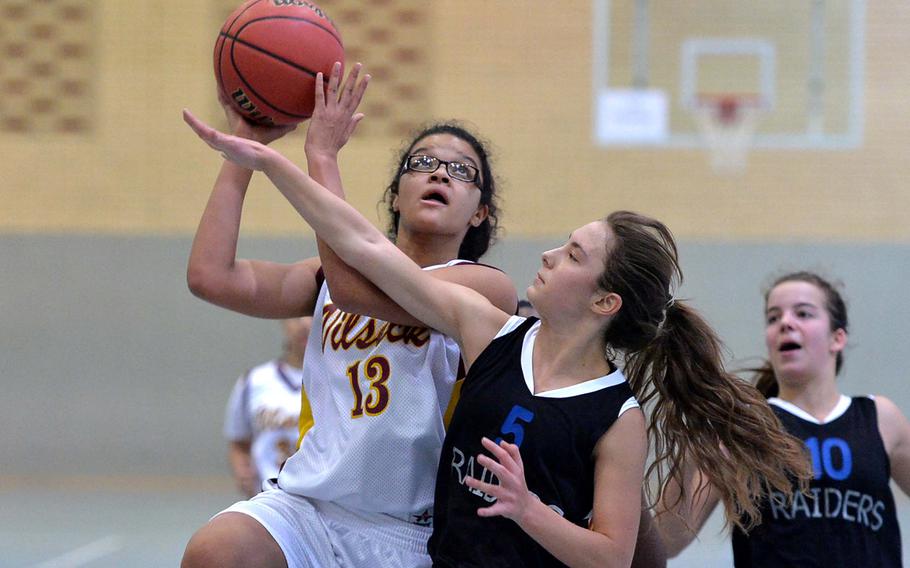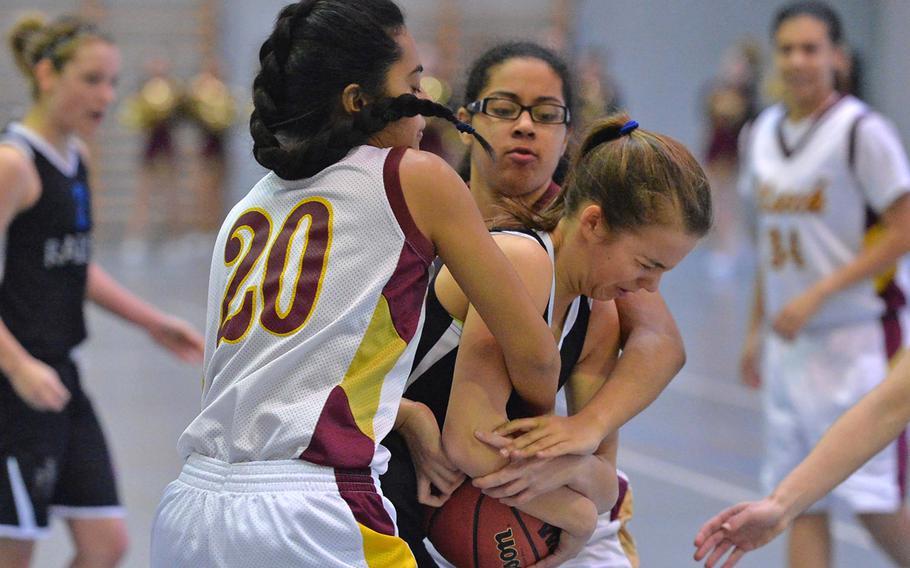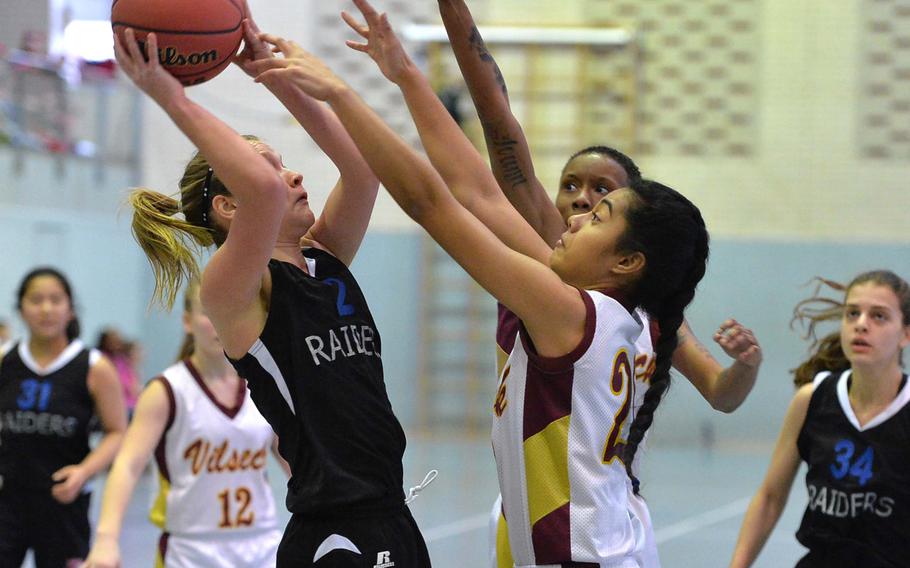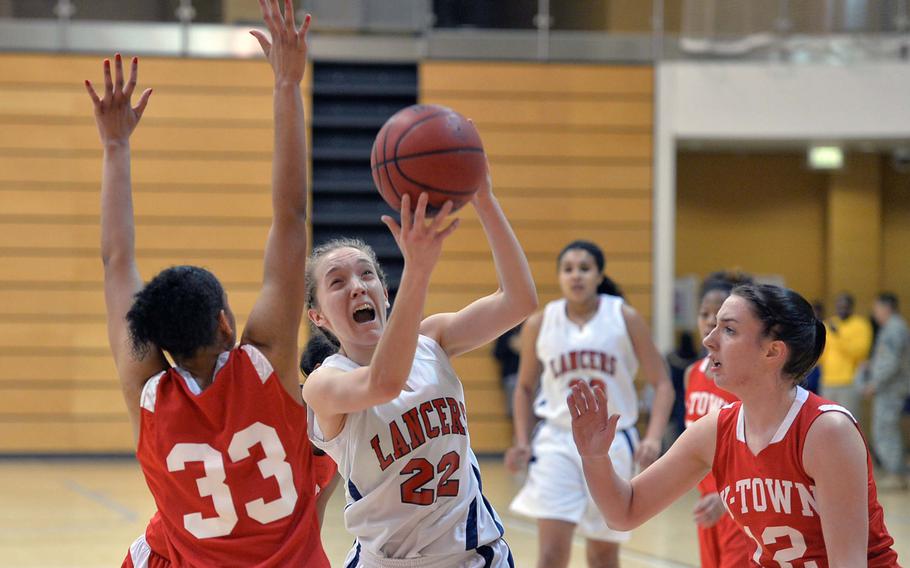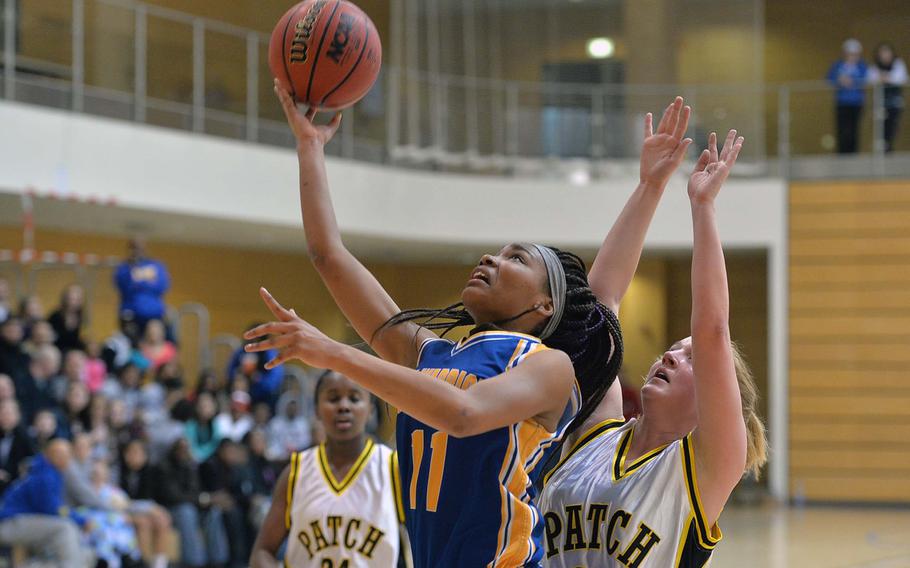 WIESBADEN, Germany – The large-school boys basketball power structure finally began to take shape Thursday as the DODDS-Europe Division I tournament opened in two Wiesbaden-area gyms. But a stunning upset left the girls bracket still very much unclear.
Top-seeded Wiesbaden, upstart Vilseck, defending champion Patch and 2013 runner-up Ramstein played their way into boys semifinal berths. But fifth-seeded Lakenheath's upset win over defending girls champion and top seed Kaiserslautern means the girls bracket remains very much in flux, with only Wiesbaden guaranteeing itself a semifinal game.
Pool play will wrap up Friday afternoon, leading to a set of four late semifinal games that will determine the participants in Saturday's Division I girls and boys championship games.
Here are the highlights of Thursday's 12-game first-day slate:
BoysVilseck 44, Kaiserslautern 41: Based solely on the bracket, the sixth-seeded Falcons pulled off a major upset in knocking off the second-seeded Raiders. Vilseck star David Harris doesn't see things that way.
"If they put us as underdogs, we're going to show them that we're not underdogs," Harris said, referring to both the team's low tournament seeding and a recent Stars and Stripes feature that chronicled their then-futile efforts to win Division I games. "We felt like we had a chance to win a championship."
That feeling has grown stronger of late. The Falcons spent the season beating up on Division II teams and narrowly losing to Division I opponents, but they broke through on Feb. 14 with a 60-54 defeat of defending European champion Patch. A successful morning opener against International School of Brussels validated their growing confidence, and they tapped into that swagger to outplay Kaiserslautern in the fourth quarter.
The teams were tied at 32 entering the final seven minutes, when an already-intense game escalated a notch as each team tried to put the other away.
Kaiserslautern struck first, scoring four quick points on short-range finishes by Emilio Medina and Antwan Haynes. Vilseck answered immediately on a Johnathan Wade three-pointer and a fast-break layup by Harris.
A Harris three-pointer moments later gave Vilseck a 42-38 lead with three minutes to play.
That proved the fatal blow for the Raiders, who didn't score again until Andy Stern knocked in a three-pointer with 1:07 remaining.
Vilseck squandered several opportunities to ice the game from the free-throw line, but Kaiserslautern couldn't come up with a game-tying three-pointer on repeated attempts in the final minute.
Harris finished with a 16-point, 11-rebound double-double, while Jamar Walker reached the same status with 10 points and 10 boards. Daryl White added seven points and eight rebounds in support.
"This game was a total team effort. Everybody worked as a team," Harris said. "We weren't individuals on that court. I had to rely on the next man and he had to rely on me."
The Falcons will be tested Friday with a rematch against Patch, which beat them in three of four regular-season meetings. That game is purely for seeding purposes, as both the Falcons and Panthers have clinched spots in the semifinals.
Vilseck 58, International School of Brussels 42: The sixth-seeded Falcons handled the seventh-seeded Raiders in a morning battle of the bracket's lowest-ranked teams. Harris scored a game-high 27 points for Vilseck.
Patch 51, ISB 33: The Panthers opened their European title defense in impressive fashion, building a 32-10 halftime advantage and coasting to a comfortable victory.
Senior wing tandem Brendan Jones and John Robinson, the driving force behind last season's championship run, changed Thursday's game into a blowout with quick hands and persistent pressure on ISB's flustered ballhandlers. Each player accounted for three steals in the first half, leading to a series of transition baskets and a quickly-escalating lead.
While the senior duo started the onslaught, the rest of the deep Panther roster finished the task. Ten Patch players scored in the game, led by junior point guard CeJay Ferguson with 11 points.
Ferguson, another key returnee from last year's team, said it was "very important" that the Panthers get off to a strong start. As the third seed in an intensely-competitive seven-team bracket, Patch was placed on a difficult path to a repeat.
"Honestly, I don't think anyone can match up with us. We can beat anyone when we want to play," Ferguson said. "I think we put it upon ourselves to come out here and get the job done."
Patch 55, Kaiserslautern 37: The Red Raiders' disastrous day, and their European title hopes, came to an end with a loss to the rolling defending champs.
Patch took a 12-2 lead before the Raiders stabilized and was still ahead by nine at halftime. The lead only grew after the break.
Robinson scored a game-high 15 for the Panthers, while Ferguson added 14 and Jones scored 13. Jeremy Morgan led Kaiserslautern with 13.
The win puts Patch two wins away from a second consecutive European title. Kaiserslautern's fate is sealed even If it wins its pool-play finale Friday against ISB.
Ramstein 51, Lakenheath 28: The Royals dominated the anticipated matchup between the tournament's fourth and fifth seeds.
Fourth-seeded Ramstein, which fell to Patch in last year's European title game, built a 36-17 halftime lead and forced the issue with a 13-4 run to start the third quarter. Four Royals scored at least eight points; Jesse Gray led all scorers with 12, Jamael Kingsberry had 11 and Trey Bailey and Trevon Williams added eight apiece.
CJ Jackson paced the Lancers with 11 points.
The game was the only action of the day for the Royals, who landed in the smaller three-team side of the seven-team Division I bracket. But their schedule heats up quickly Friday afternoon as they face overall top seed Wiesbaden to wrap up pool play.
Wiesbaden 55, Lakenheath 52: The top-seeded Warriors dodged Kaiserslautern's fate by the slimmest of margins.
Facing elimination, the fifth-seeded Lancers built a lead and protected it through three and a half quarters even as an increasingly concerned Warrior squad launched persistent comeback attempts. Those efforts finally paid off in the fourth quarter in the form of a 9-0 Wiesbaden run that finally put the favored Warriors ahead.
AJ Ransom hit a pair of free throws to put the Lancers briefly in front again with under two minutes to play. But long-armed Warrior center Justin Whatley, a 6-foot-6 freshman, swatted away two Lakenheath shots to trigger fast breaks. A streaking Kelsey Thomas finished the first runout himself and found Whatley to convert the second, pushing Wiesbaden ahead to stay.
Wiesbaden's Fred Hannah made eight of nine shots for 19 points and added four rebounds. Thomas totaled 14 points, four assists and four rebounds. Whatley added 10 points, and CJ Pridgen led the Warriors with eight rebounds.
Though it didn't come easily, the top-seeded Warriors accomplished a lot in only 28 minutes of first-day action, eliminating the Lancers from contention and clinching a semifinal berth in the process.
Friday's Wiesbaden-Ramstein showdown is still significant in that it will determine their pool's top seed and a more favorable semifinal matchup. But both teams have qualified for one of Friday evening's elimination games and are one win away from the European title game.
GirlsLakenheath 32, Kaiserslautern 30: The fifth-seeded Lancers staved off elimination with a stunning upset of the reigning champion and tournament top seed. The Lancers pounced on the Raiders early, building an 18-12 halftime lead. But Kaiserslautern battled back behind All-Europe senior Johanna Quinn, who tied the game at 27 with a basket with four minutes to play and scored again to put the Raiders in the lead. That lead was short-lived as the Lancers embarked on a parade to the free-throw line. Lakenheath scored five points from the stripe, including two by Kristen Reed with 16 seconds to play after a technical foul on Raiders coach Corey Sullivan. All three members of the smaller girls pool - Lakenheath, Kaiserslautern and Ramstein – remain both in play for a semifinal berth and at risk of elimination. Kaiserslautern will play Ramstein in the pool's final matchup Friday morning.
Ramstein 43, Lakenheath 36: The Royal girls rounded out a strong first day for Ramstein with a wire-to-wire win over the Lancers.
The fourth-seeded Royals dominated both the defensive and offensive glass, producing enough second-chance points to break out of a back-and-forth game and pull ahead 23-13 at halftime. The fifth-seeded Lancers got no closer than the final seven-point margin thereafter.
Lindsey Breton posted a 10-point, 14-rebound double-double and was one of three Royals to score in the double digits. D'Myia Thornton led the team with 11 points, while Desiree Palacios added 10. Katherine Enyeart lended capable support on the boards with 11 rebounds.
Lakenheath point guard Kristen Reed led all scorers with 14 points.
Ramstein faces tournament top seed, defending European champion and regional archrival Kaiserslautern on Friday to wrap up its two-game pool schedule.
Wiesbaden 33, Vilseck 28: The favored Warriors outlasted a persistent Falcons squad to win their tournament opener.
Sixth-seeded Vilseck played second-seeded Wiesbaden to a 15-15 second half draw, making the narrow five-point lead the Warriors held at halftime hold up for the final margin.
Cierra Martin led the Warriors with 10 points and 12 rebounds, while Catherine Klein added nine points and seven rebounds. Crisheena Rolack starred defensively, totaling eight rebounds and four blocked shots. Syndey Hill scored all six of her points in the fourth quarter to help Wiesbaden maintain its slim lead.
Martin said the Warriors' depth allows them to finish off grueling games like Thursday's, and also positions them for success as the "equally-matched" Division I field narrows over Friday and Saturday.
"I knew we could pull through it," Martin said. "We have good starters and we have a great bench too. We always have fresh legs on the court."
Wiesbaden 40, Patch 27: The Warriors completed an unbeaten first day with a solid win over the third-seeded Panthers.
Wiesbaden's second win of the day clinched a spot in the semifinals for the Warriors, who fell to Kaiserslautern in last year's European championship game.
Patch 31, ISB 22: The third-seeded Panthers used a fourth-quarter outburst to dodge an upset bid from the Raiders.
ISB held an 11-8 lead at halftime and an 18-13 advantage through three quarters before Patch took over on both ends of the court, scoring 18 points over the final seven minutes while holding the Raiders to four points.
Treshon Jenkins led the late resurgence, scoring all of her game-high 12 points in the second half. Breanna Rodriguez joined Jenkins in double figures with 10. Nanami Kuriyama scored nine points to lead ISB.
Vilseck 33, ISB 13: The Falcons completed their school's Thursday sweep of ISB with a convincing win to open the girls portion of the schedule.
China Sumpter totalled 15 points, narrowly outscoring the Raiders by herself. Patch and Vilseck will meet in pool play Friday with matching 1-1 records; the winner will join Wiesbaden in the semifinals.
Stars and Stripes reporter Jennifer H. Svan contributed to this article.
Twitter: @broomestripes
---
---
---
---