Bitburg snatches doubleheader from Hohenfels
by
Michael S. Darnell darnell.michael@stripes.com
April 18, 2015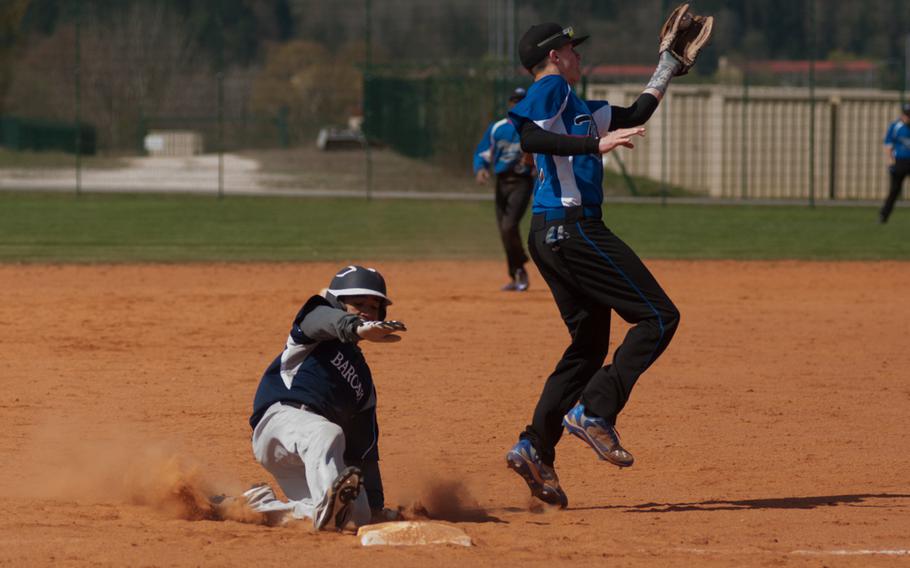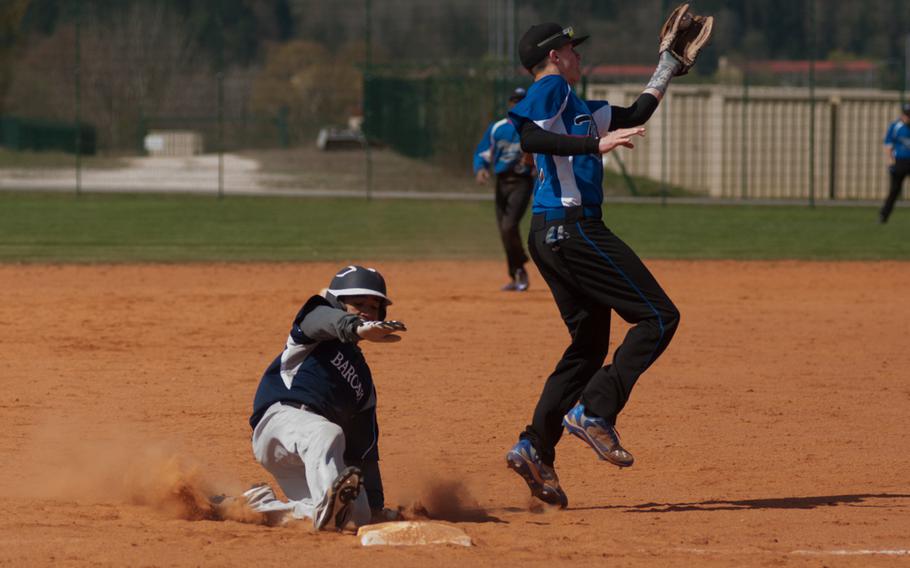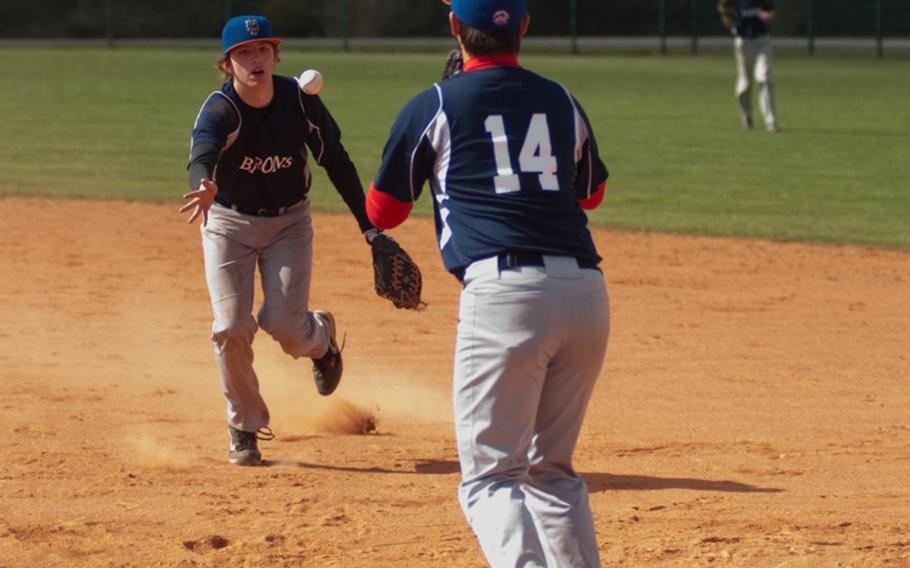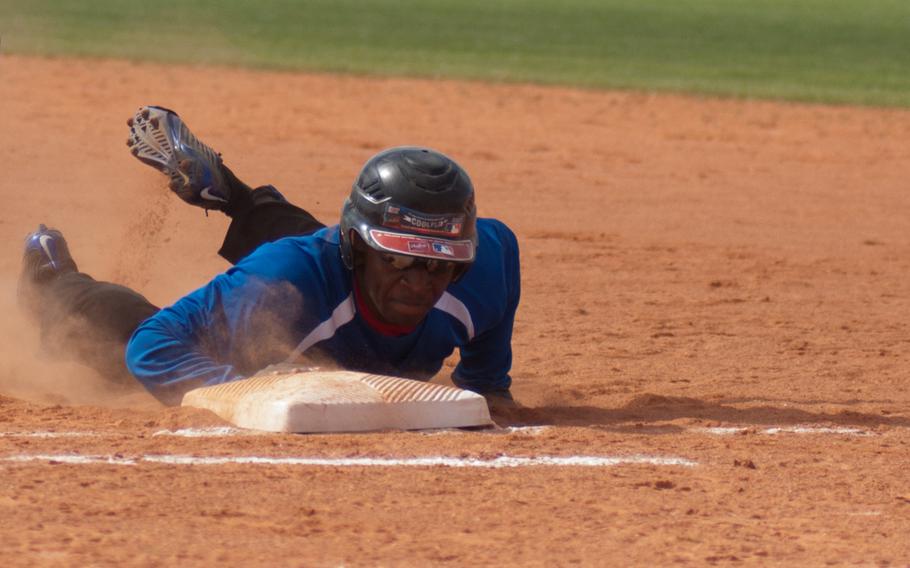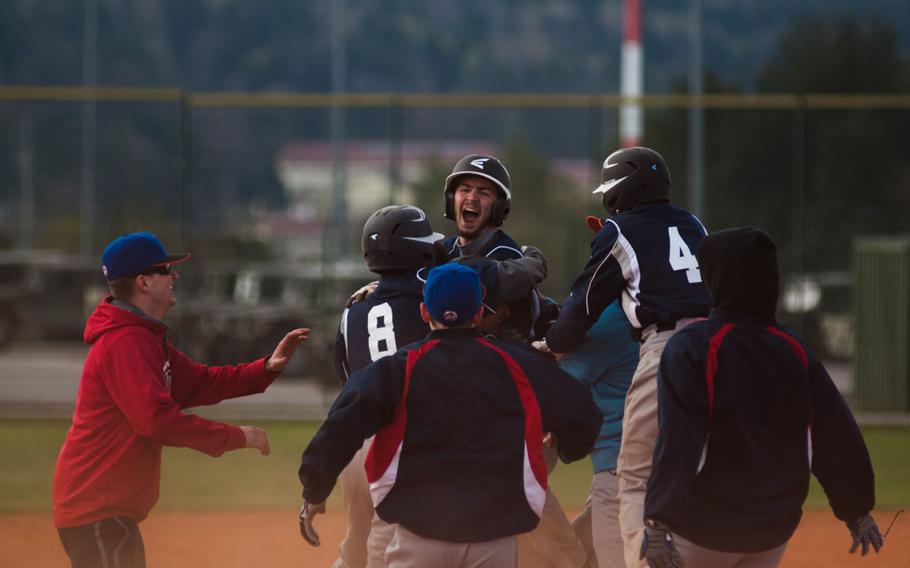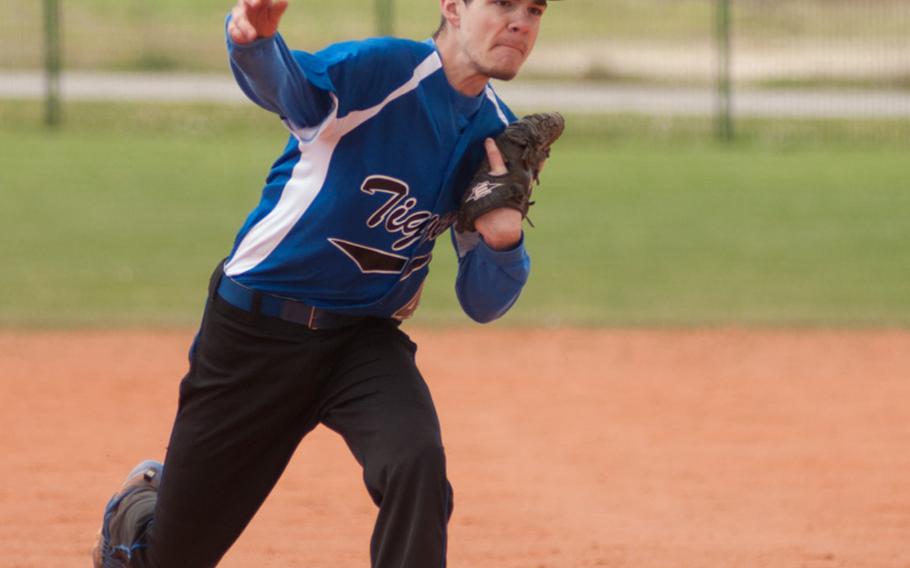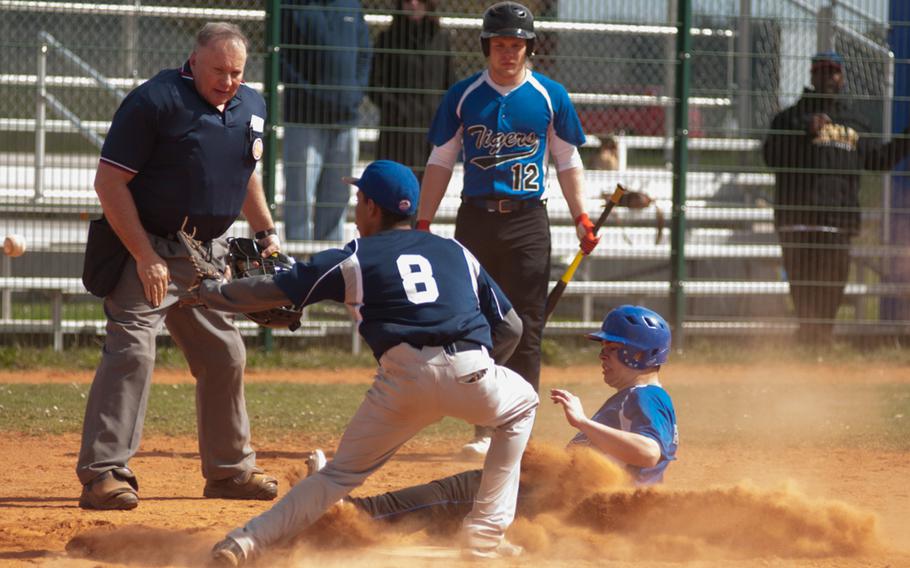 HOHENFELS, Germany – The Bitburg Barons stole a pair of games away from the Hohenfels Tigers during a DODDS-Europe Division II doubleheader on Saturday.
The first of those games was a smash-and-grab style job, with the Barons clocking the Tigers 12-4 in a full six innings. The latter – and decidedly more exciting contest – was more akin to a daring heist, as Bitburg narrowly escaped with a 12-11 victory.
That game was decided by the hero of the day, senior Andrew Grider, who cranked a double to bring in the winning run in bottom of the fourth and final inning. Grider was quick to point out that though his hit won the game, there were 11 other runs on the board.
"We did good playing against people in our division, I'm really proud of our team," he said. "We all did great and pulled together. You know, it comes down to the fundamentals and we played some fundamental baseball."
Despite a slow start – aided no doubt by a bitterly cold wind – the Barons were able to bring the first game to a de facto end in the fifth.
Dom Ferneding brought in two runs and teammates Logan Wolberg and Tyler Block added single RBIs of their own to break the game wide open for Bitburg. In fact, the Barons tallied more runs in the fifth than the Tigers were able to put together in the entire game.
Eli Mendoza started for the Barons, striking out two and walking three before being replaced by Nicco Orlando. Orlando had five strikeouts in that game and three more in the second game to put away the Tigers for good.
"I was dying inside, trying to get those last outs. I was nervous and everybody could see it," he said about the final inning in which he retired the batting order. "I told my infield that me and the catcher were going to be the only ones to touch the ball that inning and we were."
The second game was a much closer contest. The Tigers put up a much fiercer fight, thanks to a more productive offense. Jared Johnson was the most consistent hitter for the Tigers, bringing in runs off a single and double, but he was joined by nearly the entire Tiger batting order. Logan Webb, Wade Cermack, Corbin Coffman and Tony Saintmelus all contributed to the suddenly explosive Tiger offense.
Unfortunately, the Tigers' gloves weren't quite as golden. The fielding, especially in the outfield, was a real problem.
"There was a lot of unforced errors that we completely take responsibility for," Alex McCready said. "It was a tough two losses. But we're still getting in the groove. We're definitely going to be working hard at practice to fix those errors and come back swinging"
In addition to the errors, the Tigers also struggled a bit by having to adjust to new pitchers seemingly every inning. Between the two games, the Barons switched pitchers six times, rotating in five different players. Besides Orlando, many of them were part of what coach Wayne Phillips called his "freshmen with experience."
"They were breaking out a little bit the last two days, they hit the ball a bit better at Ansbach yesterday and they hit the ball real well today," he said, adding that he believes they'll get better with more playing time. "We got a real young team, eight freshmen on the team, we start five and they're starting to get used to high school baseball now and seeing high school pitching and we're excited."